Owlet Cam 2 vs. Nanit Pro Complete Baby Monitor
Jump to Section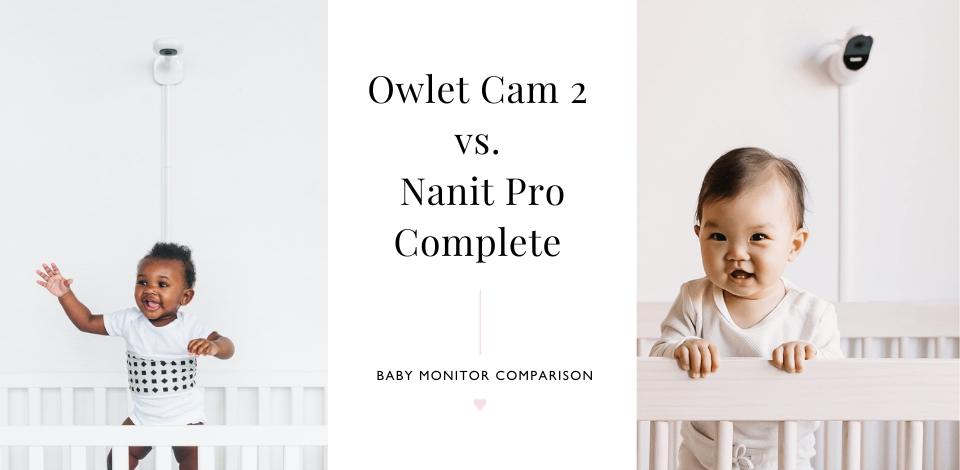 A video
baby monitor
is a must-have for new parents.
Imagine being able to keep an eye on your little one's every move without actually being in the same room. Yup, that's right, no more needlessly checking in, tip-toeing around, and peeking through the door!
Video baby monitors like the
Owlet Cam 2 Smart HD Video Baby Monitor
and the
Nanit Pro Complete Baby Monitoring System
really are game changers.
These devices give you peace of mind that your baby is safely dozing away while you sneak in a little me-time to recharge your drained battery. These monitors are Wi-Fi enabled to provide parents with a clear and reliable stream of their baby's room using their phone or tablet. You don't even have to be home to tune in, which makes them invaluable if you want to check up on your little bundle while at work, at a friend's house, or grabbing a meal somewhere. This is a nice feature for new parents who may have a bit of anxiety leaving their wee one with a caretaker.
While the Owlet Cam 2 and Nanit Pro Complete are two popular monitors that share many similar features, they also differ in a few major ways.
Keep reading as we break down these two baby cams and how they can make raising your child a little bit easier!
VIBRANT VIDEO
The Owlet Cam 2 and Nanit Pro's video specs are exactly the same. Parents get crystal clear 1080p HD video that also comes with night vision to clearly see their baby in any lighting conditions. The cameras are equipped with 130° wide-angle lenses and have zoom functions for visual flexibility.

They also can both be wall-mounted or used on a stand.


DISTINCT AUDIO
Both monitors have two-way audio so parents can soothe their child without having to set foot in the nursery. The Owlet can also continuously run the nursery audio in the background of your device (so you can hear if your little one is fussing), whereas the Nanit can play soothing nature sounds or white noise for a set amount of time or on an infinite loop.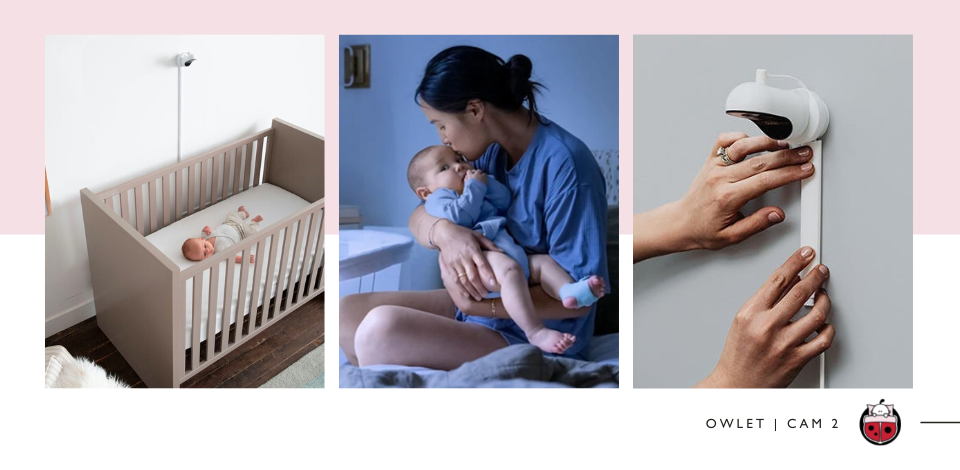 APP CONTROL
App control is where these monitors shine!
You can download the Owlet Dream App for
Android
or
iOS
, or the Nanit App for
Android

 
or
iOS
as well.
Using either app will give you real-time information about both the room environment and your child.
With the Owlet you'll get temperature and humidity level readings of the nursery, as well as heart rate and oxygen level readings of your child if they're wearing the
Owlet Dream Sock Baby Monitor
. You'll also receive cry and motion notifications if your baby is in distress.
The Nanit Pro also comes with temperature and humidity sensors, and you can track your child's breathing motions using the included Breath Wearing Band. Additionally, you can add another
camera
to your system and watch them both on the app via split screen. This is a really useful feature for people with twins or for those with multiple kiddos to keep an eye on.
One of the major differences between these apps is that the Owlet is 100% free, and the Nanit Pro is not (well, kinda).
Upon purchase, you'll initially receive 1 year of free Nanit Insights. After that, you'll have to start paying. The Basic Insights package is only $5/month (or $50/year), so it's not exactly breaking the bank — but it can be a deal breaker for some parents. Additionally, you can upgrade to Nanit's Premium or Ultimate subscription (for more $$) if you want extra storage, features, and app flexibility.
NEXT LEVEL APP CONTROL
These monitors take baby watching to a whole other level with bonus features that help parents plan for the days ahead.

The Owlet Dream app comes with Predictive Sleep Technology which recommends the best time for parents to put their baby down based on the child's age and the length of their previous sleep session. Additionally, parents can capture short video clips during sound, motion & cry detection events.

The Nanit also captures video clips during notification events — you can even record a week's worth of video when you subscribe to their Ultimate Insights package. Nanit's app also tracks sleep history, shows you a movement map, gives you a sleep summary, has saved memories, an activity feed, and the included Smart Sheet tracks your baby's height and growth progress!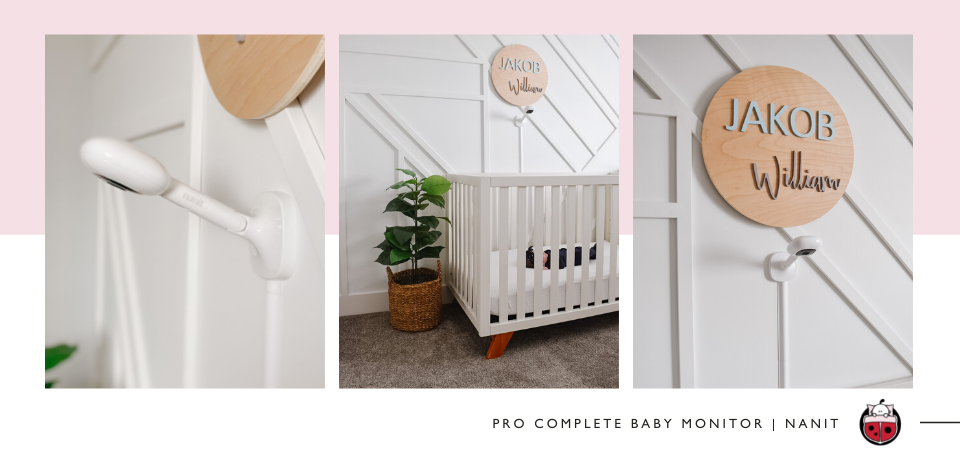 EXTRA EXTRA
If all the above isn't enough, each monitor has a few extra features to discuss.
The Owlet comes in various colours to match any nursery decor, plus you can purchase the previously mentioned
Dream Sock Baby Monitor
to monitor your child's heart rate, oxygen levels, and movement. What's great about the Dream Sock is that you don't even need the camera to use it, which makes it a cool accessory to bring with you when travelling with your little one. All you need is Wi-Fi and the app!
If you want both the Dream Sock and the Cam 2, your best bang for your buck is to purchase the Cam 2 and Dream Sock in a
bundle
.
On the other hand, the Nanit Pro Complete features a night light (that can be turned off) and comes with the
Pro Baby Monitor & Wall Mount
,
Smart Sheet
,
Breathing Band
,
Flex Stand
, and one year of Nanit insights.
You can also purchase a few different accessories separately: a
 

travel case
, a
Breathing Wearing Swaddle
(also available as a
3-Pack
), a
Breathing Wearing Sleeping Bag
,
Breathing Pyjamas
, and an additional
Nanit Pro Smart Camera + Flex Stand
to add to your system.
WHICH CAMERA IS BETTER?
We've thrown a lot of information at you in this article.
To make things simple, these are the
main differences between these two cameras
:
The Owlet Cam 2 is $199.99, while the Nanit Pro Complete is $499.99. However, if you want to use the Cam 2 with the Dream Sock, you'll want to buy them in the

 

bundle, which is exactly the same price as the Nanit Pro Complete. 
The Owlet comes in a variety of colours, while the Nanit Pro Complete

 

bundle

 

only comes in white. However, if you purchase the

 

Pro Camera

 

separately, there are a few colour options to choose from. 
Both can be used with multiple cameras, with the Nanit using a split screen in the app, while you'll have to toggle between cameras in the Owlet app. 
The Nanit includes nature sounds and white noise to soothe baby. 
The Owlet app is free, while the Nanit app is free for 1 year and then you need to purchase a subscription to keep using Nanit Insights. 
The Nanit includes one Smart Sheet and Breathing Band, while the Owlet Dream Sock is a separate purchase (unless you buy the bundle). 
The Dream Sock tracks baby's heart rate, oxygen levels, and can be used via the app without using the camera (ideal for travel), while the Nanit's Breathing Band requires the camera to be on 
The Nanit app is more user-friendly and reportedly less glitchy/laggy. 
The Nanit gives more in-depth information about your baby's sleep patterns and also offers sleep tips.
The Nanit reportedly has less "false alarms" compared to the Owlet (although this could be due to improper placement of the Owlet Sock). 


WHICH ONE IS RIGHT FOR YOU?
What it all boils down to is what you're looking for. Both cameras offer lots of bells and whistles and are top-of-the-line. So, you really can't go wrong!
For more information, check out our Learning Centre articles on the
Owlet Cam 2
and the
Nanit Pro Complete
. Additionally, you can learn about our picks for the
Top Baby Monitors of 2023
.
---