When Does My Car Seat Expire?
Jump to Section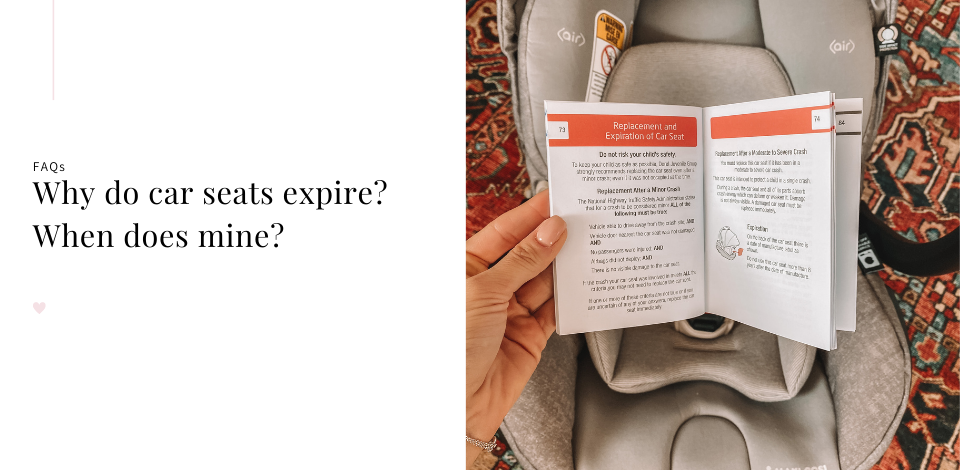 We get asked A LOT about car seat expiration dates... What are they? Are they legit? When will mine expire? How will I find out when it does? Well, we're breaking it all down for you right here on our Learning Centre. Find the answers to the top questions surrounding car seat expiration dates below!


The Government of Canada states that these are the main reasons that car seats have expiration dates:
Frequent use and exposure to sunlight can damage and weaken plastic;
Safe-use labels on the products fade or become hard to read;
Instruction manuals have likely been lost;
Food, cleaners, drinks and other materials that have been spilled or used on webbing, buckles, adjusters and other parts may prevent them from working safely;
The history or condition of the car seat or booster seat becomes hard to check (was it in a crash, was it stored in a place or in a way that caused damage to parts, etc.?);
Safety regulations and standards may have changed, so safer products may now be on the market; and
Second or subsequent owners may not get product safety recall notices if problems arise.
Any of these circumstances could impact the safety of a child in case of a crash. Manufacturers do not monitor a seat's performance beyond the expiration period, meaning if the seat is no longer functioning correctly you will not be notified. Should your car seat be expired you should dispose of it and immediately purchase one within it's useful life. Please note, car seats that are on sale or expire based on the date of purchase do not qualify for an additional discount.


WHEN WILL MY CAR SEAT EXPIRE?
All car seats and brands have varying lifespans on their products. Please be aware that some car seats expire based on length of time from manufacture date, while some brands [like Nuna, Chicco and Diono] expire based on length of time from the date of purchase.
For easy access to useful life spans on car seats, you can refer to this resource from the Child Passenger Safety Association of Canada.
*While CPSAC makes every effort to ensure the accuracy of this list, the responsibility belongs to the purchaser to ensure accurate information prior to purchase. 


MANUFACTURE DATE OF CAR SEAT I WANT TO ORDER?
At Snuggle Bugz, we work with our brands to ensure we are receiving the most recent shipments of car seats available into Canada! We refrain from ordering large quantities of car seats that will sit in our warehouse for lengthy periods of time. Unfortunately, like other retailers in Canada, we are unable to check the expiry dates on car seats prior to shipping them. Should you receive a car seat with a manufacture date of over 18 months from date of purchase, please reach out to our Customer Service team at sales@snugglebugz.ca 

WHERE CAN I FIND THE EXPIRY DATE?
The placement of expiration dates varies by car seat and brand. Examples of where you may find the expiration date are on a sticker on the base of your seat, in raised lettering on the plastic of the shell, or printed in the manual. If you are ever unsure of where to find your expiration date, contact your car seat manufacturer for clarification. It is NOT required by law for the expiration date to be ON the car seat, so ensuring you keep your manual in a safe place is very important.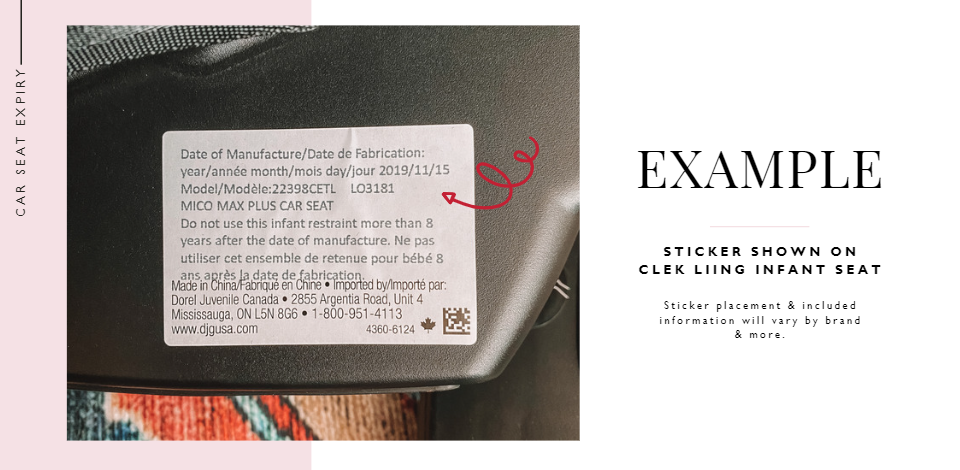 Most car seat manufacturers require a child restraint be replaced after ANY crash, including something minor like a fender bender. It is not possible to inspect or recertify a car seat for continued use and Snuggle Bugz would never want to be in a position where we sold a car seat that we could not guarantee the integrity of. For this reason, we do not accept returns. You can rest assured that when you purchase a car seat from Snuggle Bugz, it has not been used and returned by another customer. We are committed to ensuring our car seats are sold in new manufacturer condition and their safety has not been compromised.


CAN I BUY A SECOND-HAND CAR SEAT?
We do not recommend purchasing a car seat second-hand, as the history of the car seat is unknown. This makes it impossible to be certain of the car seat's integrity. The car seat may have been improperly washed, stored in a risky environment [think a basement flood], or may have been dropped or involved in a minor collision. The damage is not always visible. For these reasons, we recommend always purchasing your car seat from a reputable retailer and avoiding using second-hand car seats.
DISCLAIMER: The information provided on this website is intended to help with the selection and safe use of car seats and booster seats. Under no circumstances should this information be used to replace the car seat instruction manual or the vehicle's owner manual.

 Sources:
---