Top 5 Products for Safe Sleep
Jump to Section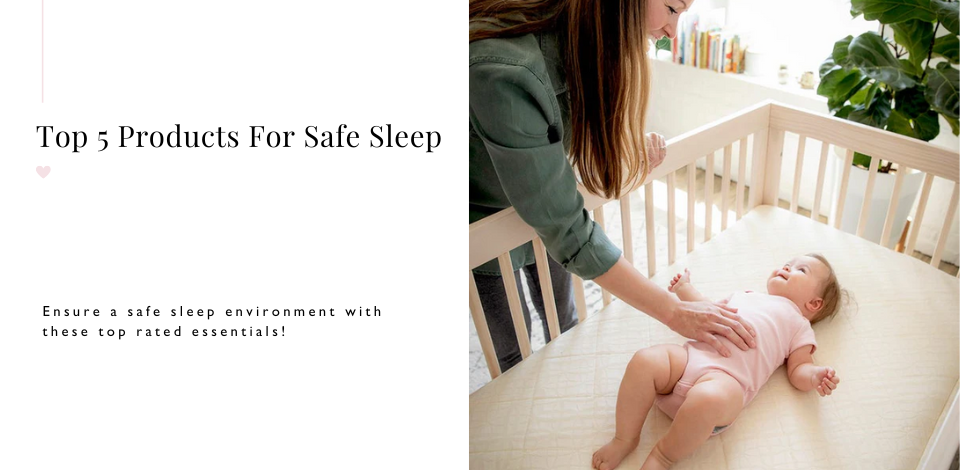 Raising a child is filled with plenty of joy and fun, but it can also be a stressful time. One of the top anxieties every parent faces is how to keep their child safe — especially when it comes to their little one's sleep environment.
An alarming statistic is that SIDS (Sudden Infant Death Syndrome) is the leading cause of death for children under the age of one. This occurs when a child does not get sufficient oxygen during sleep, which results in elevated levels of carbon dioxide in their blood.

SIDS can be caused by:
sleeping face down being covered with a blanket 
sharing a bed with parents 
physiological issues due to the mother smoking or drinking during the baby's pregnancy. 
Understanding safe sleep practices will significantly reduce the risk of SIDS and keep your child safe during their initial months.

Snuggle Bugz offers a range of products to help create a comfortable and safe sleeping environment for your baby, so we've put together a list of our top 5 products for safe sleep that you can use with your newborn.


BASSINET
Sharing your bed with your baby (under six months) is never recommended, as it substantially increases the risk of SIDS. However, your child should sleep in your room during this phase.

It's advised you keep your baby in a crib or bassinet in your bedroom and follow the ABC rule — ALONE, on their BACK, in a CRIB or bassinet that meets Canadian safety regulations.

The Iora Bedside Bassinet from Maxi-Cosi is a true winner. It's an elevated bassinet with adjustable height positions and slides side-to-side to bring baby closer if they fuss at night. A mesh wall design allows for superior airflow and parental monitoring at all times.

Below the bassinet is a storage rack for baby's essentials (diapers, blankets, creams, wipes, etc), and the structure folds for easy travel.


MATTRESS
A crib or bassinet should have a firm mattress for comfort and safety. Keeping the mattress free of obstructions (like toys, blankets, and stuffies) is also important, as they can pose a hazard during your little one's sleep cycle. Bassinets usually include a mattress, while cribs require you purchase one separately.

A great option we love is Nook's Dream Cotton Crib Mattress, it's one of the brand's best all-around option (although they also offer an air mattress and organic cotton model as well).

This premium mattress has dual-stage firmness that supports spinal development and uses 100% up-cycled cotton denim for breathability and supreme comfort. Water-resistant and stain-resistant, the mattress' two-layer design also promotes airflow for a night of safe sleep.
QUALITY COMFORT
CRIB SHEETS
Your baby should feel like they're sleeping on a cloud, and the right crib sheets can make all the difference to their comfort level.

Some of our favourite sheets are the Premium Knit Fitted Crib Sheets by Copper Pearl. Affordably priced, this bedding is available in 15 adorable designs to complement any room decor.

Their premium knit fabrics are soft, lightweight, and breathable. In addition, they feature a high-quality elastic band that easily secures snuggly over any standard-size crib mattress (which means you don't have to worry about the sheet coming loose and becoming a hazard to your sleeping baby).


SLEEP SACK
A sleep sack is like a mini sleeping bag for your little one. It acts as an insulator, keeping baby warm and eliminating the need for a loose blanket that could potentially obstruct your child's breathing.

You can't go wrong with the 4 Season Ultimate Baby Sleep Bag by Woolino. This sleep sack comes in a variety of modern designs to suit any child, plus it comes in 2 sizes, so you can use them up to the age of 4.

Made with merino wool, they're super soft, hypoallergenic, and regulate your baby's temperature throughout the night, no matter the season. This sleep sack is also designed with a two-way zipper for easy changes, double shoulder snaps for easy dressing, and a seatbelt slot for easy transfer to and from a car seat.
SAFE AND SOUND
BABY MONITOR
With today's technology, you can keep an eye and ear on baby from anywhere with a good quality baby monitor.

We love the Nanit Pro Complete Baby Monitoring System, which works with your devices and is so much more than just a glorified webcam.

The mountable overhead camera allows you to view your sleeping child in crystal clear 1080p resolution. Two-way audio is included so you can talk or sing to them, and it includes a Smart Sheet to track their growth and a Breathing Band to monitor their breathing pattern throughout the night.

If all of that wasn't enough to convince you, the app also logs vital information during the night and gives you a breakdown in the morning. For parents of twins (or multiple children), you can also split-screen the app to keep an eye on two children at once!

Finally, it also has a built-in night light, as well as nature and white noise sounds to keep your child soothed at all times.

For a less expensive technological monitor, check out Owlett's Dream Sock Baby Monitor, a wearable sock that monitors baby's heart rate, oxygen level, movement, and when they wake.


HONOURABLE MENTIONS
Now that you have created a safe sleeping environment for your little snoozer, it's time to think about the extras that can make your baby's sleep more enjoyable (and perhaps give you a few more minutes rest as a result).
WHY NOT TRY:
SLEEP ESSENTIALS
STRESS-FREE SHUTEYE
Sleep safety is something that should be taken seriously. With modern life increasingly demanding our attention, and new parents perpetually exhausted, it's more important than ever to take the proper precautions for keeping your baby protected while they sleep. With our top 5 products that help reduce the risk of SIDS, Snuggle Bugz has you covered!
---