Protecting Baby from Germs 101
Jump to Section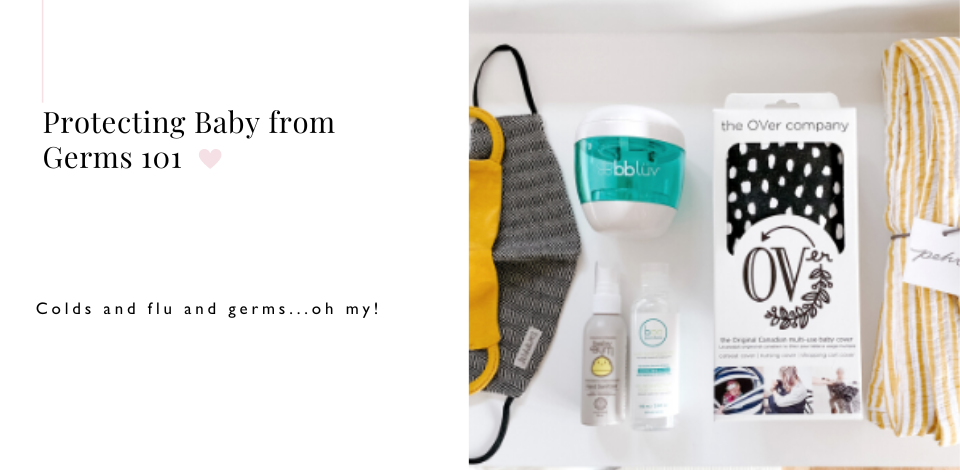 Your most prized possession is on their way – and there's a new cold or flu virus making its way through your family or friends (or worse)!

Nesting at home with baby during those first few weeks will be even more important as you aim to keep them safe, secure, and far from germs. Since you can't stay at home forever [wishful thinking], we are sharing a round-up of 10 items that will help to protect your baby as they start to explore the world. Our hope is that these items will help you to feel confident when out and about with baby in tow.
TOY WIPES
So, you are out and about when your little ones "choo-chee" or beloved Sophie the Giraffe falls to the floor. What do you do? I mean, burn them is an option but that seems a little extra. May we suggest keeping a stash of organic toy wipes on hand? These wipes can make your babe's favourite things like new again.
PACIFIER CLIP
Your parents probably made the joke about your soother falling to the floor, being licked by the dog, and then being put right back into your mouth. I know, right? Well, long gone are the 90's and parenting during a pandemic in 2020 requires a pacifier clip. Use them to keep your child's soother or even their favourite toy close by, CLEAN, and off the floor. If you don't have one of these miracle contraptions, we've got lots of options to choose from! Silicone, fabric and varying lengths!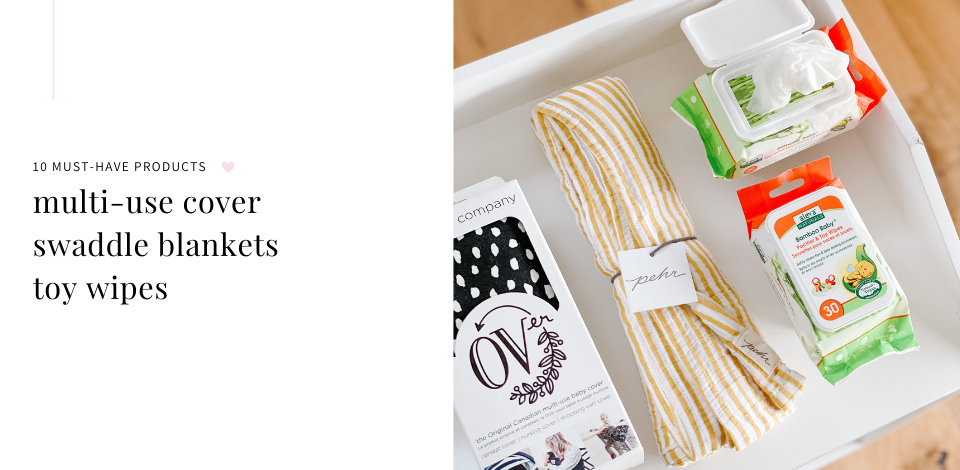 MULTI-USE COVER
Some of the most popular covers we have [that are made right here in Canada] are these stylish ones by The OVer Company. The OVer company was birthed in London, Ontario after one moms 5-week long stay in the NICU with her babe. She quickly realized she wanted [needed] more than just a blanket to keep her precious cargo protected from our germ-filled world. That was back in 2015 but it sure reminds us a lot of 2020! You will love the fact that these covers are breathable and multipurpose. It's a car seat cover, nursing cover, shopping cart cover, swing cover & high chair cover in one! OVer covers are available in so many adorable designs and modern muted colours that you won't just NEED more than one, but you will want one of each design. 
OUTDOOR CAR SEAT COVER 
We know you will be spending a lot of time outdoors as the seasons change and as a Canadian parent you know our winters are HARSH. Don't stay housebound with baby. Fresh air will do both of you some good, so whether you need to keep baby warm while walking the dog or need to keep them snug as a bug while getting in and out of the car – may we suggest a winter car seat cover.

These elasticized covers slip right over your car seat and use a combination of snaps, Velcro, or zippers to check in on babe.
MEDELA MICRO STEAM BAGS
These Quick Clean Micro-Steam Bags eliminate 99.9% of harmful bacteria and germs. Once you get HOME from your destination and need to clean your pump and parts – just throw everything in one of these quick and convenient miracle bags. #momhack: If you thought these bags were ONLY for cleaning your pumping parts than you were wrong—just like the Quick Clean Spray these can safely and effectively clean other baby toys as well.
PORTABLE STERILIZER
We've talked about wipes, sprays, and steam bags [oh, my!] but did you know that an actual portable sterilizer does indeed exist? Introducing the 4-in-1 UV Sterilizer from bbluv. It uses the same technology used by clinics and dental offices to disinfect their instruments and takes just 3 minutes to make baby's things like new again.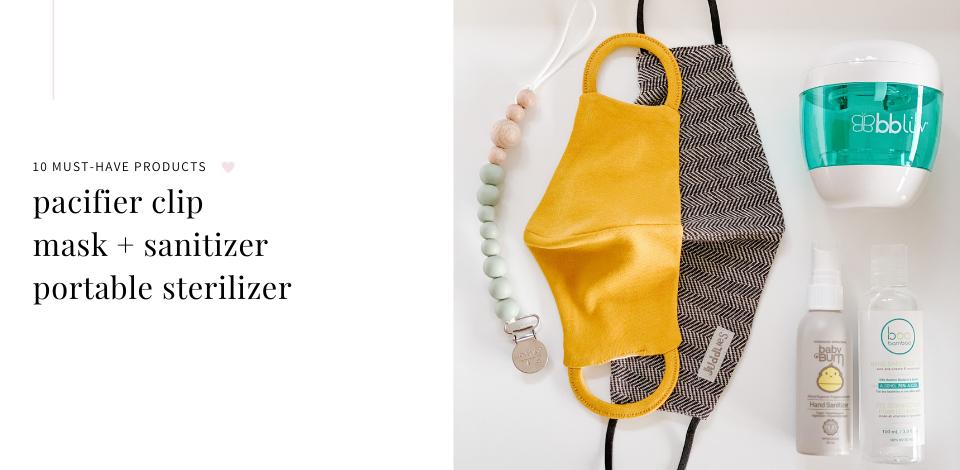 WET BAG 
You already know that wet bags are uber convenient and great for cloth diapering and wet bathing suits BUT let's think outside the box. We are all about multipurpose so why not have an extra one on hand as a place to store toys that need to be cleaned or even your used masks that need to go for a whirl in the wash?
MASK + SANITIZER
We hate to state the obvious but wash your hands and wear a mask and when that isn't an option make sure you've got sanitizer in your diaper bag to use in a pinch. What YOU touch baby touches and vice versa so take a page out of the Girl Scouts manual and "always be prepared."
Understandably, our mask and sanitizer selection will vary from time to time, but we love this sanitizer spray from Baby Bum – it contains Aloe, Cucumber, Banana, White Ginger, Gardenia, Passionflower, and nourishes your hands while cleaning them. A sanitizer that smells like you are on vacation? We will take that kind of a break every day of the week!
SWADDLE BLANKETS
When preparing your baby registry, we always suggest having plenty of swaddles on hand because they are a great multipurpose tool— and now more than ever! In a daycare atmosphere, Public Health has encouraged using blankets or cloths over the childcare provider's clothing before holding a child. If it makes you feel more comfortable this is an extra measure you can take at upcoming seasonal family gatherings. We still love you, Grandma!
  
Consider placing a clean swaddle on the floor when visiting a friend's house as an extra measure to keep your little one in their own cozy and clean bubble, sans dog hair and dust.
   
Mom Hack: you can use swaddles well into toddlerhood, they come in handy when you need to dry off a slide at the park so go ahead and stock on up! 
STAY SAFE
We hope you found these tips helpful! If you are looking for more great advice, be sure to explore our Learning Centre to find tons of useful articles. Whether you need help getting your little one to sleep or need a nudge in the right direction on how-to install a baby monitor or pick out the perfect stroller, we have you covered!             

Happy Reading!
---