Building a Nursery on a Budget
Jump to Section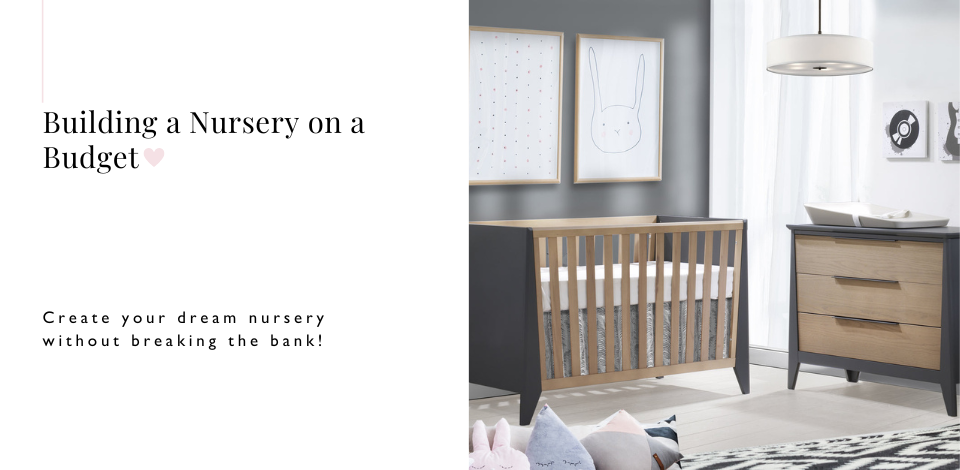 We know that shopping for your nursery can be super stressful and can also get expensive pretty quickly as things start to add up. We want to ensure we provide options for families shopping at various price points — so that building your nursery is a fun and stress-free experience!
When shopping for nursery items, it's easy to get overwhelmed trying to figure out what is a necessity and what isn't — especially if you are a first-time parent trying to navigate the ins and outs of parenthood.
As a starting point, we recommended looking at our Baby Registry Checklist to figure out which items you may want to purchase yourself and which ones you may want to add to your baby registry. While furniture cannot be added to your registry (at the current time), the Nursery & Décor section has a great breakdown of items we recommend for your little one's nursery.


Key Items
If you are on a tight budget and are looking for only the essentials, you could narrow down your shopping list to these key items:
BASSINET:
The
 

bassinet
is where your little one is going to spend the first 3–6 months of their life and will likely be in your bedroom during this time.
You want to ensure that you choose a bassinet that works best for your space and your needs! For example, if you have had a C-Section, you may want a bassinet with a drop-down side like the

 

Cozy-Up Bedside Sleeper

 

by SkipHop for ease of use. See our top bassinet recommendations for 2023

 

here.
CRIB:
Once your baby outgrows their bassinet, they will need a
crib
and
mattress
.
When shopping for cribs, one of the first things to consider is the convertibility and longevity of the crib — do you want something that can convert into a toddler bed and even a full-sized bed later? Or do you plan on using the crib for more children down the road? Investing in a convertible crib can be beneficial in the long term as it enables your child to use the same furniture for many years. 
Your crib mattress will be one of the most important purchases you will make for your little one as it is something they will be sleeping on every night for 3–5 years, depending on when you transition them into a bigger bed. 
BEDDING:
In addition to the crib and mattress you will need
bedding
, including
crib sheets
,
mattress protectors
, and
swaddles
.
Having enough crib sheets and swaddles for your little one's nursery is crucial to creating a clean sleeping environment (and saves you from having to do laundry every time you change the sheets). 
While crib sheets are used solely on the mattress, you may be using your swaddles as multi-purpose items for after feeding or during nap time. We recommend having five to seven of each — it's always handy to have those extra ones ready to go if your little one makes a mess! 
When it comes to mattress protectors, have at least two: one in the crib and one in the laundry, ready to be rotated in and out. 
CHANGER:
You will also need a place to change your little one — whether that be a separate
changing table
or a
change pad
stationed on top of a
dresser
.
 The decision to go with either a separate changing table or to use a dresser with a change pad on top of it typically comes down to the amount of space you have available in your nursery. Using a change pad on top of a dresser allows the storage space of the drawers to be used for extra diapers, clothing, lotions, etc., but will take up more space within the nursery. A stand-alone changing table will often have one or two shelves underneath it to store your changing essentials but will have a smaller footprint in the room. 
A NURSING CHAIR:
The right
nursing chair
should be both comfortable and functional.
Choosing your perfect nursing chair is a very personal decision — you want to ensure you are picking something that fits you and your nursery space, while also making sure it has the functionality you need (whether that be the option to lock the glider, recline, or swivel from side to side).
If possible, we always recommend visiting a

 

Nestled

 

store to try out all the different models of chairs we have on display to discover the best option for you. For more tips on selecting the right nursing chair for your nursery, check out this

 

Learning Centre article. 
A DIAPER PAIL:
To reduce odours and allow for convenient, easy, and sanitary disposal of dirty diapers after changing you will want to have a
diaper pail
on hand.
PRICE-POINT OPTIONS
Now that we've covered the basics, here are some of our top choices for nurseries with budgets ranging up to $2000 or less after taxes — we have selected varying styles to help inspire you to build your nursery at a price point that you're comfortable with!
Each option below includes a crib, a crib mattress, somewhere to change your little one, and something to change them on.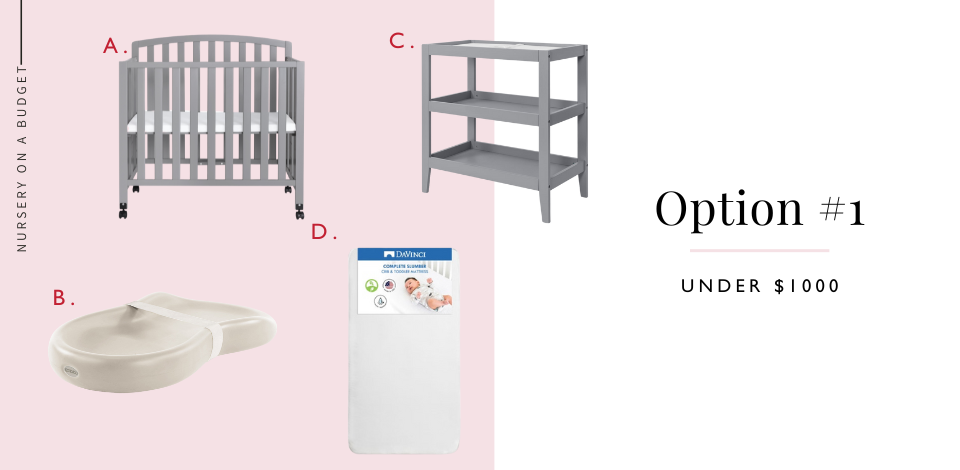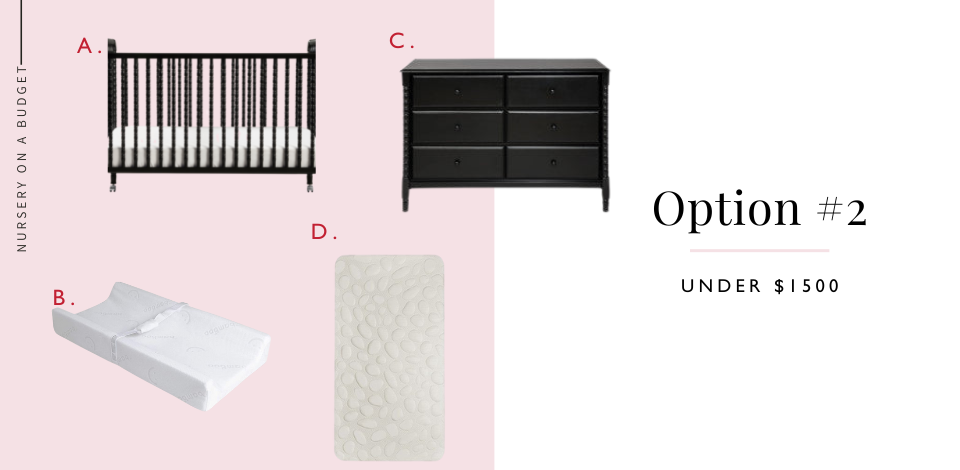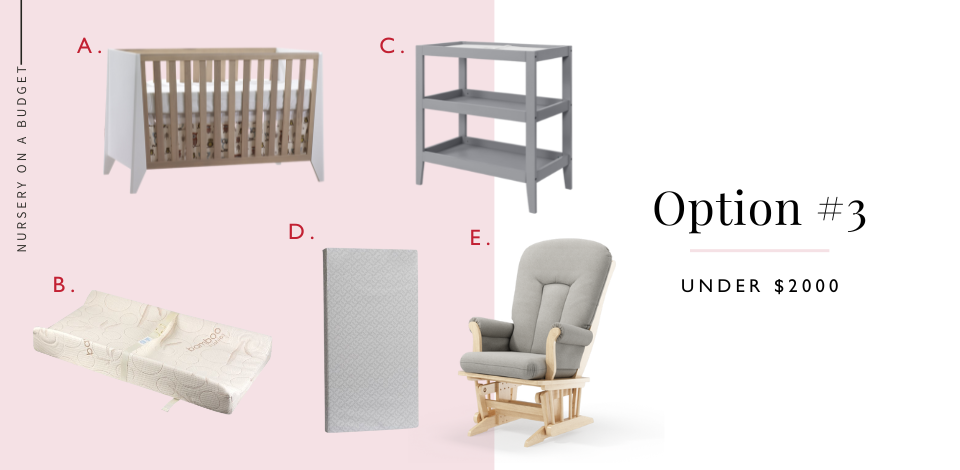 Under $2000
TOTAL: $1930.02 AFTER TAXES
FINAL THOUGHTS
Smaller parts of your nursery, like a mattress, bedding, and change pads, can be great items to add to your baby registry! This allows friends and family to build a gift basket of smaller items in a theme, or to shop together for larger items like the mattress.
When you build a registry with Snuggle Bugz, you get access to some
great perks
, including:
Our buy more, get more incentive
A 10% off discount at close-out* 
For more information on our registry program, see our
registry
guide. For support in building the nursery of your dreams, give your local Nestled a call, visit us
online
, or stop by our location to shop in-store!
---