Top Soft Structured Baby Carriers of 2024
Jump to Section
Ahh,
baby wearing
 – there is
nothing
like those first few moments of skin-to-skin contact with baby.
Your little one's desire and need for closeness continue long after they first meet you. They love the warmth and safety of being in the womb, and
baby wearing
gives them similar security.
But which 
baby carrier
 is best for you?
Types of Carriers
There are basically three different types of carriers: 
1. Wrap: Baby wraps are made of soft, stretchy fabric that you can wrap around your body in various ways.
2. Ring Sling: Ring slings consist of a long piece of fabric with two rings that allow for quick adjustments.

3. Soft-Structured Carriers (SSC): Soft Structured Carriers are often considered the most user-friendly baby carriers. They come with buckles and straps, making them easy to put on and take off. 
Soft Structured Carriers
In this article, we are going to be rounding up our top soft structured carrier options. Structured carriers evenly distribute your baby's weight, reducing strain on your back and shoulders. Many SSCs can be adjusted to fit both small newborns and older infants, offering long-term use. 
For those more interested in Wraps & Slings, you can check out our top options, here.


Carry Positions
The "Hangover" baby made the outward front carry famous [for Dad's] but there are many other positions that can be used and all of them are based on the age and stage of your little one.
There are 3 basic carry positions...
Front carry – Inward
Front carry – Outward
Back carry
Many of the
carriers
we have highlighted below have built in infant inserts for convenience, which means you can use them from birth with no additional purchase or attachment required. Remember to always fasten the waistband of your
carrier
on top of your hips (think high waisted jeans) to ensure baby is up nice and high and in a kissable position.
Ready?
Let's go
!
Ergobaby OMNI 360 Cool Air Mesh
Use from 1 week to 48 months, or 7 to 45 lbs
Introducing the
Omni360 Cool Air Mesh Carrier
from
Ergobaby
.
This is a new
carrier
from
Ergobaby
and it is full-featured, and easy to use. To start, simply clip the
carrier
around your waist and adjust as necessary to get the proper fit. This
carrier
has comfortable shoulder straps and lower back lumbar support so your little one won't "break your mother's back" (if you know what we mean).
This, plus breathability for you
and
baby, makes it a top contender. The mesh allows for ventilation that keeps both you and baby cool – even when hiking on warm days.
Taking on the sun? It also has a UPF 50+ hood that can zip out to protect baby from the elements. It has a foolproof colour-coded guide inside of the
carrier
that allows you to gradually adjust with Velcro to ensure your little one stays in an ergonomic seating position no matter their size. They have also revamped this
carrier
with a slider adjustment that allows for you to quickly switch baby to face in or out – no buttons to fiddle with.
It's important to note that the
Ergobaby 360 Cool Air Mesh carrier
also has one of the highest weight limit of all the
carriers
we are reviewing today!
To learn more about Ergobaby's line of carriers, check out our round-up,
here
.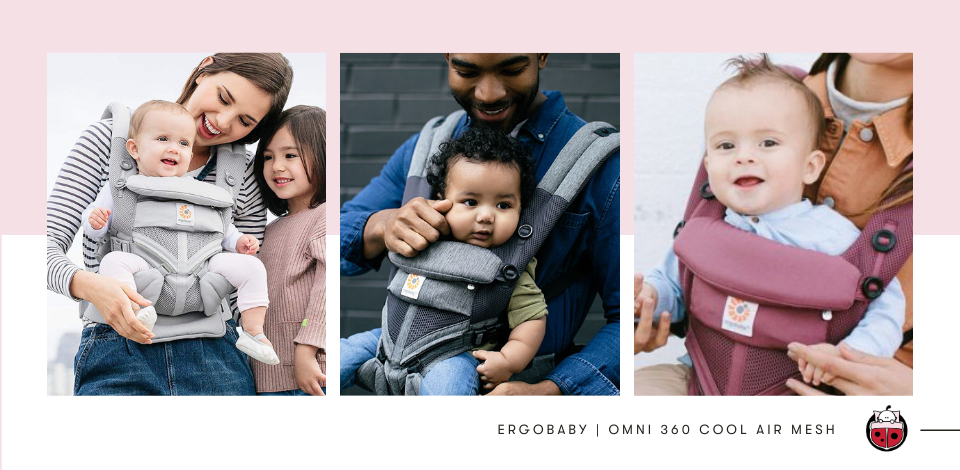 Nuna CUDL
Use from newborn to 3 years, or 7.7 to 35 lbs
CUDL Carrier
 by
Nuna
is off the charts easy to use. It has a Velcro waistband and strong magnetic clips that allow you to feel in control when popping baby inside. The entire
carrier
is made of organic cotton and soft padded mesh for breathability to keep those sweaty babes cool. The
CUDL
also has a built-in infant booster seat that you can easily unzip once your little one reaches 15 lbs.
Bonus with the
CUDL
carrier is that
Nuna
has included all of the
accessories
you may need like x2 cotton bibs and x2 harness covers so that your baby can drool and slobber until their heart is content. These accessories easily Velcro on and off to protect your
carrier
.
For more information on the 
CUDL carrier
, check out our full
 in-depth review 
here
!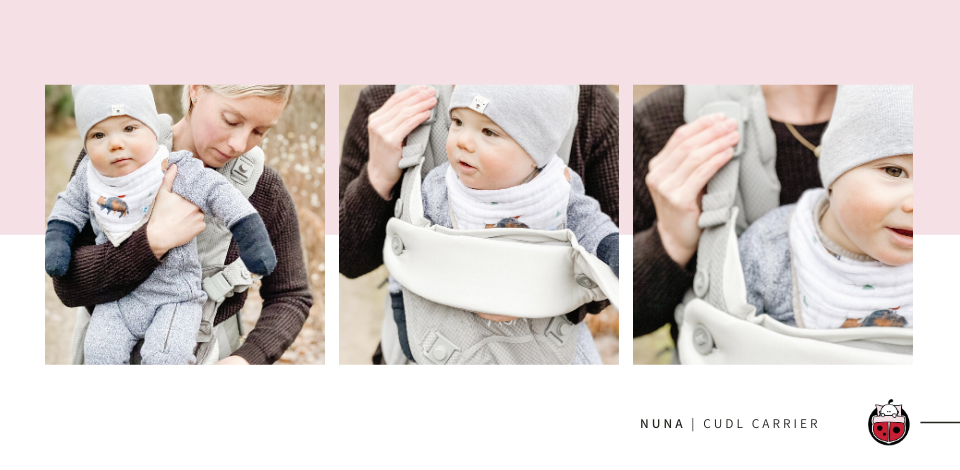 The 
One Air Carrier
from
BabyBjörn
is their premium
carrier
model.
Some
carriers
in the carrier line-up are meant to only work facing in or facing out – but the
One Air
series does allow for added versatility with the back carry option. The
One Air
is made of the soft and airy mesh where the vs. the soft cotton blend of the original Air. At first, you are drawn to the modern neutral colour palate. Like the other
carriers
we've spoken about – it also has built-in support for newborn and adjustable head support.
To use this
carrier
, you pop it over your head like a t-shirt and secure baby using magnetic buckles. It also has adjustable zippers that allow you to customize the seat and leg area.
As babe gets older, you can open or close the zippers allowing for a wider seat. We
love
that versatile functionality.
For a more in-depth look at BabyBjörn's range of carriers, check out this
Baby Carrier Round-Up
Review.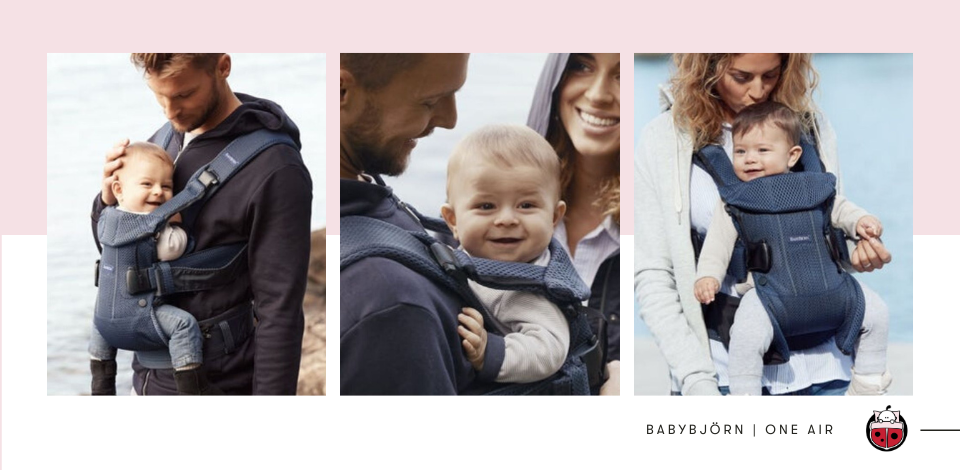 Ergobaby OMNI Breeze
Use from newborn (7 lbs) to 45 lbs

If you're in search of a baby carrier that won't leave you feeling like a sweaty mess, then look no further than the 
Ergobaby Omni Breeze Baby Carrier.

Decked out in SoftFlex mesh fabric, it's a lifesaver for busy parents who tend to feel hot and sticky while carrying their little one!

But it's not just the fabric that's impressive. This carrier is loaded with features to make life with baby so much easier. The adjustable straps ensure a perfect fit for both parties, while the multiple carrying positions mean you can switch things up whenever you want.

Suitable for newborns to toddlers (up to 45 lbs.), it has padded lumbar support for sore backs, a hood for privacy and sun protection, and a built-in storage pouch for keeping your essentials (hello, phone and keys!) within easy reach.

Versatile and stylish, with the Omni Breeze, you'll feel like a cool breeze is blowing through the carrier — even on the hottest of days!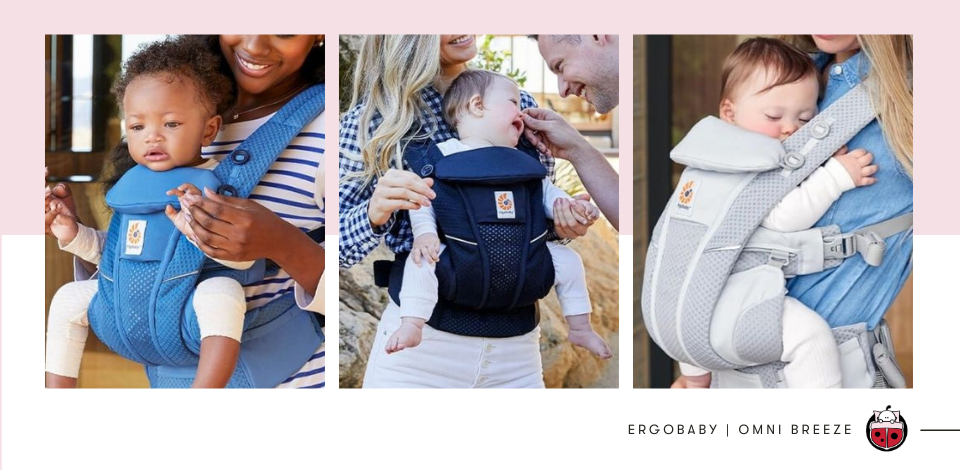 Ergobaby Embrace
 Use from birth (7 lbs) to 25 lbs
The
Embrace Carrier
is made of a soft and stretchy fabric that hugs your baby close for maximum comfort. It's also easy to use, and with no complicated buckles or straps to mess with, you can get your little one settled in no time.
But don't let the simplicity fool you —
Ergobaby
includes plenty of convenient features in this carrier. The adjustable waistband and crossable shoulder straps provide a custom fit for parents of all shapes and sizes, while the cozy headrest keeps your baby's snuggly head safely supported.
When it comes to versatility, the Embrace has got you covered too. It's suitable for babies between 7 and 25 pounds and can be worn in multiple positions, including newborn, hip, and front-facing. As a bonus, the Embrace can also be rolled up and stuffed in a diaper bag to take with you on the go!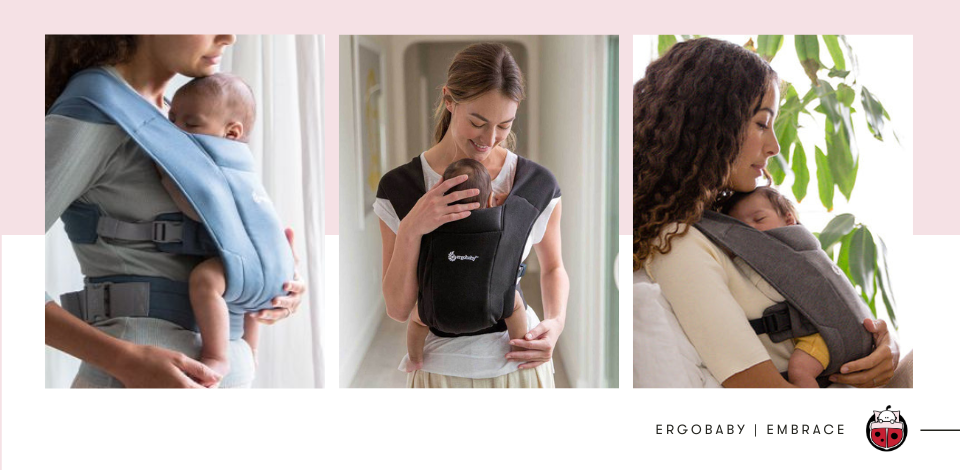 BabyBjörn Baby Carrier Mini
Useable from birth (7 lbs) to 25 lbs
The Baby Carrier Mini from  BabyBjörn is one of the best solutions for convenient and comfortable baby-wearing!  
Perfect for those early months, this carrier has a user-friendly design, allowing you to easily unfasten the front section so it's easy to lift out your sleeping baby. As they grow, you can choose between facing-in and facing-out positions, though it's advisable to wait until they're at least five months old for the latter. 
The carrier's soft fabrics gently cradle your baby's back, legs, and hips, providing essential support while maintaining a healthy posture. The Baby Carrier Mini is available in three super-soft materials: 3D jersey, 3D mesh, and satin-woven cotton, all designed to enhance the precious bond between you and your baby. 
With eight colours to choose from, it also has built-in adjustable back straps to ensure a comfortable fit for parents of all sizes. Easy-to-adjust head support and a wider seat area make it a superior choice for newborns. Plus, it meets both European and American safety standards, providing peace of mind for parents.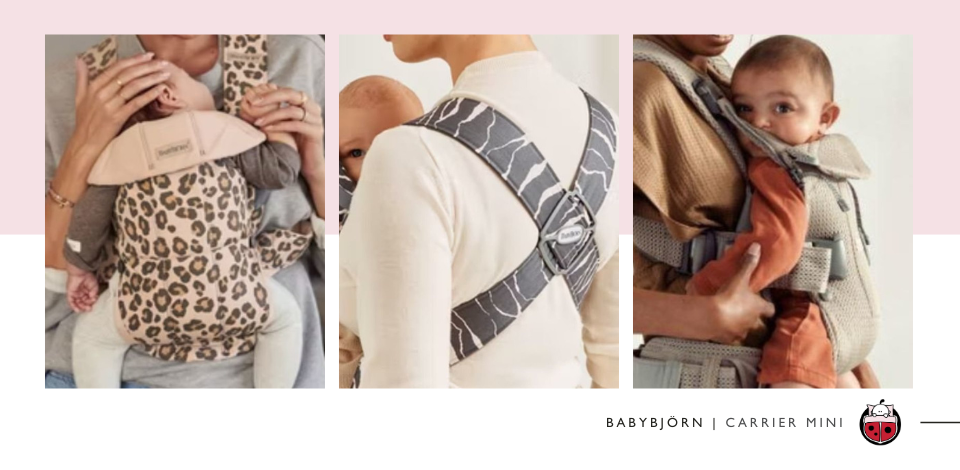 BabyBjörn Carrier Harmony
The BabyBjorn Baby Carrier Harmony is a masterpiece of comfort and versatility, designed with meticulous attention to detail. With a generous seat area and adjustable head support, it caters to both baby's and mom's comfort!   
Crafted from cool mesh with soft jersey accents, it's as stylish as it is functional. Suitable for newborns (starting at 7 lbs.) up to approximately 3 years old, this carrier ensures you can cherish every precious moment with your little.  
It comes in seven delightful colours and features a soft yet sturdy mesh fabric that allows you to stay connected with your baby. The unique 3D mesh also enhances breathability and quick drying after washing.
One of the best parts of the Harmony is that an infant insert isn't required, simply adjust the carrier as your baby grows! It's a hands-free solution that keeps your baby close and allows you to multitask. 
Additionally, BabyBjörn uses an ergonomic design that boasts a pressure-relieving waist belt and back support, ensuring maximum comfort for you at all times.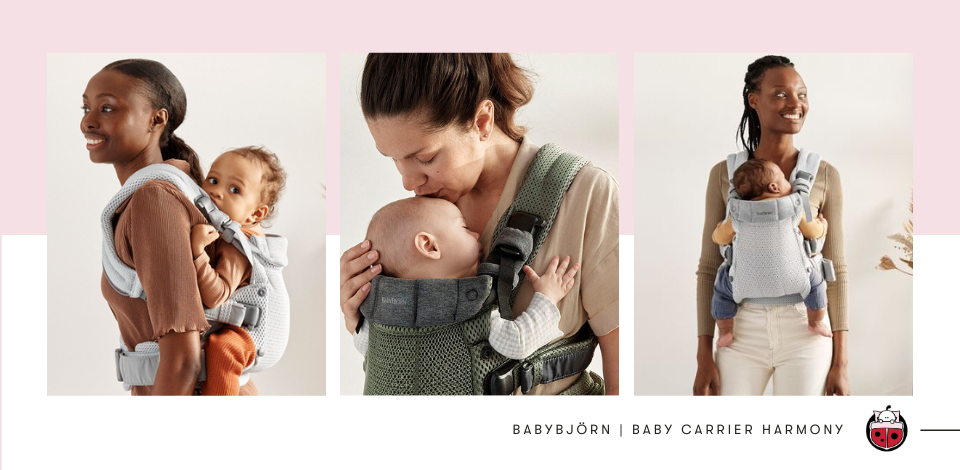 ---
---