Safety 1st Connected Home Overview
Jump to Section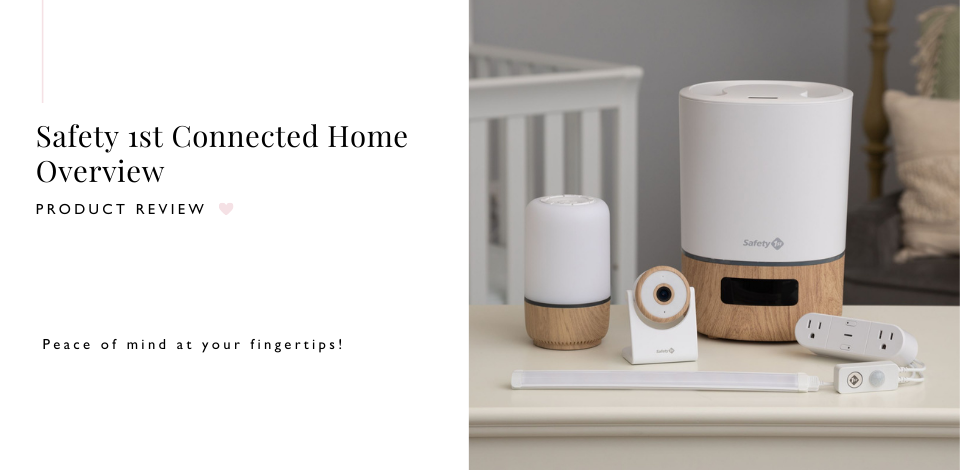 Today's modern baby starts life connected to the world in ways their ancestors could have never imagined.
Reflecting this shift is
 

Safety 1st
, a company that first came to prominence in the 80s as the creator of the "Baby On Board" car sign.
Now, with their Connected Home system, they provide parents with a range of nursery products that are designed for use with devices/smartphones.
Using their
Android
or
Apple
app, you can control each product in the system over your home WiFi network without ever having to get up — although each product has manual controls as well.
Add further compatibility with both Amazon Alexa and Google Home, and your baby's room can be turned into a technological wonderland!
So what products are part of the
Connected Home System
?
We're glad you asked…
WIFI BABY MONITOR
Keeping an eye on your child has never been easier!
The Safety 1st
WiFi Baby Monitor
has both HD video and night vision for around-the-clock viewing with excellent visibility on your smart device.
A pinch-and-zoom feature is included to get a bit closer to your child, and two-way audio allows you to talk and soothe them if they're fussing.
Using the app you can customize motion sensitivity and sound detection to set up tailored alerts. There is even optional cloud and card storage if you want to store pics and videos; however, there is a monthly charge to utilize this feature past the 30-day free trial.
As it's a static camera, it can be used on a table or mounted on a wall. Of note, while it can be manually tilted, there is no way to change/rotate the angle via the app.
SMART HUMIDIFIER
Air quality is important, especially for a growing baby. Unfortunately, our long and dry winters aren't always optimal for baby's comfort.
If you are looking for a solution, the Safety 1st
Smart Humidifier
can help maintain the proper humidity levels for your little one. It's designed for 24-hour use with a 1-gallon capacity tank. You can set a timer, manage a schedule, or customize a routine, all via the app (or if you have Alexa or Google Home you can use voice activation). A touch display shows the room's temperature and humidity levels so you'll know when to use it.
It also has:
An alarm when the water level is low 
An alarm for when it's time to clean the tank 
An automatic shut-off function when the water gets too low 
A night mode for turning off the display and night light 
Additionally, for an extra-calming effect, you can use the aroma therapy tray and add your favourite essential oils (scent pads are sold separately).
SMART SOOTHER
The
Smart Soother
does exactly what it sounds like it does — it soothes!
It's a relaxing sensory experience that introduces various sounds and lights into your baby's room. You can choose the light colour as well as the brightness, nature sounds and 20 preset lullabies are included to whisk babies off to slumberland.
The Soother can be setup with a timer that gradually fades the light until it's completely off, and you can also use it as a standalone night light or sound machine.
You can control the Soother using the device buttons, with the app, or with voice activation (if you have the capability).
CRIB LIGHTS
The right light can set the tone of a room, which is why Safety 1st also offers an
Under Crib Lighting
strip.
Parents can easily attach this LED strip to their child's crib with the included adhesive strips and cable clips.
The strip has a motion sensor for automatic activation and the light's colours and brightness can be customized. If you are short on time, you can also choose from 6 lighting presets — there's even an auto-dim option for a timed fade-out.
SMART OUTLETS
The
Connected Smart Outlets
might be the product you never knew you needed!
It's a dual-outlet plug for independently managing devices, extending connectivity via the app.
For example, let's say you want to feed your baby formula in 15 minutes. You can use the app to turn on the outlet the bottle warmer is plugged into, automatically heating up the formula!
It's also useful for connecting things like special lights, star projectors, or anything that doesn't have an automatic shut-off function in your child's room (some parents even use them for non-baby-related things around the home!)
The Smart Outlets also have a timer function, child lock, and plug protectors to keep babies safe when they're in a grabby mood.
SMART AIR PURIFIER
Using a two-stage True HEPA filter with 1000 hours of fan usage, the
Smart Air Purifier
reduces 99.97% of airborne particles and allergens like pollen, dust mites, pet dander, and mold spores.
Even with its 3-speed fan, the purifier is "ultra-quiet" and won't disturb baby's naptime.
An adjustable night light and a sound machine with a range of soothing noises (rainfall, twinkle twinkle, white noise, ocean waves) are also included.
GET CONNECTED!
The Safety 1st
Connected Home System
brings your baby's room into the 21st century.
While things like video monitors, dehumidifiers, and special lighting aren't anything new, what is new is the convenience you get from connecting everything together and using your device as a remote control.
Connected Home
is a powerful technological advancement that works to keep babies comfortable and helps parents manage the hectic first years of their little one's life.
---