Medela Swing Maxi vs. Freestyle Hands-Free Breast Pump
Jump to Section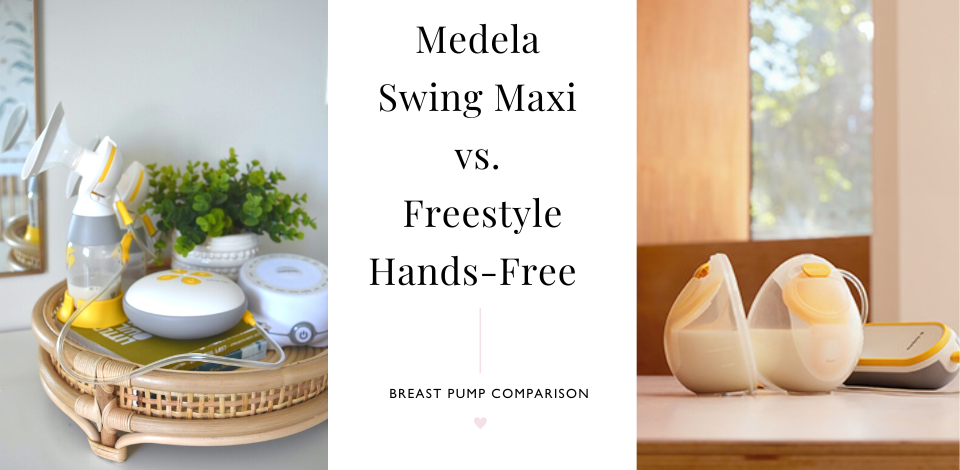 Medela
 breast pumps are known for their portability, efficiency, and ease of use — and they offer a wide range of products to suit any new mom and baby. But which one is right for you?
To steer you in the right direction, we are comparing two of our faves, the
Swing Maxi Double Electric Breast Pump
and
Freestyle Hands-Free Breast Pump.

 
The main benefit of these double pumps is that they can express milk from each breast simultaneously (anyway for moms to save time is certainly noteworthy!).
In this article, we'll explore the features, similarities, and differences of each, to help you make an informed decision and find the best fit for you and your newborn. Pumped up yet? (Sorry, we had to)
Let's go!
SEPARATED AT BIRTH
These
breast pumps
do the same job but in different ways. To begin, we'll take a look at the common features they share:
DOUBLE PUMP
: The main benefit of both the Swing Maxi and the Freestyle is that they're both capable of double-pumping each side simultaneously. This will save you time (and battery life) and you won't have to fuss about when switching them out.
POWER
: Both the Swing and the Freestyle motor units have a rechargeable lithium-ion battery. It takes about two hours to charge and can give you around 45 minutes or six pumping sessions (give or take). They also have the same power port and use the same cable and power adapter.
TUBING
: The tubing port designed on both units is also identical. This comes in handy if you want to interchange accessories when upgrading from one pump to the other.
BLUETOOTH
: Both pumps can be used with the free Medela Family app for
iOS
or
Android
. This app allows you to log pumping sessions, track milk expression, and view pumping progress via Bluetooth.
SUCTION
: The Swing and Freestyle have identical suction power. They use Medela's 2-Phase Expression Technology which produces more milk in less time, for more efficient expression and maximum flow. Additionally, both pumps make roughly the same amount of noise during operation (which is much less than many breast pumps on the market). No quacking here!
BREAST SHIELDS
: Included with each pump are two sets of breast shields — in 21mm and 24mm sizes. These oval-shaped shields have soft rims and a 105° opening angle that puts less pressure on your milk ducts. The result of this is more milk for your baby!
TRANSPARENT
: The bottles that come with the Swing Maxi and the cups that come with the Freestyle are both transparent for moms to monitor their milk flow.
PORTABLE
: Both pumps are small and compact, so you can bring them with you on the go!
CLEANING
: Cleaning these pumps is virtually identical, with the Swing Maxi bottles breaking down into four pieces and the Freestyle cups breaking down into three. While Medela verifies they're dishwasher safe, we'd still recommend washing them by hand to avoid any plastic warping or discolouration due to the dishwasher's hot temperature. Additionally, you can sanitize both the bottles and cups by boiling them in a pot of water for 10 minutes or microwaving them with
Medela's Quick Clean Micro Steam Bag
.
For more information on how to clean and sanitize your breast pump, click
here
.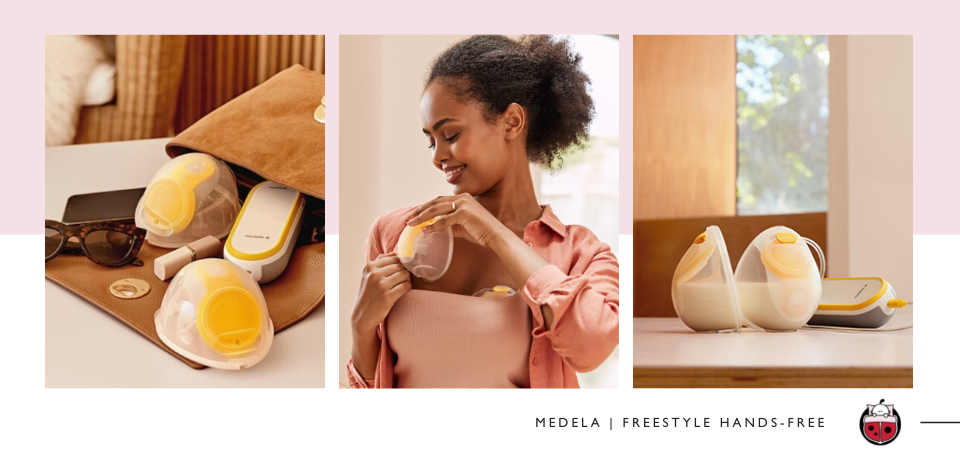 ONE SIZE DOESN'T FIT ALL
And now…
Here's a list of how these double pumps differ!
The Swing Maxi comes with two, 150ml bottles for filling whereas the Freestyle has dual cups that fit directly into your nursing bra so they're hidden out of sight. This gives the Freestyle the advantage of moms being able to pump virtually anywhere, at any time. 
The Swing Maxi's pump motor is spherical and flat, weighing 0.71 lbs., whereas the Freestyle's is cylindrical and even more lightweight at 0.59 lbs. 
The Freestyle comes with a lanyard to attach the motor around your wrist. Its slim profile means it can also fit right in your pocket! The Swing Maxi is a bit bulkier and can't fit your pants pocket. 
The Swing has physical buttons with pre-programmed settings and the Freestyle has a touchscreen. These physical buttons make it a bit harder to know what mode you're in compared to the visuals on the Freestyle screen. 
Both pumps can be connected to the Medela Family app via Bluetooth, but only the Freestyle can be controlled with the app. If you're using the app with the Swing, it's basically just to see your pumping progress and stats. 
Included with the Swing Maxi is a black and grey backpack cooler to house the bottles and keep your milk fresh. 
The price of the Swing Maxi is $424.99, making it $75 cheaper than the $499.99 Freestyle.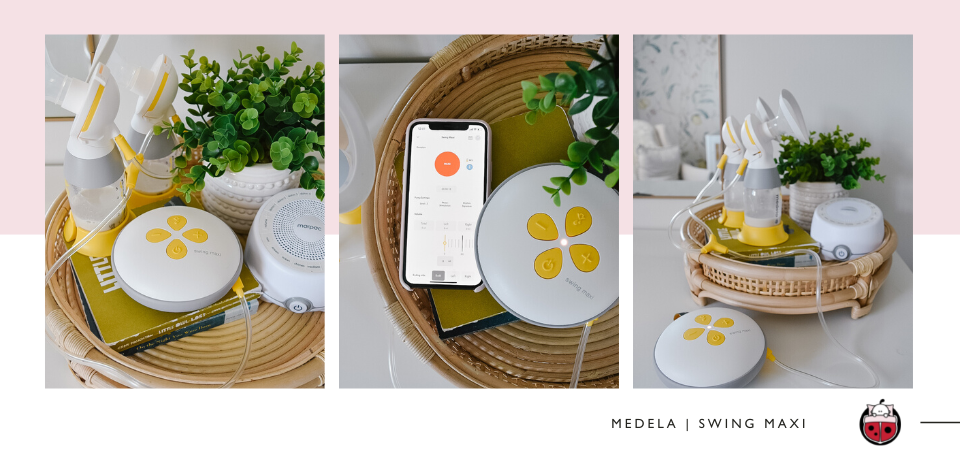 EVENLY MATCHED?
These two
pumps
share a lot of commonalities, but their differences are pretty clear.
The most obvious is that the
Freestyle Hands-Free
has anatomically designed cups to hide in your bra, while the
Swing Maxi

 
is how shall we say… less inconspicuous… with two bottles hanging off your chest. App control may also be a make-or-break feature when it comes to your decision, and you'll get more app flexibility with the Freestyle. Finally, the price is always something to consider. The Swing Maxi is cheaper and comes with a backpack cooler, but it's also a bulkier pump system.
Whatever your choice, just know that both of these Medela pumps work wonderfully and help new moms immensely with preparing milk for their little ones at any time of day!
For full reviews of each, check out our Learning Centre articles on
Medela's Swing Maxi Double Electric Breast Pump
, and
Freestyle Hands-Free Breast Pump
.
To review more quality breast pump options, check out our review of the
Medela
lineup, here, or peruse our
Top Breast Pumps of 2023.
---