How to Pick the Perfect Baby Stroller
Jump to Section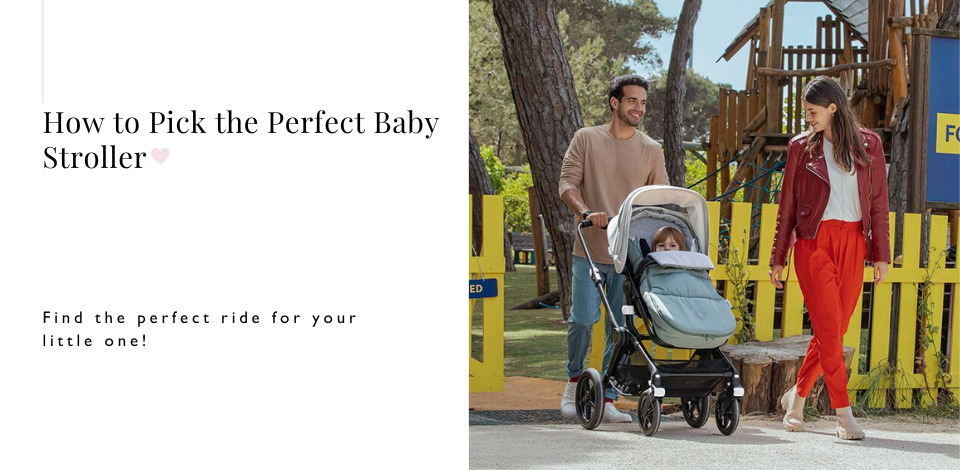 What keeps your child safe, carries plenty of snacks, makes the perfect spot for naps, and is always on the go?
OK, fine — take a bow, dear parent, you've earned it — but today we're talking about picking the perfect baby
stroller
for you and your family (which can do all the above and more).
In
Season 2, Episode 6
of our 40 Weeks to Forever Podcast, we asked Snuggle Bugz's own Melissa Kriz and Haleigh Ryan to share their tips for parents in the process of stroller shopping. Trust us, they know what it's like to be a parent trying their best to navigate the numerous models and features available. According to them, it doesn't have to be an overwhelming experience.
During our chat, our friends helped break down key features to help make your decision a little easier.
THE ULTIMATE MUST-HAVE
We often advise parents to start their search by writing out a list of key stroller features they're pretty sure they can't live without. That list looks very different for every family as they account for their unique lifestyles and needs. However, Melissa and Haleigh agree there's at least one feature no stroller should be without quality all-terrain wheels and suspension.
A parent doesn't have to be into hiking to appreciate the utility of a stroller that can go anywhere. Families grow, and casual strolls with your newborn can transform into rollicking park-trail rambles with your toddler faster than we care to admit. Whether you live in an urban condo or a sleepy suburb, there's at least one thing Canadian parents can count on: snow...and lots of it.
Being prepared for all of life's ups and downs with a functional stroller can be worth the peace of mind.
For parents who are interested in learning more about
all-terrain strollers
, be sure to check out our
Top Jogging Strollers of 2023
.
THINK OF THE CHILD(REN)
As a parent, you might be most excited to pick features that can make your life a little easier (see above), but don't forget who the stroller's really for: your kiddo! Consider features that will keep them comfortable and safe — think a broad, UV-blocking canopy to keep the sun off your infant, or a height and weight capacity that ensures it's a good fit for your child for as long as you need it.

Don't forget snack storage (never forget snack storage)! You may find that putting your kid's needs first can pay off more than that coffee cup holder you were mulling.

Then there's the question of how many kids you may want to fit in. Tandem strollers are built to fit two children, and some single strollers can be expanded to accommodate a sibling. If you're planning on growing your family, it can be tempting to splash out on the larger, often more expensive option, but don't count out the stroller that works for you best in the here and now. You can always start with a single stroller that fulfills your immediate needs, whatever they are, then adjust as needed when the time comes.

BTW, the average Canadian family goes through seven strollers!


HAVE BABY, WILL TRAVEL
The right baby stroller can take you plenty of places, but sometimes you will have to pack your stroller in for a longer haul. For example, if you take public transit or feel up to travelling by airplane, it can be important to find a
lightweight stroller
with a compact frame that folds and unfolds easily — luckily, many models these days can be folded with one hand. Small wheels can also help you board a bus in a flash. Size can also play into your decision if you're a driver with limited trunk space.
To learn more about our Top Travel Strollers, click
HERE
.
Speaking of cars, some strollers work with
travel systems
— that is, a
car seat
that clips into the stroller frame, or vice versa. If mixing and matching models and brands, ensure that each piece is compatible. Some work with various brands, while others only work with specific makes. Infants can outgrow their car seats quickly, so consider picking one that converts as your child ages. It is always important to visit a store in person to know how a car seat works, feels, and looks in your vehicle.
Discover our
Top Travel Systems of 2023
.
P.S. LOOKS MATTER, TOO
We can talk in circles about practicality and function, but there's one more thing that can be totally important: how a stroller looks. You may end up using the same stroller for years and years, so be sure you like it and feel good pushing it. After all, when you feel good, the research says you perform better as a parent. How's that for practical?


MAKING THE FINAL DECISION
Whether it's through careful research or lived experience, you'll eventually whittle your list of needs and wants into something that translates into a handful of stroller models that check all the boxes.

You're almost there! But which one should you pick?

At this point, a solid tiebreaker is looking back to your original budget and seeing which stroller is the best fit. If needed, feel free to add or subtract a feature here or there.


---