Woolino Sleep Sack Round-Up Review
Jump to Section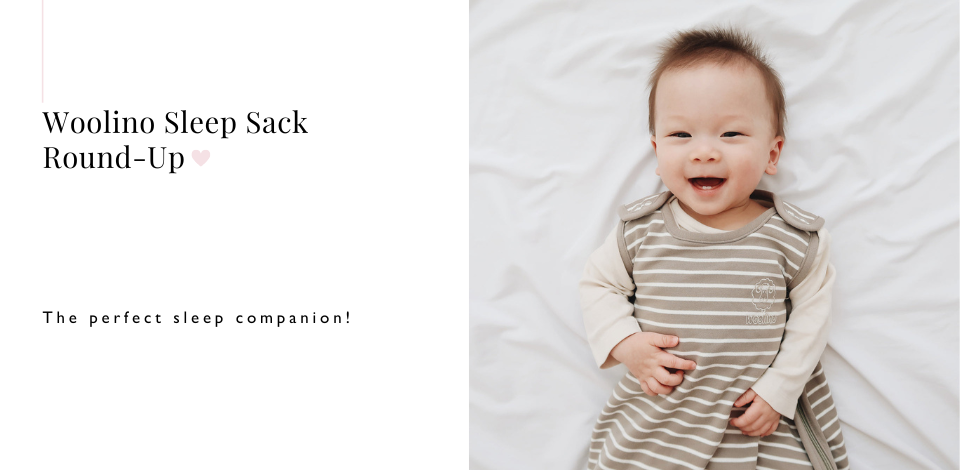 Sweet dreams are made of these…these sleep sacks, that is!
A
sleep sack
(sometimes referred to as a sleep bag) is essentially a tiny sleeping bag for your tiny human, as they're wearable and super comfortable for babies when dozing off in their
crib
or
 

car seat
. More importantly, they drastically
reduce the risk of SIDS
(Sudden Infant Death Syndrome) because they eliminate the need for blankets, which can cause overheating and suffocation when infants sleep with them.
One of our most popular sleep sack brands here at Snuggle Bugz is
Woolino
. You may be wondering why this brand is so popular and if they are the right sleep sack for your child?
Keep reading and we'll tell you all about them…
WOOLINO
Woolino is one of the leading manufacturers of baby and toddler sleep sacks. The company was founded by Mimi Dzodzo, a first-time mother looking for sleepwear to keep her newborn comfortable and safe. Exhausting her options, she decided to create her own! Using her knowledge of merino wool (and its temperature-regulating properties), the Woolino Sleep Sack was born and immediately became a hot item, as it was the first merino wool sleep sack available in the US.


WHAT IS A TOG RATING?
TOG (Thermal Overall Grade) is a unit of measurement that refers to the thermal insulation of a product (in this case, baby sleepwear).
It takes into account the temperature of a room, and rates the clothing in relation to it. A cold room requires a higher TOG (ie. 3.0), whereas a warm room requires a low TOG (ie. 0.5).
In a nutshell, the TOG helps you dress your little one for the correct climate (think dressing lightly for the summer and wearing heavy clothes in the winter). The room temperature and season are determining factors for which sleep sack you should use.
To read about sleep sacks and TOG ratings, click
here
.
7 REASONS WHY WE LOVE WOOLINO
There are plenty of reasons why parents love Woolino's sleeping bags:


1. Merino Wool

Merino wool comes from Merino sheep and is thinner and softer than regular wool. This high-quality natural fiber comes with many benefits.

First, its temperature regulating, breathable, and moisture-wicking to keep your baby dry when their little body starts to heat up. Second, it's hypoallergenic and won't cause itchiness. Third, it's silky smooth for a comfortable sleep every single time!

2. Multi-Seasonal Use

Another bonus to these sleep sacks being temperature-regulating is that you don't have to buy multiple sets for each season.

Instead, the merino wool creates a "micro-climate" around your child, ensuring they never get too hot or too cold — no matter the time of year! They also have a built-in thermometer tag that parents can use to dress their children according to the season.

3. Grows With Baby

Unlike most clothing and baby products, you won't have to replace these sleep sacks as your baby grows. Woolino has 3 standard sizes, fitting between 0 and 6 months, 6 to 18 months, and 18 to 36 months, while their adjustable sacks have 2 sizes and fit between 2 and 24 months or 2 to 4 years.

4. Easy To Use

A two-way side zipper makes for easy on/off without waking your little dozer and it also comes with shoulder snaps and a closeable seatbelt opening (select models only) for smoothly transferring them between their car seat, stroller, and crib. Woolino's sacks are also machine washable, and the merino wool adds antibacterial, antifungal, and anti-static elements.

5. Certified Safe

Sleep sacks are a much safer option than blankets, which can contribute to SIDS. In addition, they're made with Woolmark and Oeko-Tex 100 certified merino wool, as well as GOTS and Oeko-Tex 100 certified organic cotton. Also, they meet US and Canadian safety standards with nickel-free, lead-free, and phthalates-free YKK snaps and zippers in addition to being free of fire retardants.

6. 100% Organic Cotton

Woolino makes two types of sleep sacks. One is made with a mix of merino wool coupled with an outer layer of organic cotton, while the other only uses organic cotton throughout.

What are the benefits of organic cotton? It's soft yet strong, free of chemicals (normally found in conventional cotton) such as pesticides and insecticides, and is an ideal fabric for a baby's sensitive skin.

7. Eco-Friendly

The use of merino wool makes these a 100% renewable and biodegradable fiber source for those concerned about the environmental impact of these sacks.


THE WOOLINO SLEEP SACK ROUND-UP
Snuggle Bugz offers 4 of Woolino's most popular sleep sacks:
4 Season Basic Baby Sleeping Bag:
Using merino wool lining coupled with an outer layer of organic cotton, Woolino's basic sleeping bag comes in a few different patterns and three different sizes. The main selling feature of this sack is that it can be used through all 4 seasons, so there's no need for you to swap it out for another when the weather changes.
4 Season Ultimate Baby Sleep Bag
: Another sack made of merino wool and organic cotton outer, it differs from the basic sleep bag in a few ways. First, there are many more pattern options to choose from. Second, it only has two sizes: 2 to 24 months or 2 to 4 years. Finally, it includes shoulder snaps, underarm snaps (for size adjusting), and a seatbelt slot.
Ecolino Organic Cotton Basic Sleep Bag
: 3 fashions in 3 sizes ensure this is the perfect organic sleep bag for your little one. Of note, unlike the 4 Season merino wool sacks, this one is rated at 0.5 TOG — meaning it's only for use in warmer climates.
Ecolino Adjustable Organic Cotton Sleep Bag:
This adjustable organic cotton bag has a few more pattern options than the basic version, however, it only comes in a 2 to 24 month size. Additionally, It has a higher TOG rating of 1.0, but it is still meant for use in warmer climates/rooms.
HAVE A NAP IN A SACK!
The benefits of using a
Woolino

 
sleep sack for your baby can't be overstated. Not only does the merino wool and organic cotton keep them comfortable and temperature regulated, but the sack itself replaces the need for blankets in their crib (a known contributor to SIDS).
Woolino
sleep sacks
are high-quality but also come with a bit higher price tag. However, as they can be used year-round, you'll actually save money, as you won't need a new sack for each season. Whichever Woolino you choose, you'll quickly understand why parents rave about them— as they're easy to use, ultra-safe, and keep your little baby comfortable and cozy all through the night.
---