Overlooked Essentials for your Baby Registry
Jump to Section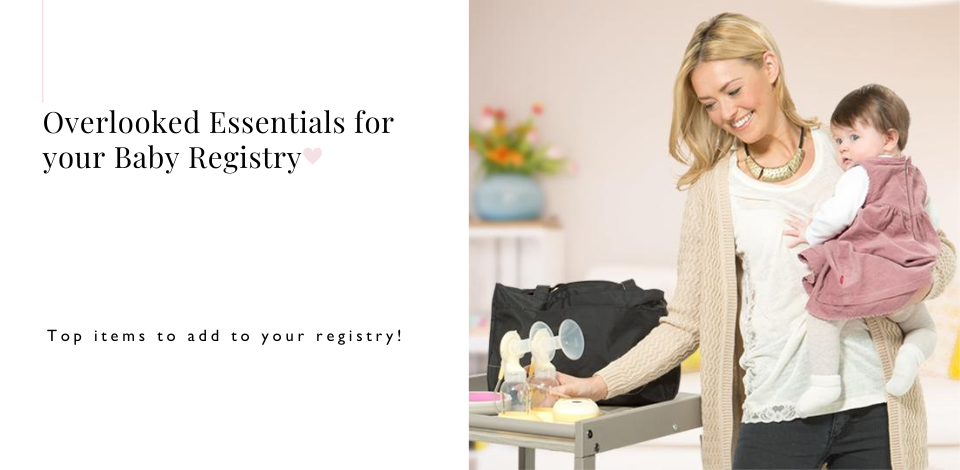 Building your baby registry is one of the most exciting — and overwhelming — parts of the early nesting phase. It's hard to know which items to prioritize, making sure you balance form and function in your choices while meshing with your lifestyle and budget.
Snuggle Bugz has lots of great perks for parents looking to create a registry. To check out our full baby registry checklist click HERE.

You probably know a few of the must-have registry essentials: stroller, car seat, bassinet, and monitor, but there are lots of other things you'll need on hand once baby arrives to keep them comfortable, clean, and well-fed.

In our 40 Weeks to Forever podcast, host Judith Little sits down with two Snuggle Bugz moms -- Melissa (an active mom of two under two) and Haleigh (mom to a six-month-old boy) -- to talk about all-things baby registry.

Keep reading to discover three often overlooked registry items!


COZY IS KEY
Ensuring plenty of sleep (for you and your little one) is one of the toughest parts of early parenthood. After nine months in the womb, the real world is full of strange sights and sounds, and lacks the comforting embrace of the uterine walls.

One way to help soothe your baby to sleep is with a sound machine, which generates white noise to mask unwanted sounds and create a calm ambience for bedtime. If your baby doesn't like it at first, try different settings and volumes or move the machine to a different location in the room. A parent-favourite machine is the YogaSleep Hush All-Natural White Noise Sounds Machine, a great option to use at home and for naps on the go.

The key to a good night's sleep for many babies is a good swaddle or sleep sack. These not only help your baby to fall asleep by replicating the embrace of the womb, but are also helpful in preventing your baby from activating their startle reflex if they move their arms or legs while sleeping.

Both Haleigh and Melissa rave about the ErgoPouch Cocoon, which is a sleep sack with a zipper in the front. One thing you don't find out until you're trying to use it for the first time on a wriggly baby is how tough it can be to get a snug fit. The ErgoPouch Cocoon is a must-have because the zipper alleviates the stress and guesswork of getting a comfortable, snug fit for your little one. This can be especially helpful if you have a partner or grandparent who may not know the ins and outs of folding a perfect swaddle or how to adjust the velcro of a sleep sack just right.

To learn more about sleep sacks, you can find our article about understanding newborn sleep, and our answers to common sleep questions (and many more great resources) in the Learning Centre.


DIAPER DIFFERENTLY
Diapers. Just the word alone can send a shiver down the spine of even the most experienced parent. Having a solid diaper plan in place is an absolute essential for any registry, but where should you focus your attention? A lightweight, versatile changing pad can often fall under the radar once you start looking at diaper bags and pails.

The truth is, a good changing pad can be used in a lot of situations, both at home and on-the-go. Versatility is key when choosing a changer. With the Natart Matty changer you aren't tied to using a specific surface for every change. You can use the Matty in your regular changing area, but if you don't feel like getting up and going back and forth all day long, just bring it with you to pop on the floor for a quick change in the living room. If you're heading on the road for a day trip, the Matty is lightweight and can easily be tossed into the car for back-seat changes.

The straight lines and simple aesthetic look great in any room, and the easy-to-clean surface of the Matty changer makes dealing with any accidents a breeze. Plus, your baby can get years of use out of this changer.

If you're not sure the Matty changer is the one for you, here's a link to a comparison between the Natart Matty and the Keekaroo Peanut changers. Our Diaper Pail 101 article can also give you some helpful tips.


PUMP IT UP!
If you plan to breastfeed, making sure your baby has a good supply of milk on hand can take a lot out of you...literally. A good quality breast pump helps alleviate the pressure of feeding on demand and can give you the chance to sleep while your partner takes care of some midnight feedings.

Look for a pump that is portable, easy to put on, and uses quick-charging batteries. A great pick is the Medela Freestyle Flex breast pump. Featuring a unique hands-free design, it's light and compact and easily fits in your baby bag so you can express when you need to without having to look for an outlet. The real bonus of the Freestyle Flex is that its long-lasting battery is USB chargeable, which gives you a lot of flexibility in when and where you choose to pump.

Want to know more? Here's a review of the Freestyle Flex, and a comparison between the Freestyle Flex and its bigger sister, the Sonata.

You can also check out our Top Breast Pumps round-up.
OUR OVERLOOKED FAVES
---