The Maxi-Cosi Home Line Overview
Jump to Section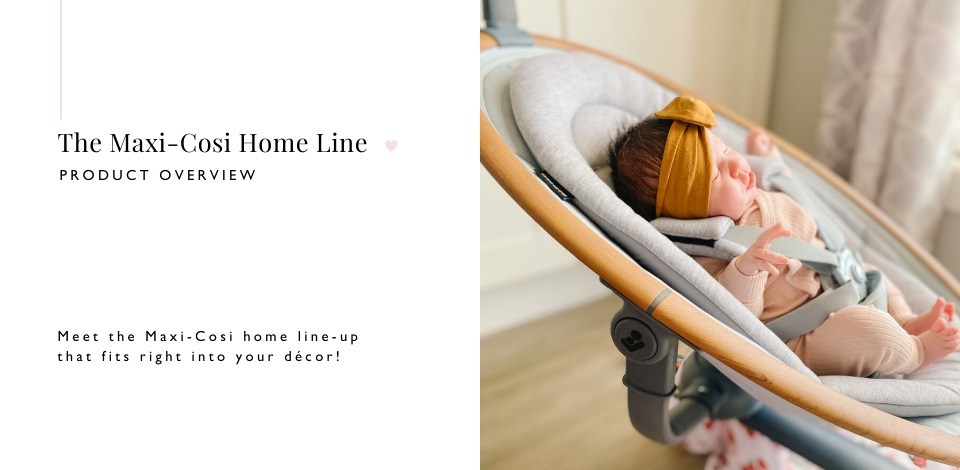 This just in, 
Maxi-Cosi
 is no longer just a car seat brand. You may be familiar with their 
Mico Max
 or 
Pria Convertible 3-in-1 Car Seat
, but in 2019 they launched an impressive contemporary and minimal-looking home line collection. The line-up now includes the 
Iora Bedside Bassinet
, the functional 
Minla Highchair
, the 
2-in-1 Kori Rocker
 and, to meet the demands of parents just like you – they are continuing to add new products like the 
Cassia Swing
 and the 
Swift Playard
 to the collection.

We love that each product has the same minimalist look and feel so that even your baby gear can look uniform with your existing home décor. You seriously might not ever need to put them away, so go ahead and add one or all of these products to your baby registry as you read along.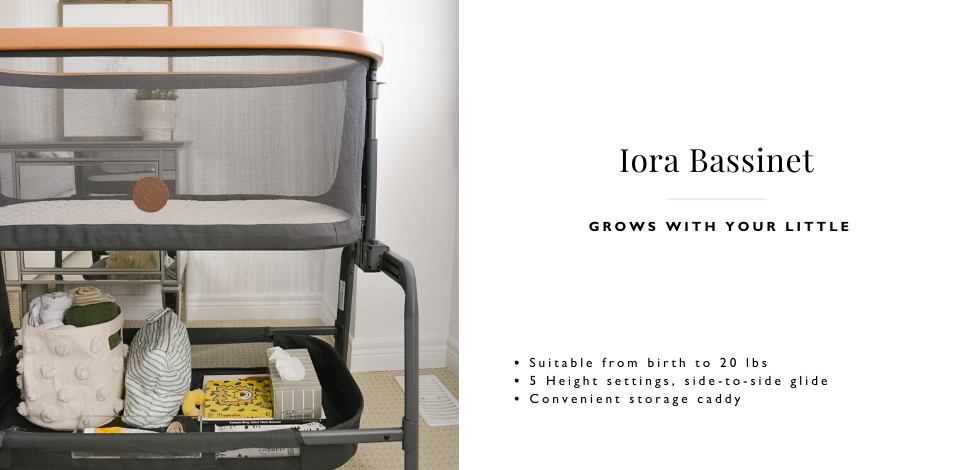 IORA BEDSIDE BASSINET
We love that the Iora can blend nicely in with the aesthetic of your bedroom, but it's also practical for babe with breathable mesh siding for airflow and visibility.

Every bed has a different height, every room has a unique layout, so we love that the Iora has 5 height settings that allow you to move it up and down and side to side. The super handy storage basket below is the cherry on top of this modern looking bedside bassinet.

Dig deeper on the Iora in our full product review!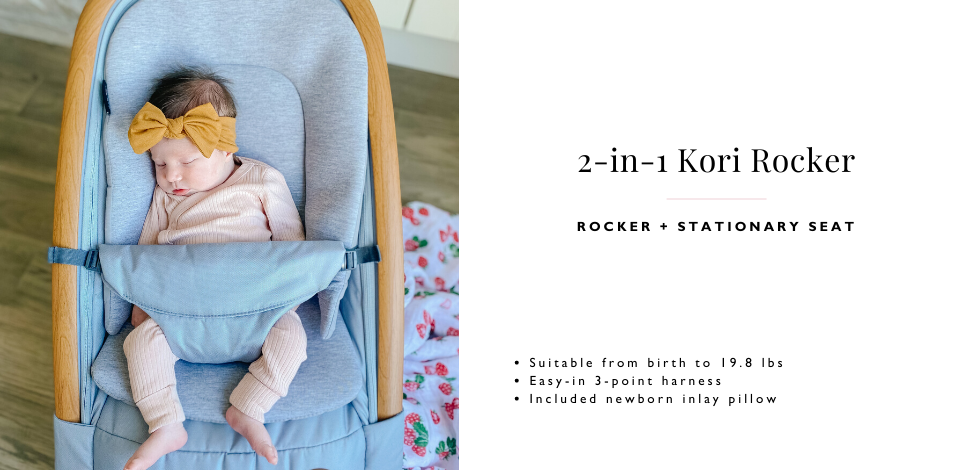 2-IN-1 KORI ROCKER
 The Kori Rocker is sleek and convenient with its adjustable 2-in-1 design. Use it as a rocker when babe is young, and as they grow it can turn into a stationary seat for baby. It has 3 different height positions to accommodate age and stage.

Our fave part? The Kori Rocker weighs in at just 8 lbs, and can be collapsed for easy storage!

Read more about the features we love in our Maxi-Cosi 2-in-1 Kori Rocker Review.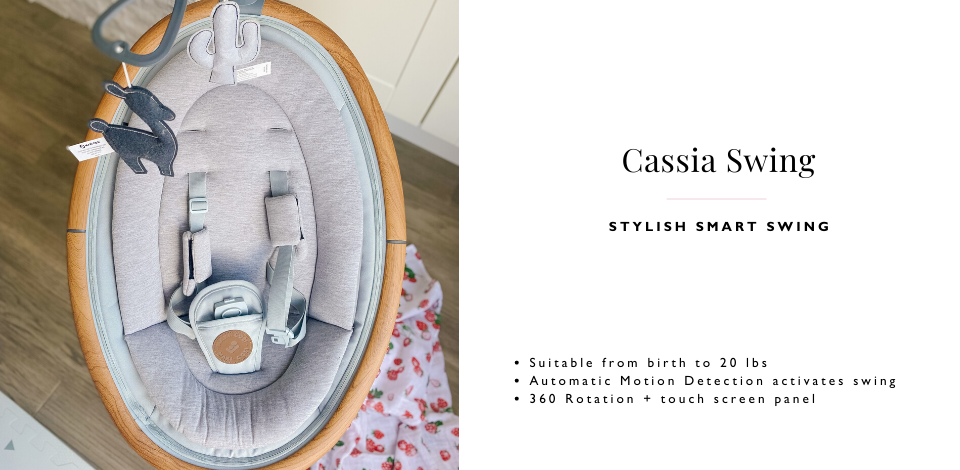 CASSIA SWING
We love the 2-in-1 Kori Rocker, but the hands-free help you'll gain from
Cassia Swing
deserves a moment to shine!
The
Cassia
can be used from birth – 20 lbs. It has x2 adjustable recline settings, a soft and comfortable newborn inlay, and a touch screen control panel. The swing may not be Bluetooth enabled but it certainly is smart! The
Cassia
has automatic motion detection–what's that, you say? When baby gets fussy, the
Cassia
will automatically activate the swing to sooth baby. Cool, right?
Let's talk numbers:
360 Rotation
12 Soothing melodies
5 Swing speeds
Overall weight: just 10lbs.
To give you a practical comparison the popular 4moms mamaRoo swing weighs 19lbs. If you are just beginning your research check out our
Top Baby Bouncers of 2022
 but, you heard it from us first, the
Cassia Swing
is new and noteworthy so don't forget to add it to your
baby registry
.
Read more about the Cassia Swing,
here.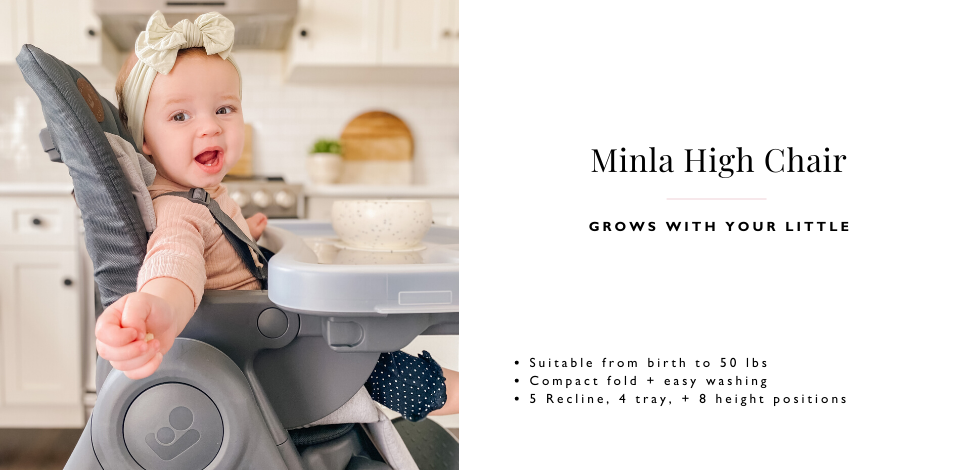 MINLA HIGHCHAIR
The Minla Highchair is functional, flexible, and fashionable with the contemporary minimal design we've already raved about above. This chair is a 6-in-1 piece, with uses for baby from birth up to 6 years old. It has 5 recline positions, 9 height positions, 4 tray positions – and can be used as a 5-point or 3-point harness depending on the age of use.

Learn more about its ability to fold away when not in use and the zip-off cover for easy clean up in our full Minla High Chair Review.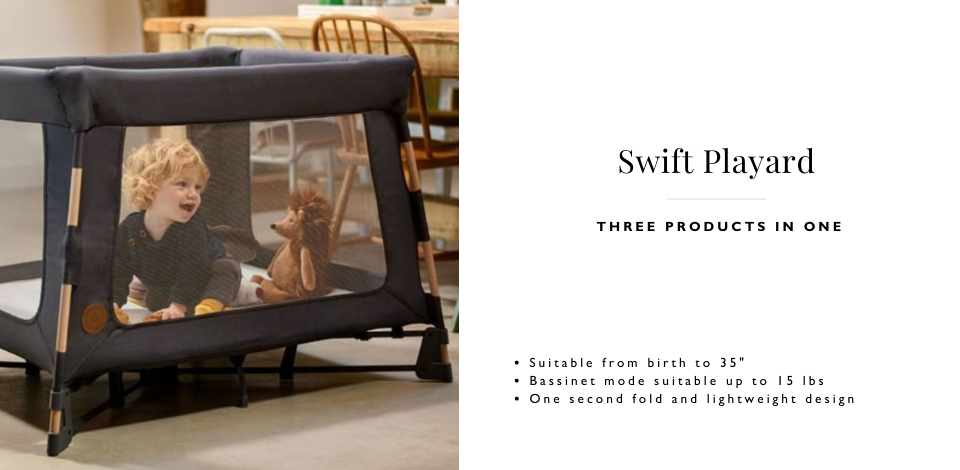 SWIFT PLAYARD
The
Swift Playard
is a must-have product for parents on the go. This 3-in-1 travel playard is a bassinet, toddler cot, and playpen all rolled into one — allowing you to use it straight from birth through to 3.5 years of age.
Besides its impressive versatility, parents will love how fast and easy it is to use. Its one-second fold makes it worthy of its name, plus it's also one of the lightest playards of its kind —making it the perfect travel companion.
For more information, check out our full in-depth review,
here
.
EXCITED FOR MORE?
Now the question is, what new product will
Maxi-Cosi
come up with next! Check out the Related Content below for our full Maxi-Cosi product reviews.
---