Salus Life Jacket Round-Up
Jump to Section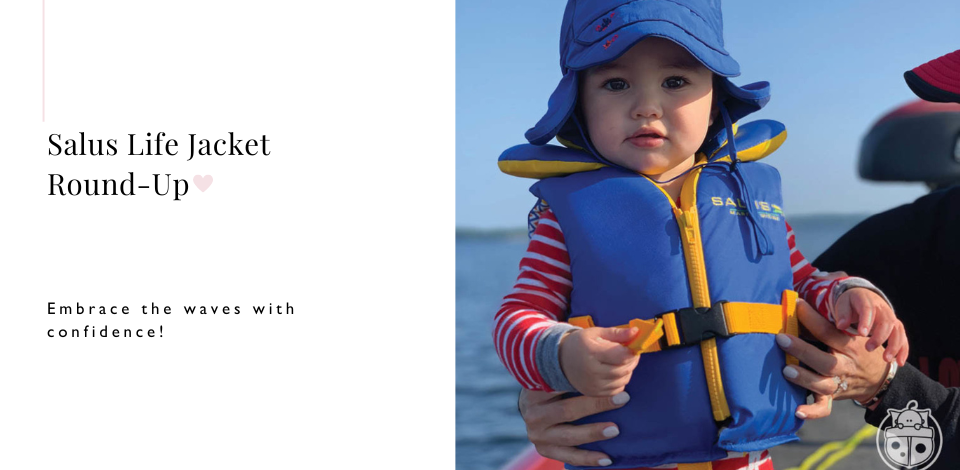 Summertime brings endless opportunities for
outdoor fun
in the water! Whether it's playing in the pool, boating on the lake, or splashing around at the beach, there's nothing quite like cooling off on a hot summer day. But as much fun as these activities can be, they can also be dangerous if proper safety precautions aren't taken. That's where
life jackets
come in!
Life jackets are an essential piece of safety gear for anyone spending time on or near the water— especially children. These floaty devices help keep kids safe while they enjoy all the fun activities that summer has to offer.
For parents who want to introduce their little one(s) to the joys of water activities,
Salus
offers a line of excellent, child-friendly
life jackets
that should be a mandatory item during your next venture near the water.
SALUS: AT A GLANCE
Salus is a Canadian company (hooray!) that specializes in high-quality, innovative life jackets and personal floatation devices for various water-based activities. Founded in 2006, they've become a trusted name in the boating and water sports community, known for their commitment to safety, comfort, and design.

Salus life jackets are not only effective in keeping people safe in the water, but also comfortable and easy to wear. They feature a number of innovative design elements, such as adjustable straps and soft, breathable materials, that ensure a comfortable fit and reduce the risk of chafing or discomfort when worn.


6 REASONS WHY WE LOVE SALUS
There are plenty of reasons why we love Salus' life jackets for your child (and you will too!):


1. The Perfect Size

Whatever the age or size of your child, Salus has a life jacket that will fit like a glove! Their Bijoux model is dedicated to infants, while their Nimbus Vest has added flexibility and can be used as your child grows between 20 and 90 lbs.

2. Multiple Colours

These life jackets have a variety of fun and vibrant colour options so your kid looks cool while staying safe! From bright blue or pink to eye-popping gold, there's a colour for everyone. Not only does this make them more appealing to little ones, but they also provide a sense of individuality and ownership, which can encourage your child to wear their jacket more willingly. It also makes your little merman or mermaid easy to spot!

3. Collar Design

Proper body support is imperative for your growing child. These jackets come with a collared design to cradle a baby's head and provide proper support as they grow. The high-collared design also put less strain on the child's neck and ensures a secure fit while in the water.

4. Adjustable Harness

The last thing you want is for the jacket to somehow slip off. To combat this, Salus equips each jacket with an adjustable harness for a custom fit to your little one — no matter if they're an infant or in their toddler years!

5. Designed for Comfort

Another feature we love is that these life jackets won't leave kids feeling like a stuffed sausage! With soft foams, mesh liner for quick drainage and drying, and elasticized pieces for a snug fit, these jackets have comfort written all over them. The Bijoux also features a shorter front, making it ideal for infant bodies, so they can sit and enjoy the water without the jacket riding up.

6. Affordable

Salus' life jackets are extremely affordable for parents on any kind of budget. Depending on the model and colour/pattern, they hover around the $100 range, with the Bijoux priced between $89 and $99, while the multi-sized Nimbus runs between $90 and $120.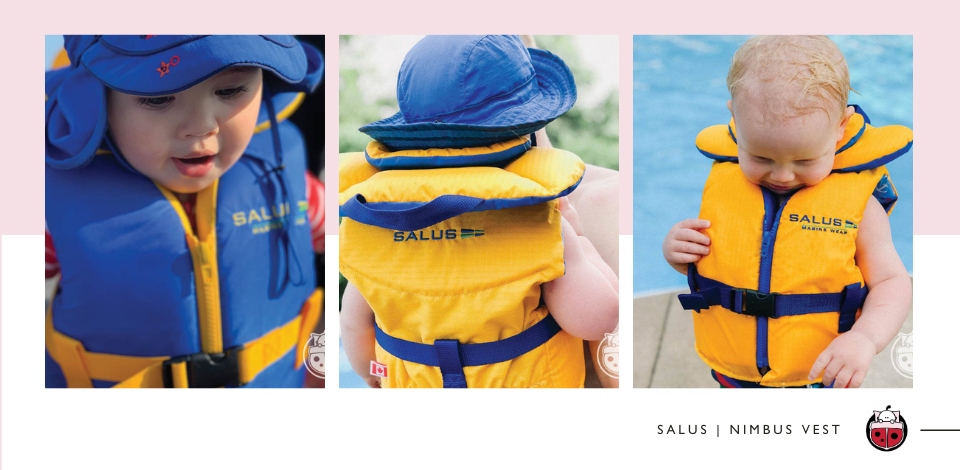 SALUS LIFE JACKETS
Salus offers two life jackets that share many of the same comfort and safety features, with sizing and colour options being the main differences:


This is the perfect starter life jacket! Designed specifically for infants weighing between 9 and 25 lbs. with 12 to 18-inch chest sizes, Salus' starter life jacket offers reliable safety features, including a durable nylon shell and adjustable straps, to ensure a secure and comfortable fit. Easy to use with stylish colours, the Bijoux give your little one a safe and enjoyable introduction to the water.
Available in 3 sizes (infant, child, and youth), the Nimbus Vest is the next step up and a perfect choice if you're looking for a comfortable and safe vest that grows with your little one! This high-quality life jacket boasts an adjustable design that can fit children weighing between 20 and 90 pounds (and a chest size between 16 and 32 inches), making it a versatile and long-lasting option.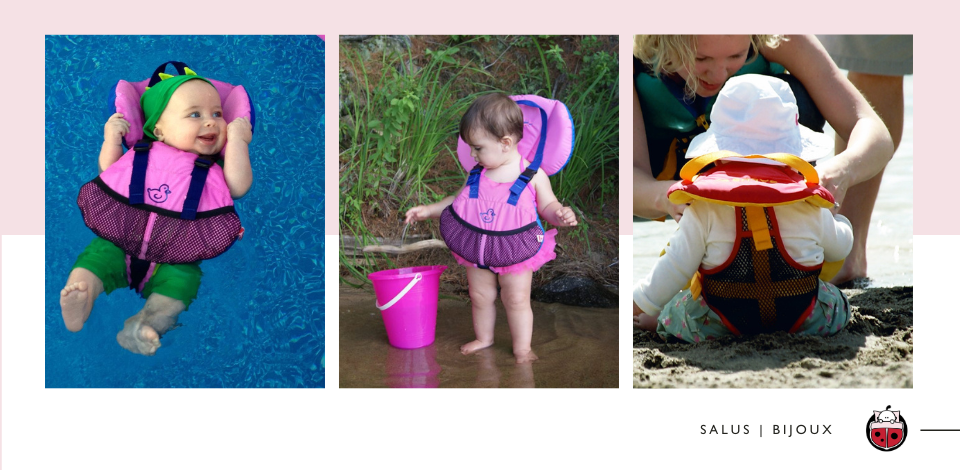 SPLASHING SAFE
Comfortable, stylish, and safe — what's not to love about
Salus
life jackets?
From the tiniest infants to older kids who are more confident swimmers, Salus' life jackets cater to children of all ages! With so many fun colours and designs available, your child can express their unique personality while staying safe.
So, if you're planning on spending time near the water this summer, we can't stress enough that you equip your child with a reliable and well-fitting life jacket. It's a small investment that can make a big difference in keeping your little one safe and happy all summer long!
For more summer-themed essentials, check out our
Cottage Living Must-Haves
, and
Get Summer Ready
articles in the
Snuggle Bugz Learning Centre
.
Additionally, you can also check out our
Summer Essentials

 
category for more must-have summer products!
---