Top Baby Bouncers, Swings, and Rockers of 2024
Jump to Section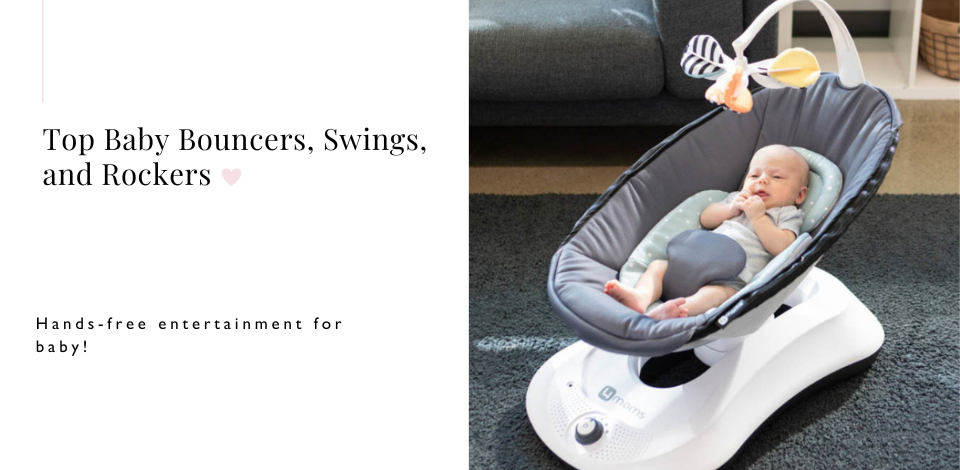 There are a few products that qualify as 
"can't live without"
 baby gear essentials in those first few months. A reliable 
rocker, bouncer,
 or 
swing
 will be one of them. You'll wonder how you would have ever gotten anything done without your go-to product to keep baby safely entertained...and your hands free.
Now, there are multiple different rockers/bouncers/swings on the market that will do the job, but in this Learning Centre article, we're breaking down our top choices!


4moms mamaRoo4 Swing
The mamaRoo4 by 4moms is definitely the most "techy" of the bunch. It has five different movements and five different speeds per movement – giving you 25 options to find the perfect one for your baby. If they're feeling a little extra fussy then you can really get it moving!

It also has four built-in sounds to choose from, so if your sound machine stays on the bedside table or in the nursery, you don't have to worry about porting that around from room to room! ( The womb is loud and babies feel comfortable when surrounded by white noise, especially in the "fourth trimester"). It's also Bluetooth enabled so you can control and adjust the movements and sounds from your smart device.

For the full in-depth review of the mamaRoo4, click here.

It is also worth mentioning, 4moms makes a couple other popular products you may want to check out. The rockaRoo Bouncer (which we will get to next) and the mamaRoo Multi-Motion Swing. To learn more about the Multi-Motion, check out our full review, here.


PROS:
Machine washable fabrics 
Toy mobile included to stimulate baby while they rock, bounce or sway 
Multiple different movements 
Adjustable recline to sit baby more upright as they become more engaged in the world 
Built-in sounds 


CONS:
Infant insert to use from birth is sold separately
Must be plugged in to use 
It's lightweight but still quite bulky, so not ideal for moving from room to room or packing into the trunk for a getaway 
Can only be used for first six months of baby's life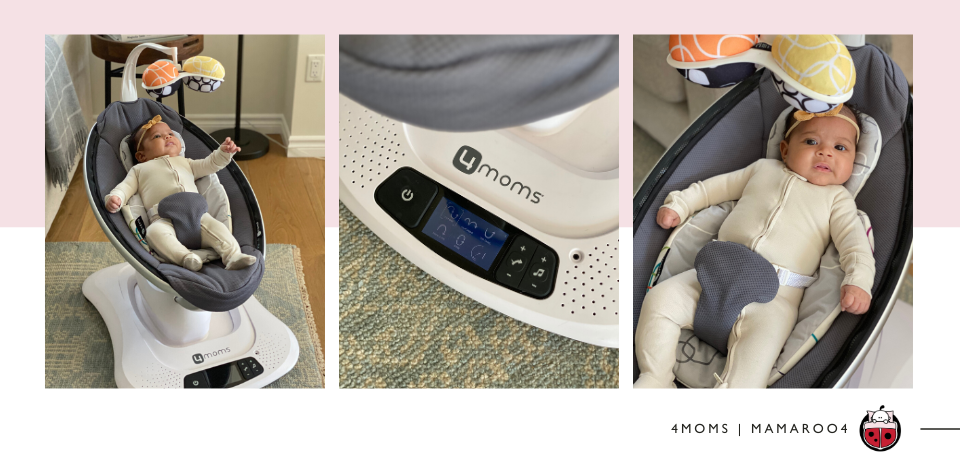 4moms rockaRoo Bouncer
As mentioned above, 4moms also has a popular bouncer that we just had to add to this list! The rockaRoo Bouncer is sleek and modern and designed to soothe. This bouncer comes with parent-favourite features such as the front-to-back gliding motion and five adjustable speeds that babies love. The rockaRoo looks great in any space too!

As with the original, the seat fabric is comfy for your little one, easy to remove, and machine washable! 4moms knows the little things make a big difference, so the rockaRoo also offers an AUX plug-in to play your own music or sounds and a mobile with reversible toy balls! Great features packed into a compact and super cute design!

For more information, check out our comparison article between the mamaRoo4 Baby Swing and the rockaRoo Bouncer, here.


PROS:
Front-to-back gliding motion has five-speed options.
Built-in sounds 1/3 the size of traditional swings (plus, lighter than the mamaRoo Swing)
Provide your own soothing sounds by connecting any MP3 device
Machine washable fabrics
Toy mobile included to stimulate baby


CONS:
Infant insert to use from birth is sold separately
Must be plugged in to use
No adjustable recline
Has less range of motion than some of the other options
Can only be used for first six months of baby's life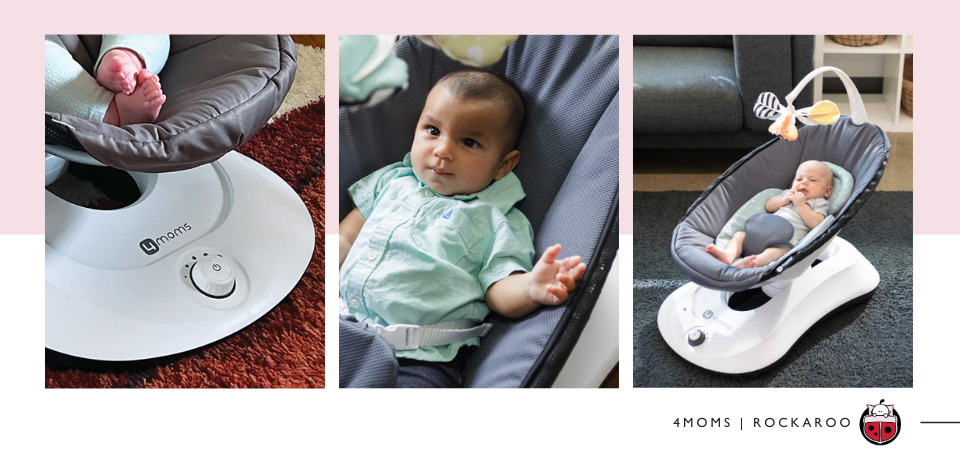 BabyBjörn Bouncer Bliss & Balance
The Bouncer Bliss (available in Mesh, Jersey, and Cotton) and Bouncer Balance (available in Soft) by BabyBjörn are awesome little bouncers with a simple, but genius, concept — and the only difference between them is the fabric choice and colour of the frame!

This bouncer requires you to use your hand or foot to bounce baby, but it's very sensitive to touch and not as daunting as it sounds! A simple tap of the toe gets baby moving.

Side note: If you open your bouncer before baby is born, don't be alarmed! The weight of the baby is what allows it to bounce so easily — #Science. Once your baby starts to realize they have control of their limbs, their own kicking will get them moving — which is shown to help develop motor skills! This bouncer is popular with parents because of how easy it is to move from room to room or pack up for the day. Need a shower? Easily bring this little bouncer into the bathroom! Heading to the beach? No outlet necessary for baby to enjoy some bouncing in the shade!

This bouncer can be used from birth to two years in two different stages. Featuring three different recline positions, you can use this bouncer right from birth to 20 lbs in bouncer position, then flip the fabric and use it as a little chair until they reach 29 lbs!

For a full in-depth review of the Bouncer Bliss, click here.


PROS:
Lightweight & compact design make it easy to move from room to room and doesn't take up much space in your living areas
Folds flat for easy storage or to transport if you're heading on a trip or just out for the day! 
No batteries or plug necessary to use 
Easily removable and machine washable fabrics 
Two modes grow with your child
CONS:
Just one movement [up and down] 
Until baby has control of their limbs, it requires caregiver to be close by for movement
Some families prefer baby closer to eye level vs. on the floor (dog families we're talking to you)
Note: Although there are photos circulating social media of the BabyBjörn bouncer being used on tables and counter tops, they make it very clear the bouncer should be used on the ground only.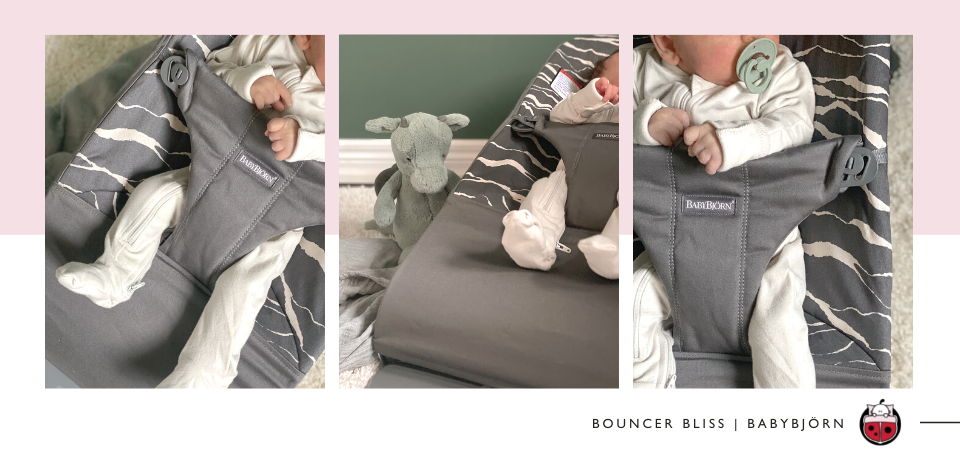 Nuna LEAF & LEAF Grow Swing
Before we begin here, check out our Nuna LEAF vs. Nuna LEAF Grow Swing article – it explains the differences between the LEAF and LEAF Grow swings by Nuna.

The LEAF and LEAF Grow swings are definitely some of the most stylish in the rocker/bouncer world. The stunning design from Nuna makes these a fan favourite, but that's not all people love about it! This swing moves gently from side to side and will continue movement for ~2 minutes with just one gentle push (that's enough time to run and pee before baby comes to a halt!) Like the BabyBjörn, this swing doesn't require batteries or a plug BUT some models do have the option to add the Wind Accessory for continuous movement.

This swing can be used from birth and comes with a cozy infant insert that can be removed for use in toddler mode and "big kid" mode! All fabrics are machine washable.


PROS:
Can be locked into stationary position for feeding or playtime 
Three recline positions – can sway in all three! 
Mesh backing beneath infant insert provides breathability 
Can be used to 100+ pounds in two different stages – the longevity of this seat can't be beat! 


CONS:
Cannot fold flat for easy transport – base and seat detach from each other 
Wind accessory sold separately so requires a caregiver to be close by for continuous movement to occur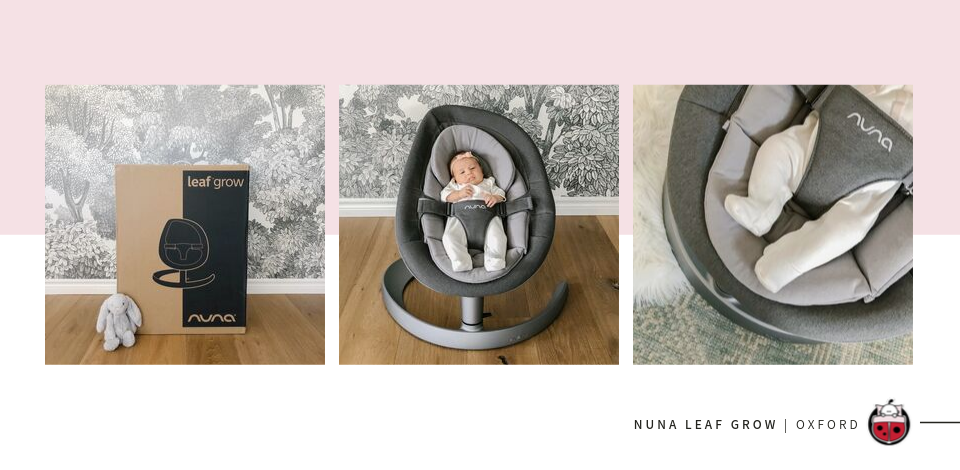 Maxi-Cosi 2-In-1 Kori Rocker
The 2-in-1 Kori Rocker by Maxi-Cosi is an affordable and attractive option for parents who need a comfy, safe place for baby to chill out and rock away in peace!

The Kori has three adjustable height positions and a multi-recline seat that easily adapt to provide baby the best seat in the house. The rocker's ultra-lightweight and minimal design folds and tucks away for easy storage, but it is so sleek you may just want to keep it out! A comfy newborn inlay is included so you can get your baby rocking right away, and the removable cover is machine washable to keep up with spit up and spills.

For a full in-depth review of the Kori Rocker, click here.


PROS:
Affordable solution
3-point harness is easy to use and keeps baby safe
Sleek and minimal design
Folds flat and features a lightweight design for easy transport and storage
Removable fabric makes machine washing easy
Comfy newborn inlay included


CONS:
Just one rocking movement
Not automated/no Bluetooth capabilities
Cannot be used past 19.8 lbs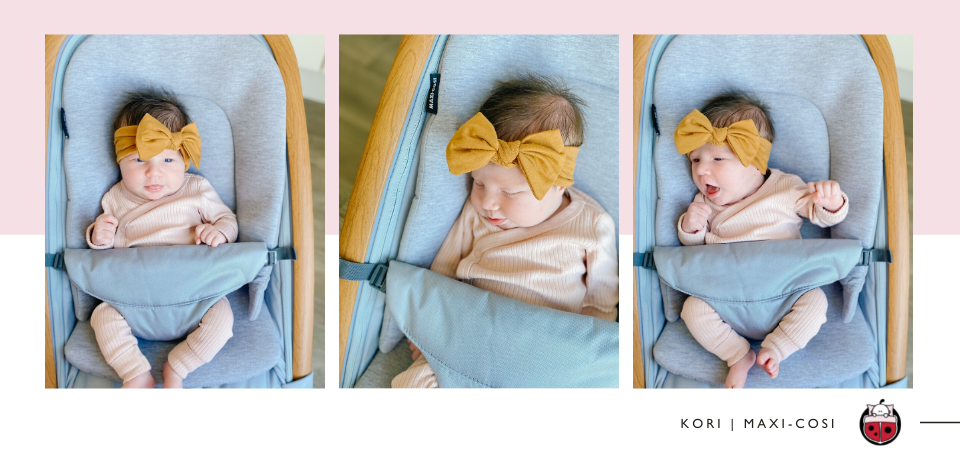 Maxi-Cosi Cassia Swing
Another option that has us swooning from Maxi-Cosi is the Cassia Swing.

This swing gives parents an extra pair of hands with its smart features and functional design. The Cassia is available from birth to 20 lbs. Its luxurious finishes, soft-to-touch fabric, and two recline positions add extra comfort, ensuring baby is as relaxed as possible.

The smart technology on this swing is out of this world. Just like you, it instinctively knows when and how to rock your baby — all thanks to the automatic motion detector. The Cassia also provides 360-degree rotation, so you can keep an eye on baby from every angle.

This swing is super lightweight, at just 10 lbs, making it easy to take it with you on any adventure. Included with the swing are two adorable toys and a cozy newborn inlay providing baby with the utmost support. We also LOVE the stylish aesthetics of the Cassia!

For our full in-depth review of the Cassia Swing, click here.


PROS:
Automatic motion detection responds to baby to soothe and comfort
360-degree rotation
Five swing speeds, 12 soothing melodies and nature sounds
Lightweight and easy to move
Two recline positions
Stylish, modern look
Machine washable fabrics
Toy mobile included
Includes infant insert
Has the option to be used with batteries or plugged in


CONS:
Has less range of motion than some of the other options
Can only be used until baby is 20 lbs.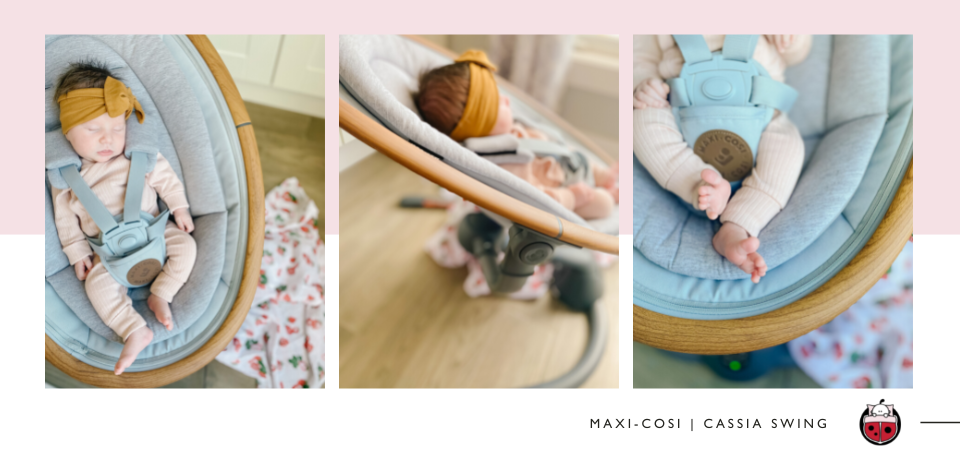 Ready to Rock
Those are our fav rockers, swings, and bouncers and they're all amazing & stylish options!

Depending on your lifestyle and what it is that you're looking for, one may be better suited to your family than the others. Have you added one [or two] to your baby registry yet?
---
---