BabyBjörn Baby Carrier Round-Up Review
Jump to Section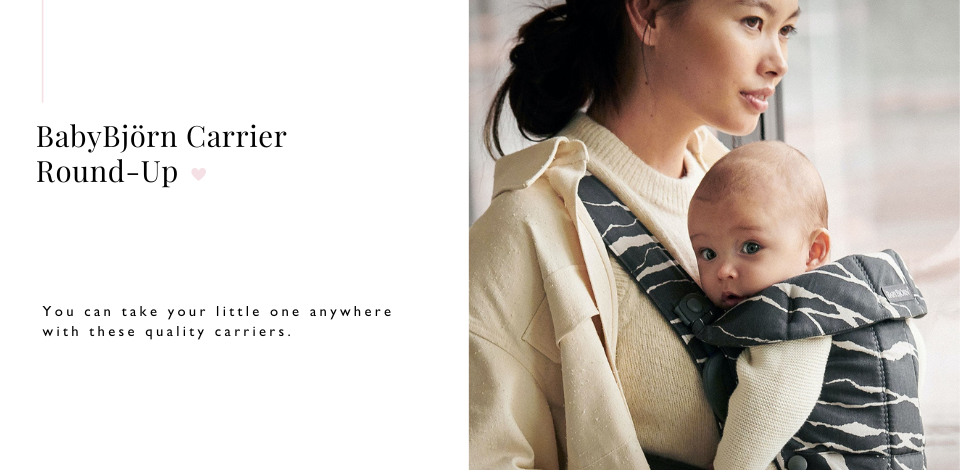 Babies have it made — sleeping all day, playing with toys, being carried around. What a life! But for some parents, it can be difficult and physically exhausting to carry their child around all the time.
BabyBjörn's carriers
make things a little easier. They free up your hands while keeping your baby close, safe, and secure. 
Carriers

 
can be used anytime — whether that's walking around the block, going on a hike, or simply running everyday errands. Not only are they super convenient for parents, but babies LOVE them! Honestly though, who wouldn't enjoy being carried everywhere they go?
Let's take a closer look at the various models
BabyBjörn
offers, so you can choose the right carrier for you and your child.
WHAT TO LOOK FOR
Not all carriers are created equal, and you should take into account the following features when shopping for one:
Correct Sizing
BabyBjörn's carriers come in a range of sizes. They all accommodate newborns, but have a different maximum age for use. As a general rule, the longer you can use the carrier, the more expensive it will be.
Carrying Positions
The majority of carriers are designed for
babywearing
on your chest. In this position, your baby can either face inwards to look at a familiar face, or outwards to discover the world. Some carriers also allow for a backpack carry position, which can come in handy for activities such as hiking or biking.
Comfortable For Parents
Carriers are usually worn for prolonged periods of time. Strapping on 7 to 25 lbs. is going to put strain on anyone's body, so look for a carrier with a good deal of support. The best ones will have comfortable padding, adjustable straps to properly fit your body, and a waist belt to evenly distribute the weight.
Comfortable For Babies
A comfortable baby is a happy baby! Look for a carrier that has a wide seat, soft fabrics (like woven cotton or 3D jersey), an infant insert (or adjustable pieces for proper positioning), and large openings so baby's arms, legs, and head can easily move.
Ventilation
Imagine being attached to another human being for an hour or two. A baby's body runs 3 to 5 times hotter than an adult's, so keeping them cool in a carrier is extra important. Temperature control carriers are covered in mesh fabric to wick moisture while simultaneously increasing airflow and ventilation for added comfort.
BABY CARRIER MINI (COTTON)
Suitable for:
The Baby Carrier Mini (Cotton) is the smallest baby carrier from BabyBjörn. Available in 5 different colours, it's aimed at parents who need a carrier for short babywearing sessions. It's small size makes it ideal for bonding with your bundle of joy during their first 12 months, and it comes with a wide seat and adjustable head support to grow along with them.
This model of the Mini is draped in satin-woven cotton, making it comfortable for a newborn's tender skin. For maximum comfort, BabyBjörn also makes Minis with 3D jersey fabric (extra soft), and 3D mesh fabric (extra cool).
BABY CARRIER FREE
Suitable for:
0-15 months
7 to 26.5 lbs.
21" to 33" / 53 to 85 cm
While it's not actually free, the
Baby Carrier Free

 
is a step up from the Mini. It comes in 6 colours and places greater emphasis on comfort for long babywearing sessions.
It's upgraded strap system is padded and adds a waist belt, providing parents with superior back support. The straps can also be adjusted to fit any carrier's body type/size.
For baby, the 3D mesh fabric lets air flow effortlessly, keeping them cool at all times. An infant insert is included for ideal positioning and the Free can be adjusted for length, as well as head and leg support as your child grows.
Certified "Hip Healthy" by the International Hip Dysplasia Institute, this model correctly supports your baby's hips and encourages good hip joint development in their first few months.
Additionally, it's approved for OEKO-TEX Standard 100 classification, which simply means the carrier is manufactured with products that won't harm your child.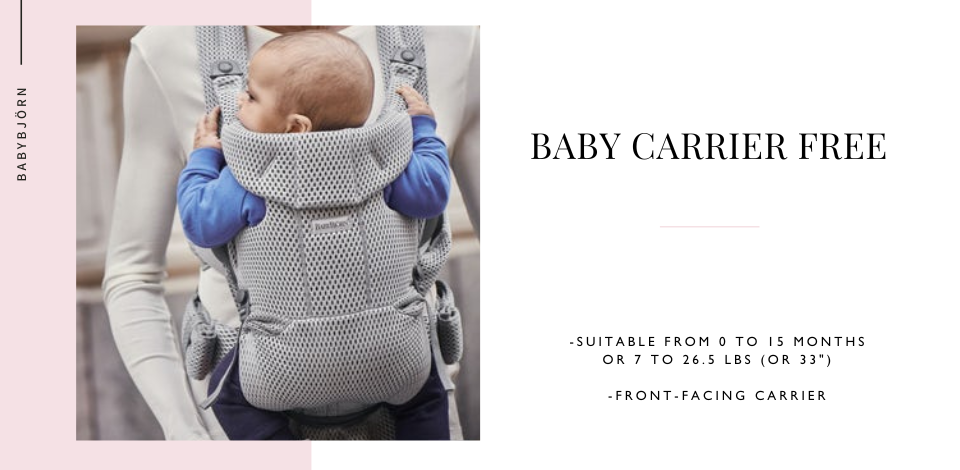 BABY CARRIER ONE - COTTON MIX
Suitable for:
0 to 36 months
8 to 33 lbs. (3.5 to 15 kg)

The Baby Carrier One (Cotton Mix) is a large carrier that comes in 7 baby-inspired colours. While it can be used up to the age of 3, its extended use also commands a higher price tag.

Having said that, it's an excellent model that covers all the comfort and functionality points parents look for in a carrier. Adjustable padded shoulder straps, a waist belt, and two height positions make it a versatile choice. Additionally, you can wear this one backpack style! Like the Free, it's certified "Hip Healthy" and meets the requirements of OEKO-TEX Standard 100 classification.

For a cooler carrier, BabyBjörn produces a 3D Mesh model known as the Carrier One Air.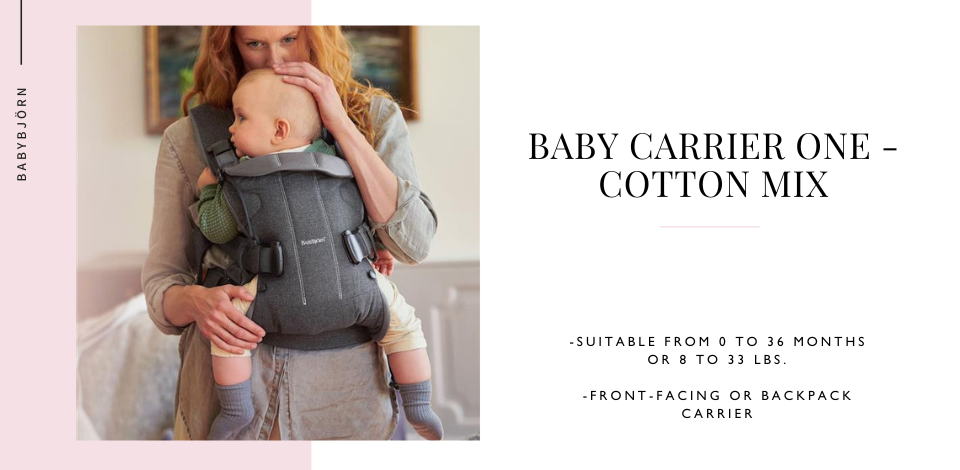 BABY CARRIER HARMONY
Suitable for:
Newborns 7 lbs./3.2 kg up to age 3
The crème de la crème of BabyBjörn's carriers is the
Harmony
model. With 3 colours to choose from, the Harmony is an ergonomic option that's been designed to minimize pressure and maximize comfort.
It can be worn as a front-facing or backpack carrier, and is outfitted with padded shoulder straps, padded lower back support, and a waist belt. The straps are also adjustable to properly position baby while they're in the carrier, which eliminates the need for an infant insert.
A hip-friendly carrier that's fully outfitted in 3D mesh, it keeps both parent and child comfortable and minimizes overheating when used for extended periods.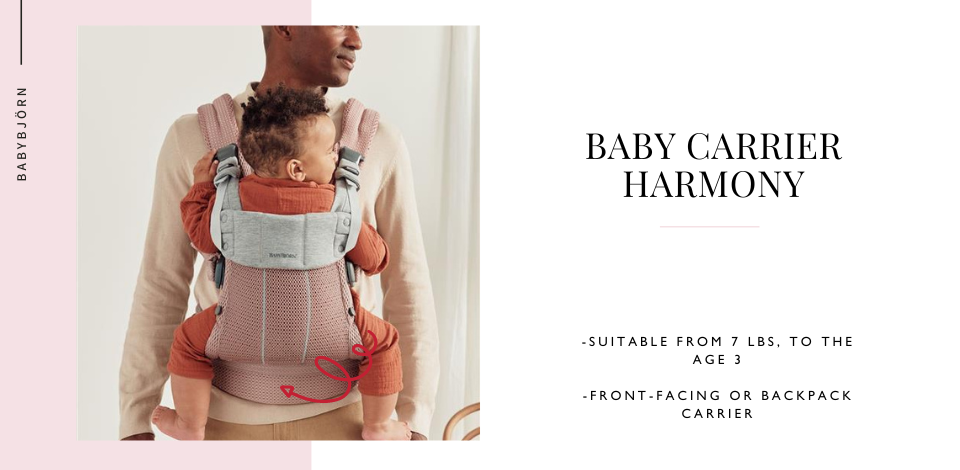 Final Thoughts
BabyBjörn
's carriers are some of the best on the market. Offering a wide variety, they have options for all parents, and at reasonable prices to boot! All you have to do is decide how many years of use you'd like to get from it, and what comfort features are must-haves.
Happy shopping!
---