Bob Renegade Wagon Review
Jump to Section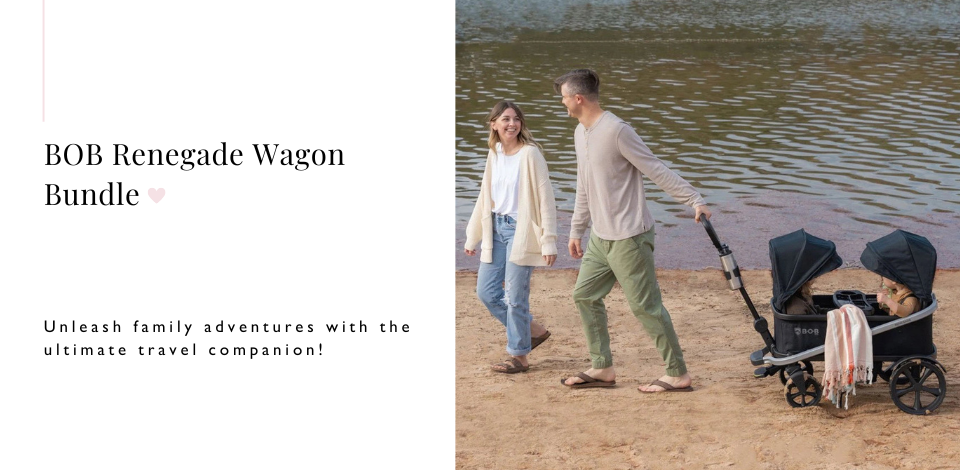 Listen up, Mom and Dad! Have you been wondering if a product exists that can effortlessly transport your little ones (and all their essentials) while keeping them safe and comfortable at the same time?
Step away from the stroller! When it comes to family fun, you can't beat a wagon! Whether you're headed to the park, the beach, or a family picnic, having wagon wheels is a total game-changer!  But not just any wagon will do. You'll need one that ticks all the boxes: durability, comfort, safety, and convenience.  
That's where the Renegade Wagon Bundle from BOB shines! With its rugged construction, spacious seating for 3, adjustable harnesses, and easy manoeuvrability, it's the ideal companion for your family outings.  
So get ready to make lasting memories with this high-end wagon as you embark on exciting adventures with your loved ones! 
Tackle Tough Terrain
THE SPECS:  
Suitable for: Children who can sit unassisted (with sufficient head and neck control) to a maximum height of 44"

 

Maximum Weight Capacity: 165 lbs. (55 lbs. per seat)

 

Seating Area Dimensions: 15.75" H x  8.66" D x 15" W

 

Wagon Dimensions: 49.62" D x 28.61" W x 38.58" H

 

Wagon Dimensions Folded: 41.73" D x 28.61" W x 18.5" H

 

Wagon Weight: 42 lbs.

 


The Renegade is a true family companion that fearlessly tackles any terrain with ease! Crafted with a robust and welded aluminum frame, this bad boy is built with the utmost durability for all your adventures. 
Large XtraMile tires are ready to roll over any terrain you encounter, from rugged trails to bumpy roads. The Renegade's polyurethane foam tires are designed to deliver optimal performance and traction, with 8" inch wheels in the front and 12" wheels in the back for additional stability. What's more, the wheel, rim, and spokes are all made from high-impact composite material, ensuring durability without compromising performance. 
Combined with BOB's SmoothShox suspension system, it guarantees a comfortable ride for your little ones, absorbing shocks and keeping them at ease throughout their journey! 
In terms of maneuverability, the Renegade blows away its predecessors, with an improved SteerSteady Push & Pull handle. This allows you to navigate corners and obstacles smoothly, providing ultimate control over the wagon's movements.  
Easy-Go Wagon
Bob makes taking the Renegade on your outdoor adventures super simple too! (are you sensing a theme here yet?) 
Folding it up is a cinch with just three simple steps: just flatten each seat back, and then collapse the handle on top of them. You're now ready to load it into your vehicle for your day out! It really could not be engineered any easier. We love this feature, as we know all too well that fighting with your gear is the last thing you want to be doing as a busy parent. 
Once you arrive at your destination, simply reverse the steps and you're ready to rock!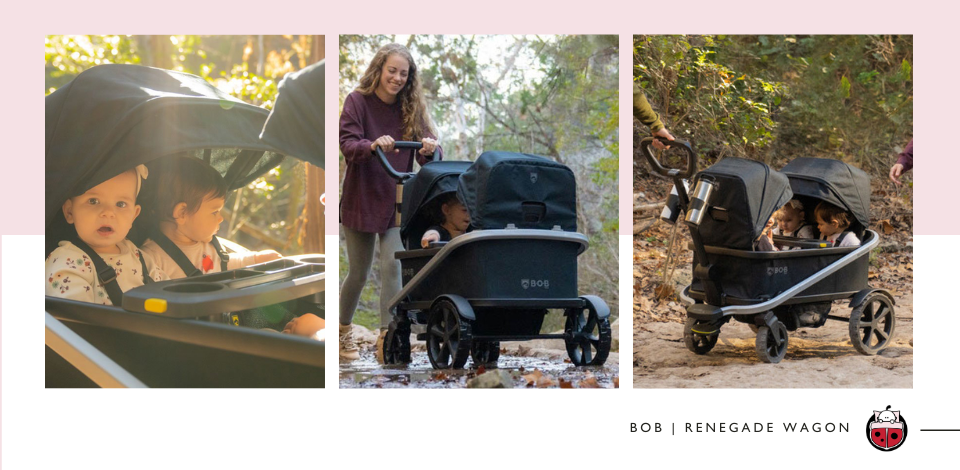 Comfort Plus
Not only does the Renegade have features to tackle tough terrain, but it also prioritizes the comfort and convenience of both you and your children: 


Ample Space:  
Being a 3-seater wagon, the Renegade provides plenty of room for kids and all the necessary supplies you might need during your adventure.  
Child Snack Tray: 
The wagon includes a convenient child snack tray that rests between passengers, allowing little ones to enjoy their favourite snacks while on the move. 
Adult Cup Holders: 
Parents can enjoy their drinks or coffee too, as the Renegade is equipped with two adult cup holders for added convenience.  
Storage Pockets: 
With four storage pockets, this wagon ensures all your essential items are within arm's reach, allowing you to stay organized throughout your outing. 
Sun Protection: 
Dual UPF 50+ canopies shield your little ones from the sun's harmful rays, ensuring their delicate skin is well-protected. Additionally, the water-resistant fabrics keep your kids dry in unexpected downpours! 
Protected Passengers
Speaking of protection, BOB takes safety seriously! 
Equipped with adjustable 5-point harnesses to ensure a secure fit for each child, you can relax knowing you're keeping them comfortable and safe during their ride. The fully upright seating position further enhances safety, offering proper support and stability on the move. With a convenient one-step footbrake, you can easily keep the wagon in place whenever needed. Also, the Renegade not only meets ASTM requirements but also goes through rigorous testing to ensure exceptional performance and reliability, making it a trusted choice for families seeking a safe and reliable wagon for their little ones! 
The Renegade Revolution
If you are looking for a wagon that can take you where your stroller can't, BOB's Renegade Wagon may be for you.  
We absolutely love that you can buy this wagon in a bundle with all the accessories you'll need for a day of adventure, such as the dual canopies, a child snack tray, and adult cup holders! Plus, the price point of the bundle is around the base model cost of some of the Renegade's competitors, so you are saving some money too. 
With its rugged construction, all-terrain tires, comfortable ride, and easy manoeuvrability, you've got an exceptional choice here to explore the great outdoors with your little ones! 
* It's important to note that the Renegade Wagon is intended for walking speed only and shouldn't be used while jogging, skating, or any other high-speed activity. If you are looking for a product to take on runs, be sure to check out Bob's active stroller line. 
---