Nuna PIPA Infant Car Seat Review
Jump to Section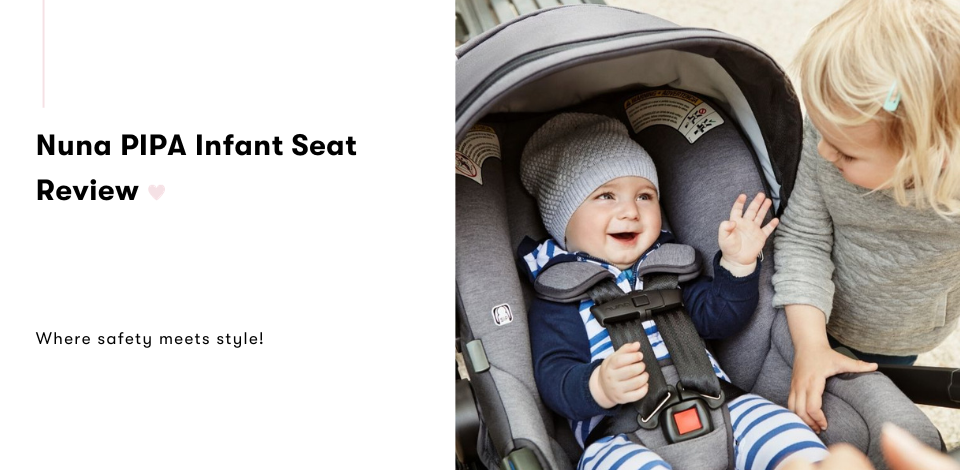 Gather around, friends, for we are going to tell you about a
car seat
so fantastic, it must be seen to be believed! You see, once upon a time, in the magical world of parenting, there was a car seat called the
Nuna PIPA Infant Car Seat.
With its snazzy style and superhero-like safety features, this car seat was every parent's dream come true. Its features were so magical, it could turn every family trip into grand adventures! 
So, hold onto your hats and get ready for a whimsical journey through the land of Nuna, where convenience and comfort reign supreme!  


Stylish Seat, Secure Cargo
THE SPECS:
Recommended for use with children 4 to 35 lbs. or up to 32"

 

Car Seat Dimensions: 26.1" H x 17.5" W x 25.2" L

 

Car Seat Weight: 7.9 lbs. (21.9 lbs. with base)

 

 


The rear-facing Nuna PIPA boasts distinctive contours and modern aesthetics, making it a stylish choice for parents who appreciate both safety and fashion!  
The clean lines and premium materials provide a sleek appearance and contribute to the overall comfort of your baby. Plush padding and soft fabrics cradle your little one, ensuring they're snug and cozy during every ride. Whether you're taking a road trip or simply strolling through the city, this car seat adds a touch of elegance to your baby gear. 
Any parent can set up the PIPA thanks to Nuna's True Lock installation system, complete with rigid LATCH connectors! It's a matter of clicks and indicators. As you attach the car seat base to your vehicle, the indicators turn green when it's correctly installed. This visual reassurance takes the guesswork out of installation, guaranteeing that your baby's car seat is firmly and safely secured for every ride. 


The Safest Ride
NUNA redefines safety standards with a robust set of features designed to keep your precious cargo secure:  


Heavy-Duty Shell: 

The PIPA impresses with a heavy-duty shell that manages to be super resilient while remaining ultra-lightweight, weighing just 7.9 lbs! This lightweight design enhances ease of use without compromising safety.

 



Side Impact Protection

: 

Safety-conscious parents can rest easy knowing this car seat offers comprehensive side impact protection. It provides full-body side impact coverage and security, shielding your baby from potential collisions from all angles.

 



5-Point Harness: 

The inclusion of a 5-point harness ensures maximum security by securely strapping your baby in, preventing any unwanted movement during travel. Additionally, the single-pull harness adjustment simplifies the process, making it both secure and convenient.

 



Removable Infant Insert: 

For the tiniest passengers, the PIPA includes a removable infant insert. This thoughtful addition provides proper support for newborns, cradling them in comfort while maintaining a secure fit within the seat.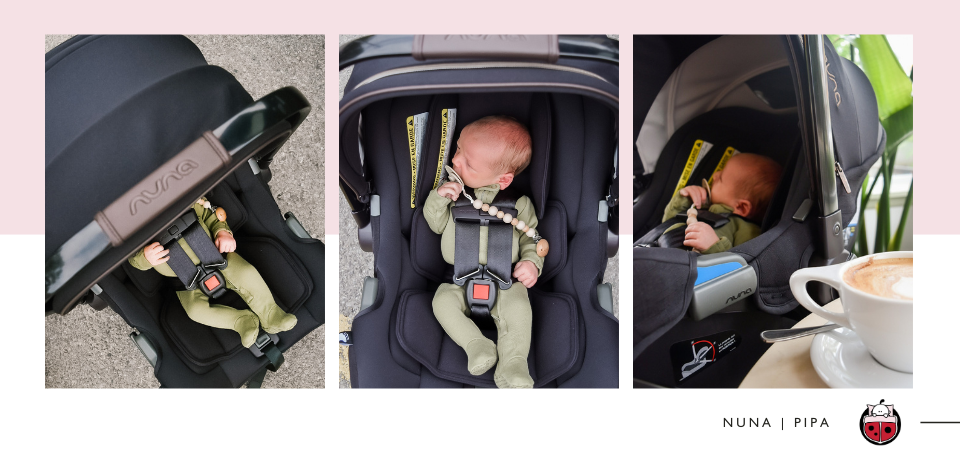 A Happy Place
The PIPA is loaded with features to add convenience and comfort, making every journey a joy for you and your little! 
With premium micro knits, this car seat elevates comfort to a whole new level. This luxurious fabric creates a plush, cushy environment for your baby that's also versatile. Whether it's sweltering heat or chilly weather, the micro-knit fabric keeps your little passenger cool and cozy, ensuring a comfortable ride no matter the climate. 
Protecting your baby from the elements is a removable, full-coverage UPF 50+ canopy with a flip-out eye shade, shielding your baby and their little peepers from sun and glare. Adding to this, a dream drape provides an extra layer of defence (and privacy), neatly tucking away in its secret compartment when not in use. 
The PIPA also works to keep your child's temperature controlled. The peek-a-boo mesh window not only allows airflow for comfort but also grants you a convenient bird's-eye view of your little one! This, combined with the micro-knit fabric, ensures your child stays comfortable and relaxed during any journey, regardless of the weather conditions. 
When it comes to transporting your baby, the Nuna PIPA's lightweight aluminum carry handle is thoughtfully designed with ergonomics in mind. It's easy to tote, allowing you to move your little one with comfort and ease! 
 

Bonus Round Bonanza
Nuna's not done there! They've got a few bonus features up their sleeve for you to get the most out of the PIPA: 


Travel System Compatibility: This car seat seamlessly transitions into a

travel system

, making it compatible with Nuna strollers, including the

MIXX

,

TAVO

, and

TRVL

. Additionally, the PIPA also has compatibility options beyond the Nuna stroller range as it connects with UPPAbaby's

VISTA V2

and

CRUZ V2

strollers with

this adapter

, ensuring a smooth and integrated travel experience for you and your baby!

 
Wet Weather Protection: For unpredictable weather conditions, Nuna offers a

Rain Cover

to shield your baby from rain and wet weather, keeping them dry and comfortable during your outings!

 
 

Bonus Base: You can purchase a secondary

Car Seat Base

for added convenience if your family has multiple vehicles or caregivers. The additional base ensures that transferring the car seat between vehicles is a hassle-free process!

 


A Dream Seat
To sum things up, the PIPA Infant Car Seat is a dream seat for parents and children, offering a remarkable blend of style, security, convenience, and comfort.   
Parents will appreciate the hassle-free installation with the True Lock system, while the car seat's plush padding and versatile micro-knit fabric ensure a comfortable ride in any weather.  
With safety a top priority, Nuna includes features like a heavy-duty shell and comprehensive side-impact protection, while travel system compatibility and the dream drape provide much-needed flexibility on your parenting journey.   
Designed to make every ride a pleasant one, the PIPA is an exceptional option for your little one's early months that both of you will love!  
For more information on Nuna's line of PIPA car seats, check out our PIPA vs. PIPA Lite vs. Lite XL article. You can also learn about Nuna's full car seat range in our Nuna Car Seat Lineup article. 
---
---