UPPAbaby MESA V2 vs. Nuna PIPA Infant Car Seats
Jump to Section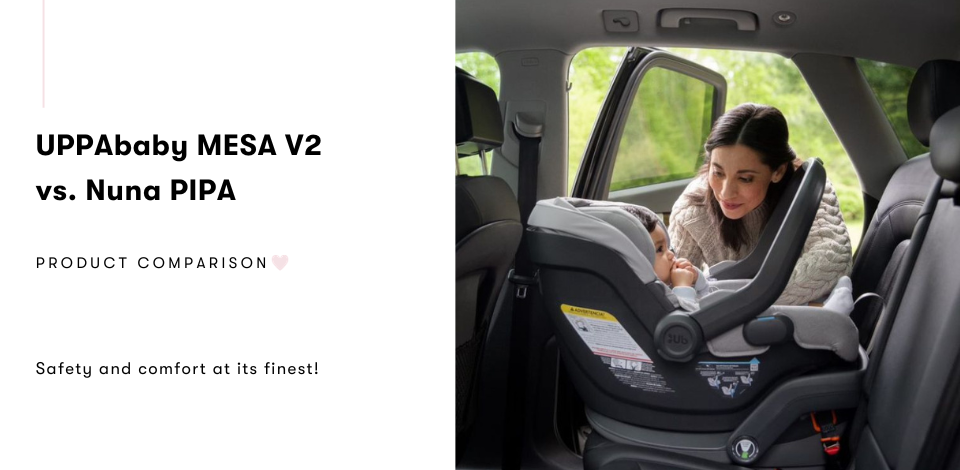 If you're thinking of purchasing an
UPPAbaby
VISTA V2
or
CRUZ V2
, or
Nuna MIXX Next
, this question has probably crossed your mind at one point or another. It may even be the topic of dinnertime conversation! 
UPPAbaby MESA V2 or Nuna PIPA? The Nuna PIPA attaches to UPPAbaby strollers with the use of adapters, whereas the UPPAbaby MESA V2 clicks right onto your frame without an additional purchase necessary.  
[Note that car seats are sold separately from strollers to create a travel system]
So, how do you choose the one that is right for you? That's where we come in!


KEY CAR SEAT FEATURES
NO RE-THREAD HARNESS:
Nuna PIPA– No
UPPAbaby MESA V2 – Yes


ANTI-REBOUND BAR, OR LOAD LEG:
Nuna PIPA – No
UPPAbaby MESA V2 – Handle must be moved forward when in vehicle and acts as anti-rebound device


LATCH TYPE:
Nuna PIPA – Rigid latches
UPPAbaby MESA V2 – Self-retracting UAS


CANOPY:
Nuna PIPA – Extra-large dream drape, UPF 50+ canopy
UPPAbaby MESA V2 – 20% larger than the original UPPAbaby MESA. UV-resistant canopy now extends past the handlebar of the car seat and retracts into the seat when not in use.


WEIGHT + HEIGHT LIMITS:
Nuna PIPA & UPPAbaby MESA V2 – Both 4-35 lbs or up to 32" or when head is within 1" of the top of the car seat
[your child has outgrown their seat when they have hit any one of these limits]
CAR SEAT WEIGHT:
Nuna PIPA – 7.9 lbs
UPPAbaby MESA V2 – 9.9 lbs
CAN IT BE INSTALLED WITHOUT THE BASE?:
Nuna PIPA – Yes
UPPAbaby MESA V2 - Yes
If any of these terms have your head spinning, make sure you review
this car seat terms glossary
that we created to help you out with that!
NUNA PIPA
PROS:
Quickly installs with 2 rigid latches  
Huge canopy provides maximum coverage
Compatible with many different

 

strollers

 

to create a travel system
One of the lightest

 

infant car seats

 

on the market  
Stunning leatherette detail on the carry handle for comfort and style
CONS:  
Proper recline level is measured with blue line on car seat being parallel to the ground – this can require use of a towel or pool noodle to adjust to proper angle in your vehicle [no angle adjustment options built into the base]
No additional anti-rebound system in Canada [there is a load leg on US PIPA car seats only] - please note that all car seats must meet very high anti-rebound rotation standards in Canada with or without additional features 
Base is long which can lead to incompatibility in some vehicles with shorter seats [20% of base allowed to overhang]
Manual adjustment of shoulder straps as baby grows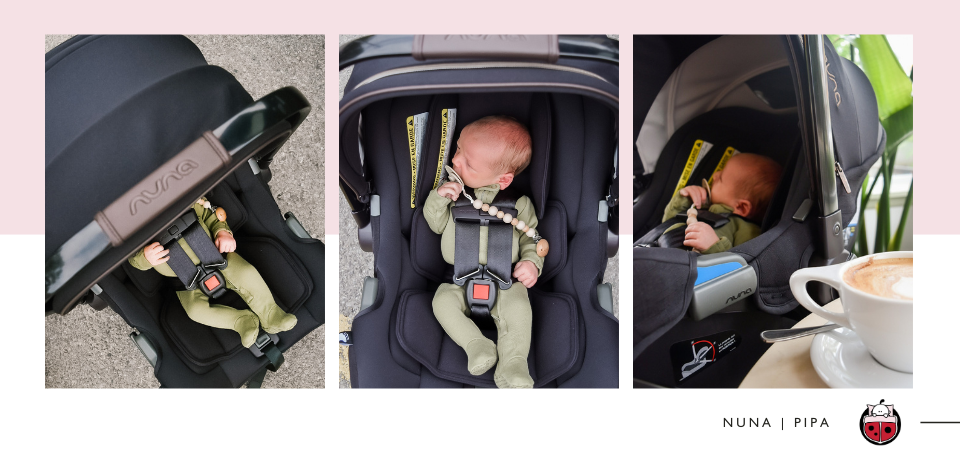 UPPABABY MESA V2
PROS:  
Uses a self-retracting latch system to get a tight install against the vehicle seat back  
Red/green indicators in multiple spots on base to confirm proper install and angle
No re-thread harness is easy to make adjustments on the fly
A 4-position adjustable foot for levelling the base
A 4-position handlebar that doubles as an anti-rebound bar 
Added layer of Side Impact Protection surrounds baby's head
Base has height adjustments built in to fit on vehicle seats with a seat with a deeper slope & the use of pool noodles or rolled up towels is allowed when need be [*refer to manual for more details]
CONS: 
The MESA V2 is a few pounds heavier than the PIPA
The Merino wool lining can be quite hot for some infants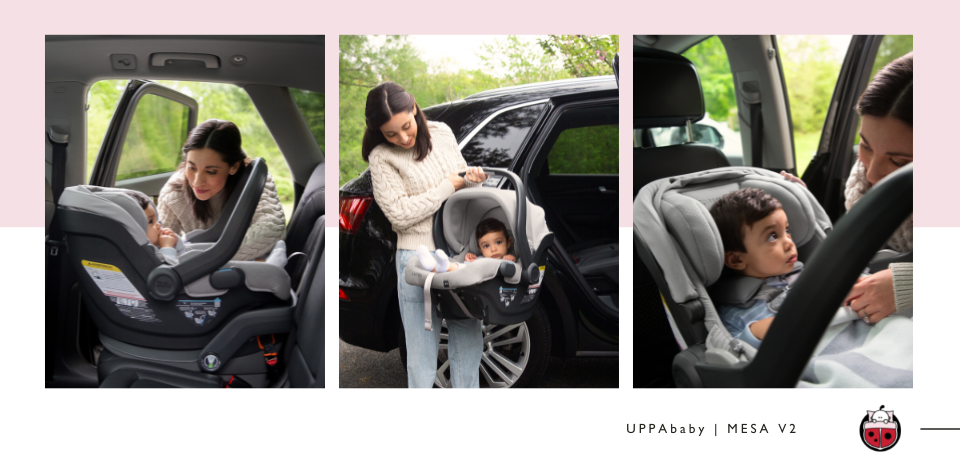 FINAL THOUGHTS
We hope that helps break down the differences between these two popular
infant car seats
for you!
---
---