4moms mamaRoo Swing Review
Jump to Section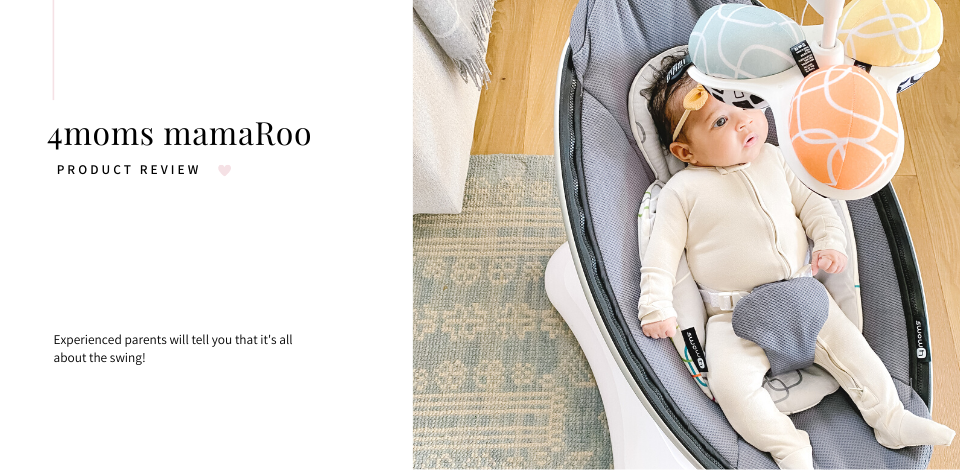 There is a "magical" swing on the market and today we are dishing all of the details on WHY the
4moms mamaRoo
has received so much attention from parents [and babies] alike.
Contrary to popular belief, it's not actually
"all about that bass, 'bout that bass"
as Meghan Trainor sings...
Experienced Mama's will tell you that it's actually all about the SWING! The
mamaRoo
is great for use in the early days with baby – it weighs 19 lbs and can be used from birth until 25 lbs*.
WHY WE LOVE IT
Now, we know what you are thinking – the
mamaRoo
may SEEM big [especially if you are comparing it to the fold away
Baby Bjorn Bouncer Bliss
], but these are very different products. Because of its unique shape, the
mamaRoo

 
actually tucks away nicely in the corner of a room. Bonus points that this hybrid
rocker-swing
does not require manual exertion from you – simply press one button to turn it on and Voila!
The
mamaRoo
is packed with features that mimic the natural movement of mom or dad who is desperately trying to soothe or calm baby. Yes, even the age-old up and down then swing em' round and round. So let's dig in on those movements and how they can help calm your little one.
IT'S ALL IN THE NUMBERS
The
mamaRoo
has 5 unique motions to choose from in the control panel and 5 speeds at that offering you an array of combinations to choose from.
Car Ride
Kangaroo
Tree Swing
Rockabye
Wave
Most parents start with the slower speeds when baby is younger – and gradually increase the speed and movement as baby grows – or as they grow in fussiness. These 5 options are helpful as you never know what your baby will like until you try it. With the
mamaRoo
, you are essentially getting a 5-in-1 swing which guarantees there
will
be a mode that your little one enjoys.
While we are chatting about the control panel—you'll also appreciate the 4 built-in sounds to soothe the baby when you are just all out of "shushes".
Rain
Fan
Ocean
Heart
AUX [to add your own music!]
You can control the volume and the sound type by using the [+] and [–] buttons.
RECLINING SEAT
You can easily make changes to the incline of the
mamaRoo
based on age or preference. At the back of the unit, you will find an oval grey button. Simply lift it and move the seat up or down to find your desired position then lock it back into place. Delicate newborns should be in more of a lounge position and as your little one grows you can sit them upright to engage, look around the room and play.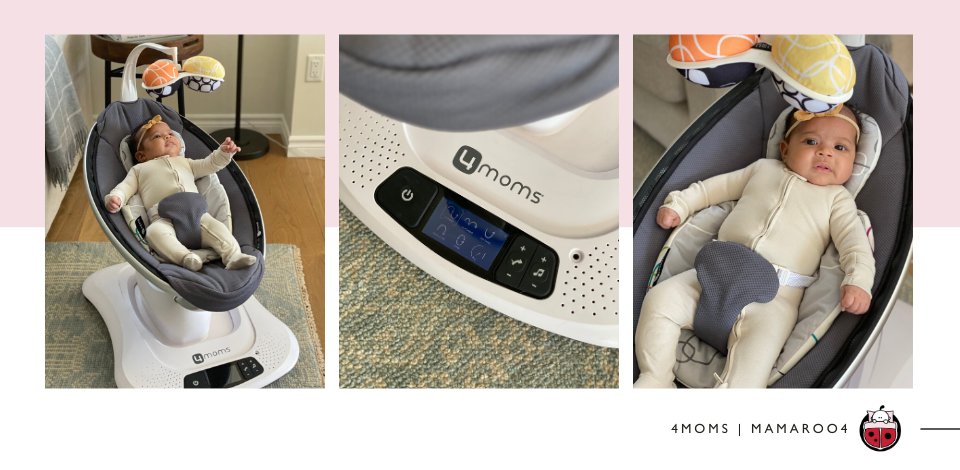 INCLUDED TOY BAR
The mamaRoo does include a toy bar mobile with your purchase where other swings often sell them separately as accessories. 

The reversible toy balls can be used so that your rider sees black and white early on – then flip them over to introduce them to colours! The toy balls boast a rattle, a mirror, and the ever so popular crinkle sound that little fingers just can't resist.

The fabric on the seat and the toys are machine washable [thank goodness!] and we love the convenience of being able to easily zip the fabric on and off – because accidents, poop explosions, and spit up do happen.


TECH AT YOUR FINGERTIPS
We hate to stereotype, but this is a part of the process that Dad's get excited about! The
mamaRoo
is MP3 enabled through Bluetooth. You can also download the
4moms
app from the Appstore to easily control volume, motion, speed, and sound. Does this sound a little overboard? It's not. Believe us.
Let's talk about real-life scenarios:
You are 2 coffees deep after being up all night with babe.
You need to use the bathroom.
You strap baby into the
mamaRoo

 
for a quick ride to do your business. You've just sat down, and baby begins to fuss. Thanks to the app you can easily control the motion and change the setting to please your little one in order to secure a few extra minutes of privacy.
Don't act like you've never taken your phone to the bathroom before – no judgment here. #momlife
If you find your little one likes to rock [and roll] then consider the
4moms mamaRoo Sleep Bassinet
. It has the same 5 unique motions that help to lull baby to sleep and stay sleeping for longer.
*Warning: do not use the mamaRoo once your child can sit up unaided or attempts to climb out, regardless of age or weight.Maximum weight: 25lbs.Maximum age: 6 months


ROCK ON!
You'll often hear us talk about safe spaces to put baby – and the
mamaRoo
is a great option for baby when your arms just need a rest.
If you are still in the research phase, we dish the details on this year's Top Playards
HERE
, and our Top Baby Bouncers
HERE
. Now,
swings & rockers
, and
playards
are ideal and necessary – but nothing beats calming and soothing a baby like skin-to-skin contact and
babywearing
. You can learn more about our favourite soft
structured carriers
HERE
, and about ring slings and wraps
HERE
.
---
---