4moms mamaRoo Multi-Motion Swing Review
Jump to Section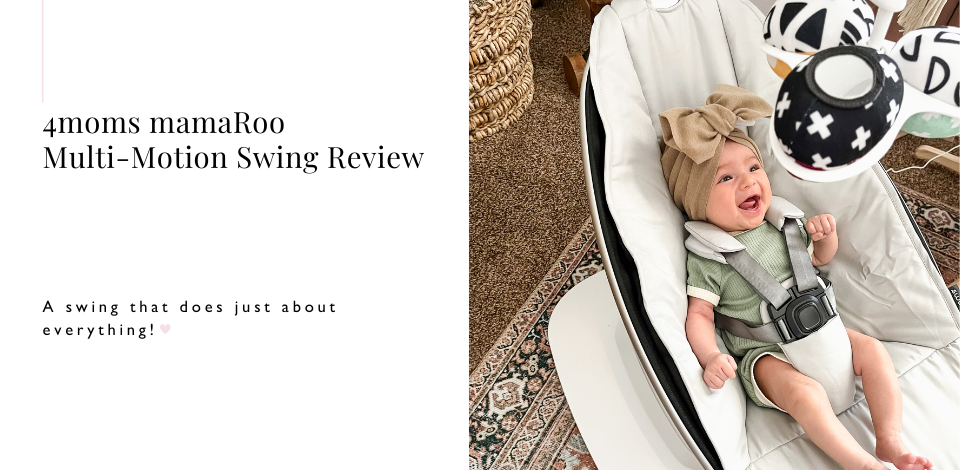 The 
mamaRoo Multi-Motion Baby Swing
 takes baby soothing into the modern world! It marries the traditional swinging/swaying motion with a bouncing movement to keep babies calm. Add in a slice of modern technology, and 
4moms
 has created a unique 
swing
 your baby will love!

Available in 
grey
 or 
black

 
(both options have a white base), this is an invaluable device perfect to step in when parents need their hands free for a while.
Keep reading to learn all about how the Multi-Motion can benefit you and your little one!
VIDEO REVIEW
THE MOTION OF THE OCEAN THE SPECS:
THE SPECS:

Product Dimensions: 25.5" L x 19.5" W x 33" H 
Product Weight: 19 lbs. 
Maximum Child Weight: 25 lbs. 
Suitable for use from birth to approximately nine months 
Power: AC Adapter 
This swing was designed to mimic the bouncing and rocking motion of a parent holding their child in their arms.

To achieve this, the swing has five different motions for you to choose from — car ride, kangaroo, tree swing, rock a bye, and wave. Additionally, it has five different speeds, making 25 possible combinations of rock-a-bye baby!

4moms also recognizes how important sound is for soothing your child. They've included four presets (entertaining melody, soothing melody, sounds of nature, and brown noise), plus you can also hardwire your device to the swing and play baby's favourite tunes (please, no more Baby Shark!).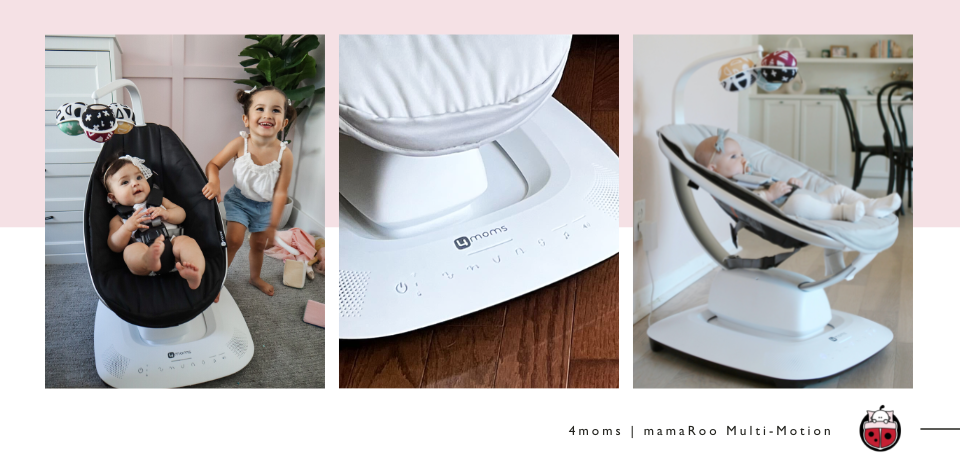 SMARTER THAN THE AVERAGE SWING
Earlier, we mentioned that the Multi-Motion uses modern technology — say hello to app control!
Installing the 4moms app on your device allows you to control the swing via Bluetooth. You can adjust the motion, speed, and sound...all from the other side of the room.


Using the "Find Your Roo" feature to rock your phone (yes, literally rocking your phone in your arms!), you can customize motion and speed for your baby.
The Multi-Motion also comes with smart home integration. You can control the swing over your home WiFi network using Amazon Alexa or Google Home.
The 4moms app can be downloaded from the
Google Play Store
(Android), or
the App Store
(Apple).
IN SAFE HANDS
4moms
is serious about safety.
Even though the Multi-Motion moves at relatively slow speeds, little ones are still developing their muscles, spatial awareness, and motor skills, so it's wise to be cautious.
To prevent accidents, the swing comes with a convertible restraint system for a snug fit at all times. It's to be used as a 3-point harness for small babies and then as a 5-point harness once they get a bit older and can sit up unassisted.
Of note, even though the Multi-Motion is super comfortable for babies, it's not designed or approved for sleep. Only use the swing at ground level (never on raised surfaces), and keep an eye on your child while they're in it. If they begin dozing off, move them to an appropriate firm and flat sleep surface (ie. a crib or bassinet).
FOCUSED FEATURES
Rounding out the Multi-Motion are the following handy features :

ADJUSTABLE RECLINE:
A fully adjustable recline positions your baby at the perfect angle — whether that's upright and looking out, or laying back so they can play with the overhead mobile.

MOBILE:
While your baby is swinging away, they can also discover the fun overhead mobile. Featuring reversible toy balls with a rattle, mirror, and crinkle ball, your baby will have a great time playing. Plus, when not in use, the mobile can be removed.

FABRICS:
The seat fabrics are fully removable and machine washable — which any parent will tell you is definitely a valuable feature.


SWING LOW, TINY BABY!
With the
mamRoo Multi-Motion Swing
, 4moms has created a fun, safe, and interactive swing to keep your baby soothed during the first few months of their life.
If there's one gripe, it's a lack of portability. But there are so many benefits to owning the Multi-Motion, that using it only at home isn't the end of the world.
Where most other rockers simply sway from side to side, the Multi-Motion has all-encompassing movement patterns that keep fussy babies happy while giving parents a much-needed break now and then.
---
---