4Moms Breeze Plus Playard Review
Jump to Section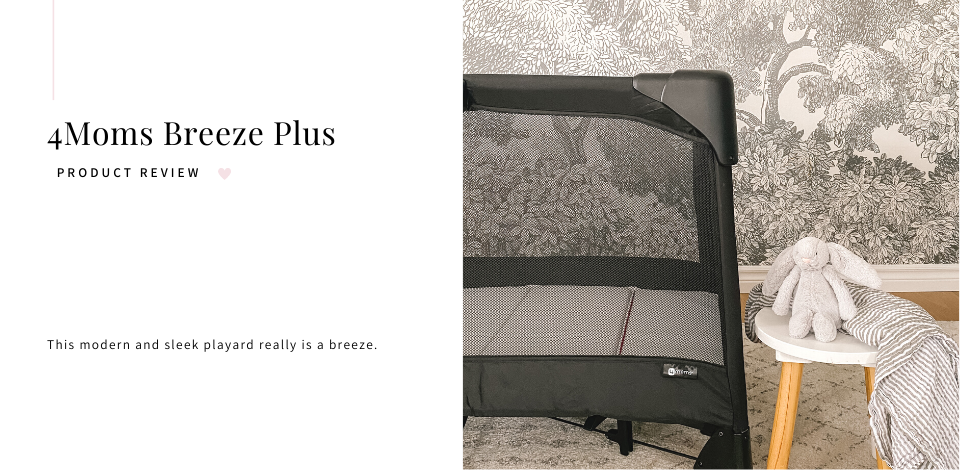 We
knew
it was love at first sight when we sat down to write about the
4MOMs Breeze Plus Playard
and we're literally speechless – in a good way. Setting up this modern and sleek
playard
really is a breeze. Generally,
playards
are easy to open and close, but the attachments can sometimes make things tricky – but not the
Breeze Plus
!
Here are the top 5 features that have left us impressed with this
playard
– each of them offers the user F-L-E-X-I-B-I-L-I-T-Y!
LIGHT + CONVENIENT
The
Breeze Plus
weighs just 23 lbs. [28.5 lbs. with the bassinet and changer attachments] + it comes with a convenient carry bag. Specs when assembled = 43" L x 30" W x 29" H
To give you a comparison, the
Nuna SENA Aire
 weighs 22 lbs. You can see our in-depth breakdown of the
SENA Aire
in our full product review 
here
.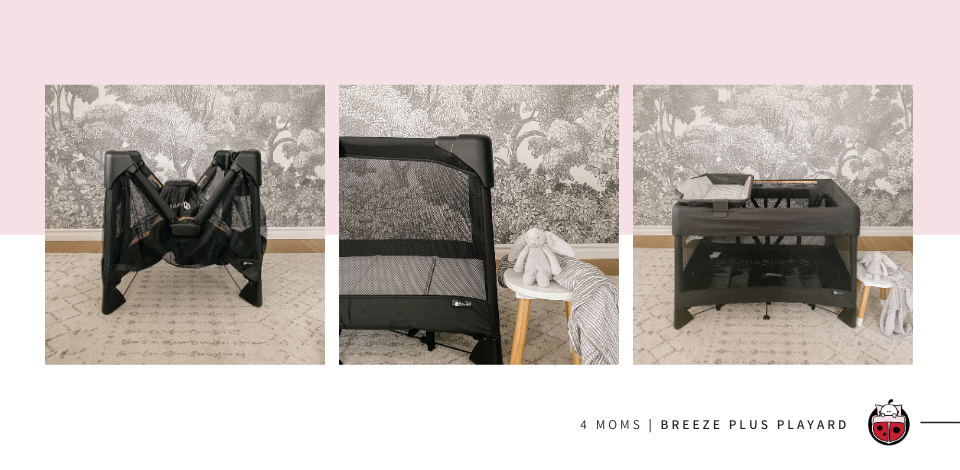 ONE PUSH OPEN + CLOSE
The design of the
Breeze Plus
is quite intuitive.
We purposely went blind into setting up both the
playard
and the included lounger/changer attachment to see for ourselves how simple it was to use.
The main
playard
compartment can hold up to 30 lbs.
The bassinet attachment can hold up to 18 lbs.
Push DOWN to open. Pull UP to close. No tricky sequence to figure out.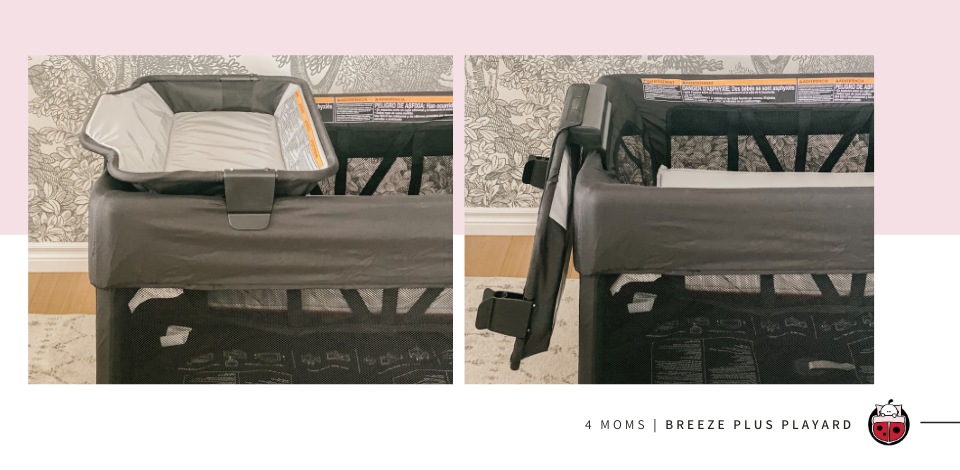 INCLUDED BASSINET + FLIP CHANGER
Start the car!
The new
4Moms Breeze Plus
includes a very innovative detachable flip changer and bassinet attachment. [It's his younger brother, the
Breeze GO
, that does not include these attachments so don't get the two of them confused!]
Sometimes attachments can be tricky to figure out, but the
Breeze Plus
has simple connectors that make the bassinet super easy to install and remove once your little one has outgrown it at 18 lbs.
The flip changer can be used until 25 lbs, and we love how easy it is to use – just flip it down and out of the way when not needed.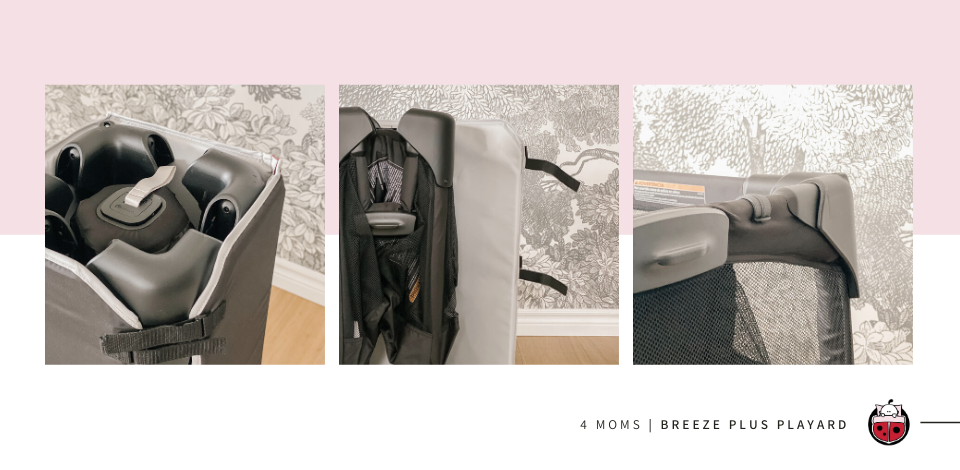 EASY TO USE VELCRO STRAPS
The last time we were this excited about VELCRO straps, it was because our toddler could finally put his own shoes on. Since every second is considered precious time when you've got a newborn – we think you will really appreciate these simple Velcro straps.
Here's why…
In full
playard
mode, the Velcro straps on the
Breeze Plus
slide through a slit in the base to fasten the mattress to the unit, but that's not all. When you are ready to tear down your
playard
these straps are used to fasten the mattress around the base so you can easily pop it into the storage bag to keep everything neatly in place for transportation to the cottage or Grandma's house.
Here's the thing – the mattress
actually
fits around the base without a struggle. It's a simple feature found on most
playards
but it really was a breeze to put this one away.
Count em': SIX Velcro straps at T-H-R-E-E different attachment points. This feature alone is enough to purchase this
playard
in our humble opinion. Speaking of the mattress…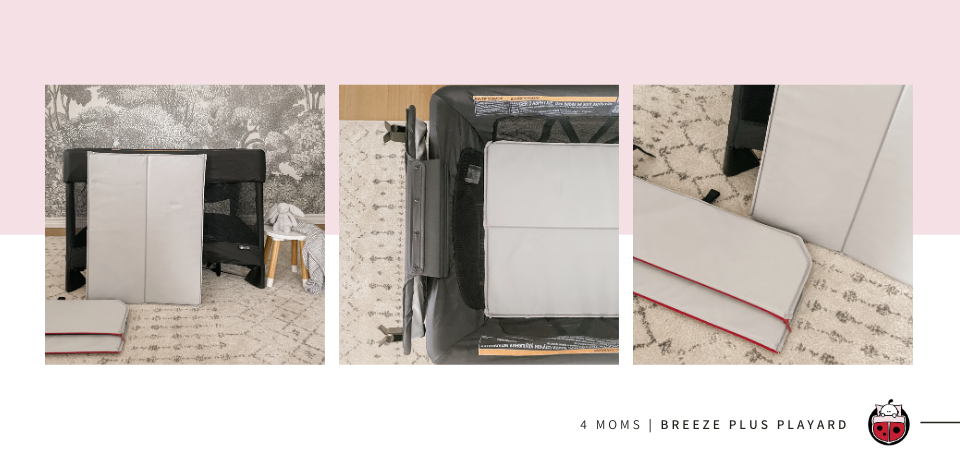 PLUSH MATTRESS
It has a water-resistant 2-in-1 mattress.
What does that mean?
You can easily zip away 2 panels to make the mattress smaller for a custom fit when using the bassinet [cool, right?] then easily zip those pieces back on when it's time to use the mattress in
playard
mode.
We already mentioned above that we love the mattress because it can easily attach securely to the frame and the base for storage without a struggle, but the mattress is also quite plush to the touch – making it cozy on your little one's toosh!
WHAT'S THE VERDICT?
So, what do you think about the
4moms Breeze Plus Playard
?!
We are sure you will love all of its function and style, but, most of all, its ability to provide a safe place for baby to hang out at home. Check out our Related Content below for more of our confidence building comparisons and reviews!
---
---