4moms mamaRoo4 vs. Multi-Motion Baby Swing
Jump to Section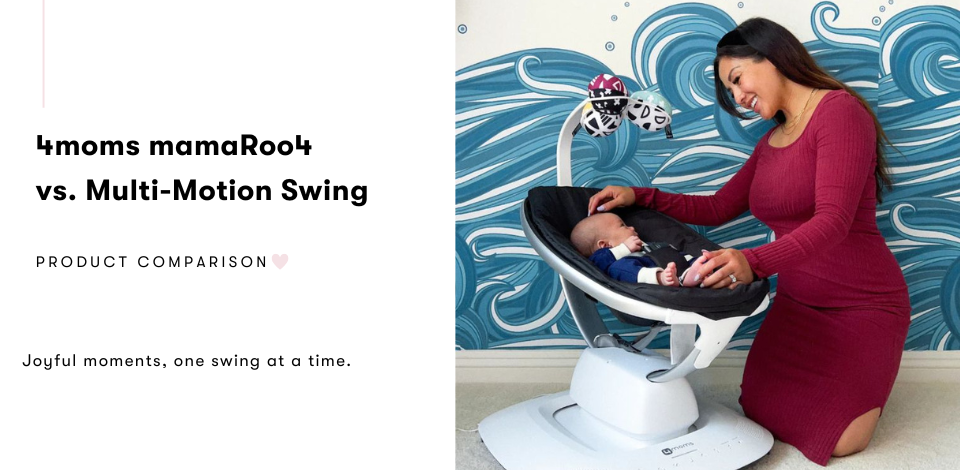 Welcome to the wonderful world of
4moms baby swings
, where comfort meets innovation in the form of two remarkable contenders: The
mamaRoo4
and the
mamaRoo Multi-Motion
! You may have already read about these
swings
in our
Top Baby Bouncers, Swings, and Rockers
article or our
4moms Line-Up,
but if you're hearing about them for the first time, you're in for a treat! 
For those seeking the perfect blend of soothing and entertainment, these swings offer a symphony of features designed to keep your little one content. From gentle motions that mimic your embrace to interactive mobiles and customizable sounds, both of these swings are a haven of delight for your baby. 
So join us as we dive into the nuances of these parent-favourites to help you decide which one is best for your growing family! 


The Specs
mamaRoo4:
Suitable from: Birth

until child reaches 25 lbs or can sit up unassisted or attempts to climb out (whichever comes first)

 

Product Dimensions: 25.5" L x 19.5" W x 33" H 

 

Product Weight: 19 lbs.

 

Power: AC Adapter

 


mamaRoo Multi-Motion:
Suitable for use from birth 

until your little one reaches a maximum of 25 lbs (11.3 kg) or attempts to climb out

 

Product Dimensions:  26.25" L x 23.5" W x 35.5" H 

 

Product Weight: 15 lbs.

 

Maximum Child Weight: 25 lbs.

 

Power: AC Adapter

 

 


While they are similarly sized with the same weight capacity, the Multi-Motion is a slightly larger swing. This gives your child a bigger seat with more room to grow into. 
Another notable difference is that the mamaRoo4 is priced between $359.99 and $379.99 (depending on fabric colour), while the Multi-Motion is more expensive at $449.99, a $70 to $90 difference. 
Of note: These swings are not intended, designed, or marketed for sleep or unsupervised use. If your baby falls asleep, move them as soon as possible to a firm, flat sleep surface such as a crib or bassinet.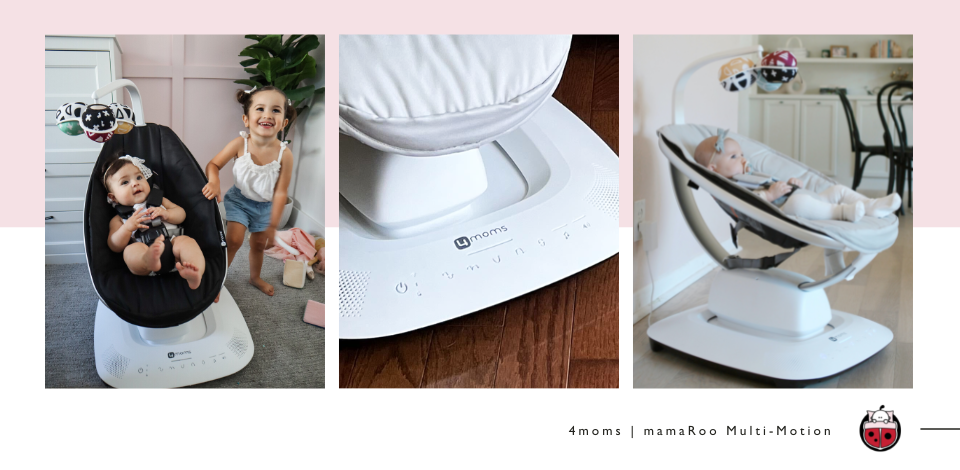 All The Right Moves
When you need a time out, these swings give your child extended nurturing via technology! Both are designed to replicate the bouncing and rocking movements that naturally soothe your baby.  
4moms includes an impressive selection of five distinct motions with five different speeds. Whether it's the rhythmic movements during a car ride, a comforting kangaroo bounce, the gentle swaying of tree leaves, the tender back-and-forth of a rock-a-bye lullaby, or the serenity of ocean waves, you have options galore to discover what your baby loves most. The five different speeds allow you to create 25 combinations of sleepy goodness. 
Further soothing your baby are four sound presets, from entertaining tunes to calming melodies and even the sounds of nature! 


An App For That
One of the coolest things about the Multi-Motion is that you can enjoy some downtime and still control it from anywhere in the room.  
How so? By installing the 4moms app on your phone or device! (Available for Android and iOS) 
With it, you can command and adjust the swing to your (or your baby's) preferences. The ability to fine-tune the motion, speed, and sounds without leaving your cozy spot is pretty hard to beat! 
The app's "Find Your Roo" feature also takes interaction to a whole new level. You literally rock your phone to mimic the motion you want for your little one (talk about embracing technology)!  
On top of all that, the Multi-Motion takes it up a notch by adding smart home integration. You can seamlessly control the swing over your home WiFi network using either Amazon Alexa or Google Home. Your voice becomes the conductor of comfort as you effortlessly adjust settings while multitasking like the pro parent you are! 
As for the mamaRoo4, it offers a Bluetooth connection, granting you control over motion and sound from your device. While it may not have the phone-rocking magic and smart home integration, it still allows you to create the perfect soothing environment for your baby. 
Additionally, with both swings, you can connect your own music too! Whether it's a favourite lullaby or a soothing melody, you can set the perfect sonic atmosphere for your little one.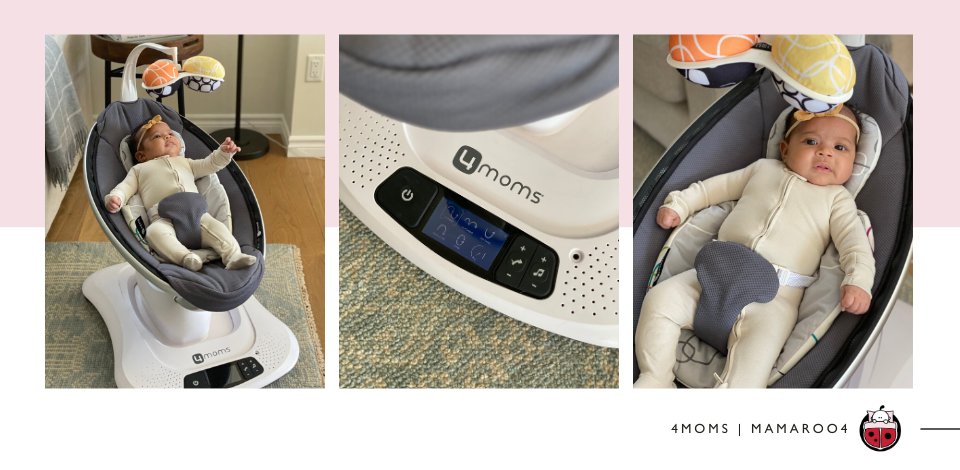 Baby Comfort
The mamaroo4 and the Multi-Motion share similar features that cater to your little one's comfort during every ride: 
Adjustability:

Both swings boast adjustable recline options, ensuring your little one finds the perfect angle for peaceful relaxation or engaging play.

 
Harness:

Safety and snugness go hand in hand with their included harnesses. The Multi-Motion takes the lead here with a choice between a 3-point or 5-point harness, while the mamaRoo4 opts for a waist harness that keeps your baby secure and cozy during swing time.

 
Mobile:

The detachable overhead mobile is a delightful touch on both swings, featuring interactive and reversible toy balls that double as entertainment and engagement tools. With a rattle, mirror, and crinkle ball, your baby's senses are in for a treat!

 
Fabrics:

Speaking of treats, the soft fabrics used in both swings create a cloud-like cocoon for your little one. The best part? Easy washability! Keeping things clean is a breeze, because let's be real, life with a baby can get messy pretty quickly!

 
Infant Insert:

For your newborn's ultimate comfort, 4moms offers the

Newborn Reversible Insert

(available separately). It's like an extra dose of coziness during those precious early days, providing ideal support and positioning for your newborn bundle.

 


Final Thoughts
The mamaRoo4 and the mamaRoo Multi-Motion from 4moms stand out as remarkable choices.
While both swings offer a plethora of features that cater to your baby's needs, the mamaRoo Multi-Motion provides a few extra bells and whistles! Its larger seat promises more room for growth and the 3-point (or 5-point) harness provides an added layer of security. Moreover, the smart home integration adds a futuristic touch, making parenting tasks even more convenient.
That being said, it does have a higher price, so if that's an issue for you, the mamaRoo4 may be the way to go. Regardless of which option you choose, you'll be making a great investment for your baby's joy and your peace of mind. 
For in-depth reviews of each, check out our Learning Centre articles on the mamaRoo and Multi-Motion swings. 
---
---