UPPAbaby MINU V2 Stroller Review
Jump to Section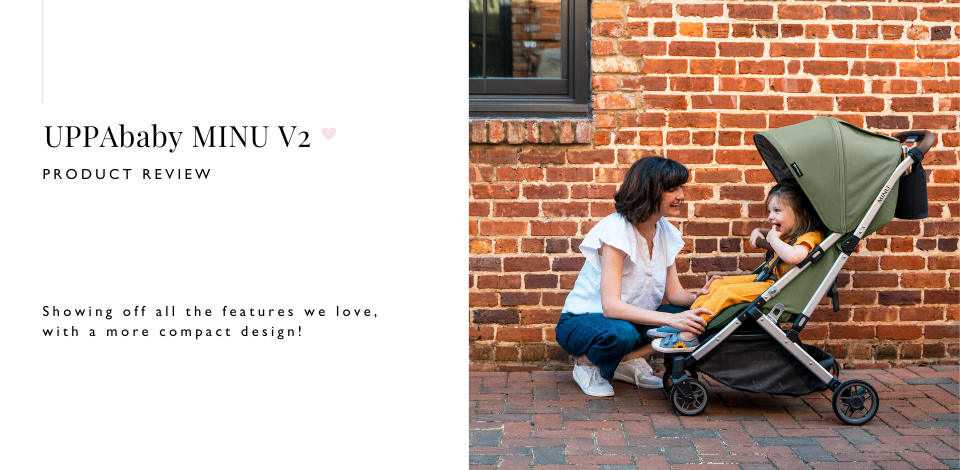 Before your child graduates to a ballin' set of power wheels, they have to rely on the original ride to get around — the baby stroller!
Choosing the right one for you can be daunting but Snuggle Bugz has your back!
The
UPPAbaby MINU V2 Stroller
has a small footprint, as it's designed for travel and running quick errands around town. At less than 17 lbs., the MINU V2 is also roughly 37% lighter than UPPAbaby's standard-size
VISTA
and
CRUZ
models.
Even though the V2 is shaved down, it's still a sturdy, high-quality, and frankly, impressive stroller that all parents should consider.
VIDEO REVIEW
EVERYDAY USE
THE SPECS:
Suitable from 3 months to 50 lbs 
True Weight : (includes canopy, wheels, and basket) 16.9 lbs. 
Dimensions Unfolded: 35.5″ L x 20.3″ W x 41″ H 
Dimensions Folded: 11.5″ L x 20.3″ W x 23″ H 
Suitable for babies as little as three months old and toddlers up to 50 lbs, the
MINU V2
handles exceptionally well and is a treat to use. Unlike some competitors, the V2 is well-constructed throughout and nothing feels loose or out of alignment during operation.
To open the stroller, simply unlock it from the side and pull up on the handle. Once it's popped open, your baby has a 9-inch deep reclinable seat to chill out in. Aside from comfort, the larger seating area ensures you and your little one get multiple years of use from the V2.
A SAFE BET
You can never be safe enough with tots, and
UPPAbaby
is one of the best brands when it comes to exceeding safety standards.
A 5-point harness works with a bumper bar to keep children strapped in and protected while the stroller is in motion. The bumper bar also shields them from danger while giving them something to hold on to during their rides.
Protecting their wee coconut from the sun is a UPF 50+ canopy, which can be adjusted for more or less coverage. The canopy also has a peekaboo window that parents can use to keep a watchful eye from above.
The V2 sits on an all-wheel suspension system and four durable, foam wheels. The use of foam ensures you'll never get a flat tire (or have to travel with an air pump). While we wouldn't recommend using the stroller on rocky and jagged terrain, it can easily withstand mildly rough roads, gravel, and lawns.
MADE FOR TRAVEL
An excellent choice for air travel, the V2 collapses to fit the
MINU V2 Travel Bag
(sold separately). The bag can be worn as a backpack during your journey and it helps fit the stroller into the overhead compartment on most flights. Crafted from luggage-grade, 600D polyester material, the stroller stays well-protected at all times.
For extra incentive, UPPAbaby has a fantastic TravelSafe insurance program that's 100% free. All you have to do is register your stroller before your trip, and if it gets damaged by the airline you won't have to pay a dime to get it fixed/replaced. For heavy travellers this makes investing in the V2 pretty much a no-brainer!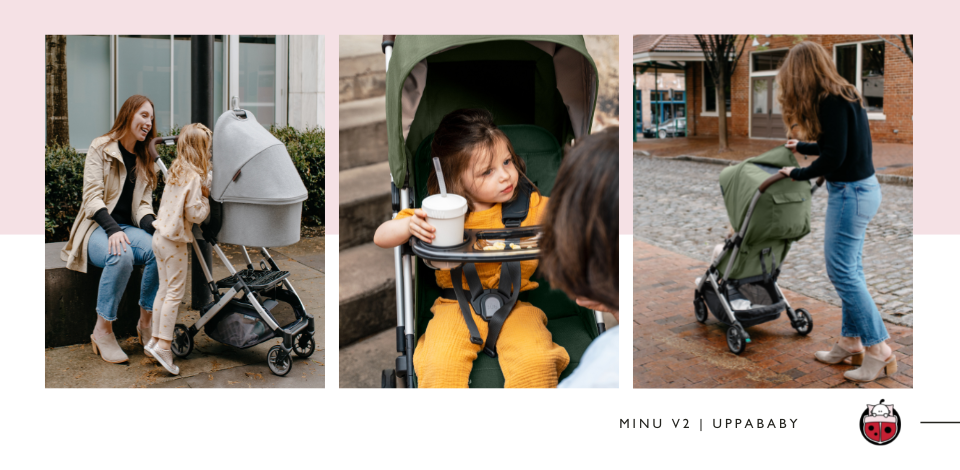 IT'S A TRANSFORMER
Aside from being easy to use, safe, and travel-friendly, the
MINU V2
is also a versatile choice that can be configured in a number of ways.
To accommodate newborns still in their bassinet phase, use UPPAbaby's
From Birth Kit
. A companion bassinet
 

rain shield
is also available to keep babies dry at all times.
If you use the
 

MESA V2 Infant Car Seat
, it can be attached to the V2 frame using these
adapters.
UPPAbaby also makes a
snack tray
and
cup holder
, which snap onto the frame to keep everyone fed and hydrated. We'd also recommend picking up the V2's
rain shield
if you encounter a lot of wet weather in your neck of the woods.
Furthermore, a rear pocket and undercarriage provide plenty of storage for your valuables and diaper bag, keeping the important things on hand at all times.
ALL THE COLOURS OF THE RAINBOW
The V2 may not be available in every colour under the sun, but
UPPAbaby
still offers a nice range to choose from. Of note: all V2 strollers are decked out in black wheels and a black undercarriage.
CHARLOTTE:
The V2's blue option features a blue-grey canopy and exterior seat fabrics, a dark blue seat, a black frame, and light brown leather wrap on the handle and bumper bar. 
EMELIA:
This model sports a lovely laurel green exterior (canopy and outer seat), mixed with a forest green seat, brushed silver frame, and dark brown leather wrap on the handle and bumper bar.
GREYSON:
A dark grey canopy and outer fabrics are blended with a black seat, black frame, and light brown leather wraps on the Greyson.
JAKE:
This is the V2's all-black option.
STELLA:
 A refined look that blends a light grey canopy and seat with a brushed silver frame and dark brown leather wraps.
FINAL THOUGHTS
The
MINU V2
is a popular stroller for parents that want something in the portable/lightweight/travel category. Additionally, it's one of the best all-around strollers, ultra-safe, and available in multiple colours to suit any parent's aesthetic preference. By mixing comfort, function, and versatility,
UPPAbaby
has delivered another 5-star stroller that has what it takes to please even the pickiest of parents.
---
---