4moms mamaRoo Baby Swing vs. rockaRoo Bouncer
Jump to Section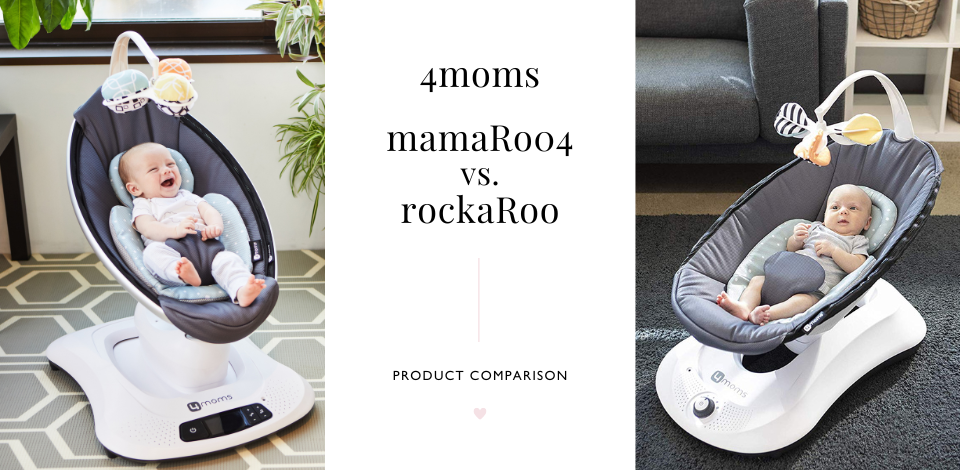 Babies need a lot of nurturing and constant stimulation. At some point, the sheer exhaustion of taking care of a newborn requires parents to call in reinforcements.
This is where
4moms

 
baby swings and rockers come to the rescue!
Two of their most popular products are the
mamaRoo4 Baby Swing
and the
rockaRoo Bouncer
. Both options work by mimicking motions babies love, and they've garnered plenty of acclaim with 5-star reviews across the board.
When you're utterly spent from all the feedings, the changings, the crying, and the endless hours of keeping baby entertained, these
rockers
do the work while you take a much-needed break.
But which of the two should you spend your hard-earned dollars on?
Let's take a closer look at them.
MAMAROO4 BABY SWING V. ROCKAROO BOUNCER
The mamaRoo4 and rockaRoo sport similar designs and operation, but there are subtle differences you should consider if you're looking to save money.
For starters, it's important to note that both models are suitable to use from birth until your child reaches 25 lbs., or they can sit up unassisted, or they attempt to climb out (usually between 6 and 12 months old).
mamaRoo4 Specs:
Product Dimensions: 25.5"L x 19.5"W x 33"H
Product Weight: 19 lbs
Maximum Weight: 25 lbs
rockaRoo Specs:
Product Dimensions: 29.6"L x 16.5"W x 27.5"H
Product Weight: 11.5 lbs
Maximum Weight: 25lbs
Directly comparing specs, the rockaRoo Bouncer is the more compact and lightweight of the two, while remaining equally capable of holding babies up to 25 lbs. Its smaller size also lends well to using it anywhere in the house — an important feature when you consider the size of most living spaces these days.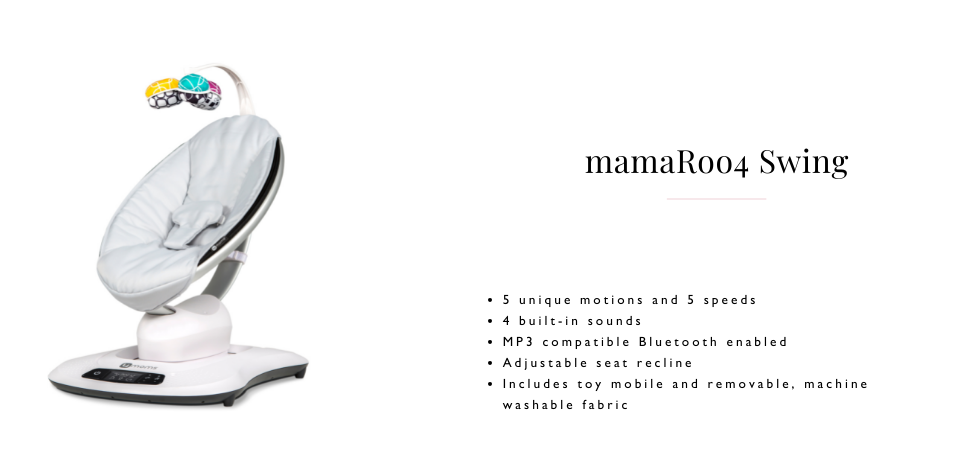 THE PRICE IS RIGHT
As any new parent knows, babies ain't cheap! 4moms is more than aware of this, which is why they offer multiple models to cater to any budget.

The mamaRoo4 Baby Swing retails between $359.99 and $379.99, whereas the rockaRoo Bouncer is priced between $259.99 and $289.99. This makes the rockaRoo Bouncer roughly $100 cheaper.

The reason for this disparity is not only due to the mamaRoo4's larger size, but also the extra features it possesses.


BOUNCY BABY
Both rockers are successful at calming babies and keeping their attention, but it's their little differences that make all the difference.
rockaRoo is essentially a glider, sliding back and forth. This soothing motion simulates the ever-popular
glider chair
and condenses it to a fraction of the size. The unit's front dial allows for speed selection, with 5 separate settings to choose from.
mamaRoo4 on the other hand has more encompassing motion. It allows for the baby to be bounced, rocked, and swayed via 5 motion presets. The mamaRoo4 also allows you to recline the seat to your liking, offering angle customization so baby can sit up or lay back.
Controlling the mamaRoo4 is done using the unit's front panel or by installing the 4moms app on your phone or tablet. You'll be able to select the ideal movement pattern, speed, and sounds for a more "dialled in" experience.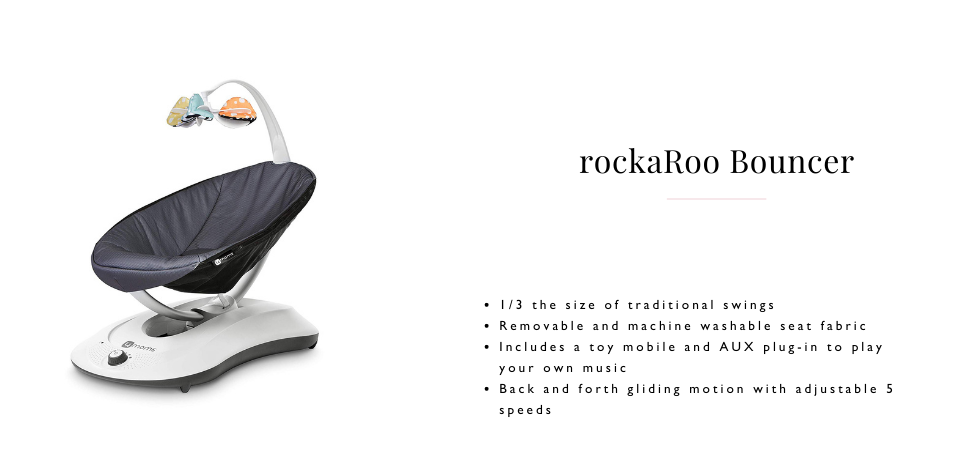 MAKE SOME NOISE
Speaking of sounds, you can play music with both models, but in different ways.

The rockaRoo is bare-bones with zero included sounds. However, an AUX input makes it easy to hook up your device and play your baby's favourite songs at any time.

The mamaRoo4 differs by including a small number of sound presets that are controlled via Bluetooth. Like the rockaRoo, it also has an AUX input on the unit for connecting your device.

Of note: The AUX input on both models connects with a standard 3.5mm AUX cable. Users of devices with a proprietary connector (we're looking in your direction Apple), will need to purchase an adapter to plug their device into the unit.


COMFORT IS KEY
All these bells and whistles are nice, but they'll mean nothing if your child isn't comfortable in the actual seat.
As previously mentioned, the mamaRoo4 reclines to your angle preference, whereas the rockaRoo Bouncer's seat is stationary.
Both use plush, lightweight, and machine-washable fabric, and include a 3-point harness so baby won't fly out even if you crank it to full speed.
For additional support and comfort for your baby, you can pick up a
Newborn Reversible Insert.
Each unit also comes with an attention-grabbing mobile that's suspended over the seat. Reversible
toys
include a
rattle
,
mirror
, and crinkle ball to keep your curious child continuously learning and engaged.
AND THE WINNER IS…
Both the mamaRoo4 Baby Swing and the rockaRoo Bouncer provide babies with smooth and natural movements that soothe and
pacify
them when parents need to take five.
Comparing these two is a bit unfair, as they were both designed for different price points.
If you're looking for a comfortable and compact
rocker
that does what it says it will and saves you money in the process, you can't go wrong with the more moderately priced rockaRoo Bouncer.
However, if price is no object, for $100 more you can upgrade to the mamaRoo4 and spoil your baby with a wider variety of movements, a larger seat, and bells and whistles like app control.
For further information, visit our
mamaRoo4 Baby Swing
and
rockaRoo Bouncer
product listings.
---
---