Hands-Free for the Holidays
Jump to Section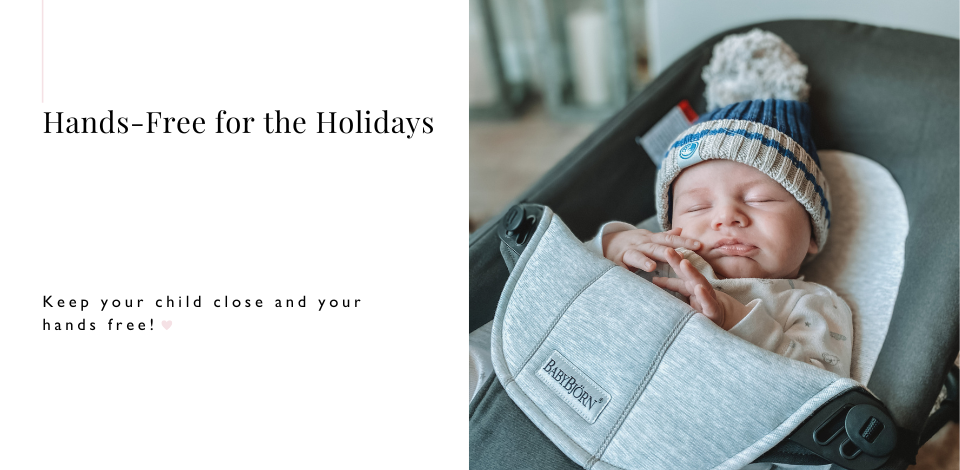 The holidays are a hectic time of the year for everyone — and many parents end up running on fumes!
Whether it's shopping, wrapping gifts, making a delicious holiday feast, or simply relaxing in front of a roaring fireplace, sometimes you need to free up your hands while still keeping an eye on your child.

Even though it may sound impossible (especially during your baby's first Christmas), it's really not too difficult — and we're going to prove it to you!

Keep reading to learn all about our top items for keeping you hands-free during the holidays.


Holiday Travel
The holiday season is all about spending time with loved ones. Unfortunately, that usually means you'll have to hop around to see everyone!

When it's 20 below, there's non-stop snow, and your child is clamoring for your attention, this can be a challenge for even the most festive of parents.

This is where playards and bouncers come in — both of which are designed to keep your little bundle happy wherever you go!

Playards/Travel Cribs 
A playard is a portable playpen, a contained space for playing or resting in. Many come with an attachment to transform them into a bassinet that can be used during baby's first few months. Additionally, you can collapse playards and bring them anywhere you go during the holidays!

One of our favourites is the Bugaboo Stardust Playard. This product has a super quick 1-second unfold so you won't have to spend lots of precious time setting it up. It folds down flat, making it easy to store or throw in your trunk, plus it only weighs 14.8 lbs!

Of note, not all playards are approved for safe sleep in Canada. They must meet very strict Canadian standards to hold this distinction and most are designed and manufactured in other countries. However, you know your child best, so use your discretion. It's always recommended to keep an eye on your child while they're sleeping to ensure their safety.

For a safe-sleep-approved playard, check out the Silver Cross Slumber & Travel Crib.


Bouncers
Bouncers are great for when you need to free up your hands (like doing basic household chores), but your baby still wants to be entertained. Bouncing around in one of these brings them more joy than Buddy The Elf spreading Christmas cheer!

The BabyBjorn Mesh Bouncer Bliss is a great option because it's not only designed to regulate baby's temperature, but it folds flat so it's easy to travel with. You can even pick up the Transport Bag to make it even more travel-friendly.

The Bouncer Bliss also comes in a variety of colours and fabric options:

If you require a bouncer for home use only, it doesn't get much better than the 4moms mamaRoo Multi-Motion Baby Swing. It's a motorized bouncer that automatically moves your bug around and even comes with app control!
Shop Til You Drop
Giving gifts is part of the magic of the holidays. But how do you go about shopping with a baby that demands all your attention?

You get a carrier!

Carriers let you wear your baby on your body, keeping them close to you while leaving your hands free. Empty hands let you easily browse and pay for items when you're out shopping for gifts or doing whatever else needs to be done.

The BabyBjörn Baby Carrier One Air is one of SnuggleBugz's best-selling models and can be worn backpack-style, or on your front with baby facing in or out.

Another option to consider is the Omni 360 Baby Carrier from ERGObaby which has lumbar support. They also offer an upgraded model, the Cool Air Mesh Carrier, which helps keep your baby from overheating.

Christmas Dinner
Holiday meals are something we all look forward to — baby included!

But babies need special chairs and you certainly can't take those with you to your parents' house, right?

Wrong!

There are some excellent travel chairs for children to sit in during Christmas dinner.

Phil & Ted's Lobster Travel & Portable High Chair is a comfortable seat that clamps to the edge of the dinner table so baby can join in the festivities. It's easy to take with you as it packs flat and barely takes up any space in your car.

Another travel option is the Booster Floor Seat with Tray from Upseat, an ergonomic option that promotes healthy hip development and proper posture.

For home use, we recommend the Clikk High Chair by Stokke. It comes with a safety harness, a tray to contain messes, and an adjustable footrest, making it another ergonomic option. Additionally, you can break it down and take it wherever you go by using the Clikk High Chair Travel Bag.
Waiting for Santa
The final hours of waiting for Santa will see baby nestled all snug in their bed. How can you ensure that visions of sugarplums will dance in their head?

With the 4moms mamaRoo Sleep Bassinet of course!

This bassinet is a motorized sleep inducer, gently rocking your child to sleep with a variety of natural bounce and sway motions. 4moms also offers a Sleep Storage Basket and Sleep Bassinet Sheets for a more complete sleep space.

Parents who want to give their little one a squishy experience can pick up the Snuggle Me Organic Lounger + Cover Set, which is a lounging pad that hugs your baby's body to calm and comfort them.
'Tis the Season to Go Hands-Free
The holidays are the busiest time of year. From shopping to tree-trimming, to baking and meeting up with relatives, you won't be short on things to do — but you will be short on time to do them!

Add in a little bundle of joy and you'll need to have both your hands free as much as possible in order to get everything done. But by using the products we've outlined in this article, you should have no problems making it a holiday season to remember.
---
---