BabyBjörn Bouncer Bliss vs. Maxi-Cosi 2-in-1 Kori Rocker
Jump to Section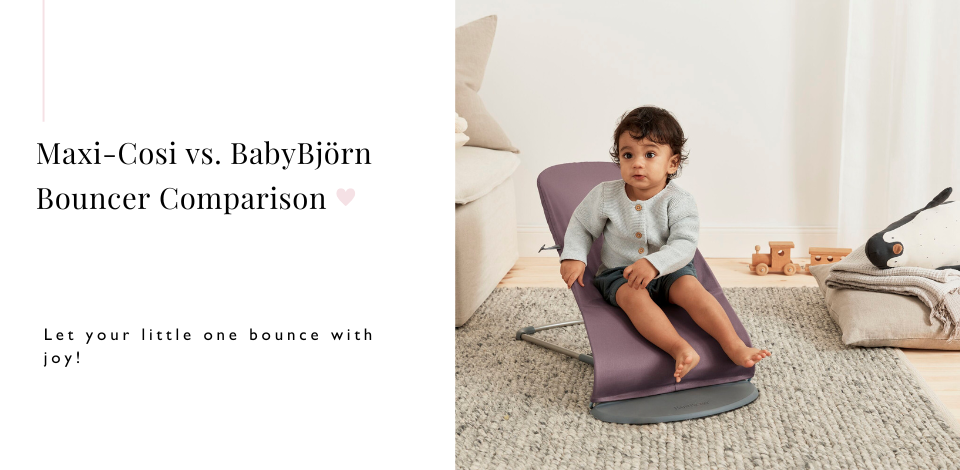 Finding the right baby gear for your family can feel overwhelming, especially with so many great picks on the market. This is especially true when it comes to bouncers, rockers, and swings. Some go back and forth, others up and down — but after a while, all the products can start to look the same.
Today, we are comparing the BabyBjörn Bouncer Bliss from BabyBjörn and the  2-in-1 Kori Rocker from Maxi-Cosi — two parent-favourite products that may seem quite similar, but actually have some key differences. 
Let us take you through the features these popular products share and the qualities that make them unique to help you decide the right one to soothe your little one. 
The Specs
BabyBjörn Bouncer Bliss 
Suitable age for bouncer: Newborn to 20 lbs weight limit

 

Suitable age for child's chair: 20 lbs to 29 lbs weight limit 

 

Bouncer Weight: 4.6 lbs

 

Dimensions (at highest position): 22" x 31" x 15.5"

 

Folded Dimensions: 4.5" x 35" x 15.5"

 
 
Maxi-Cosi 2-in-1 Kori Rocker 
Suitable for ages: Newborn – 19.8 lbs limit

 

Rocker Weight: 8 lbs 

 

Dimensions: 18.9" x 16.7" x 28.3"

 


Taking a quick look from the specs, we can see both the Bouncer Bliss and the Kori Rocker can be used straight from birth. The Bouncer Bliss has an ergonomically shaped seat that provides proper support to your baby's back, neck, and head, while the Kori Rocker has a high-quality cozy newborn inlay. Both seats also function as a bouncer until around 20 lbs as well, but only the Bouncer Bliss allows extended use as a child's chair. 
The Bouncer Bliss is also almost half the weight of the Kori Rocker. However, at just 4.6 lbs and 8 lbs, they are both extremely lightweight options, perfect for taking on the go.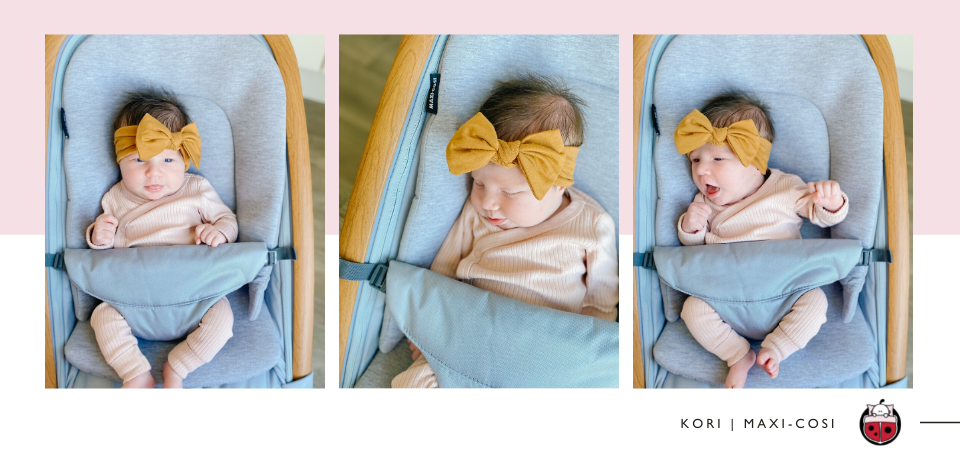 Great on the Go
Both products offer three different recline adjustments that can be done with a single hand, so you can find the perfect position for your baby. They are also both lightweight and can be folded completely flat for easy storing when not in use. The flat, compact fold also makes these items very travel friendly.  
For your child's safety and comfort, both products have a 3-point harness that is adjustable as your newborn grows. The seats are made with extra soft and comfy material that supports your baby ergonomically as they get stronger. We also love that both seat covers are removable and machine washable, so keeping up with cleaning is a breeze.  
Neither the Bouncer Bliss or the 2-in-1 Kori Rocker require any batteries or cords to rock, just your baby's movements or an extra little push for the 2-in-1 Kori Rocker from a parent or sibling. This feature also makes them a great choice for travel, as you can use them anywhere without needing to plug them in, charge them, or have extra batteries on-hand. 
Choose Your Aesthetic 
While both products are lightweight, you will notice that the aesthetic designs vary. The 2-in-1 Kori Rocker has a unique woodwork finish in its frame that gives it a chic look and comes in a few different colour options.  
While the BabyBjörn Bouncer Bliss also has a sleek design, the highlight feature of this baby bouncer is the large selection of colours and versatile fabric covers to choose from. Fabric options for the Bouncer Bliss include: 
Both products are a great purchase to grow with your baby. The 2-in-1 Kori Rocker has a weight limit of just under 20 lbs and can be used as a rocker or locked into a stationary position. 
The Bouncer Bliss does not lock into a stationary position but does offer a long and wide range of use. Once your child is 20 lbs and able to sit up unassisted, this bouncer grows with them and can be turned into a chair until they hit 29 lbs. To transform the bouncer, remove the fabric on the frame, flip it over, and re-slide it on the frame. Push down in the centre and it will create the perfect cozy spot for your little one to sit.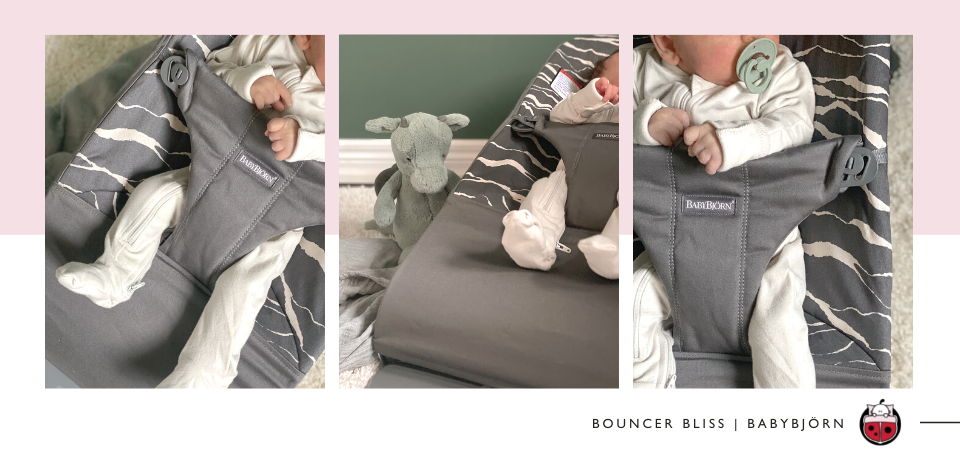 ---
---