Baby's First Outing With Nuna
Jump to Section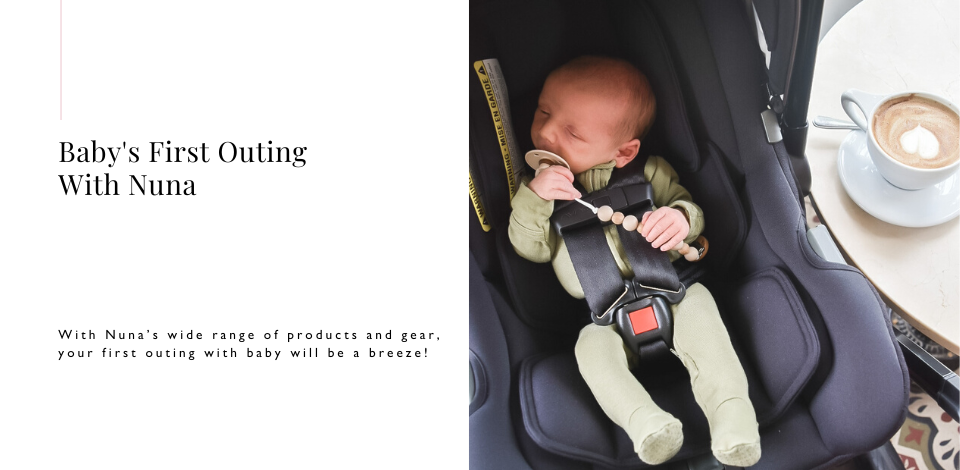 Whether you're a first-time parent-to-be or a seasoned veteran in the parenting game, chances are you know just how much gear is required to get you and your little one through the day.
While new challenges may arise with each passing day, so does the opportunity for new adventures. Whatever comes your way, you can count on the
Nuna
brand of products to be in your corner.
From
car seats
to
carriers
,
swings
to
strollers,
let us show you how you can enjoy baby's first outing with Nuna.
NUNA AT HOME
Parents love getting in lots of snuggles with their sweet new babes, but there are definitely times when you need to go hands-free.
Having coffee with a friend but need to get ready?
Enter the Nuna
LEAF Grow Swing with Toy Bar
! The LEAF will give you the precious hands-free moments you need to primp and prep yourself for a day out and about. (Hey, you might even have time to erase the lovely signs of spit-up on your shirt.)
With its revolutionary super smooth, quiet gliding motion, baby will feel just like a leaf floating in the breeze! This
swing
does NOT require batteries or electricity to run — a gentle push will have baby swinging for over 2 minutes unassisted. 
The LEAF Grow not only keeps itty bitty babies pleasantly pleased, but it's also endurance tested for up to 130 pounds, which means you can use it well into the future. The LEAF Grow has a 3-position recline and can also double as a feeding chair in flash — just lock it in stationary mode and voila!
Nuna also has its
LEAF Swing

 
and a model with a
Wind Accessory
that allows the LEAF to swing continuously on its own. 
Check out our comparison article to find out which one is right for you,
here
.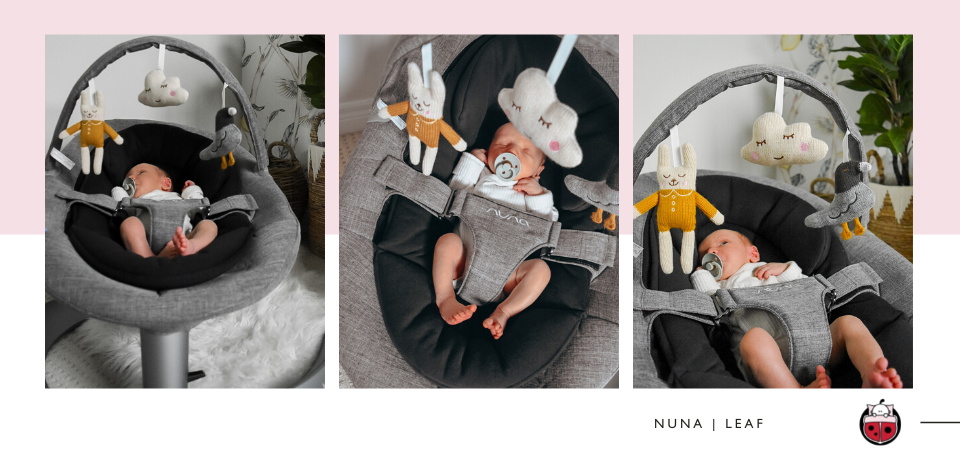 NUNA ON THE ROAD
Once you're all set for the day and ready to get going, strap baby into the
Nuna PIPA Infant Car Seat
for a comfy ride to your destination.
Not only is the PIPA one of the lightest car seats on the market, but it installs quickly and provides safety and style for your little one. We're talking 5-point harness, Side Impact Protection, and a distinctive, contemporary design.
Plus, you don't have to worry about the sun's rays getting into your little one's eyes and waking them up from the sweet slumber the LEAF Grow just lulled them into. PIPA's revolutionary dream cape and full-coverage canopy creates a shelter to protect those peepers from even the brightest blaze.
Is your friend picking you up for your coffee date? No problem! PIPA is ergonomically designed for ease of travel and can be installed simply with a vehicle seatbelt — no base needed — so you can truly take baby with you anywhere!
Just don't forget the stroller! The PIPA Infant Car Seat is compatible with many — like the PEPP (adaptor sold separately),
MIXX
, IVVI,
TAVO
and
 

DEMI Grow
strollers — just to name a few.
Read more on the PIPA
here
.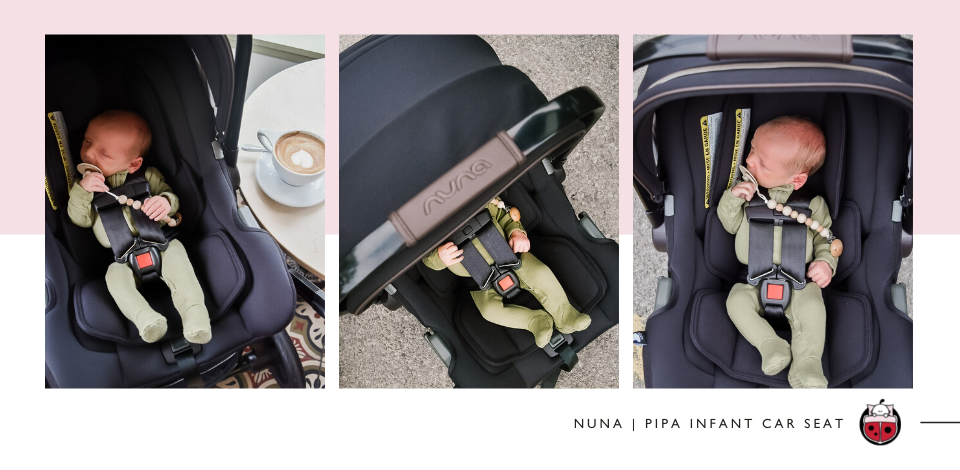 NUNA ON THE GO
Finally, you've made it to your coffee date and are ready to take a stroll around town too. Coffee and adult conversation on the go — sounds like heaven, right?!?
Time to grab your Nuna
MIXX Next Stroller
, click in the
PIPA Infant Car Seat
, and hit the streets. This smooth-riding
stroller

 
(with tough, foam-filled tires) will take you anywhere with ease. One hand on the stroller, one hand on the coffee.
The MIXX Next has a sleek and stylish look that can't be missed, with its smart and stately dark matte frame, chrome black wheels, luxe leatherette accented height-adjustable pushbar, and removable arm bar.
Oh, and we can't forget to mention the accessories! Pick up the
Bassinet
,
Child Tray,
and
Stroller Cup Holder
— for that much-needed coffee.
You'll love the all-season seat that keeps baby cozy in the winter and easily converts to mesh in summer, the one-touch rear wheel braking system, and the one-piece fuss-free fold when giving baby a break from being strapped in.
Find out even more reasons why we love the Nuna MIXX stroller found
here
!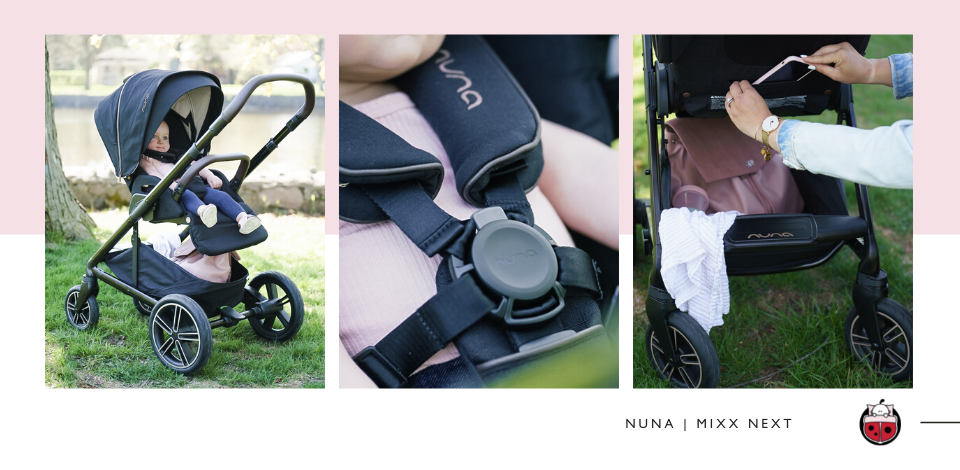 NUNA OUT IN THE WORLD 
Speaking of giving baby a break, we love to see little ones out of their infant car seat once you've reached your destination.

Maybe your stroll has turned into a hike, just reach for the Nuna CUDL Baby Carrier. The CUDL carrier lets baby experience all those sights and sounds while keeping you hands-free.

This easy breezy carrier allows you to still get that quality contact with your little one while accomplishing the things you need to do. Just pop it on like a sweater, fasten the velcro waistband, and unlock the magnetic buckles to put baby in place.  

The entire carrier is made of organic cotton and soft padded mesh for breathability to keep you, and baby, cool. We also love that the CUDL comes with 2 cotton bibs and 2 harness covers to protect your carrier from your little one's teeth, while also shielding their teeny tiny mouth from germs.

You can enjoy lots of together time with the CUDL, as it can be used on kiddos up to 3 years old!

The CUDL is so comfy and versatile, you'll want to use it at home too. Whether you're tidying up the house, hanging out in the garden, or doing a bit of work, the CUDL helps you enjoy quality time with your wee one.

Read our full review of the CUDL carrier here.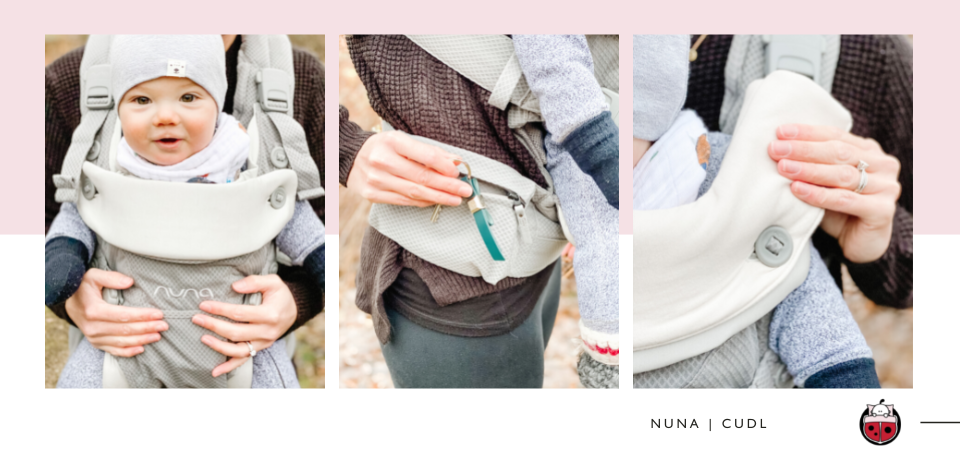 TIME TO WIND DOWN
Well, you successfully made it through baby's first outing, thanks to your
Nuna
gear. Life with baby is made so much simpler with thoughtful, tasteful baby gear.   With Nuna's wide range of products and gear, you'll be sure to enjoy all your next adventures together.   Now all that's left to do for the day is kick back and relax — you deserve it!
---
---