Clek Liing vs. Nuna PIPA Infant Car Seat
Jump to Section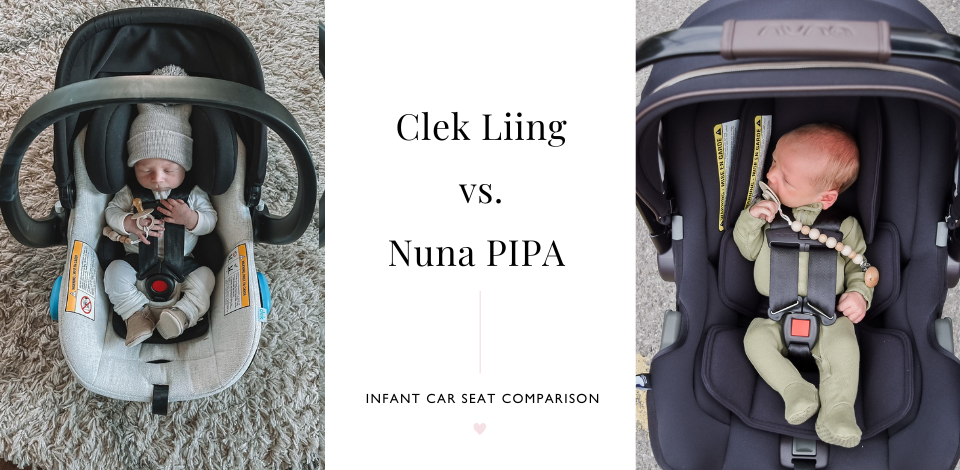 Here we go again! It's a cross-border car seat showdown between Canada's
Clek Liing Infant Car Seat
and their south-of-the-border rival, the
Nuna PIPA Infant Car Seat
.
Clek
is known for making
car seats
with state-of-the-art safety features, while
Nuna
makes a wide range of baby products and is regarded as one of the top brands in the industry.
So which seat will give your little one the comfort they crave and the peace of mind you seek?
Let's get into it!
THE SPECS
CLEK LIING:
Suitable for children 4 to 35 lbs, and up to 32" tall 
Car Seat Weight: 9 lbs. 
Weight of Base: 17 lbs. 
Dimensions: 26.8" H x 16.9" W x 27.7" D 
Expiry: 9 years from manufacturing
NUNA PIPA:
Suitable for children 4 to 35 lbs, and up to 32" tall
Car Seat Weight: 7.9 lbs. 
Weight of Base: 14 lbs. 
Dimensions: 26.1" H x 17.5" W x 25.2" D 
Expiry: 7 years after the date of purchase. 
Comparing the specs, you can see these seats are similar in size, but the Liing is slightly heavier. Of note, the width of the Liing allows for 3-across car seating.
With a 9-year expiry date, the Liing also has a longer lifespan than the PIPA, which is great for those planning to have multiple children over an extended time period.
ALL ABOUT THAT BASE
Car seat bases are the foundation for safety and stability, and both models are designed with this in mind.

The Liing base can be attached using LATCH connectors or a seat belt. With LATCH, the base has built-in rigid anchors that run the length of the unit (a heavy-duty feature that isn't shared by many other car seats). Attached to the base is a load leg which reduces crash forces and keeps the seat from rotating in the event of a collision. Levellers are also included, working with 7 recline positions, so your baby stays at the perfect angle whenever they're in their seat.

The PIPA base is similar, using LATCH anchors and a seat belt connection (which is ideal for the middle seat). Unlike the Liing, the PIPA does not come with a load leg, but does have levellers for a perfectly balanced install.


EXTRA SECURITY
In addition to the secure connections found on the base, you can use both car seats without their base. This is done via European belt routing, which allows you to secure the seats using only a seat belt (i.e. in a friend's car, a taxi/Uber, etc.). They're also both aircraft-approved as well, so they are great options to bring on that long-overdue vacation.

The foam seats provide additional safety, offering excellent side impact protection. The Liing uses durable and dense EPP foam, which is a bit more flexible and less brittle than the EPS foam (which is still high-quality) found on the PIPA.

Finally, both seats use a combination of an infant insert (for proper body and head positioning) and a 5-point harness for keeping your child snug and safe at all times. However, neither seat has a no-rethread harness.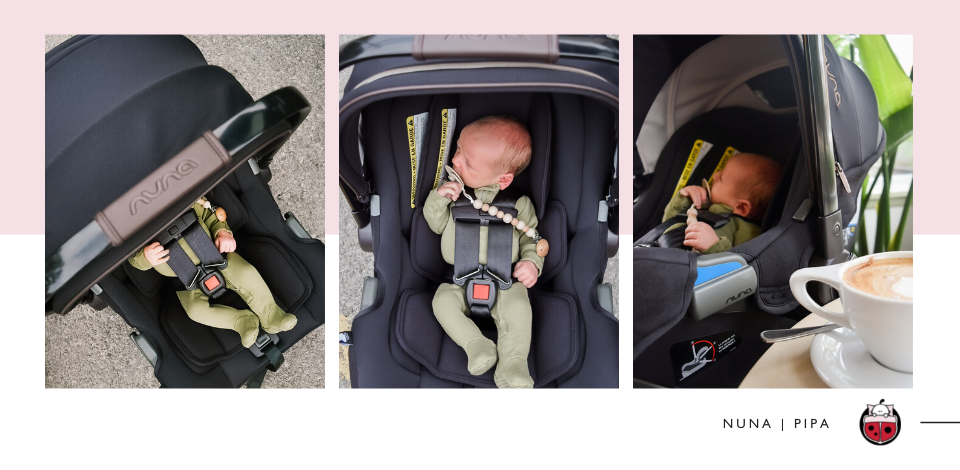 STYLISH COMFORT
The PIPA uses premium, machine-washable, micro-knit fabrics that are super squishy and keep babies cool when it's warm and warm when it's cool. These fabrics are naturally flame resistant and free from flame retardants and other nasty chemicals.

Likewise, the Liing is draped in similar anti-chemical fabrics, which are generously padded for baby's safety and comfort. While the Liings fabrics are removable, they not machine-washable, so you have to wash them by hand (which is a bit of a pain). Clek also offers their seat in Jersey Knit, C-Zero Plus Performance, and Merino Wool fabric options.

Both seats come with adjustable canopies that block out UV light and a peekaboo window to keep air flowing. However, the PIPA's canopy is UPF 50+ while the Liing has an impressive UPF 100+ protection.


TRAVEL SYSTEM FRIENDLY
Travel systems
allow you to attach a car seat to a stroller, making it easy for parents to simply lift their kids out of the car (car seat and all!) and onto the stroller.
PIPA Infant Seats are compatible with all Nuna strollers, as well as strollers from many other top brands (with adapters). Perhaps the most popular combination is with Nuna's TAVO Stroller — you can purchase the
TAVO + PIPA Travel System
in a bundle. Once your baby reaches the age of 6 months, they can be transferred safely to the TAVO stroller seat.
Clek doesn't make their own strollers, but they do offer adapters so you can use the Liing with other popular brands such as the
UPPAbaby Adapter
,
Bugaboo Bee Adapter
, and
Veer Switchback Adapter
.
ACCESSORIES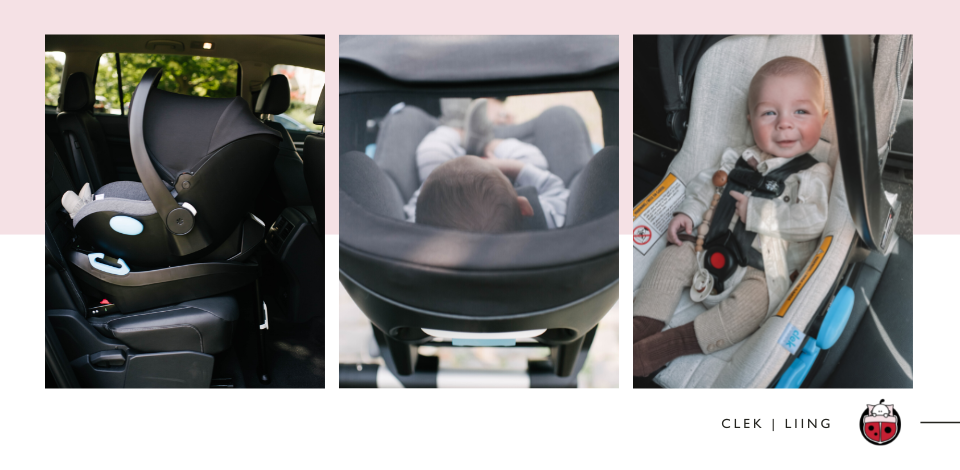 WHICH ONE IS BEST?
Both the
Clek Liing
and
Nuna PIPA
are excellent options for any parent looking for a safe and comfortable
infant car seat
for their child.
Both seats feature many common features, like a European belt path, infant inserts, and the ability to use the seats as part of a
travel system
. Their pricing is also almost a wash, though it fluctuates depending on the model.
We love that the Liing is made in Canada, has a metal load leg, built-in rigid anchors that run the length of the unit, and that the seat allows for "3-across" car seating. This seat can be used for up to two years longer than the PIPA and has an extendable UPF 100+ canopy. However, the fabrics on the Liing must be hand washed, the seat is a tad heavier, and adapters must always be purchased separately to use with a stroller as a travel system.
We love the PIPA's sleek, contemporary design and its premium micro-knit fabrics that keep babies cool in hot temps and toasty on cooler days — the fabrics are also machine-washable, which is great for busy parents. While the canopy is UPF 50+, not UPF 100, it is HUGE, providing maximum coverage on sunny days. The PIPA is also one of the lightest infant car seats on the market and is compatible with many different strollers. However, the PIPA seat doesn't have an additional anti-rebound system (in Canada) and can only be used for 7 years from date of purchase (which is okay for most families, unless you expect to have several children spaced apart).
Both the Liing and the PIPA can provide your little one with the protection needed to travel safely and with ease. The only question is, which one is right for you?
---
---