Maxi-Cosi Swift Playard Review
Jump to Section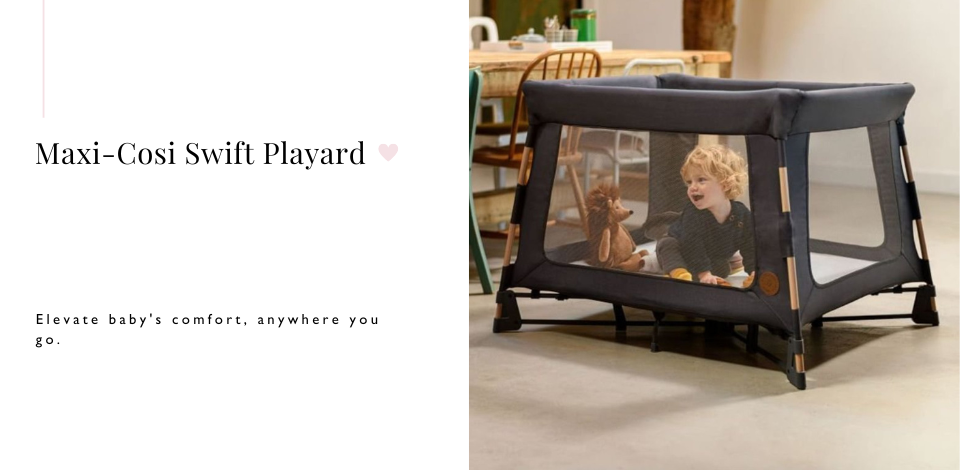 Play, relax, repeat— as parents, we know that the daily rhythm of family life revolves around these precious moments.
That's why the
Swift Playard
from
Maxi-Cosi
has become one of the go-to companions for parents on the move, offering playtime convenience and stylish versatility!
In this review, we'll break down all the features that make the Swift Playard a game-changer for busy parents. 


Speedy Setup
THE SPECS: 
Suitable From: Birth up to 35" (roughly 3.5 years of age)

 

Weight Capacity in Bassinet mode: Up to 15 lbs. (or when they can roll over)

 

Unfolded Dimensions: 33.86" L x 30.71" W x 41.73" H

 

Folded Dimensions: 11.25" L x 11.25" W x 33.5" H

 

Product Weight: 18.5 lbs.

 


If you want a travel cot that sets up in the blink of an eye — the Maxi-Cosi Swift is here to please! 
With its lightning-quick, one-second fold, this playard is a real time-saver. The intuitive design ensures you can easily set it up or take it down with just one swift motion, even with your hands full. When not in use, the mattress folds around it and the compacted playard can be placed in its travel bag. There are no complex locks or mechanisms to mess around with — it's all about simplifying your day.  


On The Go
At just 18.5 lbs, the Maxi-Cosi Swift is one of the lightest of its kind and is incredibly easy to carry around. It's a breeze to take with you wherever you go — whether you're visiting friends, going on a weekend getaway, or simply moving from room to room. However, the lightweight design doesn't compromise on sturdiness or comfort, making it a reliable companion for all your adventures.  


3-in-1 Versatility 
Why invest in three separate products when you can have it all in one?  
The Swift functions as a newborn bassinet , a toddler sleep space, and a playard, all rolled into one stylish and compact package! The playard grows with your child from birth until they are around 3.5 years old (35" tall). It effortlessly adapts to your child's changing needs, saving you both space and money. 
 Please note, while the Swift Playard is approved for sleep at bassinet mode, there is no testing for sleep at playard level in Canada. That being said, the Swift has met and exceeded all playpen regulations required by the Canadian government. In the end, it's up to you whether or not you use the playard for unsupervised sleep.


Magical Mattress
One standout feature of the Maxi-Cosi Swift is its unique two-stage mattress. This thoughtful design accommodates your baby's growth.  
 For newborns, the mattress unzips to create a smaller, cozier space that perfectly fits bassinet mode. As your little one grows, the mattress seamlessly zips back together, doubling in size and providing a spacious and ultra-comfortable area for playtime or naps at the bottom of the playard. It's basically like having two mattresses in one that are both tailored to your baby's comfort!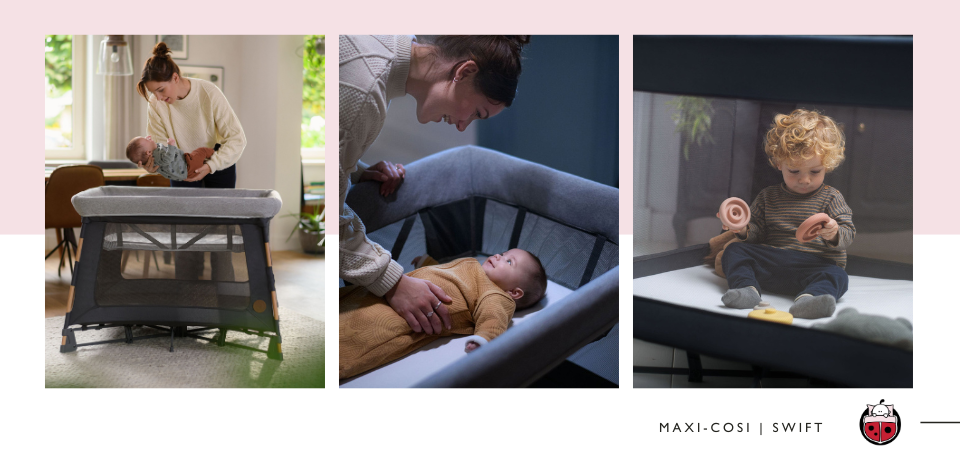 Supportive For You
 Speaking of comfort, Maxi-Cosi has considered your comfort too. With the bassinet positioned at the top of the playard, it eliminates back strain while placing your newborn inside. The easy-to-use small hooks allow you to attach and detach the bassinet effortlessly as well.  


Safe Comfort
When it comes to your child's comfort, the Swift doesn't cut any corners. The elevated cot design ensures your toddler is not in direct contact with cold floors, providing an added layer of coziness. The thick foam mattress offers a comfortable place for your little one to rest, whether they're playing or napping, while the mesh fabrics not only provide excellent ventilation but also allow you to keep a watchful eye on your child. 


Stylish Home Decor
Who says baby gear can't be stylish?!  
This playard boasts an elegant design with a range of luxurious finishes and colours to seamlessly fit into any interior. Whether your home is modern, classic, or eclectic, this playard adds a touch of sophistication while serving its practical purpose. 


Final Thoughts
The Swift Playard has redefined playtime convenience for parents who are always on the go. With its lightning-fast setup, lightweight portability, and three-in-one functionality, it's a top-tier option for families seeking ease and style.  
From newborn days to toddlerhood, the Maxi-Cosi Swift adapts to your child's needs while keeping comfort and safety at the forefront. No more hassle of multiple products during play or naptime! The simplicity and elegance of the Swift Playard make it simple to cherish those precious moments.
For more information on Maxi-Cosi products, read our Maxi-Cosi Home Line Overview article. 
---
---