Peg Perego Viaggio Flex 120 Booster Seat Review
Jump to Section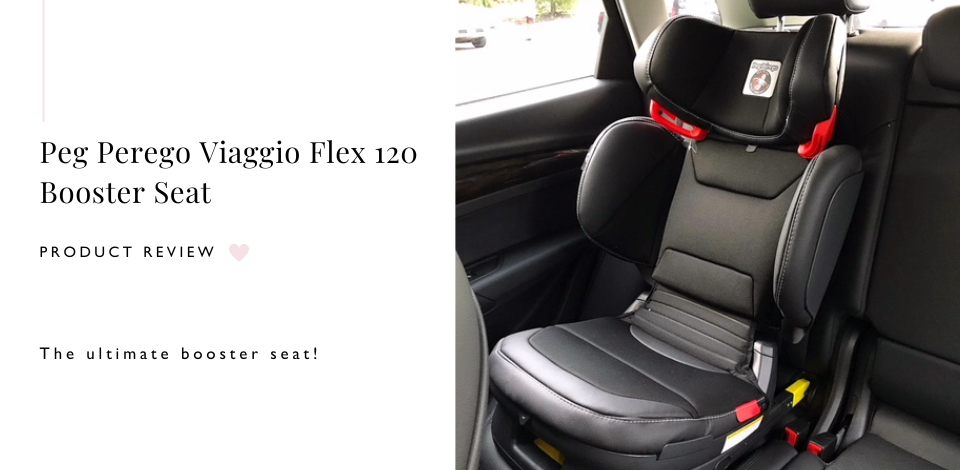 If you are shopping for a booster seat, you know all too well there are different
car seats
for each stage of your child's development.
You started with an
infant car seat
and then moved to a
convertible car seat
, and now, the last stage of your child's car seat journey is a booster seat. Even though your little one may think they've earned "big kid" status already, they aren't quite there yet. The booster continues to provide the proper support and positioning until your child is big enough to safely use a seatbelt without a car seat.
For those who are looking for a booster seat that will cover all the bases, you can bet the farm on the
Viaggio Flex 120 Booster Car Seat
from the Italian brand,
Peg Perego
!
Stylish, practical, affordably priced, and built to last, this high-back booster can safely see your child into their preteen years if required.
Keep reading and we'll give you the low down on Peg Perego's super booster!
SAFE SEAT
THE SPECS:
Weight Range: From 40 to 120 lbs. 
Height Range: From 39" and up to 63" 
Product Weight: 14 lbs. 
Dimensions: 22" L x 17.25" W x 26.75" H 


The Viaggio Flex 120 Booster Seat is equipped with advanced features that not only ensure your child's safety but also give you peace of mind while you travel (what more can a parent ask for?).
The rigid LATCH system ensures a secure and stable connection between the car seat and the vehicle. Installations can sometimes be tricky, so we love the green indicators on the LATCH tracks that show you when the car seat is correctly attached, giving you confidence that your child is safe and secure. This also keeps the seat in place so it doesn't become a projectile during an accident when it's not in use. Additionally, the seatbelt path keeps your little one properly positioned and safely strapped in.
Peg Perego also designed the seat with an aluminum reinforced backrest to protect against whiplash in the case of a front-end collision, it also provides additional protection in the event of a rear-end accident. The side wings and headrest are also equipped with EPS foam, which helps absorb energy during a crash.
4D TOTAL ADJUST
This top-of-the-line booster was made to adjust to your child's changing needs, providing high-end comfort every step of the way:



HEADREST:
With five different vertical positions, you can easily adjust the headrest as your child grows taller. This ensures the seat belt always fits properly and your kiddo's head and neck are supported and protected, no matter how much they have grown.

BACKREST:
The upper backrest can be adjusted to three different positions, ensuring that your child's back is always supported and comfortable.

SIDE WING CUSHIONS:
The side wing cushions can be pulled out horizontally, providing a perfect fit for your child's shoulders and providing maximum safety in the event of a collision.

SEAT POSITION:
Finally, the seat itself can slide forward, allowing the back to recline in five different positions. This is perfect for long car rides when your child wants to nap or rest comfortably.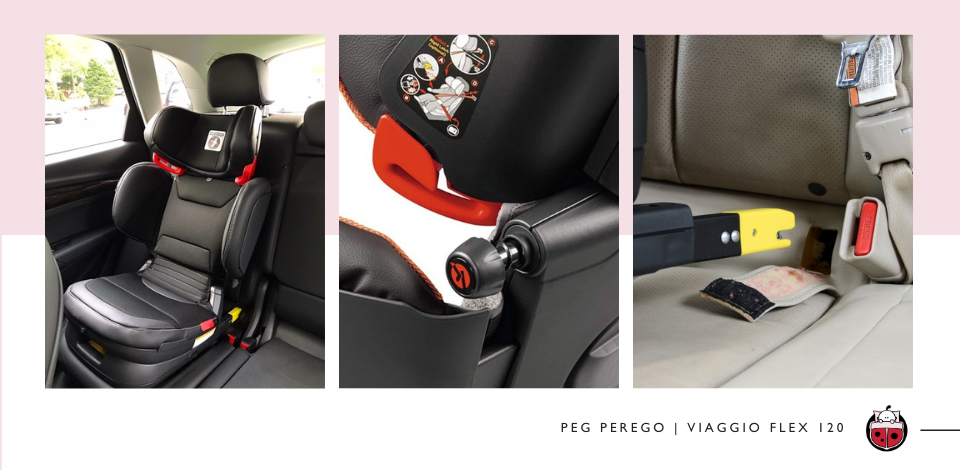 WONDERFULLY CONVENIENT
This little wonder comes with a range of convenient features that makes life easier for busy parents!
The slim width of the Flex 120 (just over 17 inches) means that you can easily fit three seats across most backseats if need be. This is perfect for families with multiple kids or for carpooling with friends. When you need to save space, the car seat can fold forward, even when it's connected to LATCH anchors.
When folded, this booster compacts enough to be stored in the overhead bin on flights, making it a great choice for families who love to travel! Should you need to carry the car seat, it comes with a handy carry handle or can be used with Peg Perego's
Flex Car Seat Travel Bag
to keep it protected and scuff-free.
Finally, double cup holders on either side of the seat extend out, making it easy for your child to keep their drinks or snacks close at hand while still leaving plenty of room for them to sit comfortably.
PRICED BY LOOK
The Viaggio Flex 120 Booster Seat is stylishly designed. For starters, you have four different colours to choose from, so you're sure to find the perfect match for your little one (and your vehicle!).
For $349.99, you can choose between two options:
Black

 

(with grey accents): A classic and sleek choice that will match any car interior. 
Wonder Grey: A modern and stylish heather grey that will make your car seat stand out.


If you're willing to spend a little more, the $379.99 option offers two additional colours:
THE 120 IS A FLEX
The
Viaggio Flex 120 Booster Car Seat
by
Peg Perego
is a top-end
booster seat
that prioritizes your kiddo's safety and comfort as they grow into childhood. Available in various colours and price points, this seat boasts numerous features that work together to ensure your child is safe and secure while travelling. With adjustable features, you can be sure that the Flex 120 will grow with your child and provide a comfortable ride for years to come. Plus, with all of its convenient features, it's sure to make your life easier on the road ahead (pun intended)!
---
---