Summer Travel Safety Tips With Diono
Jump to Section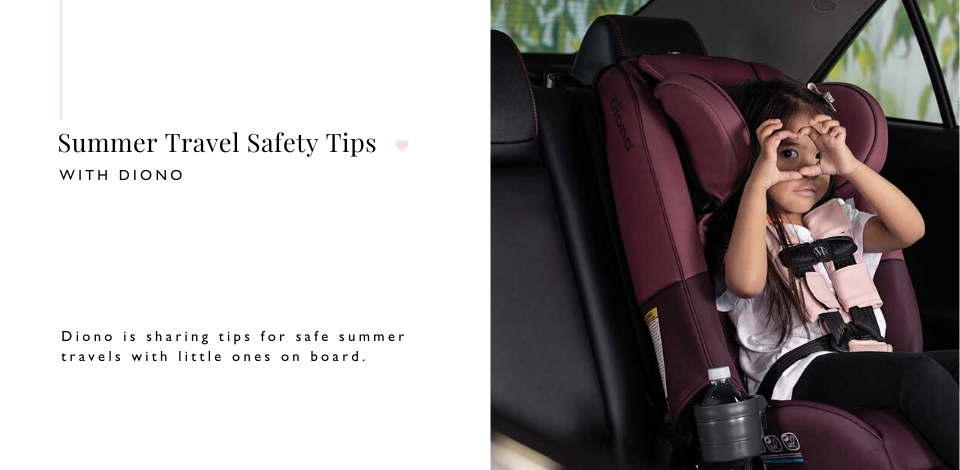 This week we are featuring a guest post from our friends at Diono! As safety is their number one concern, they are stopping by to share some tips for safe summer travel.
School's out! Time for longer play dates, trips to the museum and the beach. Will you be taking a family vacation or staying close to home?
No matter what you're doing, the lazy days of summer are great for our sanity, but never get lazy on safety. Here are some of
Diono
's hot tips for keeping your kids safe while you're on the road and in a
car seat.
CLOTHES ON IN THE CAR
Many of us leave the pool or beach and don't think to cover up when we get into the car. During a crash the webbing on seat belts and the car seat harness can cause friction burns on bare skin.
To help prevent this, make sure everyone in the car is wearing clothes between themselves and the webbing. Don't skip the seat belts or
car seats
just because you're close to home.
KEEP COOL
Baby it's HOT outside, and car seat buckles can heat up and cause a burn or discomfort to your child. Keep car seats cool when you're parked in a parking lot by covering them with a towel that you can remove when placing them in the seat.
Never leave it as an extra layer between the seat and your child. Alternatively, you can use a
sun protection product
made specifically for your car seat by your car seat manufacturer.
EXTRA CAR SEATS
No doubt your kids want to hang out with their friends and you might just treat them to a trip to the ice cream shop or to the movies! Be prepared, and ensure that you have the proper type of seat according to weight and height requirements for
every
child, so that everyone is buckled up properly and safely.
GET TO KNOW YOUR BLIND SPOTS
With kids out of school, they are bound to be out and about riding bikes or running through your neighbourhood. Before you back out of your driveway, look around your vehicle to be sure a child is not nearby. Roll your windows down and turn off the radio before you put the car in drive so you can hear if anyone is approaching. Unfortunately, approximately 50 children are backed over every week because the driver could not see the child!
LOOK BEFORE YOU LOCK
Life can cause us to be very distracted. Be sure to remain focused on driving and your passengers. Never leave babies or children in the car, not even for a quick run into the store. Keep your purse or other important items near your child. You'll most likely need to take them with you when you exit the car and you'll always have a reminder that your child is in the back seat. An average of 38 children die every year from being left in the car.
WISHING YOU SAFE TRAVELS
Keep these tips top of mind this summer and enjoy your family travels!
You can learn more about Diono car seats by visiting
their website
, and can shop
here for Diono car seats
.
---
---