Diono Radian Convertible Car Seats Comparison
Jump to Section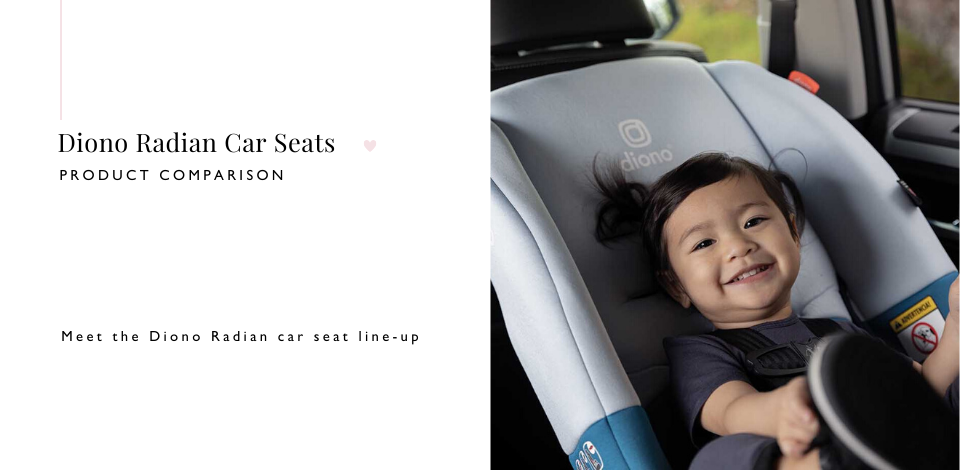 Diono
 has made some major upgrades to their car seats in the past couple of years to bring you top of the line safety features at multiple different price points.
With so many convertible
Diono car seats
to choose from, a question we get a lot is "
what's the difference?
" – so today, we're breaking them down in an easy to digest way for you to learn here on our Learning Centre!
THE SIMILARITIES
First and foremost, the similarities between all
Diono
models manufactured 2020+:
Allow you to rear-face your child to 50 lbs using a seatbelt installation [even in Canada, which is hard to find]
Can be used to 120 lbs in booster mode [65 lbs in harness mode]
Feature a steel core & frame
Include SuperLATCH connectors for an easy click installation using UAS
Designed slim to be ideal for 3-across installs in most mid-sized vehicles [17" at base]
Have easy to remove covers that can be machine washed and dried
Expandable seat width with a pop out design for additional comfort as your child grows
Radian "R Series" car seats can be used from 5 lbs  
Radian "Q Series" car seats can be used from 4 lbs [with included infant inserts]
Have a 10-year expiration date from DATE OF PURCHASE [not manufacture date]
Fold compact for easy transport 
Are FAA approved for use on an aircraft in harness mode
If any of these terms are confusing to you, check out our Car Seat Terminology post,
here
, for clarification!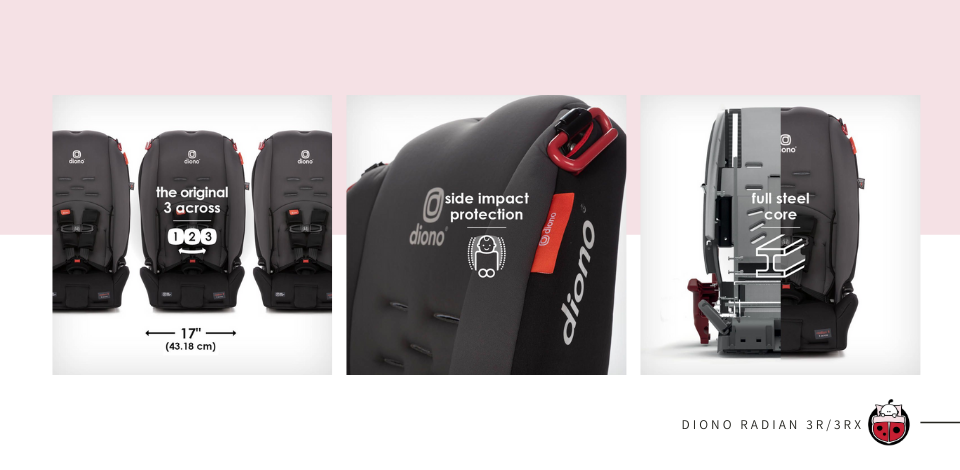 RADIAN 3 R
The Diono Radian 3 R is the more basic model car seat from Diono.  
If you plan on using a Diono seat from birth, we recommend a 3RXT or Q-series model that have infant inserts included to adjust baby to an optimal angle for keeping their airways open [more on this below]. It is important to note, this model is not side impact tested*, which is not mandatory for car seats in North America, but is a feature offered by many brands who manufacture child restraints as an added safety precaution.  
Diono 3R: $329.99


SAFETY FEATURES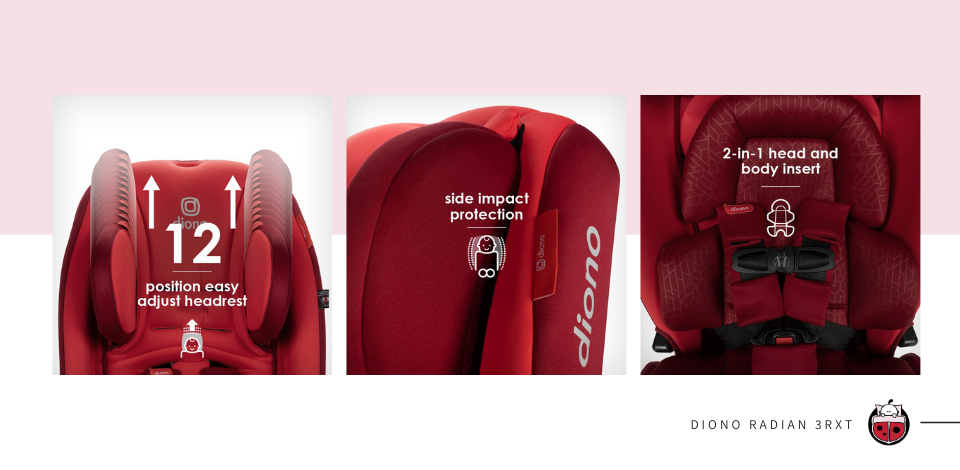 RADIAN 3 RXT
The Diono Radian 3 RXT is the most popular [as of Summer 2020] of the Diono models. The differences between the Radian 3 RXT and the previous model is:  
Includes a head and body support insert for infants
Includes a rear-facing newborn travel high wedge [improves the angle for a newborn to keep their airways open when in the car]
Includes a 12-position headrest  
It IS Side Impact Tested  
The most obvious difference just by looking at the seat is the addition of the adjustable side wings, which make a big difference for safety and provide a comfortable spot for your child to rest their head on longer road trips.   
Diono 3RXT: $469.99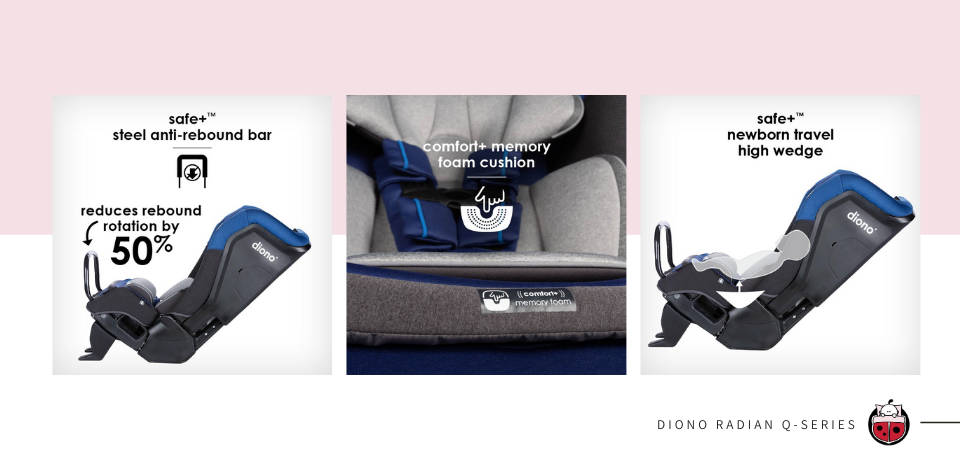 RADIAN Q-SERIES
Diono Q-Series car seats are a whole new level of safety that Diono introduced this year. The most notable difference between the Q-Series and R-Series car seats are the extended side walls of Side Impact Protection, and the addition of a steel anti-rebound bar for use in rear-facing mode.
However, there are several other upgrades and additions not quite as obvious when flipping through photos online:
Enhanced comfort memory foam seat cushion  
12-position headrest that adjusts 22% higher than that of the

 

Diono Radian 3 RXT

 

[20.5" belt guide at the highest height for use in booster mode]
Include a newborn travel high wedge for improved infant positioning [just like the 3 RXT – but they are NOT interchangeable between seats]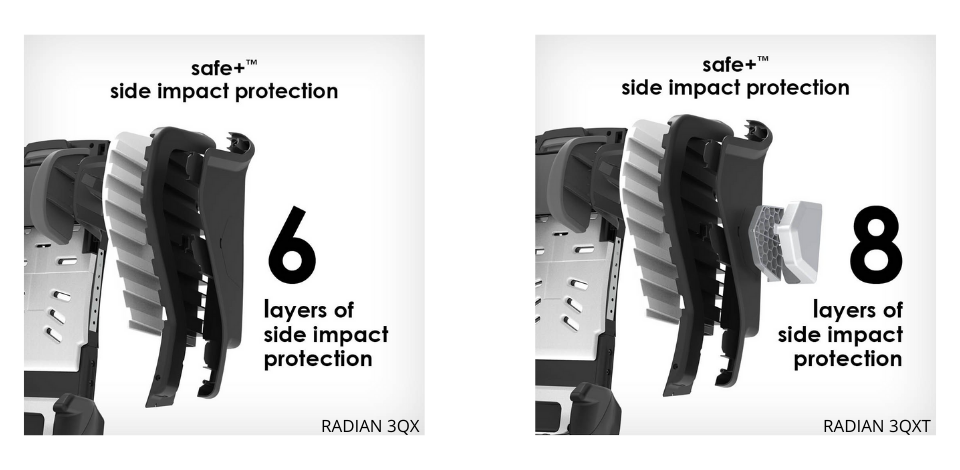 RADIAN 3 QX + 3 QXT
The

 

Radian 3 QXT

 

has an additional side management pod that you'll engage on the side of the door [not used if in centre position].  
The

 

Radian 3 QXT

 

has a total of 8 layers of side impact protection, where the

 

Radian 3 QX

 

has 6 layers. 
The 3 QXT includes newborn harness pads that have less padding for a tighter fit when being used with newborns [vs the foam padded harness pads on all other models]  
The 3 QXT includes an additional newborn protection insert 
Diono Radian 3 QX: $423.99
Diono Radian 3 QXT: $579.99  


WHAT IS SAFE+?
Diono
 uses the term Safe+ to describe the features that have been upgraded on these models. These features include:


Diono 3 R Safe+:
Updated with 12 improvements from the original Radian 3R

SafePlus Easy-Adjust 12 Position Headrest

6-layer side impact protection for complete protection from birth to booster

Suitable from 4 - 120 lbs.

Diono Radian 3 QX:

6 Layers of side impact protection

3 stage complete rear-facing protection

Safe+ newborn travel high wedge

Safe+ 2-in-1 infant positioning liner

Safe+ Steel anti-rebound bar
Diono Radian 3 QXT:
8 Layers of side impact protection

5 stage complete newborn protection

Safe+ newborn protection insert

Safe+ newborn travel high wedge

Safe+ 2-in-1 infant positioning liner

Safe+ newborn harness pads

Safe+ Steel anti-rebound bar


FAQS:
Can Diono seats be used with inflatable seatbelts?
Diono car seats can be used ONLY with Ford inflatable seat belts and are not approved for use with any other vehicle make. 


Will 3 car seats fit across in my vehicle?
Vehicles differ drastically in seat widths, placement of seatbelts, buckle locations, headrests, seat slopes and so much more that often isn't considered prior to purchasing a child restraint. We recommend reaching out to a Child Passenger Safety Technician for any 3-across installations. You can find one near you here ->

 

https://www.cpsac.org/find-a-tech/  


Do I have to use my harness pads?
Harness pads are mandatory when car seat is used in forward-facing mode. This differs by manufacture year so always reference your child restraint manual. 


Can the radian 3QXT Safe+ newborn protection inserts be used with all radian models
NO. The insert is exclusive to the radian 3QXT and has only been tested with the QXT model.


Can the Safe+ newborn travel high wedge be used with all the radian models?
NO. The 3RXT comes with its own infant positioning wedge. They cannot be swapped between seats.


Does the Safe+ 2-in-1 infant positioning liner have to be used with the newborn travel high wedge?
NO. The wedge is removeable at the parent's discretion. However, the liner must be used with the Safe+ newborn protection insert is used.
*All car seats that are available on the market in Canada must meet stringent safety standards.
 
DISCLAIMER: The information provided on this website is intended to help with the selection and safe use of car seats and booster seats. Under no circumstances should this information be used to replace the car seat instruction manual or the vehicle's owner manual. All car seats and booster seats differ and the details provided in the manual accompanying the purchase of the car seat should always take precedence. No two vehicles are alike and the vehicle owner manual should always take precedence over information obtained on this website.
---
---