UPPAbaby MESA V2 vs. MESA MAX Infant Car Seat
Jump to Section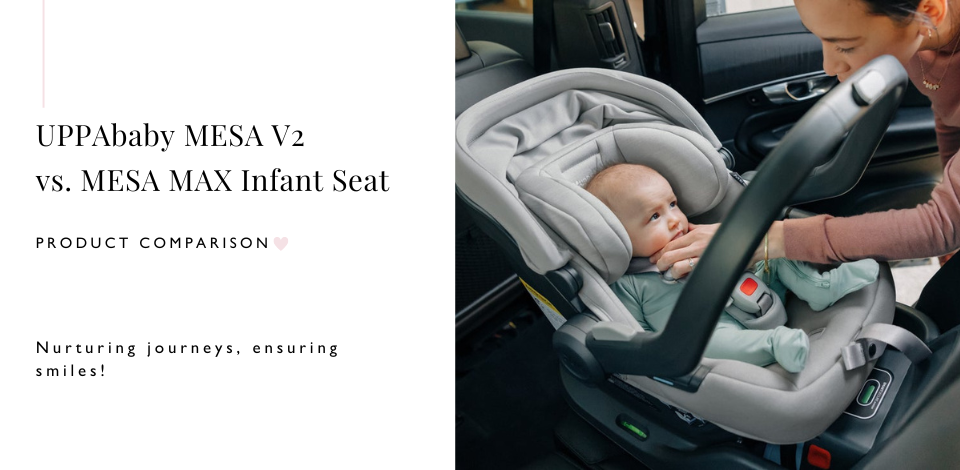 Ah, the joyous adventure of parenthood. It's a whirlwind of love, laughter, and, of course, endless decisions!
When it comes to keeping your precious bundle of joy safe and sound while on the go, the MESA infant car seats from UPPAbaby have been many a parent's trusted companion. But now, there's a new model entering the scene — it's the new MESA MAX! 
If you're scratching your head wondering which car seat is the perfect fit for your family's needs, you've come to the right place.  
We're here to break down the features they share, their differences, and help you pick the ultimate co-pilot for your adventures! 


The Specs
MESA V2:
Suitable from 4 to 35 lbs. or 32" in height

 

Infant Insert: For use from 4 to 11 lbs.

 

Car Seat Weight: 9.9 lbs.

 

Car Seat Dimensions: 17" L x 25.8" W x 23" H  

 

Base Weight: 9 lbs.

 

Base Dimensions: 14.5" L x 21.3" W x 10.3" H  

 
MESA MAX:
Suitable from 4 to 35 lbs. or 32" in height

 

Infant Insert: For use from 4 to 11 lbs.

 

Car Seat Weight: 9.9 lbs.

 

Car Seat Dimensions: 17" L x 25" W x 24" H  

 

Base Weight: 12.6 lbs.

 

Base Dimensions: 14" L x 24" W x 17.5" H  

 


 A quick glance between these two reveals differences in the dimensions and weight of their bases. The MAX is slightly heavier and larger than the V2 due to the inclusion of a load leg and an anti-rebound panel designed into its base (more about that later). Other than these discrepancies, the seating specs are nearly identical.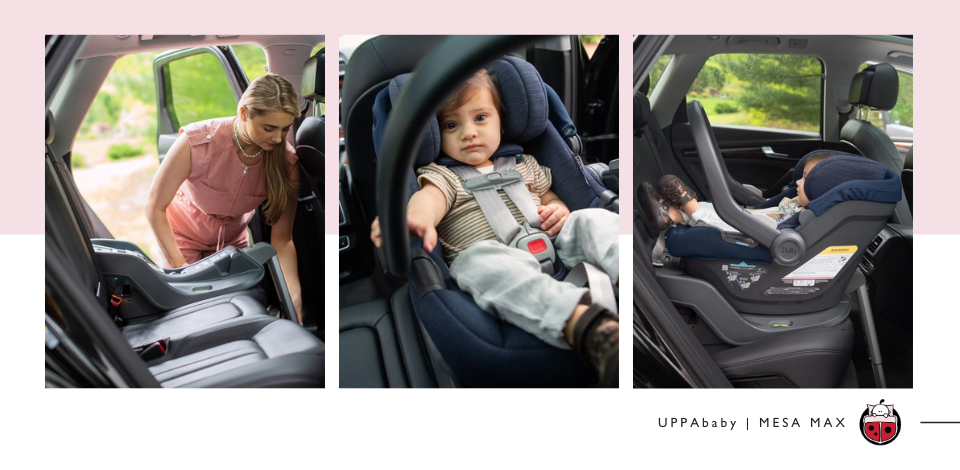 Twin Traits
Whether you're team V2 or team MAX, both car seats are are built with UPPAbaby's proven foundation of quality and safety. 
Here's what they have in common:  


Safety First:

When it comes to your little one, safety is paramount. Both the V2 and the MAX meet rigorous safety standards, with EPP foams, side-impact protection, a no-rethread harness, and a 4-position anti-rebound handlebar to protect your precious cargo.

 
Easy Installation:

Both car seats eliminate struggle and are designed for seamless installation. UPPAbaby's SMARTSecure system ensures accurate and secure LATCH and seat belt lock-off connections. The bases are also equipped with bubble levels and red-to-green indicators for secure placement. 

 
European Routing:

In addition to the LATCH and lock-off connections, a European belt path is also included on each of the carriers' shells, so you can install these car seats in a vehicle without the base.

 
Convenient Canopies:

UPPAbaby knows how important it is to shield your little one from the elements. For this reason, both seats feature expandable SPF 25+ sunshades to protect your baby from the sun and wind.

 
Travel System Ready:

Both car seats are compatible with UPPAbaby strollers to create a high-quality

travel system

, allowing for a smooth transition from car to stroller and back.

 
Plush Fabrics:

Comfort is key, especially during longer journeys. Both the V2 and the MAX boast soft, luxurious, and breathable fabrics to keep your baby cozy and content during the ride!

 
Differences That Define
Now, let's dive into the exciting part — the unique features that set the V2 and the MAX apart! 


The Base: 

As previously mentioned, the MAX has an upgraded base that includes an anti-rotational load leg, as well as an anti-rebound panel for exceptional protection during a collision.



Headrest Positions:

Both of these seats grow with your little explorer! An adjustable headrest is included on both seats but the MAX has a few extra positions for better customization and optimal comfort.



Built-in Ventilation:

The MAX introduces a game-changer with its side ventilation system. Perfect for those hot summer days, this feature ensures a comfortable and cool ride for your baby.



Larger Canopy:

Speaking of summer, a canopy on these car seats shields your baby from harsh UV rays. Both have UPF 25+ protection, but the MAX's canopy is oversized, almost covering the entire seat! 



Price:

With the MAX being the newer model, it is a little more expensive than the MESA V2. $599.99 (MESA MAX) vs. $524.99 (MESA V2)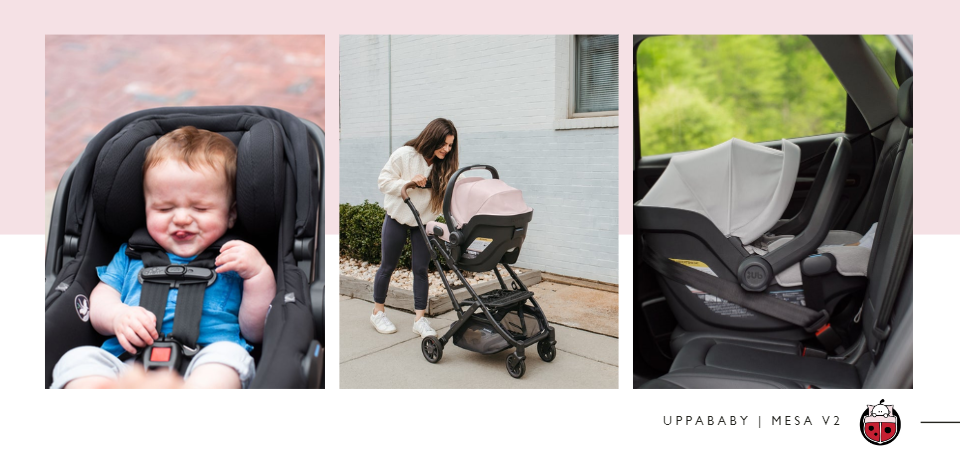 Kindred Car Seats
 So there you have it — the MESA V2 and the MESA MAX, two stellar contenders in the world of infant car seats, both aiming to ensure your little one's safety and comfort, as well as your peace of mind. 
As you embark on this exciting chapter of parenting, rest assured that both the MESA V2 and the MESA MAX have been crafted with care, attention to detail, and a commitment to keeping your child safe. So whether you're hitting the road for a grand adventure or simply making a quick run to the store, you can trust that UPPAbaby has your back — and your baby's too! 
 For information on UPPAbaby's full line of car seats, check out our UPPAbaby Car Seat Overview. 
---
---