BabyZen YOYO² vs. UPPAbaby MINU V2 Stroller
Jump to Section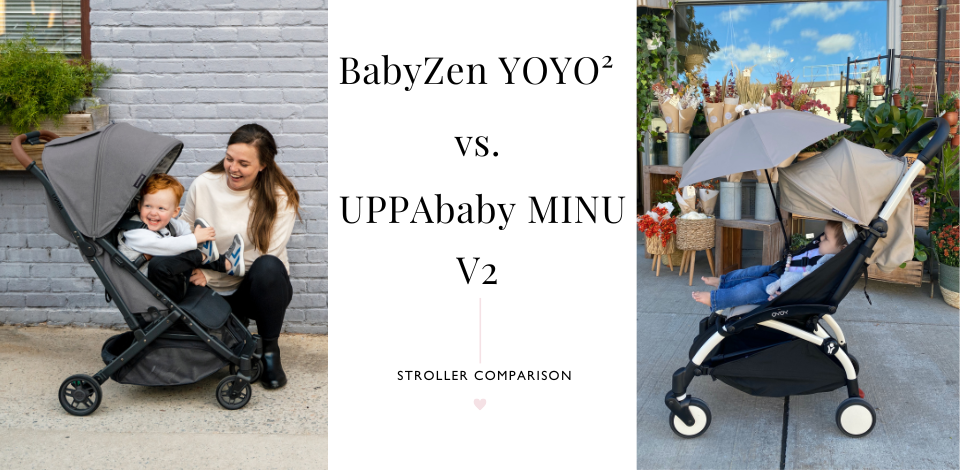 Hey there, fabulous moms and dads! 
 We know that choosing the perfect stroller for your little one is a big deal. That's why we're here to spill the tea on two incredible contenders — the BabyZen YOYO² vs. UPPAbaby MINU V2! 
These are two of our most popular lightweight strollers that will keep you looking stylish while maneuvering through the city (and the crazy world of parenting!).  
So get ready to level up your parenting game as we dive into the deets and help you choose the stroller that's just right for your babe and your trendy lifestyle. 
Let's roll! 


The Specs
BabyZen YOYO²:
Stroller Seat Suitable from 6 Months up to 48.5 lbs.

 


(Can be used from birth with an infant car seat or the

Newborn Pack)

 

Unfolded Dimensions: 39" L x 17" W x 41" H

 

Folded Dimensions: 20.5" L x 17.3" W x 7.1" H

 

Stroller Weight: 13.6 lbs. (6+ version) / 14.5 lbs. (with newborn pack) / 17.8 lbs. (with bassinet)




UPPAbaby MINU V2: 
Suitable from 3 months to 50 lbs.

 


(Can be used from birth with an infant car seat or

V2 Bassinet)

 

Unfolded Dimensions: 35.5″ L x 20.3″ W x 41″ H

 

Folded Dimension: 11.5″ L x 20.3″ W x 23″ H

 

Stroller Weight: 16.9 lbs.

 
 
From the above specs, you can see that without adding any accessories the UPPAbaby MINU V2 can be used a few months earlier than the BabyZen YOYO² and can accommodate a couple more pounds. However, the YOYO² is also slightly smaller when folded down, and weighs less so it's easier to carry and push.  
Similar Strollers
The YOYO² and MINU V2 are both strollers your baby will love. But aside from their compact nature, what other similarities do they share? 


High-Quality Materials: 
The YOYO²'s frame is a mixture of aluminum alloy, stainless steel, and fiberglass-reinforced technical plastics. The MINU V2 has an aluminum frame  
Comfort Grip: 
Both strollers have a leather wrap on their handlebar to enhance grip and comfort. 
Protective Canopy: 
Shielding your little one from the sun is a UPF 50 canopy, included on both strollers. 
Suspension System: 
If you're hoping for a smooth ride, you're in luck! The YOYO² and the MINU V2 have shock-absorbing all-wheel suspension systems to keep baby bump-free and happy! 
Airline Compatible: 
Family vacation time demands you bring your stroller on the road. The YOYO² and MINU V2 can both be compacted down to carry-on luggage size, fitting neatly into the overhead bin on your flight! (although we still recommend you double-check with your airline)  
Newborn-Friend (with accessories) 
Both strollers are suitable from birth with accessories. The YOYO²  requires the Newborn Pack for the first few months, while the MINU V2 requires the V2 Bassinet and MINU and Bassinet Adapter. 
Travel System Compatible: 
These strollers can also be turned into travel systems using your infant car seat. The YOYO² offers a car seat adapter for a wide range of different brands, and the MINU V2 has one for the Maxi-Cosi and Nuna car seats. 
Easy Fold: 
Collapsing these strollers is simple and can be done by any parent. In the case of the MINU V2, it can even be folded one-handed! Once collapsed, you can sling either stroller over your shoulder by using their attached carrying strap. 
Colours: 
While the MINU V2 is available in several colours, the YOYO² has more options and even allows you to select what frame colour you want— black or white — so you and your baby can rock the town in style!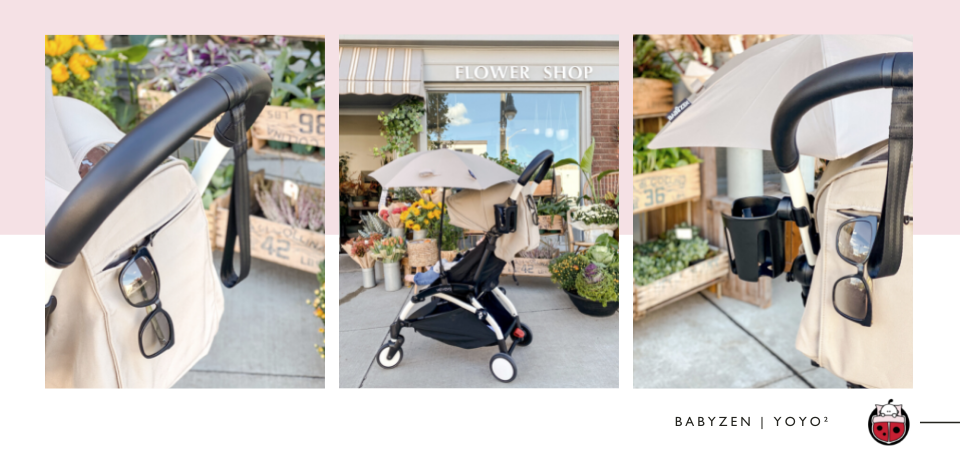 Contrasting Baby Buggies
Stroller manufacturers put their own unique spin on their products to entice parents. Here are the ways the YOYO² and MINU V2 differ: 


Underseat Basket: 
There's a big difference in the storage capacity of these rides. The YOYO² can hold 11 lbs., while the MINU V2's basket can hold 20. 
Bumper Bar: 
The MINU V2 comes with a leather-wrapped bumper bar for both protection and something your baby can grab on to during their ride. 
Harness: 
Both strollers' seats have a secure 5-point harness, but the MINU V2's is no-rethread, making it easier to resize as your child grows. 
Waterproofing: 
The YOYO²'s fabrics are waterproof, whereas the MINU V2 would require a rain shield to keep them dry. 
Footrest: 
The MINU V2 has an adjustable footrest for optimal leg comfort, whereas the YOYO² has no footrest. 
Canopy: 
The canopy on the YOYO²'s newborn pack is large and ventilated, while the canopy on their 6-month pack comes with a peekaboo window. The MINU V2's zip-out canopy is extendable with mesh for added ventilation and a peekaboo window. 


Awesome Accessories
There is a large discrepancy between the amount of accessories you can use with these strollers. 
The YOYO² can be used with the newborn pack, 6-month pack, car seat adapters, and the YOYO board. 
The MINU V2 add-ons are as follows: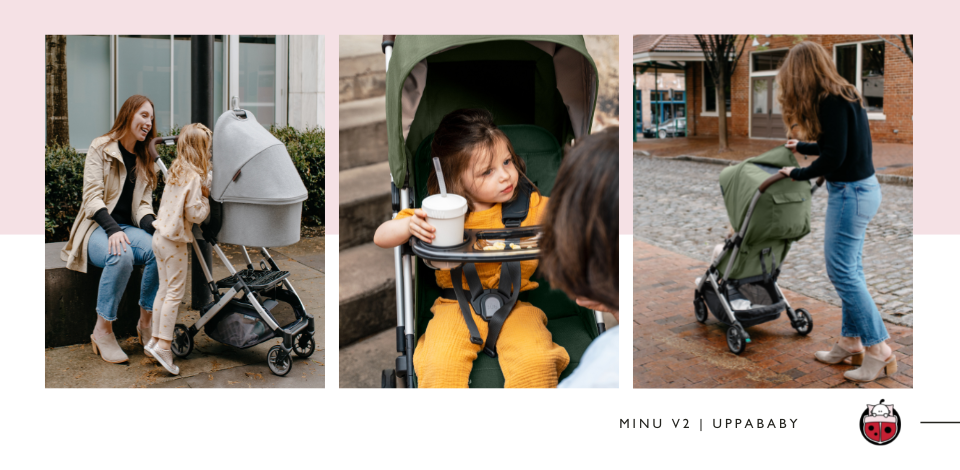 Stroller Supremacy
Choosing the perfect stroller can feel like an overwhelming task, but with options like the YOYO² from BabyZen and the MINU V2 from UPPAbaby, you can't go wrong! Both strollers boast durability, user-friendly features, top-notch safety, and stylish designs. Parents can confidently navigate life with their little ones in comfort and style with these options. Effortlessly embrace the adventure of raising your little human and let these strollers be your trusted companions on your incredible parenting journey. Happy strolling!  
For more information, you can read our BabyZen YOYO² Full Review and our UPPAbaby MINU V2 Full Review. 
---
---