Britax Grow With You Harness-2-Booster Seat Review
Jump to Section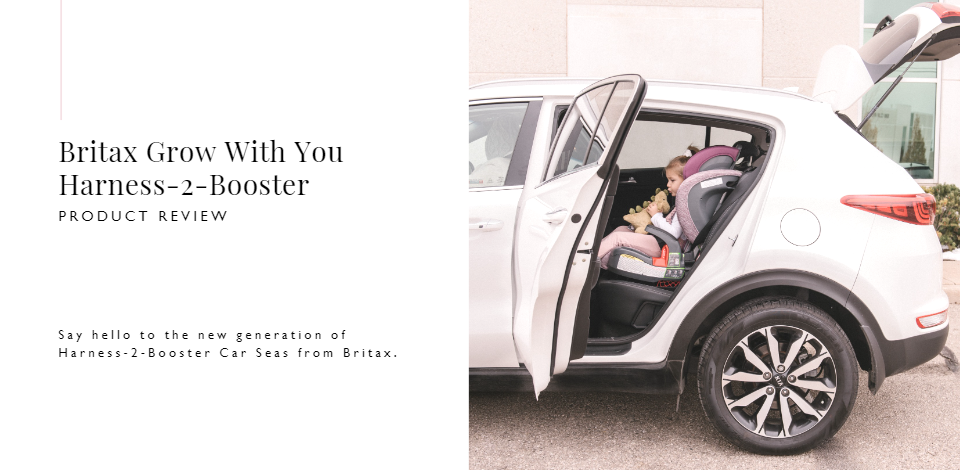 They grow up so fast!
If you think it's time to move your little one out of their convertible seat and into a booster you will want to be sure the time is truly right.
Once your precious cargo is showing all the physical signs that it's time to transition then the shopping [and research] begins, so you've come to the right place.


VIDEO REVIEW
THE GROW WITH YOU HARNESS-2-BOOSTER SEAT 
Britax
car seats remain industry-leading when it comes to safety features and their oh-
so-convenient

 
ClickTight installation.

Among these parent-favourite seats is the brand's line of
Harness-2-Booster seats.
So, what makes the Grow With You Harness-2-Booster seat so great?
Remove this seat from the box and begin using it in 5-point harness mode and when the time comes you can utilize the seat as a belt-positioning booster. The little one in your life will appreciate the "cool factor" in that this seat is truly a mini transformer Optimus Prime!
[Us here in the office: Hey Google, what is the most popular transformer?]
Additionally, Britax Grow With You Harness-2-Booster Seats include cup holders, convenient snack storage, and an easy-to-clean armrest... meaning you won't be the one having a meltdown if your little one happens to spill.
Let's dig into this seat that can grow, just like the name, with your little from toddler to big kid.
Here are the seats we will be reviewing today:
Britax
Sale Price: $279.99
Regular Price: $349.99
Grow With You Harness-2-Booster
Pebble and Dusk [aka black and grey] will look great in your backseat and are made of stylish, soft-knit fabrics that will match the interior of your car.
This model does not have ClickTight installation but does offer premium, quick-push latch connectors for simple, secure installation.
Safety and style? It's a win-win.


Grow With You Harness-2-Booster ClickTight
Just like the title suggests, this model offers the uber convenient ClickTight technology for ease of install. The premium 4-Way stretch athleisure fabric offered in these seats is giving off total Lululemon vibes and your little ones will love the colour offerings (can't say no to a purple [Mulberry] or blue [Seaglass] seat).
You can purchase this booster with a
StayClean
fabric that features Nanotex technology that resists stains, moisture, and odours. This seat is also available with a
Cool 'N Dry
fabric that wicks away moisture, which is great for keeping your baby fresh on a hot and sweaty day.
Grow With You Harness-2-Booster ClickTight Plus
The most premium of all three seats is the ClickTight Plus.

The "plus" in the title is referring to the fact that this seat features an additional layer of Side Impact Protection, bringing the grand total to 3 layers! Additionally, both Otto and Jet are premium SafeWash performance fabrics. This means that the cover can easily be thrown in the washer [and dryer] for up to 30 washes! Smoothie spill on the way to Saturday morning soccer practice?
Yup, the SafeWash fabric can handle that mess. Investing in a premium fabric costs a little more up-front but you cannot put a price on convenience --- especially when you are running late and there is kale all over your backseat. This seat also includes the patented ClickTight installation technology which allows for ease of use no matter who is installing this seat. 

We will always preach that your child should stay rear-facing for as long as possible—so it's important to note that Grow With You seats really are for big kids and cannot be installed rear-facing. Before you head out on the highway you need to ensure that your little one is within the following guidelines.

So, let's talk numbers, shall we?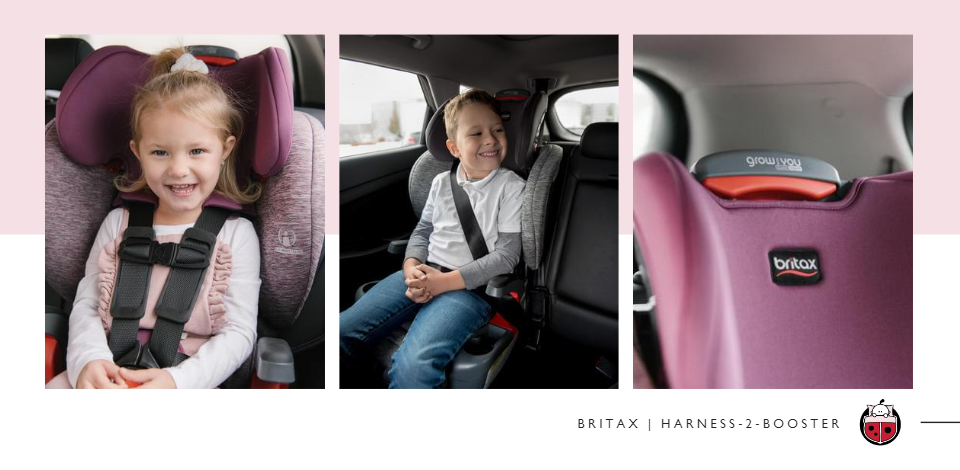 THE NUMBERS
FORWARD FACING
In order to use the Britax Grow With You car seats, your child must be AT LEAST 2 years old AND 25 lbs. They can use their seat in harness mode up to 65 lbs OR up to 49" tall OR until the shoulder straps no longer come from above their shoulders [whichever comes first]. Then, simply tuck the 5-point harness straps behind the fabric and VOILA! You've got a booster seat.
BELT-POSITIONING BOOSTER

To transition from using the Grow With You as a 5-point harness seat to a belt-positioning booster seat, your child must be AT LEAST 4 years old AND 40 lbs [but the high harness height will likely allow you to continue using this seat in harness mode well beyond 4 years old], up to 120 lbs OR up to 63" tall [whichever comes first]. For more info on booster seat readiness, check out our
Booster Seats Tell-All.
The 3 Grow With You seats range in weight from 23-27 pounds, and each have the following convenience features:
a 9-position, quick-adjust headrest, and harness that move together [get this] using only ONE hand. This means you can easily adjust on the fly to ensure a proper fit as your child grows.
2 crotch strap positions to grow with your child [that are easy to adjust, even while the set is installed!]
Built-in cup and snack holders
Premium, easy to remove & re-attach fabrics
Now that we know you and your little are equipped with all the niceties, let's talk about all the safety features found in the Grow With You Harness-2-Booster seats.
WARNING: lots of great safety features ahead! 
Britax Grow With You Harness-2-Booster Comparison Chart
Grow With You
Grow With You ClickTight
Grow With You ClickTight Plus
Car Seat Weight
23 lbs
25 lbs
27 lbs
Car Seat Dimensions 
21 L x 19 W x 25 H
21 L x 19 W x 25 H
21 L x 23 W x 25 H

Car Seat Area Depth/Width

15/12"
15/12"
15/12"

Forward-Facing Harnessed 

Specs

25 - 65 lbs or up to 49" tall

25 - 65 lbs or up to 49" tall

25 - 65 lbs or up to 49" tall

Belt-Positioning Booster Specs

40 - 120 lbs or up to 63" tall

40 - 120 lbs or up to 63" tall

40 - 120 lbs or up to 63" tall

Performance Fabric
No
Athleisure Fabric
SafeWash Fabric
ClickTight Installation
No
Yes
Yes
Side Impact Protection
2 Layers
2 Layers
3 Layers

SAFETY FIRST
Parents, it's true what they say.
Your car seat is only able to do its job protecting your child if it has been properly installed. Britax understands this, which is why they created the ClickTight technology to make a proper install possible every single ride. A more in-depth look at the ClickTight technology & functionality can be found
HERE.
The Grow With You H2B seats feature:
An Industrial Strength Steel Frame that keeps the seat stabilized. Think just as strong as your toddlers will during an epic standoff over having to wear pants. #momlife #reallife
Up to 3 layers of

 

Side Impact Protection

 

[depending on the seat you choose]. The Side Impact Protection at Britax is developed using an energy-absorbing shell and EPP foam-lined headrest to protect your child's most fragile body parts in case of a side-impact collision. 
The red honeycomb looking piece on the bottom of the seat is referred to as SafeCell Technology and is used to absorb crash energy. 
V-shaped tether [that is patented by Britax] provides 2 points of contact with the car seat to disperse energy and prevent any unnecessary side to side movement in the event of a collision. 
The V-shaped tether features staged-release stitches to help slow and reduce forward movement during a crash – in a collision, slowing momentum by even a couple of milliseconds makes a difference!


WHO IS THIS SEAT PERFECT FOR?
This is the ultimate buy for families with multiple children! Especially those who have a forward-facing child in a convertible seat and are expecting another child OR have a baby ready to transition to a rear-facing car seat. Move your baby into your older child's rear-facing convertible car seat and transition your older child into a Grow With You that will last them all the way to post-car seat life. [Repeat as many times as necessary based on the number of new children].
This is also the PERFECT car seat for grandparents or caregivers. This seat is SO easy to install and move between vehicles and easily adapts to multiple different ages and heights. If your mom picks your kid up on Tuesday, and your brother's kid up on Wednesday... you just found the perfect Mother's Day gift.
The best part about this seat is that you can keep your child in a 5-point harness without them complaining about being in a "baby seat". Grow With You H2B seats have the low profile and the look and feel of a regular booster seat while being fully equipped with a 5-point harness to give you peace of mind that your child is properly restrained.
FINAL THOUGHTS
Before you purchase, make sure to check out our
 

Booster Seats Tell All post
! It's full of valuable information that will help to determine if your little is truly ready to make the move to a belt-positioning booster seat or if a H2B is the best choice for your family.
---
---