Transitioning From Your Infant Seat
Jump to Section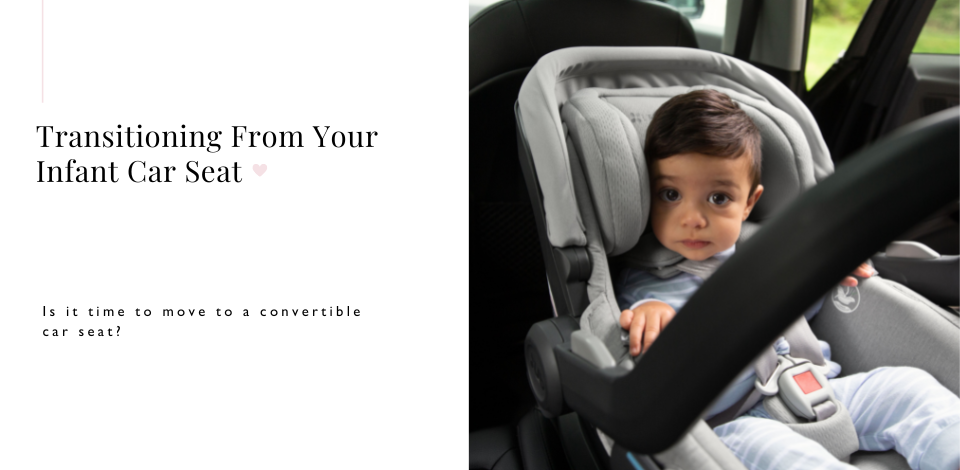 Where did the time go? Doesn't it feel like you were just shopping for your infant seat yesterday and all of a sudden your baby is outgrowing it?! When it comes time to shop for a convertible car seat, there are SO many questions that we receive from parents.
We hope to answer a few of them right here for you!
When is it Time to Transition to a Second-Stage Car Seat?
Your little one's height and weight determine when baby has outgrown their bucket seat. Every bucket seat has a different height and weight capacity, as well as different "fit" requirements. When baby reaches the maximum height or weight limit allowed by your chosen infant seat OR their head is within 1" of the top of the seat [this is the fit requirement], it means it's time to move up! 


How Do I Know When They've Grown Out Of Their Infant Bucket Seat?
Now, this is tricky to answer. Baby outgrows their bucket seat when they reach the weight limit, height limit OR when baby's head is within 1" of the top of the car seat (whichever comes first). It is okay for baby's legs to hang over the edge of the bucket seat because it's their
head
that determines when they've outgrown their car seat by "fit" requirement. 
How Long Does My Child Sit Rear-Facing?
Longer than you'd think! Your child should sit rear-facing until they are 3 or 4 years old. 99% of car seats allow your child to sit rear-facing until they are 40 pounds, while some (like select Diono seats) have extended rear-facing that allows your child to sit rear-facing until they are 50 pounds (approximately 6 years old)! Again, your child can sit rear-facing until they reach the height limit, weight limit OR fit requirement as dictated by your car seat manufacturer.
Always reference your car seat manual, but know that just because your child's legs seem squishy, it does NOT mean that it is time to transition to forward-facing. 


Will Any Car Seat Fit In My Vehicle?
Nope. Hard to believe, right? That's why heading into Snuggle Bugz to dry-fit a car seat is a great idea.
You may find that some taller seats block your view and some might be too wide and cover your seat belt buckle. You may also find that the slope of your vehicle seat doesn't accommodate the recline options of a specific car seat, preventing you from obtaining a safe and accurate install angle. Just because you have a larger vehicle doesn't mean you can fit just any car seat in there. Some SUVs actually have shorter seats so you can be limited.
Who knew? It really does come down to the best fit for your vehicle. 
Final Thoughts
Snuggle Bugz has a wide selection of
convertible car seats
to choose from. When you're ready, you will have no problem finding the perfect seat to transport your not-so-little-one around safely and comfortably.
If you have any other car seat questions, comment here or pop into your local
Snuggle Bugz location
 to speak with one of our friendly staff. You can schedule a dry-fit appointment at that time too!
---
---