Clek Foonf Convertible Car Seat Review
Jump to Section
Get ready to discover the
car seat
of your dreams...the Canadian-made
Foonf Convertible Car Seat
from
Clek!
This convertible car seat is like a guardian angel wrapped in a cozy cushion. With its next-level safety features, a sleek (yet simple) design, and an easy installation process, the Foonf is proof that good things come in small packages!   
If you're on the hunt for the best car seat in town, the Foonf might be exactly what you're looking for. Will this seat be the right one for little one's car seat journey? Keep reading to find out! 


Video Review




The Specs
Rear-Facing Mode: Suitable from 14 to 40 lbs. or up to 43"

 

When used with an

Infant Thingy Insert

(sold separately), you can accommodate a child from 5 lbs. or 19"

 

Forward Facing Mode: Suitable from 22 to 65 lbs. or up to 49"

 

Base Width: 13" 

 

Seating Width: 16.9" 

 

Harness Slot Height: 8" to 17"

 

Height Measurement in Forward-Facing: 28" to 32.5"

 

Seat Weight in Forward-Facing: 33 lbs.

 

Seat Depth: 12.5"

 

Height Measurement in Rear-Facing: 25.5" to 28.5"

 

Seat Weight in Rear-Facing: 38 lbs.

 
The convertible nature of the Foonf means that your child can start off in rear-facing mode until they max out the weight or height in that position (40 lbs. or 43 — whatever comes first), you can then switch the seat to forward-facing mode. But a couple of things make this convertible seat special! First of all, the Foonf can be used straight from birth when using the Infant Thingy Insert, eliminating the need to start off with an infant car seat. 
The Foonf is also narrow so parents with multiple kids can use up to three car seats at a time if needed!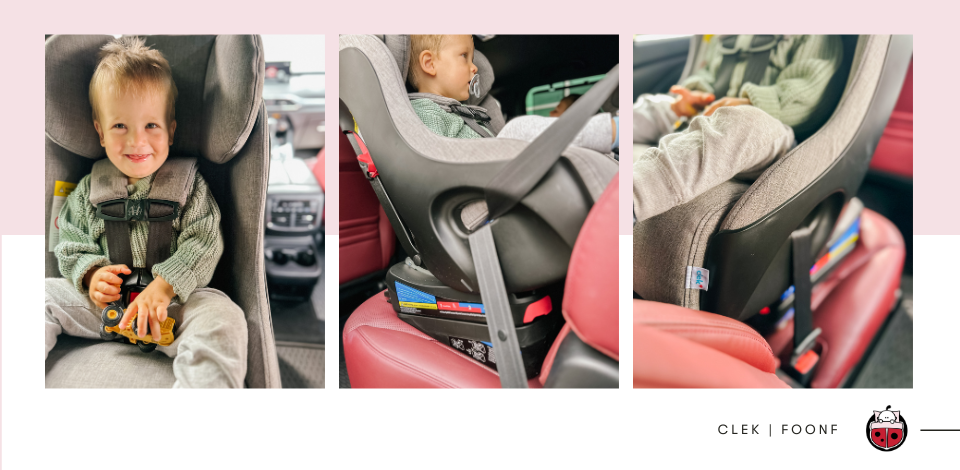 Strictly Safe
Safety is the number one priority for car seats, and Clek is renowned for its attention to detail in this area. Here's a quick rundown of the Foonf's safety features: 


Built Like a Tank: 
Engineered with a steel and magnesium substructure, this car seat is as sturdy as they come. You can trust its durability to keep your little one safe. 
Maximum Head Protection: 
The energy-absorbing foam-lined headrest is connected to a frame using steel rods, providing top-notch head protection during side-impact collisions. It's like having an extra layer of safety right inside your vehicle! 
No Rebounding: 
The anti-rebound bar is a game-changer. It prevents rebounding in frontal collisions and rotation in side-impact collisions when rear-facing. Plus, it nestles perfectly into the vehicle seat, ensuring a secure and even installation. As an added bonus, the rebound bar creates a few inches of extra legroom in rear-facing mode for your child as they grow. 
Advanced Side-Impact Protection: 
When it comes to side-impact collisions, the Foonf has got your little one covered. Its adjustable headrest, deep side wings, and dual layers of energy-absorbing EPP foam provide maximum protection from every angle. 
Recline in Comfort: 
The Foonf comes with an included separate recline-foot. Just attach it to the base, and your rear-facing mode is ready to roll. Your child can relax comfortably in 3 different positions while enjoying a safe and secure ride. 
Adjustability: 
With a flexible crotch strap and six different harness heights, the Foonf allows for easy adjustments, ensuring a proper and secure fit for children of various sizes and ages. 
Colourful Fabrics: 
Clek offers multiple fabrics in an array of colours to match both your child's personality and your car's interior! 
The Essentials Collection in Railroad (black) is sleek in appearance and free of any flame retardants. For a lightweight and cozy feel, the Jersey Knit Collection is made from a polyester-spandex blend.
The Standard C-Zero Plus Collection is perfect for adding a pop of colour. With a looped pile top resembling terry cloth, it provides a plush and velvety sensation. 
For a more sophisticated look with a smooth feel, the Premium C-Zero Plus Collection.
Clek's Premium Fabric Collection stands out with its environmentally-friendly composition. It blends sustainably-sourced, biodegradable Merino wool with TENCEL®, offering enhanced durability. This collection is also free of any added flame retardants.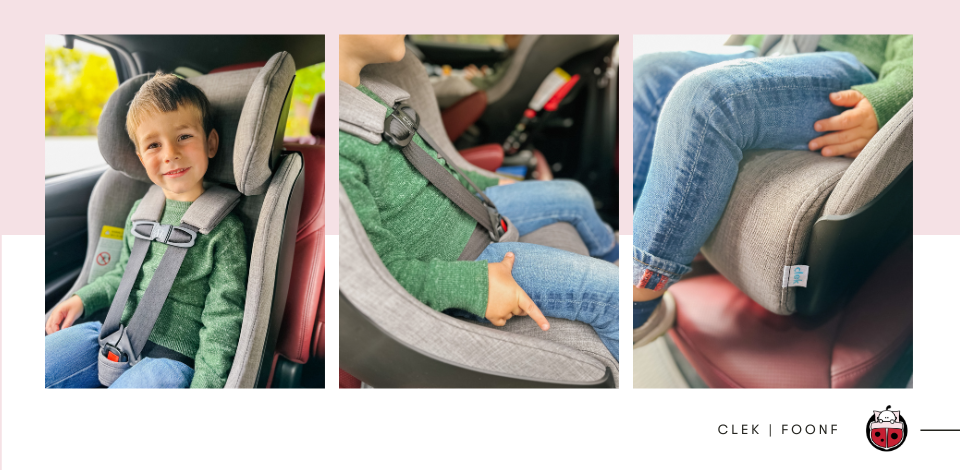 Effortless Install
Installing a car seat shouldn't be a huge production, thankfully, Clek designed the Foonf with this in mind. 
With its LATCH (UAS) system (soft for rear-facing, rigid for forward-facing), you can have this car seat correctly and securely installed in seconds! To make installation even more foolproof, the Foonf comes equipped with built-in rear-facing lock-offs. These lock-offs ensure a tight and secure fit by taking care of tensioning and removing excess slack from the belt. No more worrying about loose straps or a wobbly seat — your child will be snug and safe on every journey. 
Additionally, thanks to a removable seat cushion, accessing the rear-facing belt path is a breeze. It also means there's no need to uninstall the entire seat just to clean the cushion. Simply remove it when you need to give it a thorough wash! 

Add Some Oomph to Your Foonf
Clek offers several different accessories for the Foonf!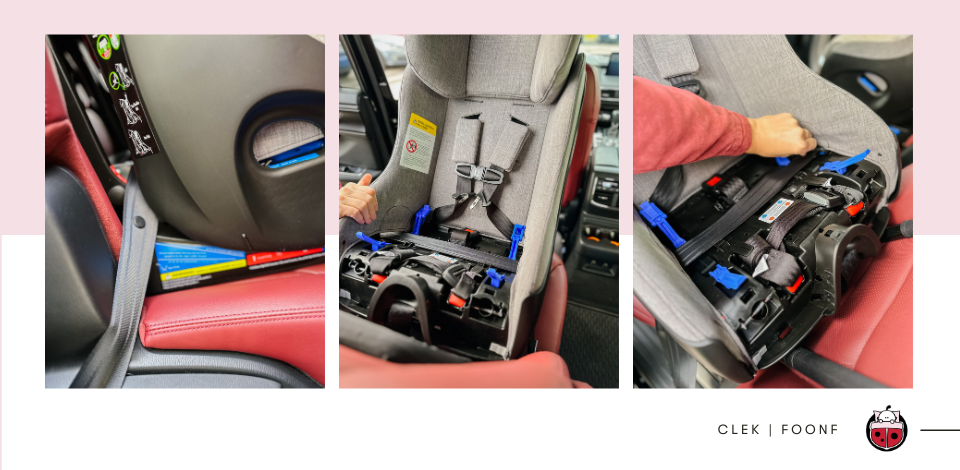 Foonf For Families
Clek is made for parents by parents, so safety, convenience, and simplicity reign supreme. The Foonf Convertible Car Seat is a force to be reckoned with, garnering 5-star reviews from both parents and industry folk alike. With its near-indestructible construction, innovative features, and stylish design, it's a top contender for any parent seeking the best in safety and comfort.  
We love that you are able to use the Foonf from birth (with infant insert) and the extra protection of the anti-rebound bar. The wide range of fashions also is great for parents looking for the perfect colour to match their sense of style. 
We have no doubt you'll love having a perfect blend of ease, functionality, and peace of mind. Say hello to hassle-free car rides! 
For a comparison between Clek's convertible car seats, check out our Foonf vs. Fllo article. For more information on Clek car seats, check out our Clek Car Seat Overview. 
---
---