Jump to Section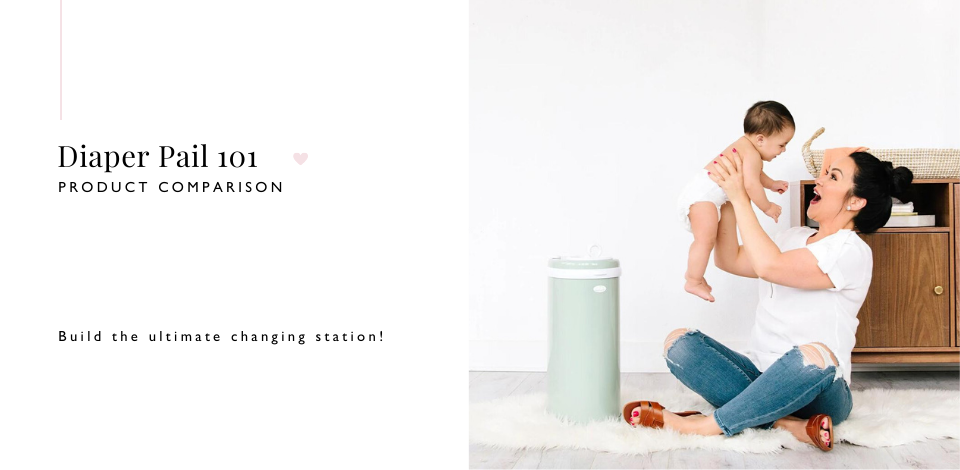 Did you know that your newborn will go through 10-12 
diapers
 per DAY during their first month? AND your child will use an average of 7,000 
diapers
 total before they are potty trained! Yup, and hate to break it to you but as they get older the "number two's" get even slinkier.
So, how do you deal with the mess [and smell] of those sometimes-disastrous blowouts?

Enter a good quality diaper pail! Today we are breaking down 3 of our favourites for you to consider for your nursery – and essentially every level of your home – garage included.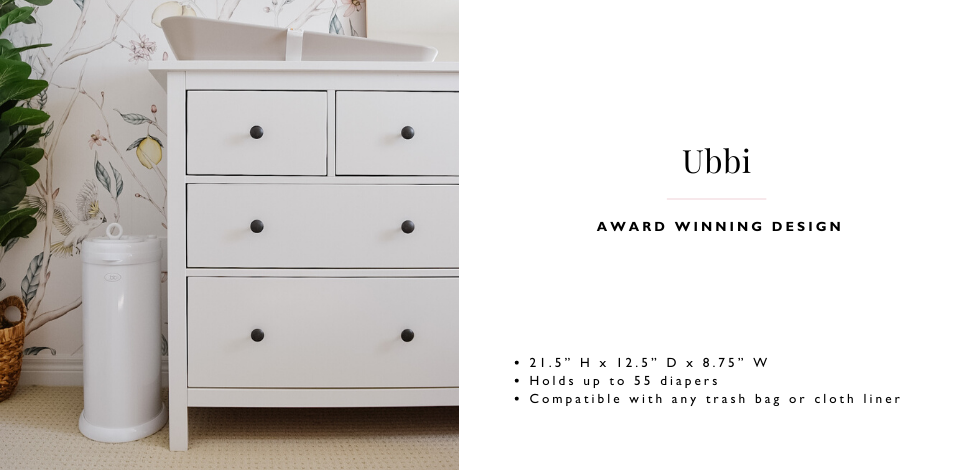 UBBI DIAPER PAIL
SPECS:
21.5" H x 12.5" D x 8.75" W
The Ubbi Diaper Pail is an award-winning essential that is made of steel, not plastic. It has a childproof safety lock and can hold up to 55 dirty diapers. It also has a rubber seal that is strategically designed to lock in odours. Simply slide the lid open – deposit your diaper – then slide the lid back closed again.

Why you'll love it? You can use ANY trash bag to collect those stinky nappies – no need for special branded bags, liners, or refills. This is a great feature as it means you can continue using your Ubbi long after babe is potty trained. Though you may spend a little more up front to purchase the Ubbi Diaper Pail, you'll end up saving in the long run, on bags. The Ubbi is available in a bunch of different colours so you are sure to find one that matches your vibe and aesthetic.
UBBI DIAPER PAILS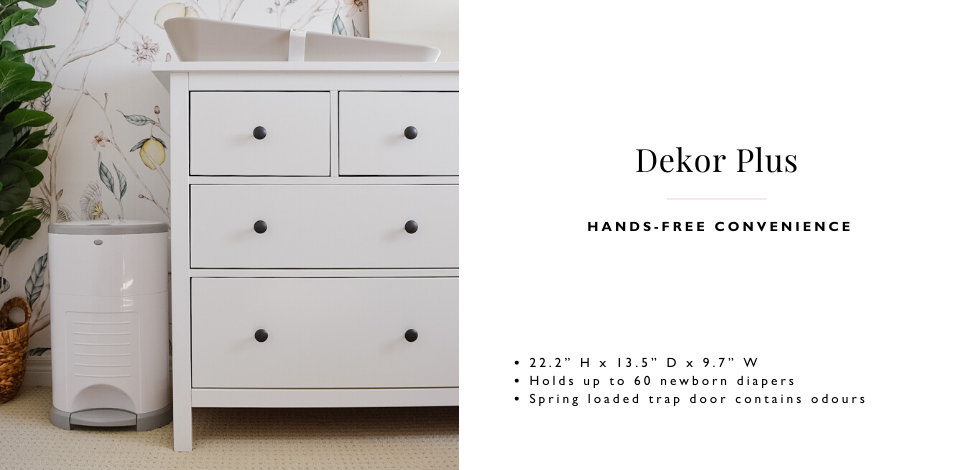 DEKOR PLUS DIAPER PAIL
SPECS:
22.2" H x 13.5" D x 9.7" W
The spring-loaded trap door system on the Dekor Plus Diaper Pail helps to eliminate odours and germs – and did we mention it can hold up to 60 dirty newborn diapers? It's made of durable ABS plastic that won't hold onto odours and does require branded refill bags in order to use. Cool part? The bags are marked as a helpful reminder before you run out!

Why you'll love it? The hands-free design is ideal – especially when things get messy. Simply step on the pedal to discard. The team at Dekor refers to this as "step & drop".

Don't forget about the Dekor Classic and the Dekor Mini pails. The Mini is the smallest and most compact option that can still hold up to 25 diapers. This is an ideal size to keep in your powder room so that you have something available on every level of your home.
DEKOR DIAPER PAILS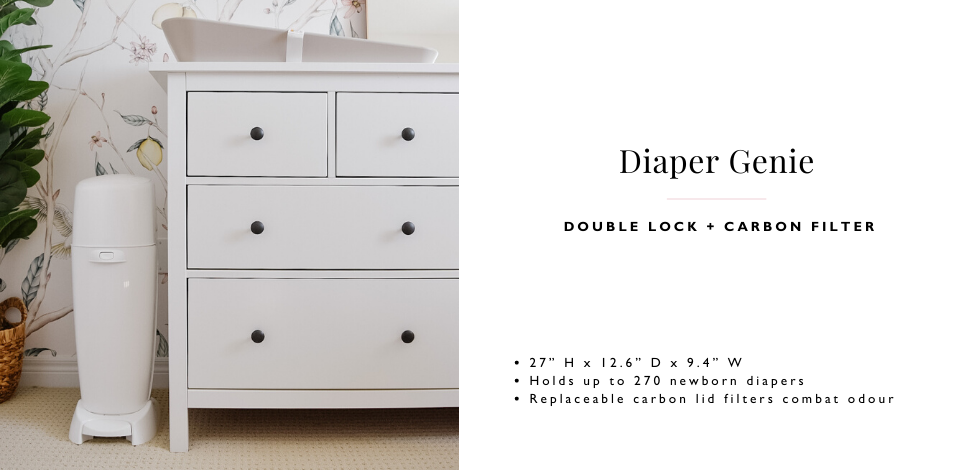 DIAPER GENIE BY PLAYTEX
SPECS:
The Elite Diaper Pail from Diaper Genie has been a very popular choice for parents because of the very economical price point. It does require specialty refill bags that are shaped like a donut—and are easy to install.

Once you've loaded up your pail, the refill pack can hold up to 270 newborn diapers. Don't get too excited about that number as you WILL need to empty it out week by week once each individual bag is full. Simply pull off the perforated bag, tie a knot, then keep filling up your pail! There is even a slot on the top of the lid that allows for a carbon filter to help combat diaper odours—you'll want to replace those pretty frequently.

Why you'll love it? Currently, on our website, the Elite Diaper Genie costs just under $60* which means you can essentially purchase x2 or more – one for every level of your home for ultimate convenience.

*Prices are always subject to change
DIAPER GENIE PAILS
NATURE CALLS
Now that you know all about the features and benefits of these x3 popular choices you can begin building the ultimate diaper change station.

Don't forget about a diaper caddy, diapers [obvs], wipes, and an awesome wipe clean diaper changer! We compare the Keekaroo Peanut Changer to the Matty Baby Changer in this article so go ahead and read it next.

Who knew that preparing for poop could be so exciting!
Happy shopping!
---