Ergobaby Carrier Round-Up
Jump to Section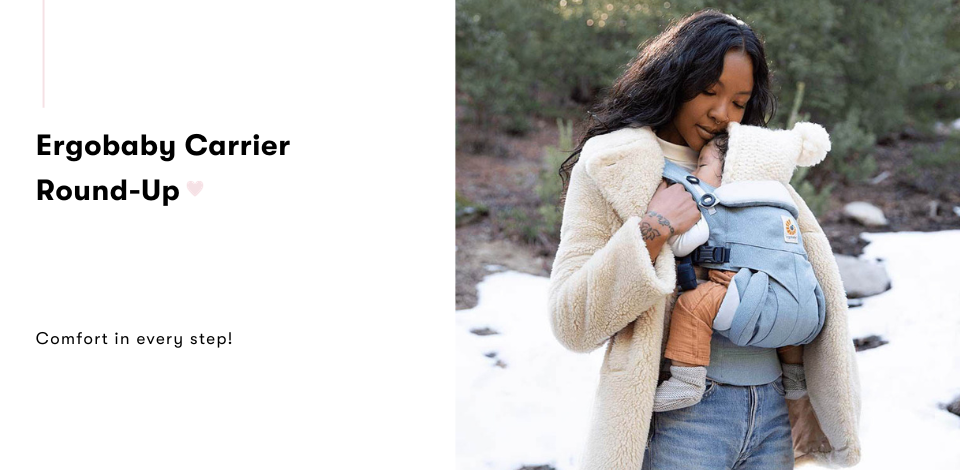 Babies are a handful — literally! It can be difficult to multitask around the house or manage errands out and about when you have a little one who always wants to be held. Thankfully, babywearing is a great way to keep your baby close
and
free up your hands.
Parents have been wearing their kids for millennia, but the latest technological advances have made baby wearing safer, easier, and more comfortable than ever — both for you and your little one. 
Ergobaby is one of the leading manufacturers of baby carriers and strollers, combining unrivalled comfort with ultimate practicality. Ergobaby designs utilize ergonomics (that's where the name comes from!) to prioritize you and your baby's well-being. 
But before we dive into our round-up of carriers, let's think about the different factors to consider when deciding which carrier will be best for you! 
How to Choose Your Carrier
The decision to use a baby carrier is an easy one to make, but finding a carrier that meets you and your baby's needs can be daunting. If you're unsure of what style carrier you want to use (sling, wrap, or shoulder strap) and want to learn more about carrying your baby safely and comfortably, check out our Wearing Your Baby: Wraps and Ring Slings article in the Learning Centre. Since there are so many options available, this article will help you identify a few key features to look for while shopping and then provide a few examples of carriers available from one of the best brands on the market — Ergobaby. 
A few major factors to think about: 


Sizing: 
Almost all carriers are designed to fit infants, but not all are approved for newborns. If you want to start carrying your little one right away, make sure you choose a carrier that will provide the proper head and neck support for your bundle of joy. The other important consideration is how long you plan on using your carrier. There are many options that will allow you to carry your kiddo up through toddlerhood, but as the max weight/height increases, so does the cost of the carrier.  
Wearability & Comfort: 
When choosing a carrier, it is important to keep comfort in mind. Ideally, this is something that you'll be wearing for long(ish) periods of time and a carrier with thin or flimsy straps will dig into your shoulders, turning a hands-free break into a painful ordeal. Wide, well-padded waist straps will help evenly distribute your child's weight, making for a more comfortable carry. You'll also want to look for fully adjustable straps to allow you to fit the carrier to your body type. Other things to consider include infant inserts and adjustable leg openings to ensure your baby's continued comfort as they grow.  
Breathability & Airflow: 
If you're planning to wear your baby for long durations — or if you live in a warmer climate — it is worth thinking about the breathability of the material you're selecting, as well as if the carrier is designed to optimize airflow around you and your little one. Ergobaby has some great options for carrier materials, as we'll see in a moment! 
Positions:  
When choosing your carrier, keep in mind that this is a piece of gear you'll be putting on and taking off time and time again — sometimes while struggling to get a fussy baby in (or out) safely. Look for easy-to-use buckles or clips that allow you to quickly secure your little one. You also want to think about which carrying positions you'll use the most. All carriers will offer inward-facing carry options so your little one can look at a friendly face. Most carriers also allow your baby to face outwards so they can take in the world. Other options include a backpack style for longer adventures (or an older child), and hip-carrying positions.   


Why Choose Ergobaby?
Ergobaby holds its carriers to the highest safety standards — higher than those required by the industry and features Oeko-Tex Standard 100 Certified Fabric. Ergobaby carriers are acknowledged by the International Hip Dysplasia Institute as a hip-healthy products, which is especially important if you know you'll be wearing your baby for long stretches. All Ergobaby carriers are machine washable for easy care, and the optional Teething Pad and Bib keep your carrier cleaner longer. Other helpful accessories like the Rain and Wind or Winter Weather Carrier Covers allow you to use your Ergobaby carrier year-round.  
Now, let's look at the specifications and features of some of the best Erogobaby carrier models on the market right now: 


OMNI 360
Use from 7 to 45 lbs (0 to 48 months)

 

Carry Positions: Inward Facing, Outward Facing, Hip Carry, and Back Carry

 
The newborn-ready OMNI 360 grows with you right from week one. Crossable, well-padded shoulder straps give a personalized fit, and a waist belt with double adjusters for easy tightening ensures maximum comfort by providing the support you need to prevent lower back pain. The Omni 360 carrier is designed to fit all parents and easily adjusts to fit different wearers from petite to larger body types. It also features an innovative, ergonomic seat that gradually adjusts to your baby as they grow. 


 Perks: 
Baby hood for sun protection (UPF 50+) and privacy, and provides tailored support for your baby's head

 

Designed to allow breastfeeding while your child is in the carrier

 

Comes with a detachable, washable storage pouch

 

Easy, one-handed slider adjustment allows you to quickly switch baby to face in or out on the fly

 

Also available: is the

Omni 360 Cool Air

model, which features ultimate ventilation thanks to a soft mesh fabric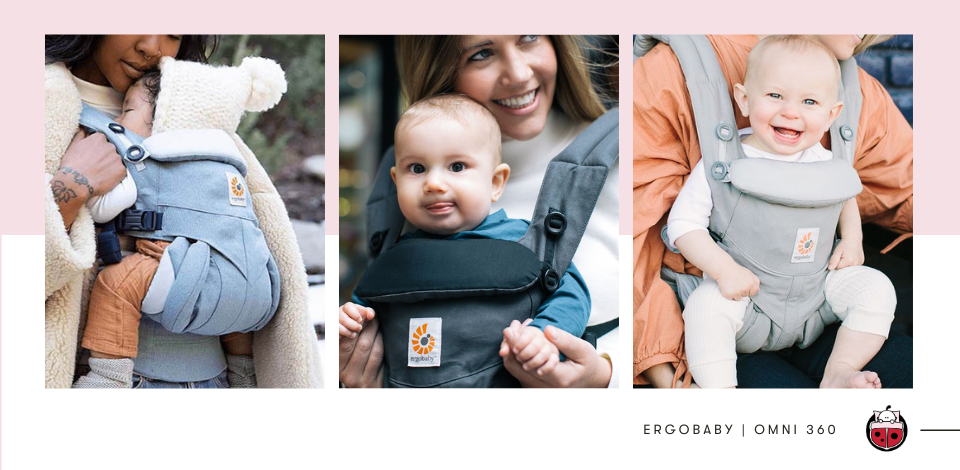 Embrace Carrier
Use from 7 to 25 lbs (newborns)

 

Carry Positions: Inward Facing, Outward Facing

 
Soft and super comfortable, the Embrace Carrier is the sweetest way to stay connected to your little one during their earliest days. The soft-knit fabric nestles newborns close to parents for a snug, supportive fit. The Ergobaby Embrace features easy buckling without the frustration of wrapping or excessive fabric to keep you and baby close as you find your new rhythm together. 
 
Perks: 
Supportive waist belt and stretchable cross straps for a comfortable carry

 

Easily rolls and tucks into a diaper bag for a compact carry option on-the-go

 

ErgoPromise Lifetime Guarantee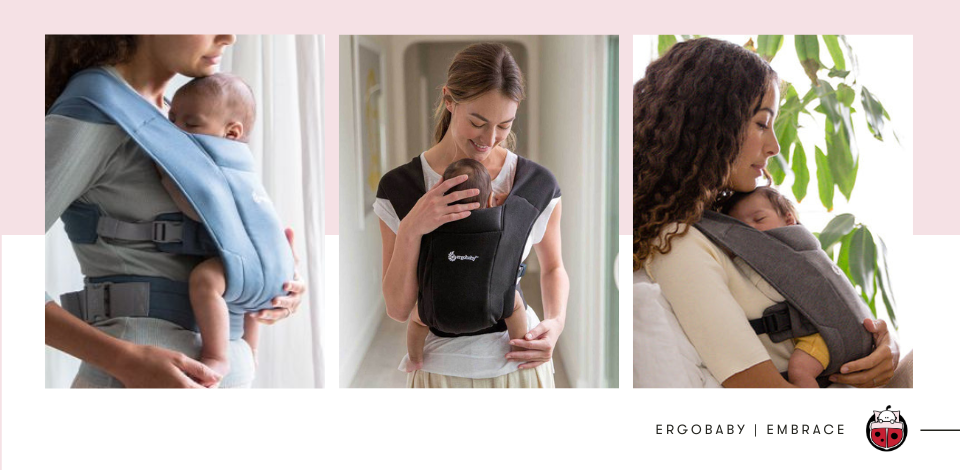 OMNI Breeze
Use from 7 to 45 lbs (0 to 48 months)

 

Carry Positions: Inward Facing, Outward Facing, and Back Carry

 
The OMNI Breeze brings breathability to the next level — made from 100% Polyester SoftFlex Mesh fabric to maximize airflow, keeping you and your baby comfortable and dry all day. It features padded Lumbar support for extra back comfort, and you can adjust the straps when facing inward to breastfeed in the carrier. 
 
Perks: 
Privacy hood for sun protection and breastfeeding

 

Storage bag

 

Waistbelt range: 17.8-57 in (45-145cm)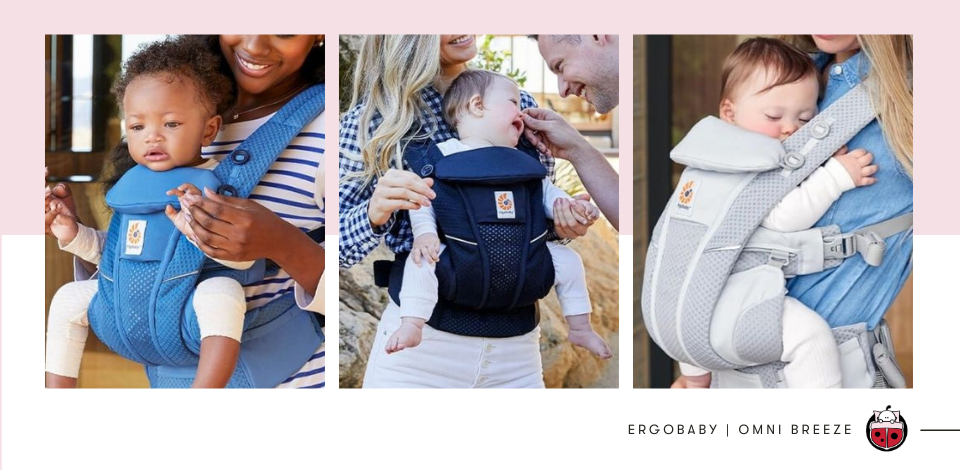 OMNI Dream
Use from 4 to 45 lbs (0-48 months)

 

Carry Positions: Inward Facing, Outward Facing, Hip Carry, and Back Carry

 
Made with 100% SoftTouch Cotton, the OMNI Dream's brushed fabric keeps you and your baby comfortable and cozy. Its upgraded, premium features provide ultimate comfort & convenience on adventures big and small. 
 
Perks: 
Newborn ready

 

Padded Lumbar support for extra back comfort

 

Incorporated side pockets and a large removable pouch

 

Privacy hood for sun protection and breastfeeding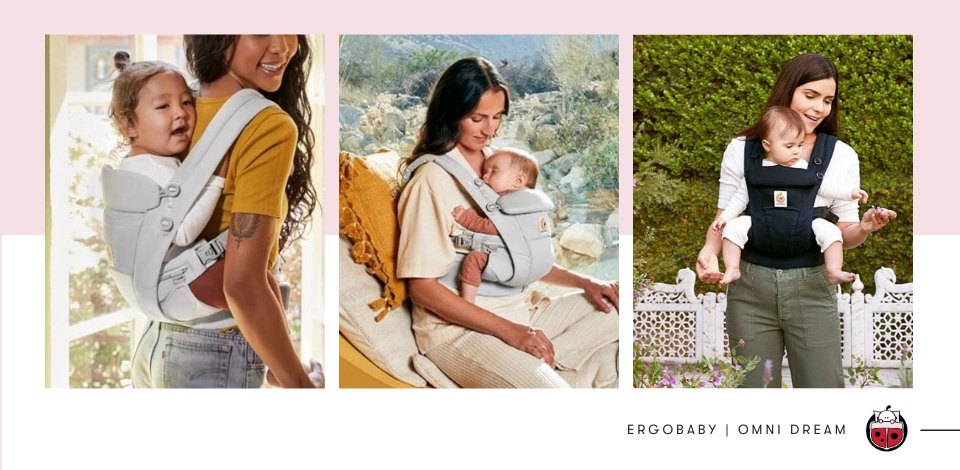 Four Positions 360 Carrier
Use from 4 to 45 lbs (0-48 months) 
*Requires the infant insert for kids 7-12 lbs (sold separately) 
Carry Positions: Inward Facing, Outward Facing, Hip Carry, and Back Carry 
The Four Positions 360 Carrier features an exceptionally comfortable waistband that can be worn high or low on the waist (depending on preference) to provide extra support for your lower back. You can also roll the Extendable Back Panel up or down to provide extra head, neck, and back support for your baby depending on the carry position and the sleeping hood helps provide support for your baby's head while they sleep. 
 
Perks: 
Four positions offering maximum comfort for parents and proper ergonomics for your baby

 

Modern, unique design and build with a unique structured bucket seat

 

Protection from the sun and added privacy while nursing

 

100% Cotton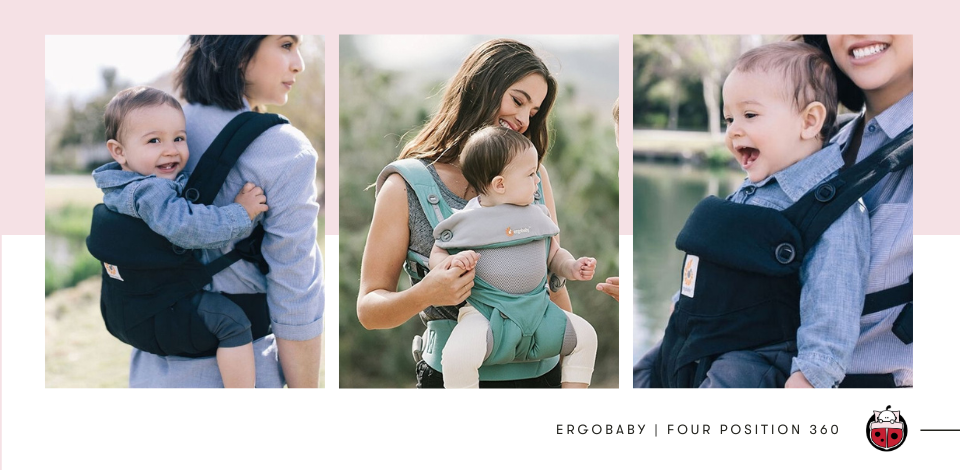 The Bottom Line
A premium baby carrier is one of the smartest purchases you can make as a parent or parent-to-be. There are a lot of awesome models to choose from, but you can't go wrong with any of these choices from Ergobaby. Hopefully, this article has helped you think about which features and functions are most important to you and your lifestyle. 
For more great options, be sure to check out our Top Carriers of the Year article.  
---
---