Jump to Section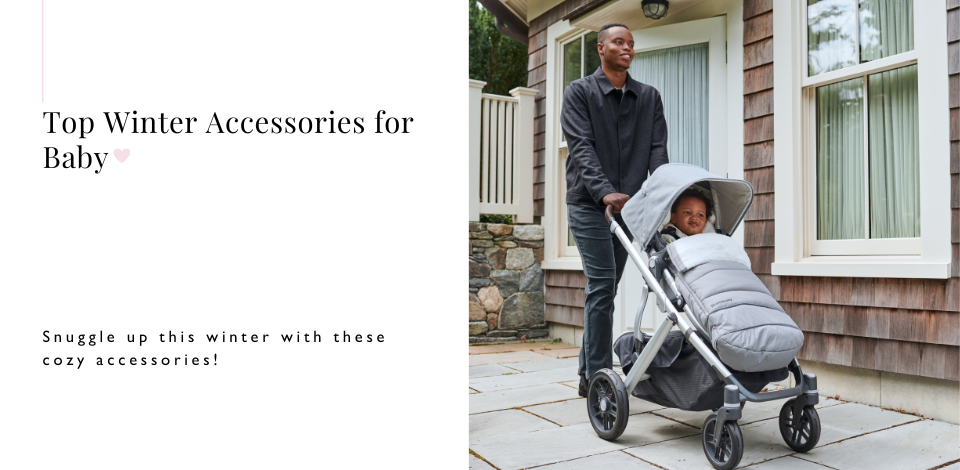 Baby, it's cold outside!
Canadian winters, while beautiful to look at (inside with a nice warm beverage), are pretty challenging at times. Getting anything done with wee ones is hard enough on its own, add frosty temps to the mix and it's a bit of a nightmare.
So when you're raising your little one, you have no choice but to put on your cape and plow through the cold months like the Superparents you are!
How do Supermoms and dads ensure their children are healthy, happy, and protected from frigid temperatures?
They use these secret weapons to banish chills all winter long. So without further ado, here are the top accessories your baby needs this
winter.


STROLLER READY
For starters, you will want to ensure your kiddo is warm on the go.
Resembling a tiny sleeping bag,
footmuffs
insulate your baby while they sit in their
stroller
, protecting them from the cold (they also guarantee a pretty adorable photo op).
The
Le Sac Igloo Footmuff
from
7 A.M Enfant
is a great option as it comes in a wide variety of colours and fits almost any stroller.
Stroller-specific footmuffs are also available, such as the
Cozy Ganoosh
for UPPAbaby's
VISTA
and
CRUZ
strollers and the
High Performance Footmuff
for
Bugaboo strollers
. The Cozy Ganoosh is sherpa-lined with a comfort rating of -20˚C, while the High Performance Footmuff uses a down-filled cover and insert for extra warmth.
Let's face it...parents need to stay warm too! Fight off the frosties with UPPAbaby's
Cozy Handmuffs
— they will keep your hands nice and cozy while pushing babe in frigid temperatures.
TAKE COVER
If you're looking for other ways to keep baby warm on the go, you may want to consider a car seat cover.

On a blustery day, these covers can be handy when carrying your baby in their car seat or if you want to attach the seat to a stroller without exposing baby to the elements. The Cocoon Car Seat Cover will keep little ones toasty and snug, plus it comes in a variety of styles and is easy to slip on and off any seat.

For parents going hands-free, a carrier cover may be just the ticket. The Cover for Carrier fits over all Baby Bjorn carriers to keep little ones warm. The K-Poncho by 7 A.M. Enfant is another great option featuring an adjustable hood to face frontward or outward, hand slits for easy access to baby, and bottom snaps to extend length as baby grows.

Lastly, the Nido Teddy Wrap is an ultra-plus universal wrap that can swaddle your little one anywhere you take them — be it in a bassinet, car seat, or stroller.
DRESS FOR THE SEASON
Don't let your little one freeze their little toosh off! With the right apparel and accessories, your baby will stay warm and look stylish too.

Be sure to pick up a warm hat or two to keep their bald noggin toasty. This adorable Puffer Bear Hat is a great option from CaliKids.

Little hands need to stay warm! Keep those pudgy fingers comfy with a quality pair of mitts. Elodie Details' Winter Mittens are wind and water-resistant with Bionic Finish Rudolf to keep moisture out.

For adventures outside, you'll want to pick up an insulated snowsuit. Nano Mountain hibou one-piece snowsuit is breathable, water repellant, and super warm. Another great feature is that the Hibou snowsuit is designed to allow car seat harness adjustment closer to the body so you can suit up for outdoor adventures and hop in the car.

One of the best winter apparel investments one can make is a good pair of boots. Stonz Wear Inc's Puffer Booties have soft soles, are anti-slip, and can protect tiny toes from minus temperatures in the double digits.
WINTER HIBERNATION
Babies want to enjoy a warm and peaceful slumber year-round. So you will want to pick up a few things to keep babe comfy when the weather cools.

Sleep sacks are used all year round for safe sleep, but you may want to switch to a warmer one during the cooler months. The HALO Micro Fleece 1Tog Wearable Blanket is a parent-favourite at Snuggle Bugz and is the #1 choice of hospitals. It comes in a wide range of patterns, is available in multiple sizes, and is soft for sensitive skin.

You also may want to put baby to bed in a warmer sleeper. Using GOTS-certified 100% organic cotton, the Organic Zipper Footed Sleeper from L'ovedbaby has a neck-to-ankle zipper for easy changing, gripped anti-slip soles, and a body-hugging design.

Warm bedding can also help keep baby snug as a bug. Kushies makes both Flannel Bassinet Sheets and Flannel Crib Sheets, for your growing child. They only use premium, ethically-sourced,100% flannel to ensure a warm and comfortable sleep every time.
STAY WARM WITH COOL STUFF!
When the temperatures plummet, we can get cranky or we can embrace it. Winter isn't the easiest season by any stretch of the imagination, but it can be the most fun and memorable. By dressing in the proper attire and having the right gear on hand, the cold weather is much more tolerable — for both you and your child. So make sure you have the right accessories for their car seat and stroller, as well as high-quality outerwear and bedtime flannels, and you'll have one happy baby for the winter months!

For more cold-weather must-haves, check out our winter essentials product listings here.
---
---