Cybex SensorSafe Car Seat Technology Review
Jump to Section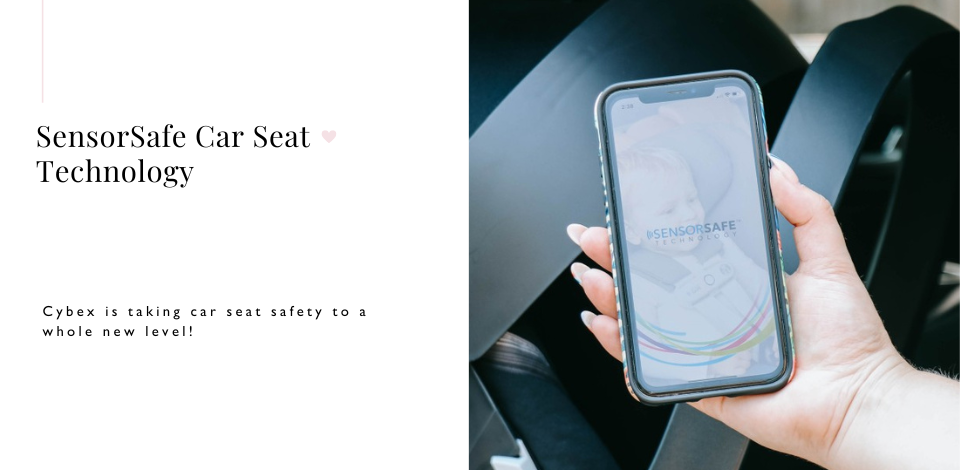 Technology is everywhere these days. While we can debate if that's a good thing (too much screen time can be problematic after all), anything that increases the safety of our children is always going to solicit a hard YES from parents.
Cue the SensorSafe app by Cybex.

The SensorSafe app is a child monitoring system that prioritizes the health and safety of your baby while they're in their car seat. This is a big help for parents, allowing them to focus on the road and not worry if their child is safe in the backseat.

Available for both Apple and Android, SensorSafe can be downloaded for free from the Apple App Store or Google Play Store and installed in seconds.


HOW DOES SENSORSAFE WORK?
SensorSafe uses two parts that combine to make one ultra-safe car seat for your child:
A Bluetooth sensor clip on the Cybex car seat harness.
The SensorSafe app. SensorSafe transmits a signal from the car seat to your device, which alerts you of a potentially dangerous situation.

Both parents can download the app to their devices, but it can only be connected to 1 device at a time. To switch devices, the current user will have to disconnect their phone from the app, which then allows another user to connect.


WHEN WILL THE APP ALERT ME?
The app will alert you via push notification if:

1. Your child unbuckles the harness.

Children love to get their hands on pretty much anything, and you can be sure they'll tug on their harness and try to unbuckle it at some point. Thankfully, if they do unbuckle their harness you will receive a notification on your phone, so you know to pull over and make sure your child is buckled up properly.

And if you're worried they might be able to slip out of the harness, this is virtually impossible due to the clip's high positioning on it.

2. Your child is exposed to a dangerous temperature.

The sensor reads the ambient temperature around your baby, which may be too warm (baby's bodies heat up 3–5 times faster than adults), or too cold for them. An alert will tell you if their temperature goes above 95°F/35°C or drops below 45°F/7°C.

3. You pull a "Home Alone".

Incredibly, babies are left unattended in cars all too frequently, which can have disastrous consequences.

While most new parents would never intentionally leave their child in the car alone, accidents can happen when you are overtired or not following your normal routine. The SensorSafe app provides peace of mind to parents, knowing they will receive an alert notifying them if their child is sitting for too long while the car isn't running.

The app can even take it a step further, alerting emergency contacts of how long baby has been in their seat and where they're located (if no action is taken).

4. Your child is stationary for too long.

According to infant health professionals, babies should only be in their car seat for up to 2 hours in a 24-hour span. If your little one is not out of their seat after 120 minutes, the SensorSafe app will send you a notification reminding you to give your baby a much-needed break.

WHICH CYBEX PRODUCTS DOES IT WORK WITH?
The SensorSafe app works with the following Cybex car seats:
IS IT SAFE?
SensorSafe emits a low-level power signal, similar to that of your vehicle's remote keyless entry.
While we certainly understand your concern about having a Bluetooth clip pressed against your baby's chest, it's been certified safe for use by the US Federal Communication Commission and IC Canada.

The SensorSafe clip does use magnets, however, and you should consult your doctor if using it near a pacemaker or any similar device.
IS THE APP COMPATIBLE WITH MY DEVICE AND VEHICLE?
The short answer is yes. The long answer is… maybe?

Let us explain.

DEVICES

The SensorSafe clip is compatible with most Apple and Android devices as long as they meet the following criteria:

Apple:
iOS 10.0 or newer
iPhone 6 or newer
iPad (Regular, Pro, and Mini)
Android:
Operating system 5.0 or newer with Google Play Services installed
Of note: SensorSafe is NOT compatible with phones operating Windows OS or Blackberry OS.


VEHICLE
The majority of new vehicles work flawlessly with SensorSafe.

Of note: If your vehicle has a Start/Stop feature, you'll have to identify this in the SensorSafe app. Start/Stop shuts down your vehicle's engine upon braking and there is a specific setting that adjusts for this.

Also, please note that SensorSafe is currently NOT compatible with either Apple Car Play or Android Auto.


DO I NEED TO REPLACE THE SENSOR'S BATTERY?
You shouldn't have to replace the battery, but it also depends on your use.

The SensorSafe clip is designed to last the life of your car seat as long as you keep the harness unbuckled when not in use.

If you accidentally leave the harness buckled, the Bluetooth will stay connected for 12 hours before automatically shutting off. If the battery does get low, you'll be alerted. You can then simply replace it with a new CR2032 battery (the round, flat kind).
 
VERDICT
Using the SensorSafe app, you'll have a modern tool that's effective at keeping your baby safe.

While the clip isn't available as an add-on, it's featured on Cybex's award-winning line of car seats that consistently earn rave reviews. We love that you don't have to worry about replacing the battery (one less thing for parents to have to do) and that Cybex puts out regular updates for the SensorSafe app so you'll never have to upgrade the product!

Hopefully, in the future, SensorSafe will be compatible with Apple Car Play and Android Auto, as well as offer the app for phones operating on Windows OS or Blackberry OS.

But overall, we are impressed with the functionality of this app. Having this 4-in-1 safety feature provides an extra level of protection for baby and helps give mom and dad some peace of mind.
---
---