5 Reasons We Love the Snuggle Me Organic Infant Lounger
Jump to Section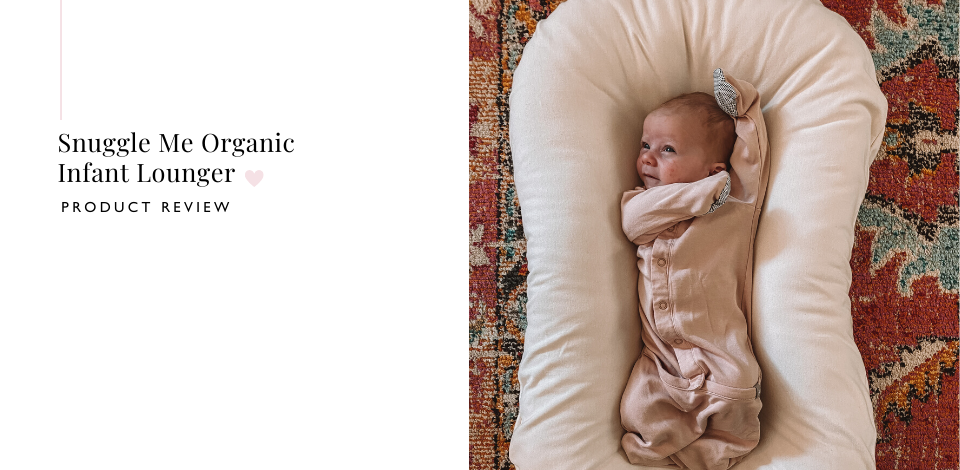 You've seen it all over socials and today, we're here to talk about the oh-so-cozy 
Snuggle Me Organic Infant Lounger
!
Parents know that raising littles is a juggling act, but let's set the stage – the air is scented with blueberry muffins and you're cradling your new bundle of joy. Startled awake by the kitchen timer, your babe bursts into tears. You jump up, head to the stove to pull out those muffins while soothing your babe, and what is that? The doorbell rings – another delivery?

Enter the Organic Infant Lounger by Snuggle Me – a safe and cozy place for your babe to lounge, rest under supervision, enjoy tummy time, and more. It's the perfect support tool for parents who might need an extra set of arms to help and, let's be honest, that's all of us.

Today, we're breaking down the top 5 reasons we love the Snuggle Me.


A SAFE PLACE FOR BABY
Let's go back to those blueberry muffins – hopefully we aren't catching you before breakfast.

With the Snuggle Me, your arms are free to answer the door, unload the dishwasher, or just Netflix and chill. While it's essential to remain in the same room as your baby while they rest, you are free to multitask knowing your babe is just as cozy as when you hug them close. This Infant Lounger was designed to cradle your babe in an ergonomic fashion that we will be getting into next.

Babe's safety is always the most important thing so remember to always place your Snuggle Me on a solid, even surface, and to use safe crib practices whenever baby is in their crib. It should also not be used in a crib, or as a co-sleeping device.

So, are you ready to talk about that cozy embrace?
SNUG AS A BUG

AN ERGONOMIC HUG
The Snuggle Me was designed with comfort, support, and functionality in mind.

Uniquely contouring to your babe's head and back, this Infant Lounger provides a hugging sensation that will soothe and calm baby – so you can take 5. Newborns will be able to fit all the way into the Snuggle Me's centre-sling™ and, as they grow, their legs will begin to drape over the bottom end of the lounger.

SPECS:
Dimensions: 29" L x 17" W x 4" H
Designed for newborns-9 months who are not yet crawling
Lightweight for easy room-to-room transport


LUXURIOUS FABRIC
We love that the Snuggle Me is sustainably and ethically made with GOTS Certified 100% Organic Cotton.

GOTS stands for the Global Organic Textile Standard and is one of the strictest certifications for organic materials on the market – regulating important issues such as use of chemicals [this infant lounger is chemical free!], and labour working conditions. The Snuggle Me is made in North America with North American grown cotton, and a hypoallergenic polyester fibre fill – which leaves us and baby as happy as a blueberry muffin.


EASY WASHING
With that luxurious fabric comes easy washing functionality – score!

The entire lounger is safe to wash, but Snuggle Me also carries super handy Infant Lounger Covers. Available in a variety of stunning colours, these covers can simply be thrown in the wash with like colours on cold. Featuring the same amazing fabric as the Infant Lounger, you know your little will be enjoying nothing but cozy and comforting softness.


AMAZING AESTHETIC
Finally, the last item on this list of things we love about the Snuggle Me is its amazing aesthetic.

We know how many pictures you will be snapping of your new little [um, thousands], and what is better than cozy and safe comfort? The impeccable setting it provides babe on your grid of course! Let's be honest, deep down we all care about that a little, right?!

The Snuggle Me comes in a variety of trendy and neutral colours [the cover comes in even more!], and we're having a seriously hard time picking our favourite.


READY TO SNUGGLE?
So, what do you think? Is the Snuggle Me the safe spot for baby that you didn't know you needed? We sure think so – and, the best part is you'll be able to munch on that muffin while it's HOT!
For more safe places for baby to chill, check out our Top Playards and Top Bassinets articles in our Related Content below!
*Reminder: the Snuggle Me Organic Lounger is not approved for overnight sleeping. Please only use for lounging and supervised rest.
---
---