8 Modern Must-Haves for Baby
Jump to Section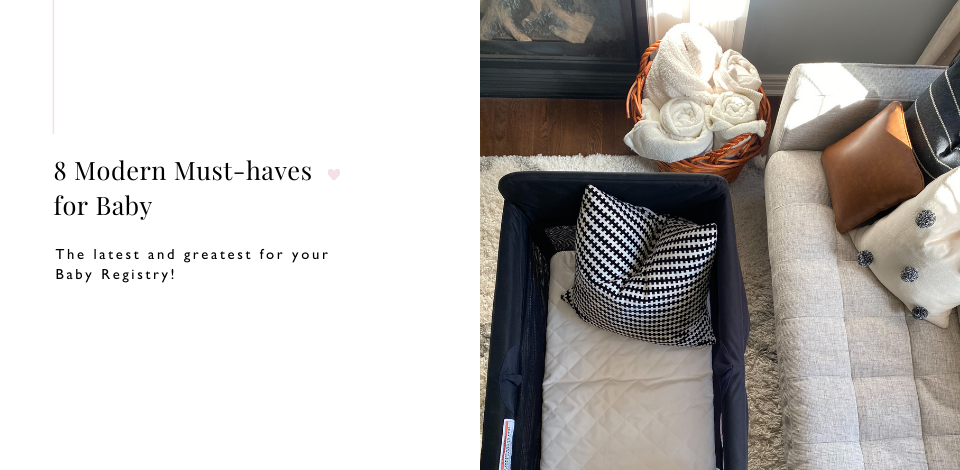 While raising children hasn't fundamentally changed over the years, parents today do have a few advantages — including all the new and cool baby gear that is designed to make your life easier.
Today, we are exploring some of our favourite modern must-haves. Which items will you be adding to your registry?
4MOMS MAMAROO SLEEP BASSINET 
We know that parents need their shut-eye in order to take on the day and keep their hustle going – it's the millennial way. There is nothing trendy about a good night's sleep but there is a cool and convenient tool to help you [and baby] get more, enter the mamaRoo Sleep Bassinet.
WHY YOU WILL LOVE IT...
The 4moms mamaRoo Sleep Bassinet is packed with tech to help soothe baby to sleep. It has 5 unique motions, 5 speeds, and 4 white noise sounds which will allow you to find a custom sleep combination that baby will love.

Check out our full mamaRoo Sleep Bassinet Product Review to learn more.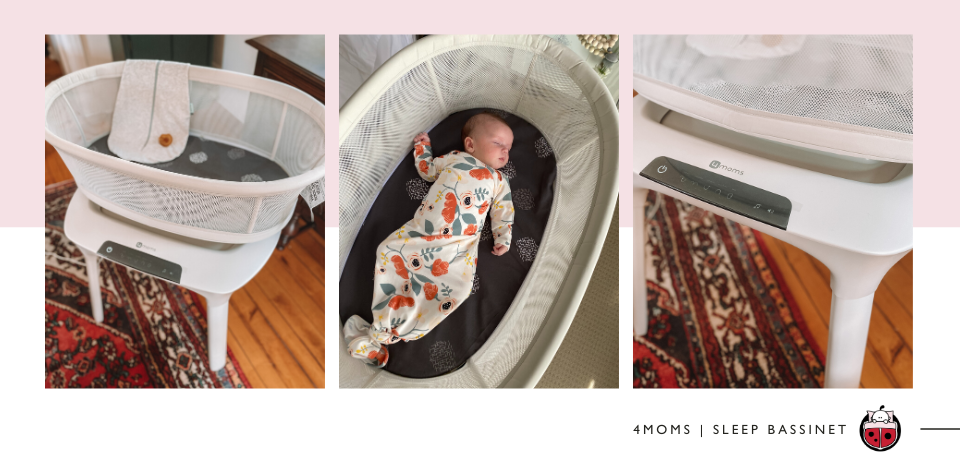 STOKKE CLIKK HIGH CHAIR 
You may be familiar with the Stokke Tripp Trapp but the Clikk is their newest modern high chair with a simple and streamlined Scandanavian feel. It has a modern look, it's easy to clean, easy to transport and it comes in 4 fun pastel colours with an optional cushion add on to make the seat more cozy.

WHY YOU WILL LOVE IT...
It's easy to figure out and NO tools are required to assemble. Just like the name – the legs and tray simply "clikk" into place in seconds.

Did we mention that you can put the seat IN your dishwasher for easy clean-up?
Read the full in-depth review, here.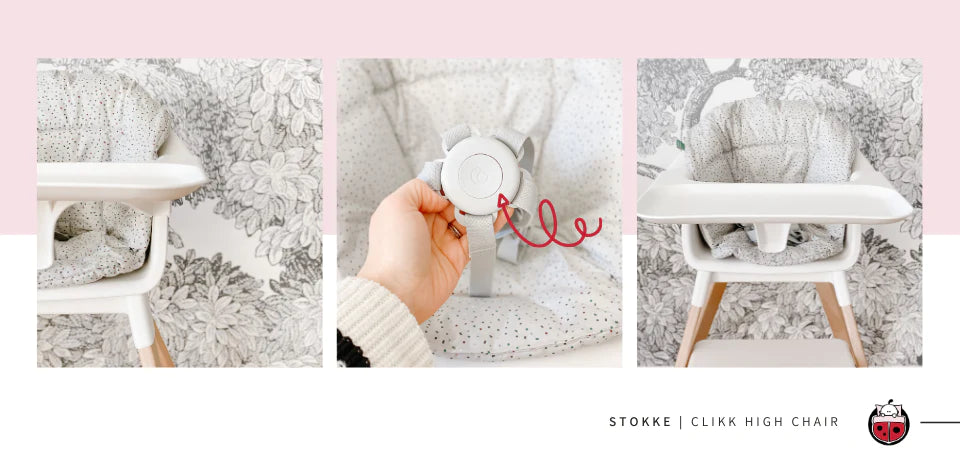 STARDUST PLAYARD BY BUGABOO 
We see you and your modern décor, and we are here to tell you that with the black on black Stardust Playard from Bugaboo you don't have to sacrifice style for function.
WHY YOU WILL LOVE IT...
It's simple, quick, and easy to use – it unfolds in 1 second and folds back together in 3 but wait! It's perfect for playtime and supervised hangouts. You will love the handy premium carry bag for convenience when traveling or to use it when storing it away flat under a bed when not in use. Yes, it's flat, not bulky.

Read the full in-depth review, here.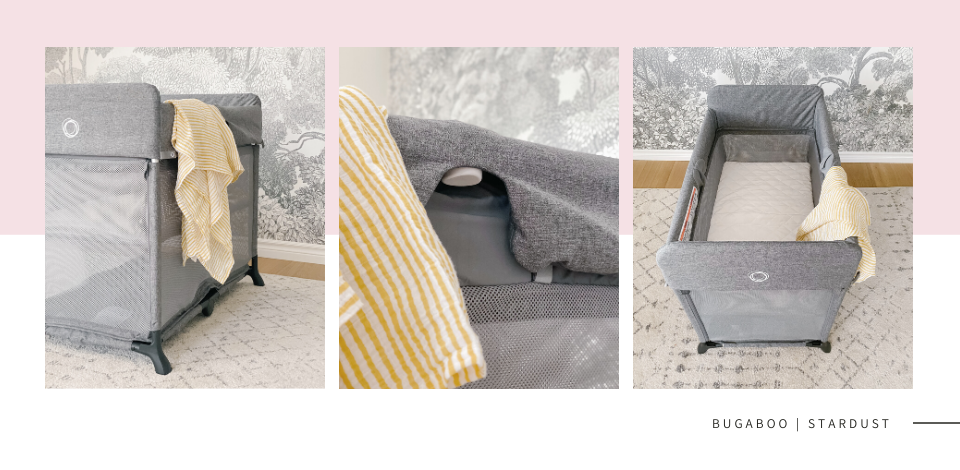 SNUGGLE ME ORGANIC INFANT LOUNGER
The Organic Infant Lounger by Snuggle Me Organic is at the base of every cozy IG post that features a fresh, squishy, newborn as the star.
WHY YOU WILL LOVE IT...
The Snuggle Me Organic Infant Lounger provides babe with a comfortable hugging sensation that helps to keep them happy as a clam. It's lightweight and easy to transport from room to room. You can feel good knowing baby is safe and secure in their own little spot while giving your arms a well-deserved break. Did somebody say hot coffee?

Learn more, here.

VEGAN LEATHER DIAPER BAG BY FRESHLY PICKED 
If you are going to be carrying around a bag 24/7 then it had better look good, right? Function and fashion collide with the vegan leather Classic Diaper Bag from Freshly Picked.

WHY YOU WILL LOVE IT...
It doesn't look like a typical diaper bag, but it functions like one. It has 10 spacious pockets including an insulated interior pocket to keep bottles cool. It's all in the little details like the built-in electronic sleeve, a magnetic flap, premium gold YYK zippers, and metal feet on the bottom so that your bag never touches the ground. Oh, and did we mention these come in MINI size for #twinning?


LEATHER PLAYMAT 
Introducing the Leather Playmat line-up from Gathre. The choice is yours but all three of these leather playmats are wipeable, water-resistant, and super adorable.

WHY YOU WILL LOVE THEM...
These playmats have a premium luxe feel and will work with your design aesthetic, not against it. They are made from bonded leather and are backed with flocked suede, which contains 28% genuine leather. Depending on the size you choose you can use your mat as a placemat, change pad, or playmat– the possibilities are endless [and trendy].

As your favourite blogger would say these playmats are "soooo good!"
Micro [14"x22"]
Mini [38"x38"]
Maxi [80"x80"]


MOBY WRAP 
Babywearing is a great way to bond with baby and the Moby Wrap allows you to be comfortable while you connect.
WHY YOU WILL LOVE IT...
There are 2 fabric options to choose from that vary in fabric weight & stretchiness. Both fabrics are designed to evenly distribute the weight of carrying your baby across the back and hips. This wrap is not size specific which means it can be adjusted for a custom fit whether you are petite or plus size. It's comfortable, stylish, and it comes in some cute colours and patterns too!

UBBI DIAPER PAIL 
How much fun has designing baby's nursery been? Whether you've chosen a moody woodland theme or are keeping it light and bright don't ruin all your hard work with an eyesore of a diaper pail.
WHY YOU WILL LOVE IT...
The UBBI Diaper Pail is an easy to use diaper disposal system that comes in lots of great colours to compliment your space like rose gold, chrome, marble, and slate.

MODERN & MINIMAL
See, you really can incorporate baby gear into your curated modern and minimal space.

Baby gear has come a LONG way since the days of limiting pinks and blues, and we know you can design a space for babe that is just as chic as you.
Happy Shopping!
---