BOB Revolution Flex 3.0 Jogging Stroller Review
Jump to Section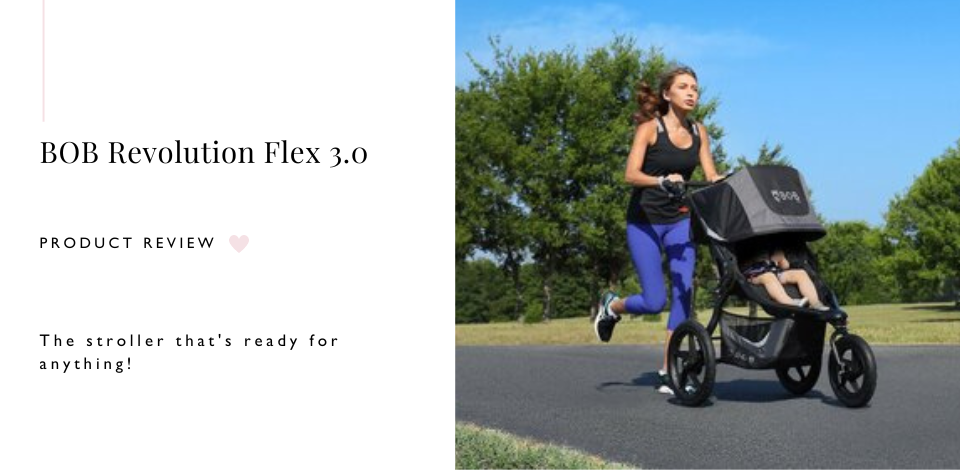 It's a beautiful day outside, the sun is shining, and you're ready to hit the hiking trails and get in a good jog. There's just one problem..how can you get your baby's stroller to make it through the rough trail terrain while keeping your child content and comfortable?
Finding the right
stroller
for your active lifestyle can be very tricky, but it is possible. Enter the
BOB Revolution Flex 3.0 Jogging Stroller
— the active parent's dream come true. Whether you want to go for a run, jog, or simply head out for a family day exploring forest trails, the park, or the beach, this stroller is up for the challenge.
Let us take you through all the features that earned this stroller a place as one of our
Top Jogging Strollers of 2023.


DESIGN & BUILD
THE SPECS: 
Recommended Age: Newborn to 75 lbs or 44" 

From Birth with Infant Car Seat (walk only)
From 8 Weeks Riding in Stroller Seat (walk only)
From 8 Months in Stroller Seat (Jogging/off-road) 

Dimensions Unfolded: 46"L x 45" H x 25"W  
Dimensions Folded (wheels on): 38"L x 16"H x 25"W 
Stroller Weight: 28.5 lbs 
Front Wheel Dimensions: 12" in diameter
Back Wheels Dimensions: 16" in diameter 
Handlebar Height (adjustable): 34.5" – 48" 
You'll notice the Revolution Flex 3.0 has a unique design. With three rugged wheels and a sturdy suspension system frame, it's clear this stroller is built for adventurer. At just under 29 lbs., this stroller is lightweight but still strong and durable. Designed to tackle the roughest of terrains, the Revolution Flex 3.0 is available in sleek black fashions with high visibility design elements to keep you safe during evening or night outings. The stroller is also made up of water-resistant materials and has a sun shield attached to keep your little one safe from UV rays. When not in use, the stroller can be compressed down into a twofold and can be closed or opened in less than 30 seconds.
GROWS WITH BABY
One of our favourite things about this jogging stroller is that it's not just another piece of baby gear your child will outgrow within a matter of months. This baby is designed for use from birth to big kid, and boasts several possible adjustments that make it the perfect investment for you and your baby.
This stroller is newborn-friendly when used with an
infant car seat
(hello, instant travel system). During the first few months, using a
travel system
is so handy, so we give Revolution Flex 3.0 huge brownie points for accommodating busy families. The go-to infant car seat for this stroller is the
Britax B-Safe Gen2 Infant Seat
with the
Britax single infant car seat adapter
. However, this stroller is compatible with
infant car seats
from several different brands and
BOB
offers
car seat adapters
for all of them. Just click the infant seat onto the stroller frame and away you go. 
When your baby is 8 weeks old, they can start using the stroller seat. This is earlier than most stroller seats, which often require parents to wait until their child is 6 months old. This is largely thanks to the seat's ability to recline to a near-flat position, which can be done with a single hand.
For the first 8 months, the stroller can only be used while walking (until your child is able to sit up in the stroller seat comfortably). Once your child is 8 months, you can take it up a notch and start going for jogs or runs. The 5-point harness guarantees your child's safety as you take on a faster pace.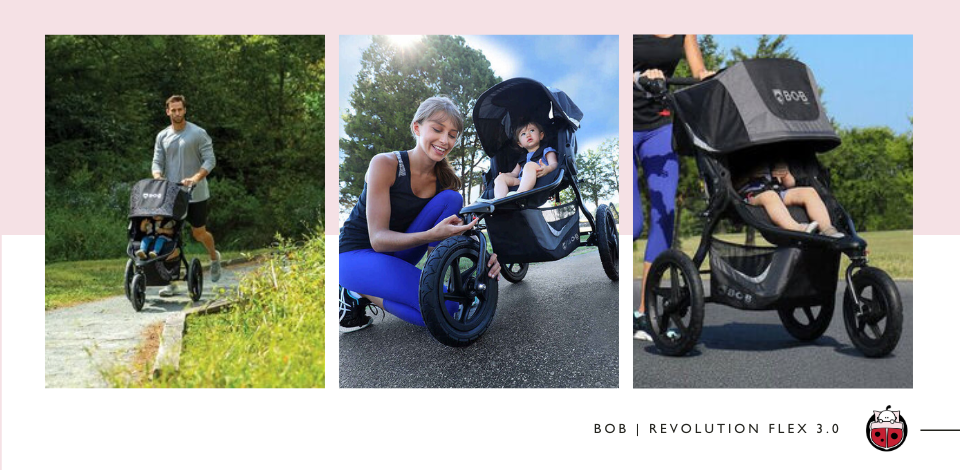 COMFORT & CONVENIENCE
You can be sure your little one will have a comfy ride with premium features like a compression comfort seat, seat back ventilation, and a UPF 50+ canopy to keep them shaded on sunny days.

The Revolution Flex 3.0 also has loads of features for mom and dad! The handlebar is made of cushy foam and can be adjusted into 9 different positions ensuring parents of every height can enjoy taking a trip around the block. It also has a wrist wrap to give you an extra sense of security when jogging with the stroller and a cellphone pocket for easy access.

There is also a little clear window on the back of the stroller so you can keep an eye on your baby, or keep it covered with its magnetic closure.

Adventures with a child require lots of essentials and snacks, luckily, with 6 storage pockets and a large basket for you to store a backpack or diaper bag, the Revolution Flex 3.0 Jogging Stroller has you covered there too.


ROUND AND ROUND
Just take one look at the Revolution Flex 3.0 Jogging Stroller and one of the first things that will catch your attention is the wheels. The wheels on this stroller give it an extra boost of stability and durability.

These air-filled, all-terrain tires have an extra strong and adaptable grip to keep you in control on all surface areas. The entire design of the wheels, from rims to spokes, is designed for high-impact use. Thanks to these heavy-duty wheels, your child can enjoy a consistently smooth ride in any condition, be it walking, jogging, or running.

The front wheel provides a large range of movements and swivel options. It also has a tracking adjustment that can be used to ensure the stroller stays straight when moving at faster speeds. The two back wheels can also easily be removed and reattached to make storing and transporting the stroller easier.

When needed, all three wheels can be locked into place, which can be done through an effortless foot pedal brake system at the back of the stroller (flip-flop friendly).
THE ACCESSORIES
All Weather Shield
: This breathable full coverage shield will protect your child from wind and rain while allowing your babe to still enjoy the view.
Sun Shield
: Protect your little one from sun exposure and bug bites with this full-coverage sun shield made entirely of breathable material.
Snack Tray:
 Snap on this snack tray effortlessly so your child can enjoy their nibbles and drinks on the go.
Handlebar Console
: This handlebar console can hold all your essentials, from the house keys to your cell phone.
Handlebar Console with Tire Pump
: An insulated extra storage handlebar console to hold your essentials and keep your water bottle cold, with the extra advantage of having a tire pump for your stroller for emergencies. This is an ideal purchase for the extra adventurous parents that want to test out this stroller on rougher surfaces. You know what they say, better safe than sorry.
Stroller Travel Bag
: This travel bag is water-resistant and has wheels, making it the perfect storage solution for your stroller when not in use. It's made of strong material that will protect your stroller and has a carry strap to make moving it down stairs a breeze.
Fitness Kit
: Take your workout with you no matter where you go. This is a great purchase for parents looking to stay in shape, this kit includes a handlebar console, a fitness manual, and strength resistance bands.
FINAL VERDICT
Being an active parent who is always on the go has never been simpler with the BOB Revolution Flex 3.0 Jogging Stroller.

The storage options, accessories, and the ability to use the stroller as part of a travel system make it a versatile option.

We also love that this stroller can support your child from a newborn to a whopping 75 lbs., over 20 pounds more than the average stroller! This ensures the Revolution Flex is a long-term investment in your child's comfort and safety and your flexibility and freedom. A fully adjustable seat and handlebar will keep you both content and excited to take on the day. With a light, durable design that's built for any weather or terrain, this stroller is ready for any outing.

Are you a parent of two? BOB also makes a double version of the Revolution Flex 3.0 Jogging Stroller, check it out, here. For more great jogging stroller options, check out our top-rated options of the year, here.
---