Cybex Cloud G Lux SensorSafe Infant Car Seat Review
Jump to Section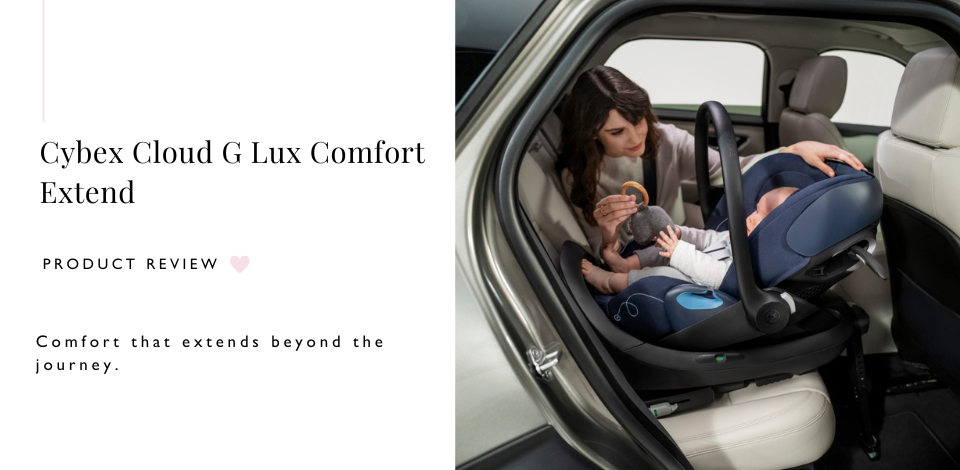 Technology is the name of the game these days, and Cybex is here to deliver. In fact, this brand has already made a name for itself with its innovative designs and impressive attention to detail, especially for the Sirona S Convertible Car Seat (which rotates 360 degrees) and Aton 2 Infant Car Seat (the older sibling of the Cloud G Lux). Seriously, when you have time head over to our Learning Centre to read our in-depth reviews of the Sirona S and Aton 2.

However, as impressive as past models are, the Cloud G Lux boasts even more functional, comfort, and safety features! Want to know why the Cloud G Lux would be a great addition to your family? Buckle up! We sharing everything you need to know about this next-generation infant car seat.
SAFETY IN NUMBERS
THE SPECS:
Child Weight: From 4 lbs. up to 35 lbs. 
Child Height: Up to 32" 
Dimensions: 26.5" D x 17.6" W x 15.8" H
Product Weight: 12 lbs. 
The Cloud G Lux is a top-of-the-line infant car seat for parents who want the latest and the greatest for their little ones. The following safety features will give you peace of mind on every drive:
LOAD LEG BASE
:
The load leg is a premium feature not found on all car seats. In a collision, it stabilizes the seat from twisting and reduces crash forces by up to 30%. More protection = less chance of injury!
ENERGY-ABSORPTION
:
The Cloud G Lux surrounds your baby with dense, energy-absorbing EPP foam, which further reduces the risk of injury in the event of a crash. The seat is also designed with an energy-absorbing shell and linear side impact protection in case of a side impact crash. Your little one will be surrounded by a protective cloud of safety!
ANTI-REBOUND BASE
:
The car seat base is specially designed to reduce forces on the child by up to 30% in a rear or front impact crash.
FLAME-RESISTANT FABRIC
:
Flame-resistant fabric meets strict safety standards, and Cybex doesn't use any fire-retardant chemicals. Protection from harmful chemicals and fire hazards at the same time? Yes, please!
SENSORSAFE
SensorSafe technology is one of the key elements that sets Cybex car seats apart from its competitors, as it can alert parents and caregivers to potential issues regular car seats can't.
The technology consists of a chest clip attached to the car seat harness, which contains sensors that monitor the temperature inside the car and the child's movement. This information is transmitted to the SensorSafe app (which you can download on your phone).
The app is available for
Apple
and Android via the
Apple App Store
or
Google Play Store
and provides real-time alerts and information about the child's safety. The app also provides guidance on how to correctly install the car seat and use it properly.
You will be notified if:
Your child unbuckles the harness. 
Your child is exposed to a dangerous temperature. 
Your child is left unattended in the car. 
Your child is stationary for too long. 
For more information, check out our full review of the

 

SensorSafe Car Seat Technology.


COMFORT MODE
In addition to next-generation safety, the Cloud G Lux is designed with plenty of comfort features too, so you can say goodbye to cranky rides and hello to happy travels!
When you arrive at your destination, you can remove the car seat from its base and attach it to any
Cybex Stroller
 (and other brands) 
to create an instant
 

travel system
. The Cloud G Lux also has a full recline position (comfort mode) and an extending leg rest for a comfortable and ergonomic position when used outside of the vehicle.
This reclining seat works with an infant insert to keep little babies ergonomically positioned and fully supported. Once they reach the 11 lbs. mark, the infant insert can be removed so your little one has more space. The Cloud G Lux also comes with an XXL UPF 50+ ventilated canopy to keep baby's young skin protected while still encouraging airflow. Additionally, a 12-position adjustable headrest provides safety and comfort as your baby grows and in-shell ventilation ensures the seat doesn't get too warm.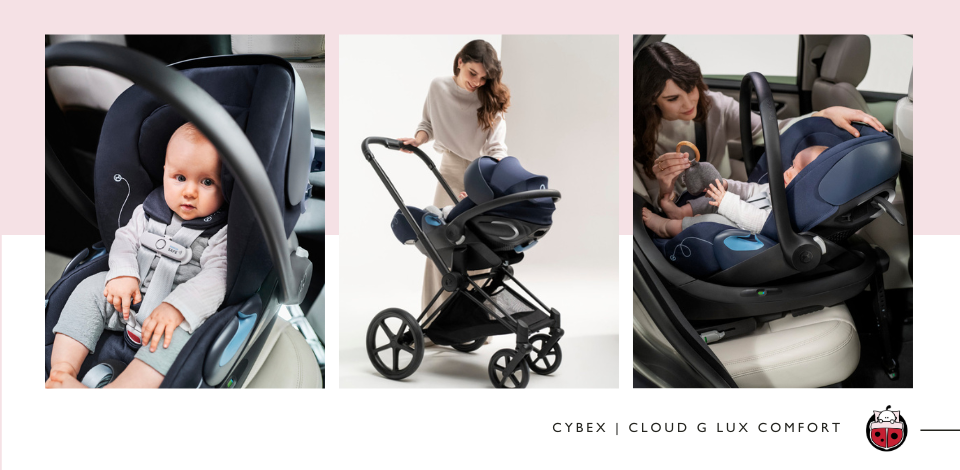 MAKING CONNECTIONS
Get ready to experience hassle-free car seat installation! The Cloud G Lux is super easy to set up and just as easy to get your child in (and out of) their seat:

ONE-CLICK RIGID LATCH INSTALL:
Connect the base to the vehicle's lower anchors for a quick, simple, and safe installation in mere seconds. No more struggling with a complicated installation process!

EUROPEAN BELT PATH:
For those times when you don't have a base to use (ie. in an Uber or a friend's car), you can still secure the seat using the European belt path on its shell.

FAA COMPLIANT:
The Cybex Cloud G Lux is FAA-compliant, so you can bring it on airplanes to ensure your baby has a safe and comfortable flight.

EASY-IN BUCKLE PAD:
Say goodbye to awkward harnessing moments! The Easy-In Buckle Pad keeps the harness buckle in a forward position for easy loading and harnessing. No more contorting your body and struggling to buckle them up!


ENHANCE YOUR BABY'S RIDE
Looking to enhance your Cloud G Lux? Cybex has you covered with the following accessories!

FINAL THOUGHTS
Simply put, the
Cloud G Lux SensorSafe Comfort Extend Infant Car Seat
from
Cybex
gets the Snuggle Bugz seal of approval!
It's simple to install, easy to use, comfortable for baby, and above all, keeps them safe in the backseat. By incorporating high-end technology such as SensorSafe, and safety features that include dense foams, an anti-rebound base, and an anti-rotation load leg, Cybex gives parents and caregivers peace of mind and reduces the risk of accidents and injuries. With a design that grows alongside your child, your baby will love their cushy safety cocoon and have a smile on their face every time you take them around town.
We also love that this seat has a Comfort Mode for use outside your vehicle. This means your child can rest happily for longer once you reach your destination. Oh, and style matters too! Luckily, parents can also choose from 4 tasteful fashions to suit their sense of style.
For these reasons, we are giving two solid thumbs up to the
Cloud G Lux Comfort Extend Infant Car Seat.
---