Clek Fllo Convertible Car Seat Review
Jump to Section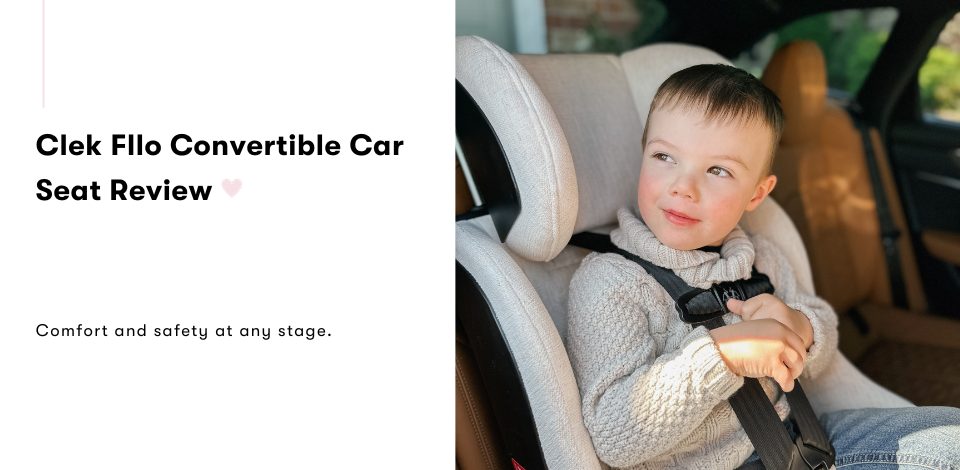 Buckle up because today we're diving into the wonderful world of
car seats!
When it comes to keeping our precious little bundles of joy safe, we want nothing but the best. 
That's where the Clek Fllo Convertible Car Seat enters the scene with a bang!  
This gem of a convertible car seat from Clek is not only stylish (and Canadian), but it's also loaded with safety features that'll make your heart skip a beat (in a good way!). From its sturdy build to the easy-to-use installation, there's plenty to love about the Fllo — let's dive in!  
Video Review



The Specs
Rear-Facing Mode: Suitable from 14 to 50 lbs. or up to 43"

 

When used with an

Infant Thingy Insert

, you can accommodate a child from 5 lbs. or 19"

 

Forward Facing Mode: Suitable from 22 to 65 lbs. or up to 49"

 

Base Width: 13" 

 

Seating Width: 16.9" 

 

Harness Slot Height: 8" to 17"

 

Height Measurement in Forward-Facing: 26" to 31"

 

Seat Weight in Forward-Facing: 26 lbs.

 

Seat Depth: 12.5"

 

Harness Slot Height: 8" to 17"

 

Height Measurement in Rear-Facing: 25.5" to 27"

 

Seat Weight in Rear-Facing: 26 lbs. (28 lbs. with Anti-Rebound Bar)

 


The big takeaway is that, unlike many other convertible car seats, the Fllo can be used right from birth in rear-facing mode when using the Infant Thingy Insert. While the seat allows you to move to forward-facing mode as early as 22 lbs., we highly recommend you wait until your child maxes out of the height or weight restrictions in rear-facing mode (whatever comes first). 
Talking about weight restrictions, we LOVE that babies can sit in rear-facing mode in this seat for up to 50 lbs. (or 43"). Rear-facing position is by far the safest way for your little one to travel, so any seat that extends that use gets our enthusiastic thumbs up!
The Fllo has a slim width, allowing parents to fit three across their backseat if required. 


Collision Protection
Clek takes your child's protection very seriously. Here's a breakdown of the Fllo's impressive safety capabilities: 


Anti-Rebound Bar: 
This innovative feature prevents rebounding during a frontal collision and rotation during a side-impact collision. It also enhances installation by securely nesting into the flat part of the vehicle seat.  
Advanced Side-Impact Protection System: 
The Fllo shields your child with its adjustable headrest, deep side wings, and dual layers of energy-absorbing EPP foam. Together, these elements provide maximum protection against side-impact crashes.  
Energy-Absorbing Crumple Technology (EACT): 
In the event of a crash, the EACT system redirects crash forces away from your child and into the aluminum honeycomb deformable cores integrated into the seat base. This advanced technology helps absorb impact and reduce the risk of injury. 
Integrated Flip Foot: 
For rear-facing installations, the Fllo features an integrated flip foot. This convenient addition provides stability and ensures proper positioning. 
Energy-Absorbing Foam-Lined Headrest: 
Similar to the headrest in your vehicle, Clek designed the headrest with energy-absorbing foam and steel rods. This construction offers maximum head protection during side-impact collisions.  
Adjustable Headrest: 
The Fllo's adjustable headrest not only accommodates your child's growth but also serves as a protective resting place for their sleepy heads.  
Adjustable Crotch Strap and Harness Heights: 
With a flexible crotch strap and six different harness heights, the Fllo allows for easy adjustments, ensuring a proper and secure fit for children of various sizes and ages.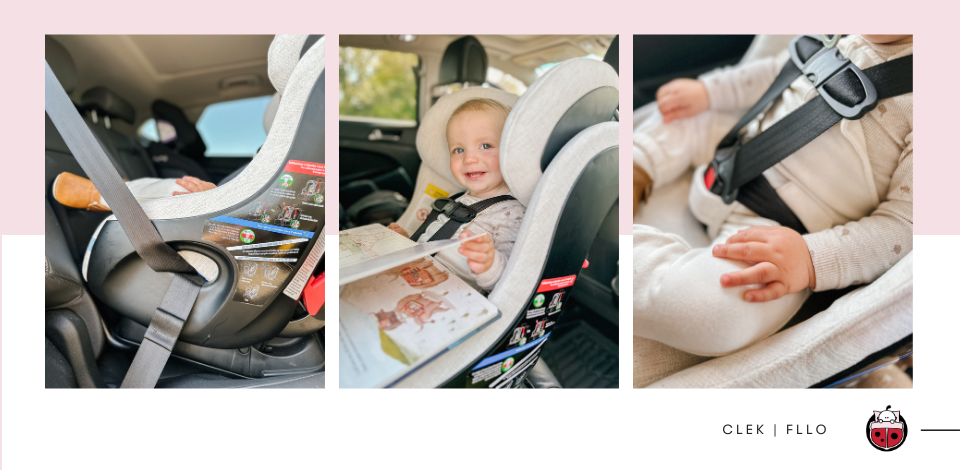 Fantabulous Fabrics
Looking for a seat that matches both your child's personality and your car's interior?  
The Essentials Collection in Railroad (black) is sleek in appearance and free of any flame retardants. For a lightweight and cozy feel, the Jersey Knit Collection is made from a polyester-spandex blend and is available in Carbon, Chrome, and TokiDoki.  
The Standard C-Zero Plus Collection in Flamingo, Aura, and 10-Year Blue is perfect for adding a pop of color. With a looped pile top resembling terry cloth, it provides a plush and velvety sensation. 
For a more sophisticated look with a smooth feel, the Premium C-Zero Plus Collection offers three options: Thunder, Pitch Black, and Marshmallow. 
Clek's Premium Fabric Collection in Mammoth stands out with its environmentally-friendly composition. It blends sustainably-sourced, biodegradable Merino wool with TENCEL®, offering enhanced durability. This collection is also free of any added flame retardants. 


Eazy Breezy Install
Installing the Fllo is a breeze with its user-friendly installation features. The secure LATCH (UAS) connection ensures a simple and solid installation in your vehicle, providing peace of mind knowing that the seat is securely fastened. A removable seat cushion makes accessing the rear-facing belt path simple and allows parents to easily clean without the need to uninstall the seat. Built-in rear-facing lock-offs enhance ease of use by tensioning the belt and removing excess slack, ensuring a snug and secure fit for your child. For more details, checkout the video above.
Additionally, the Fllo is aircraft approved (making it safe and convenient for air travel), and it meets all applicable Canadian Motor Vehicle Safety Standards (CMVSS 213), ensuring the highest level of safety for your little one! 


The Ultimate Fllo
 Clek offers a few different accessories to add to the Fllo for additional function and fun! 
Clek Mat-Thingy

: This anti-slip mat goes under the car seat to protect your vehicle from compression damage and yucky spills.

 


 

Fllo Drink Thingy

:

Available in black or white, this drink holder can attach to either side of the frame for easy drinking!

 
Clek to the Rescue
 If you're on the lookout for a convertible car seat that combines safety, comfort, and a splash of pizzazz, look no further than the Fllo Convertible Car Seat from Clek. Your kiddos will thank you...and so will your peace of mind! With a stress-free installation process, an abundance of safety features, rear and front-facing positions for years of use, and multiple colour/fabric options, the Fllo is a well-rounded seat that hits all the right notes for you and your little one. 
For a comparison between Clek's convertible car seats, check out our Foonf vs. Fllo article. For more information on Clek car seats, check out our Clek Car Seat Overview. 
---
---