ERGObaby 3-in-1 Evolve Bouncer Review
Jump to Section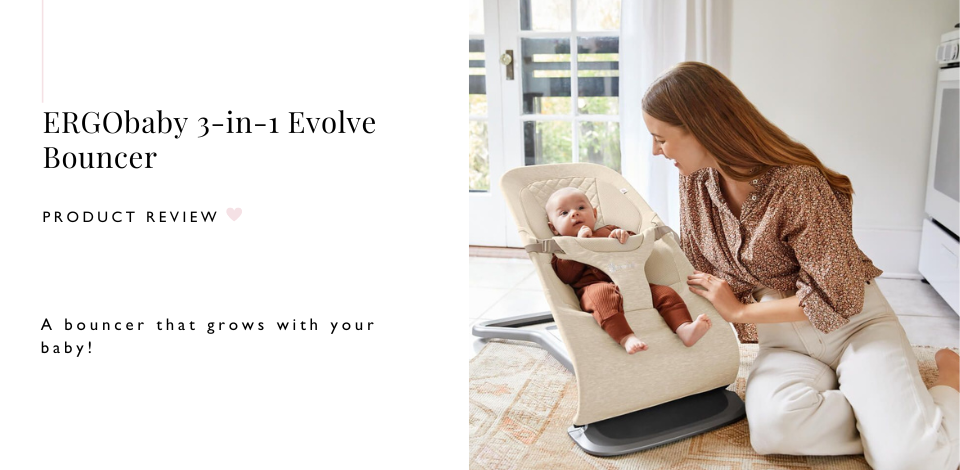 If you're in the market for a baby bouncer, Snuggle Bugz has you covered!
With so many
 

bouncers
available, it's hard to know which one will work best for you and your child. May we politely suggest the
ERGObaby 3-in-1 Evolve Bouncer
?
This ergonomically supportive bouncer is made by
ERGObaby
, a company that designs its products with long lifespans. They also pay special attention to quality, functionality, and flexibility — so parents and children can get the most out of them.
So what exactly is so special about the Evolve? Keep reading to find out...
PERFECT FOR BABIES
THE SPECS:
Designed for newborns to 29 lbs. 
Newborn Insert: 5 lbs., 8 oz. up to 12 lbs. 
Baby: 13 to 20 lbs. 
Toddler: Up to 29 lbs. (approx. 3 years old)
Dimensions: 33" L x 16" W x 22" H
Folded Dimensions: 33" L x 16" W x 5.7" H 
The 3-in-1 Evolve Bouncer is a seat that uses your child's natural movements (ie. kicking and squirming) to soothe them into a calm state.
Designed to grow with your child, they can use it their first day home from the hospital all the way up to their toddler years.
For newborns, ERGObaby includes an insert that rests on top of the seat, but this isn't any ordinary insert. The insert has been specially designed to support your baby's head and hips, encouraging M-splay positioning (aka "frog legs") for proper development during their earliest months.
The insert also has special padding on the headrest to prevent the development of flat head syndrome, and it's machine washable to clean up any minor spills or major blowouts.
Pro tip:  Wrap the insert in a small pillowcase to minimize any stains from getting on the fabric and save you from doing laundry.


3 BOUNCERS IN 1
Once your baby graduates to the infant stage, the insert can be removed and they now have a baby seat! As your child continues to grow, the Evolve (living up to its name) will simply become a toddler seat — it can hold up to 29 lbs. (which is roughly until the age of 3). Soft-knit and breathable mesh fabric is used to craft the seat for ultimate comfort year-round.

As with the insert, the seat itself is fully removable and machine washable for a quick restoration. The Evolve Bouncer is available in multiple colours, allowing parents to perfectly match it to their home decor.


A SMART & SAFE DESIGN
One of our favourite aspects of this bouncer is that it can be height adjusted to accommodate your baby's (or parent's) personal preference.

The Evolve has a floor pedal that can be deployed using your foot. This pedal controls the height of the seat, which is a godsend when you simply want to adjust the height but don't have a free hand (i.e. a fussy baby is in your arms!).

With 3 different heights, babies can lay back, rock themselves in the middle position, or sit upright to take in their environment.

For convenience and safety, ERGObaby includes a harness that buckles to the sides of the bouncer that can be tightened (or loosened) for a snug fit. The buckles make it easy to get your child in and out of the bouncer too. Rounding out the safety features is a seat height lock that works with an anti-slip base, so baby will stay safe bouncing away.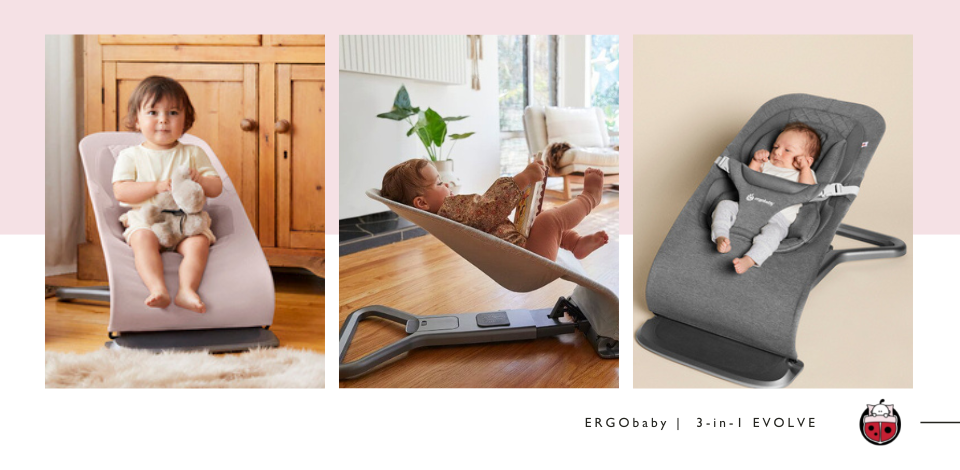 ALL THE REST
The Evolve Bouncer can be laid flat by depressing height adjustment pedal and releasing a side clip simultaneously; this allows you to store it virtually anywhere (it folds to under 6 inches high), take it with you to other rooms of the house, or pack it up in the car.

From a price perspective, at just shy of $250, it's not as cheap as some bouncers, but it's still extremely affordable. Compared to some high-end motorized models, the Evolve is very reasonably priced.

We also love that ERGObaby includes a Lifetime Manufacturer's Warranty against manufacturing defects in materials and workmanship for the lifetime of the product (which will be determined by them). While it's not literally guaranteed for your entire life (lol), it does offer peace of mind compared to many other products, which are only under warranty for one or two years.


AN EVER-EVOLVING BOUNCER
The

 

3-in-1 Evolve Bouncer

 

checks all the boxes parents want when looking for baby products. It's safe, great quality, comfortable, easy to use, and the price tag won't break the bank. This bouncer doesn't have any electronic components, so it can be used anywhere, anytime! Baby uses their own movement to bounce versus being jostled around mechanically — many babies seem to prefer this option.

Parents will love that they don't have another huge baby product taking up space in their living room — the Evolve packs up small and is easy to move around. Plus, the long lifespan of the product also ensures years of use.

For these reasons, this bouncer is quickly becoming one of our favourites here at Snuggle Bugz, and we think it would be an excellent addition to your growing family!

For more great

 

bouncer

 

suggestions, check out our

 

Top Bouncers of 2023

 

article.
---
---