Peg Perego Selfie Stroller Review
Jump to Section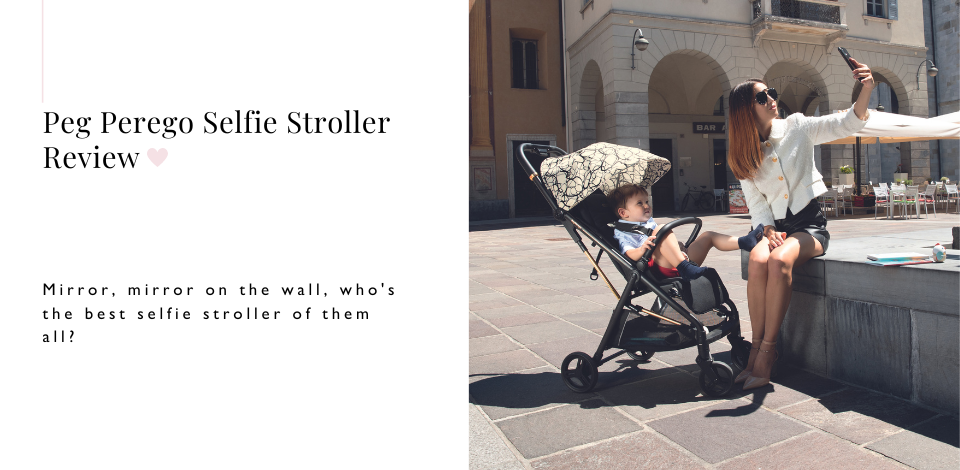 If there's anything that parents and parents-to-be know, it's that there's strength in numbers — and we don't mean just when we need help wrangling a gaggle of squirming, giggling little ones. We can always count on our inner circle, our group — our pack — for anything, from emotional support to parenting advice.
Eventually, there comes a time when we have to strike it out on our own.
Well, not entirely on our own. That's where the
Peg Perego Selfie Stroller
really shines. The Selfie is built from the ground up to make solo parenting a snap. It's compact, lightweight, and comes at a great price point, too. Let's take a closer look.
ONE-HANDED WONDER
THE SPECS:
Suitable from birth to 48 lbs. 
Folded dimensions: 20.3" x 24.4" x 16.1" 
Unfolded dimensions: 20.3" x 42" x 35" 
Stroller weight: 14 lbs. 
Basket capacity: 10 lbs. 
Baby in the buggy. Diaper bag on a shoulder. Travel mug, wallet, and keys in one hand. Phone clenched in your teeth — and you're on your way! Thanks to the Selfie stroller's standout convenience features, if you have at least one hand free, you have all you need to get moving.
An aluminum frame ensures almost anyone can easily push, lift and steer the buggy using a single hand. It also takes only one hand to recline the Selfie's generous backrest to a comfortable near-flat position. Even more impressively, the entire unit self-folds automatically with a (you guessed it) one-handed downward press.
It's truly the handiest buggy we carry. (Sorry, couldn't resist!)
SPEAKING OF COMFORT…
Some
strollers
with lightweight, minimal designs — think the umbrella strollers we grew up with— cut comfort for practicality. Not the Selfie.
The stroller rolls smoothly on 14- and 17-centimetre ball-bearing wheels capable of easily pivoting around the tight corners and bus aisles you'll encounter on a day out on the town. Taking things off-road? No biggie, thanks to front and rear shock absorbers and a suspension system that works especially well on uneven terrain.
There's comfort in safety, too: the well-padded seat comes with a five-point harness designed for your (and baby's) peace of mind. It all comes covered with a zipper-fastened canopy offering top-notch sun protection (UPF 50+).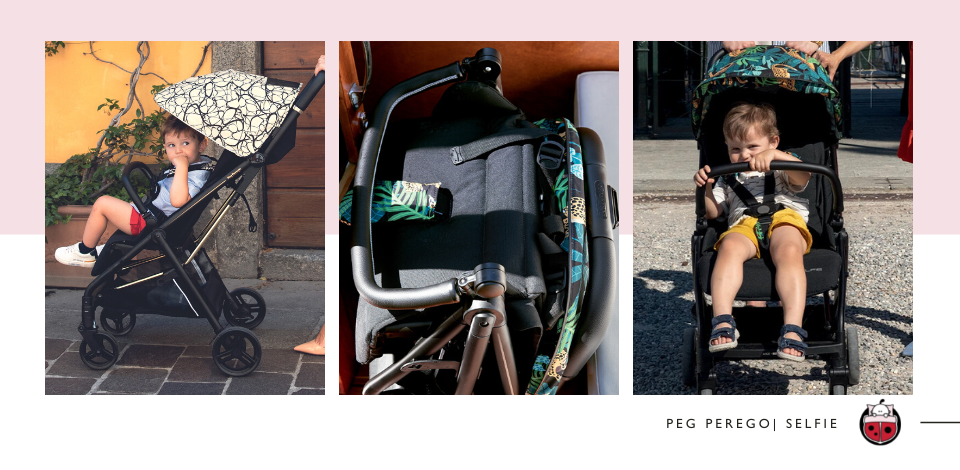 TRAVEL SYSTEM
If you're flying a little further from the flock than usual, no worries. The Selfie is compatible with
Peg Perego infant car seats
so you can transform your stroller into an instant
travel system
. Using the
adapter
, the stroller plays well with the Primo Viaggio Seats.
(For more info, check out our
Car Seat Compatibility Guide
.)
Should you pop out for a trip abroad — say, to
Peg Perego
's home base in Italy — this stroller will be a valued travel companion. But take care if you're planning to stow the Selfie as a carry-on. Even fully folded, the stroller measures just a bit larger than the average airline will allow for cabin luggage. It may take some finagling — say, removing the bumper bar and/or wheels — to pass muster. In any case, it's always best to check with your airline (and measure twice!) before boarding.
If you find yourself overloaded when you're out and about, the Selfie has a few storage options, including a carry-all basket that holds up to 10 pounds of cargo. You can also add a 
cupholder

 
without affecting the stroller's ability to fold up.
IT DOESN'T GET EASIER THAN THIS
With an accessible price point, single-handed functionality, and an ultra-portable design that can go wherever you go, the
Peg Perego Selfie Stroller

 
is an excellent choice for a child's first buggy that will last you from infanthood to their early years. We promise it doesn't get easier than this— (one) hand to heart.
---
---