Diono Radian 3QXT All-In-One Convertible Car Seat Review
Jump to Section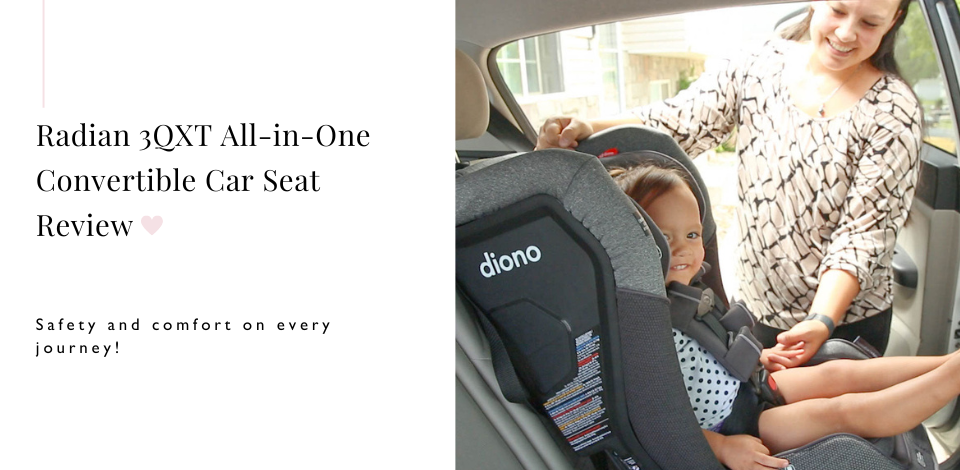 There's nothing more important than your child's safety, and riding in the car should be at the top of your list when it comes to prioritizing their protection.
While all car seats in Canada are safe, some models take things to a whole new level like the Radian 3QXT  — a virtually indestructible convertible car seat from Diono! 
One of their Q Series models, the 3QXT promises to be the ultimate travel companion, offering complete protection and comfort from your child's first days up until they reach double digits! 
In this comprehensive review, we'll explore the exceptional features that make the 3QXT stand out and why it may be the only car seat you'll ever need to own. 


Video Review
The Specs
Rear-Facing: 4 to 50 lbs and up to 44" tall

 

Forward-Facing: 22 to 65 lbs and up to 57" tall

 

Booster Mode: 40 to 120 lbs and up to 57" tall

 

Maximum Weight Rear-Facing LATCH: 35 lbs.

 

Maximum Weight Forward-Facing LATCH: 40 lbs.

 

Number of Head Support Positions: 12 

 

Product Dimensions: 28.5" H x 17" W x 16" D

 

Product Dimensions Folded: 28.5" H x 17" W x 11.5" D

 

Seated torso height: 7.5 - 16.5″

 

Car Seat Weight: 32 lbs.

 

 
The Radian 3QXT Convertible Car Seat seamlessly transitions through three essential modes: rear-facing for optimal safety and extended use, forward-facing for growing toddlers, and a booster seat for older children. This versatile design ensures your child's comfort, protection, and support at every stage of their journey. 
 
A Robust Seat
The Radian 3QXT is known for its strong and sturdy design. Crafted with a blend of high-quality materials, this car seat radiates durability. Unlike many of its competitors, Diono uses a high-strength steel frame throughout for unrivalled protection. 6 layers of crash-absorbing foams are also designed into the seat, ensuring it can handle the challenges of everyday travel while providing a cocoon of comfort for your child.  
Installation is simple using a seatbelt or LATCH. Of note, the seat belt installation method can accommodate much more weight in the car seat while LATCH can only be used until your child reaches the 35 to 40 lbs. maximum range.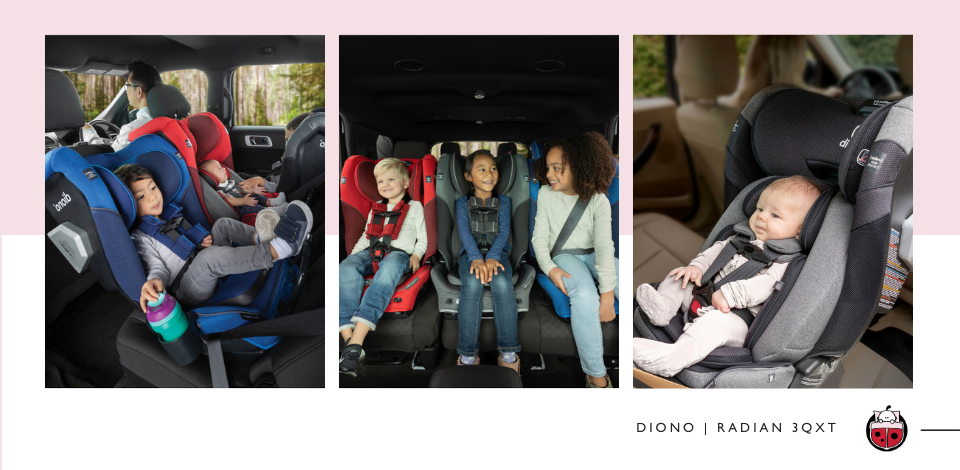 Adaptability at its Best
The 3QXT is nothing if not versatile: 
Four-Stage Protection: With four-stage newborn protection, this car seat is a guardian from the very start. The Safe+ newborn travel high wedge, newborn protection insert, 2-in-1 infant positioning liner, and newborn harness pads combine to offer a custom fit that is hard to beat. The high wedge is for use in rear-facing mode, positioning your little one at a 45-degree angle to keep their airways open and help them keep their head upright. As they grow, simply remove these items for more room! 
Anti-Rebound Bar: The inclusion of a steel anti-rebound bar takes things even further. This bar enhances seat stability and reduces rebound rotation by up to 50%. We also love that this feature allows you to keep your child in a rear-facing position for longer (up to 50 lbs!), and creates a little more legroom for your little one! 
Adjustable Pieces: As your child grows, so does the seat! The headrest has 12 positions for perfect placement at any developmental stage, plus the sides of the seat can expand out giving your child more room for their hips.  
Fit 3: The slim design of the 3QXT allows you to fit 3 of them across your vehicle's back seat — perfect for large families or road trips with friends! 
FAA Folding: Want to take this bad boy on a family vacation? No problem! The seat folds up and meets FAA standards so you can check it at the gate. Easy peasy! 


Elevated Protection
Safety isn't just a buzzword with Diono — it's a promise!  
The inclusion of their Safe+ Engineering feature guarantees the 3QXT has undergone rigorous crash tests to ensure optimal protection. Diono includes a side impact management pod, adding an additional layer for use on the car seat's door side. The headrest height has even been increased by 22% compared to its predecessor, thanks to the latest European Side Impact technology. This enhancement ensures improved child head containment in a collision. 
With EPS & EPP foams, high-density plastic, and its borderline immortal steel structure, the 3QXT puts your worries at ease, knowing it's been subjected to a series of stringent evaluations that provide your child with the safest possible travel experience! 
 

Devine Decor
Robust, safe, AND stylish? You better believe it! 
The 3QXT effortlessly combines craftsmanship and functionality with aesthetic appeal. Its sleek design and thoughtfully chosen materials not only exude sophistication but also seamlessly integrate into your vehicle's interior. It's a car seat that's functional but doesn't compromise on style, making for a visually pleasing addition to your family travels. 


The Radian 3QXT: Safety Redefined
In the sea of convertible car seats, the Radian 3QXT is a shining star. Its robust design and materials offer durability that will stand the test of time. Its grow-with-me nature ensures your child's comfort, from birth to booster age in an unparalleled level of protection. 
The Diono Radian 3QXT is more than just your average car seat — it's a reliable road warrior that safeguards your little one and complements your family's lifestyle without compromising on elegance and function. 
For more information on convertible car seats, check out our Top All-In-One-Convertible Car Seats of 2023 article. 
---
---