Stokke Tripp Trapp High Chair Review
Jump to Section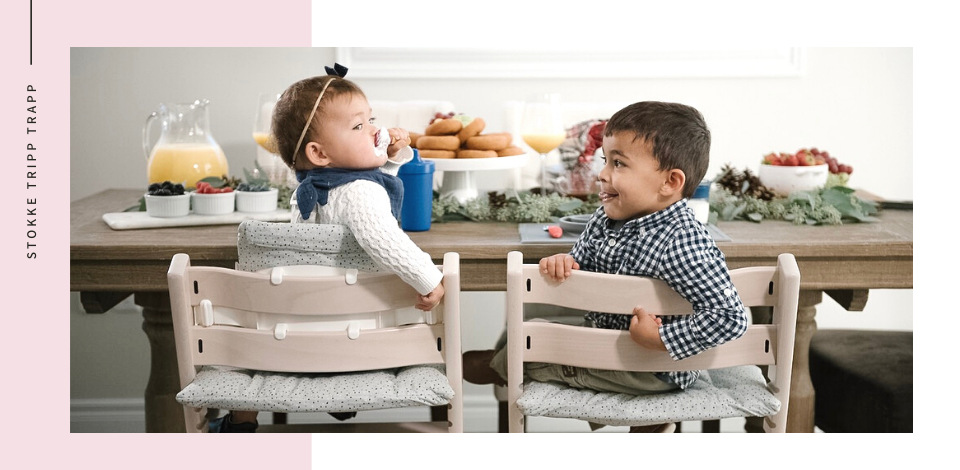 Mealtime with baby and implementing solid foods into their diet can be messy but oh, so much fun!
You'll need bowls, spoons, and bibs but the search begins NOW for the star of the show—the perfect
highchair
.
Today we are reviewing the
Stokke Tripp Trapp
and sharing a few reasons we think it may be the perfect highchair choice for your growing family. 
So, if you've been researching
Stokke
, you've come to the right place. In this article, we'll share tips on getting the best value when purchasing AND the three unique Tripp Trapp stages of use. Let's start by answering the obvious... 
WHAT IS A TRIPP TRAPP?
Oh, we are
so
glad you asked!
Here is the Cole's notes on this highchair:
The

 

Tripp Trapp

 

is an ergonomic highchair that was designed to grow with baby! We say "baby" but technically this chair can hold up to a 242-pound adult—more on that later.
It has an adjustable seat and footrest that can be modified in both height and depth. This feature ensures that the baby's back and feet are always supported in a proper ergonomic position. 
It's very sturdy, made from solid beechwood it weighs just over 15 pounds.
The non-toxic water-based paint is easy to clean with a damp cloth after mealtime. 



TRIPP TRAPP CHAIR VS. TRIPP TRAPP COMPLETE
Have you noticed a few different listings for the Stokke Tripp Trapp?
Take note that you can purchase the
Tripp Trapp Chair
OR the
Tripp Trapp High Chair & Cushion with Tray
.
The
Tripp Trapp High Chair & Cushion with Tray
is a "bundle" from
Stokke
and includes everything you need in one convenient package.
The set includes:
the Stokke Tripp Trapp frame with adjustable seat and footrest
the Stokke Baby Set with a 5-point harness 
the Tripp Trapp tray 
extended gliders [for safety] 
a comfy, cozy, and cute cushion [yes, you can throw it in the wash] 
The
Tripp Trapp Chair
is simply the frame.
It boasts the iconic adjustable seat and footrest that we mentioned earlier and can be nestled up to the table for mealtime with your little one. The Tripp Trapp Chair on its own is suitable for a 3-year-old to use. If you go this route, you would need to add on some individual accessories in order to make the chair usable for a baby. You can purchase the baby-set (seat), tray, and cushion separately but the Tripp Trapp High Chair & Cushion with Tray is certainly a better value.
Since these chairs can truly grow with your little one from newborn, to first foods, and toddlerhood there are some scenarios where it would make economic sense to go with only the Tripp Trapp Chair. For instance, if you are having a second child who has outgrown the baby-set than you would only need to purchase the Tripp Trapp Chair. Now let's talk about how this chair can grow with your family and help to make mealtimes for everyone more manageable.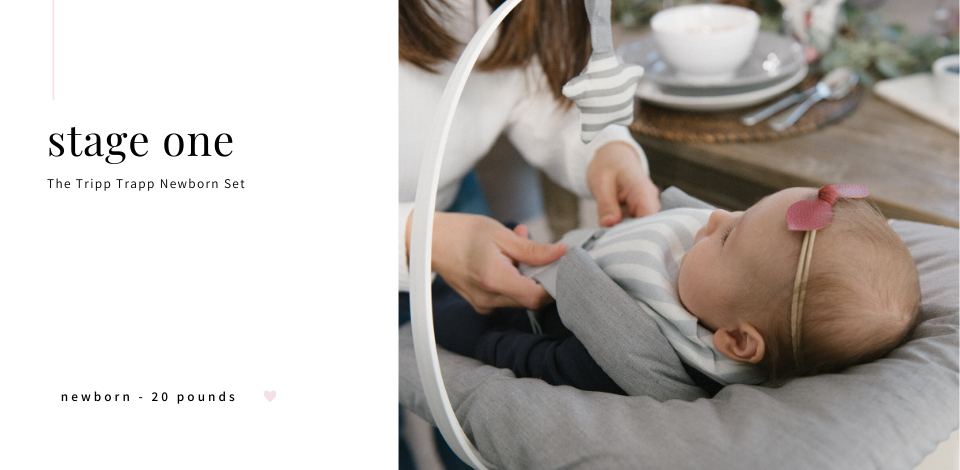 STAGE 1
THE TRIPP TRAPP NEWBORN SET
In those first few weeks with baby you don't often put them down because the #babysnuggles are just too sweet. But there will come a time when you decide you need to get your hands back and we've got you covered with the Tripp Trapp Newborn Set attachment. You can use the Newborn Set from birth until 20 pounds. 

We love that the Newborn Set allows you to begin using your highchair right away! The attachment conveniently connects right to the top of your Tripp Trapp Chair—just look for the green sticker to indicate that it has been attached properly.

As far as a safe space for baby goes—the Newborn Set takes the cake. There are many options out there for baby to hang out [think a lounger, play mat or play yard] but this specific attachment keeps baby up high at the table where all the action is. Additionally, we love that the Newborn Set allows you to keep your routine of eating meals as a family together at the table. Consistency is key especially if you've got a picky toddler on your hands that needs lots of attention during mealtime.

Dog lover? If you have pets, you'll appreciate that the Newborn Set keeps baby up off the floor as your pets are learning to play nice and welcome their new "sibling".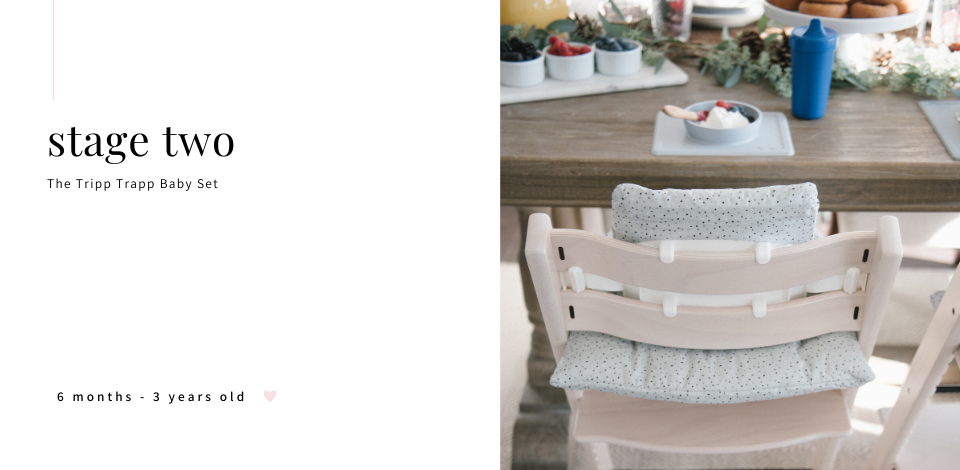 STAGE 2
THE TRIPP TRAPP BABY SET
Once baby outgrows the
Newborn Set
you can simply remove it and begin using your
Tripp Trapp Chair
with the
Baby Set attachment
. The
Baby Set
has a no-tool install and comes complete with a 5-point harness and ergonomic back support to ensure a proper fit for your little one. Like most highchairs, you'll begin to use the seat daily when baby begins solids—around 6 months old. 
The Tripp Trapp grows with your child [just like their appetite!] so you may need to adjust the seat and footrest to fit your little one's frame as time goes on. A slight alteration here or there will ensure the baby is properly positioned. There is a growth spurt at 9-month old, so we are guessing you'll need to keep an eye on their positioning once you've been using the chair for a few months. Your little one can continue using the Baby Set with or without the tray until about 3 years old.
*When using the Baby Set the Extended Gliders MUST be installed to the base of the chair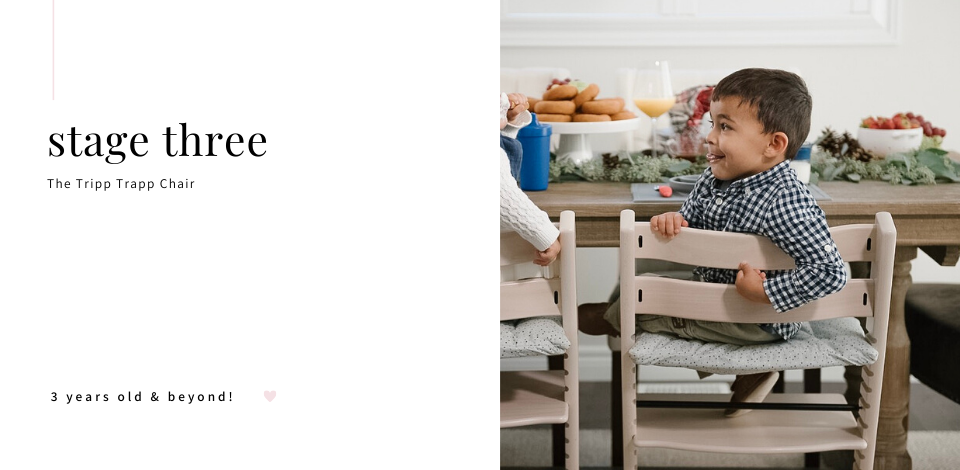 STAGE 3
THE TRIPP TRAPP CHAIR
Most children outgrow their highchair and graduate to a booster seat – but not with the
Tripp Trapp
!  You'll love that your children, no matter their age, will be able to remain seated comfortably for many years—no upgrading to a booster seat needed—simply adjust the chair based on their growth and voila!
Once your child is about three years old you will be able to remove the baby set and allow your preschooler to be seated on the
Tripp Trapp Chair
only. Using the footrest as a step stool, your little will even be able to climb right up into the chair on their own! The only thing the Tripp Trapp is missing is a self-clean button, right?
Use this chair from kindergarten to middle school—and beyond!
LIFE AFTER BABY GEAR
Eventually, you may want to transition your "big kid" into an adult chair—but there really is no need to do that as the
Tripp Trap Chair
can hold up to 242 pounds! If you do decide to move the chair out of your kitchen or dining room, it would be ideal to be repurposed as a desk chair in your office to ensure a comfortable seating position at the computer. Hosting the entire family for Christmas or a big birthday party? Bring the Tripp Trapp Chair out of storage to be used as additional seating for your guests.
Speaking of storage...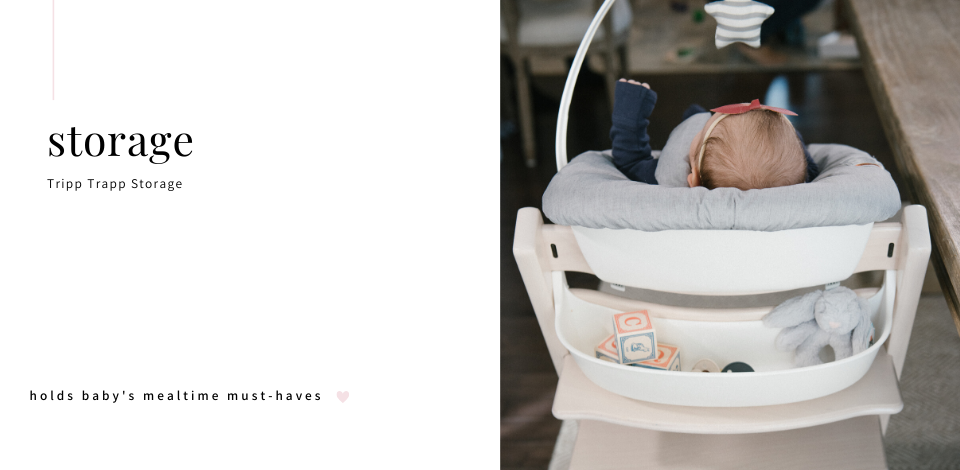 STORAGE + ACCESSORIES
We love the
storage attachment
add-on [sold separately] that can be easily attached to the back of your
Tripp Trapp Chair
.
Parents around the globe were coming up with DIY storage options which inspired the team at Stokke to create an attachment that parents truly wanted and needed. Keep a wet cloth close by for those messy faces and fingers, use it as a place to store baby's pacifier or a spare spoon for when one inevitably gets thrown to the floor.
You name it – the storage compartment can hold it.

THE VERDICT
We
love
the sleek design of the
Tripp Trapp
and let's face it, sometimes we make choices based on the aesthetics and design. Eventually, your house will be overrun with brightly coloured toys and your little will beg to wear graphic tees with cartoon characters on them.
In an open space like your kitchen and dining area—it's nice to have something that is pleasing to look at and that feels a little more adult than most of your other baby gear. If you are looking for something to match the monochromatic aesthetic of your all-white kitchen then you'll love the
Tripp Trapp High Chair & Cushion with Tray in White
. Looking for something a little bolder and fun? The
Tripp Trapp
comes in a rainbow of colours!
More questions about the
Tripp Trapp
or any other
Highchairs
?
Leave them in the comments below.
Happy Shopping!
---
---